Seibertron.com Reviews Transformers Ongoing #23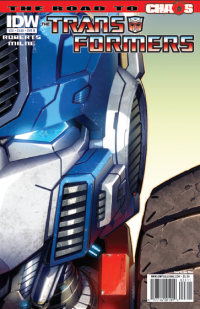 Tuesday, August 9th, 2011 2:10am CDT
Categories:
Site News
,
Comic Book News
,
Reviews
Posted by:
Blurrz
Views:
67,445
Topic Options: View Discussion · Sign in or Join to reply
Transformers comics this summer have been an utter blast to read. While one can claim that IDW's ongoing Transformers series featured a rather slow and questionable start up until July 2011, many cannot deny the fact that the series leading up into Transformers: Chaos is picking up heat.
Grabbing the cover of Transformers:
Ongoing #23
, you'll find a sleek Optimus Prime cover done by Alex Milne, in the same fashion as Ongoing #22's Megatron cover. Much as #22 rotated from Megatron's past, to Megatron's present ordeals, so does #23. This issue continues the pre-war Cybertron storyline and present day drama through the eyes of Optimus Prime.
The way Roberts is able to convey Prime's feelings, and meld it together with Milne's art and Lafuente's colors is top notch. The issue is not all serious business, there are moments of laughter, moments of pure astonishment, and moments of "..And that's why I'm a Transformers fan".
While Transformers has always been about Optimus Prime and Megatron going at it mano-e-mano, this issue shows it's been more than just that. We've watched and read Optimus Prime for the past 27 years. While many may claim that they know how he works, and how he feels, and what he would do in any situation, Roberts makes you ask yourself – Do you really know what Optimus Prime is going to do?
No one does. Not even Optimus Prime himself knows. As we see him change from modest police cop in pre-war Cybertron, to the leader of the Autobots in the present day, #23 shows us that regardless of whether he wears the Matrix of Leadership, Optimus Prime isn't omniscient, nor is he the embodiment of perfection. His actions may not always be about winning the war, or saving other lives. #23 shows Prime works more along the lines of what he thinks is right, and doing whatever it takes to fulfill that.
You may ask yourself, is that how a Leader should act? I will answer, yes. #23 shows that the stale regime of Nominus Prime and the corrupt Cybertronian Senate set Cybertron's Golden age on the path of steady decline, while the likes of Orion Pax(Optimus) and Megatron wanted to take action. Not just talk about it, but actually do something. Yes, the two have fought centuries and centuries of war, with each of their respective factions losing number upon number of soldiers. But before the war, they had the same goals in mind. While the lore previously stated that they shared the same ideals, Roberts gives me the feeling that if it weren't for corruption of power, Megatron could have been an Autobot brother-in-arms alongside Optimus.
Ongoing #23 is a bridge to the start of Transformers: Chaos, but it's more than just that. I am glued to every page, to Robert's every written word and attached to every emotion that Optimus Prime has. I am infatuated with Milne's stunning art. This is one of the best Transformers issues we have seen in the past couple of years. If you thought #22 was good with Prime and Megatron taking centerfold, wait until you have Prime alone in #23.
Do your wallet a favour and pick up Ongoing #23 this Wednesday.
out of
(A preview of this issue can be seen
here
.)
~Blurrz
Seibertron.com News Crew
Credit(s): IDW Publishing
---
This article was last modified on Tuesday, August 9th, 2011 2:19am CDT
Got Transformers News? Let us know here!
Most Popular Transformers News
Most Recent Transformers News
News Categories:
Toy News
,
Movie Related News
,
Cartoon News
,
Comic Book News
,
Site News
,
Rumors
,
Event News
,
Digital Media News
,
Collectables
,
Sponsor News
,
Game News
,
Site Articles
,
Store News
,
Company News
,
People News
,
Press Releases
,
Reviews
,
Sightings
,
Unlicensed Products News
,
Auctions
,
Transtopia
,
Interviews
,
Knock Offs
,
Collector's Club News
,
Editorials
,
Heavy Metal War
,
Podcast
,
Contests
,
Book News
,
Top Lists
Re: Seibertron.com Reviews Transformers Ongoing #23 (1273733)
Posted by
Michael Alex Kawa
on August 9th, 2011 @ 10:00am CDT
The art of this book is stunning
,and the story seems great .
Re: Seibertron.com Reviews Transformers Ongoing #23 (1273825)
Posted by
RogueDeathangel
on August 9th, 2011 @ 2:19pm CDT
I noticed while reading through #22 that when I read Primes lines I'm not hearing Cullens voice in my head, I'm hearing Gary Chalk.
Re: Seibertron.com Reviews Transformers Ongoing #23 (1274591)
Posted by
neliz
on August 11th, 2011 @ 5:30am CDT
I want to have Roberts' baby! realy, Ongoing #22 and #23 are masterpieces.

Roberts > Movieverse
Re: Seibertron.com Reviews Transformers Ongoing #23 (1274984)
Posted by
Supreme Convoy
on August 11th, 2011 @ 10:52pm CDT
I really enjoyed James Roberts' two parter about Megatron and Optimus Prime's origins. This particular is a really good stand alone issue that works by itself. You can hand this to anyone and they would enjoy a great Prime story.

Highly recommended.
Re: Seibertron.com Reviews Transformers Ongoing #23 (1275045)
Posted by
Daken3687
on August 12th, 2011 @ 1:13am CDT
superb issue really really deep and good story can´t wait to read more about prime and megatron´s past pre-war
Re: Seibertron.com Reviews Transformers Ongoing #23 (1276500)
Posted by
Bobton03
on August 14th, 2011 @ 9:33pm CDT
I have been thoroughly enjoying the Chaos series; I had stopped reading Ongoing and I am glad that I decided to resume the story. The stories of Optimus and #23 and Megatron in #22 are exactly what I have been looking for in a Transformers comic: purposeful plot development, complex characters/characterization, amazing art, and attention to detail.

I think that a thanks is in order to the writers of Transformers for finally delving into the story underpinning pre-war Cybertron!


- Bob
Re: Seibertron.com Reviews Transformers Ongoing #23 (1276625)
Posted by
3.8TransAM
on August 15th, 2011 @ 6:39am CDT
If, keyword is "if" IDW can keep this up they will save their comic franchise.

The last few issues have been good enough to erase the 20 completely worthless prior ones.

Please keep this up IDW, u almost lost me as a reader, and I will dump it if the series tanks again like it was doing prior to these past few issues