Seibertron.com Reviews Transformers: Robots in Disguise Ongoing #15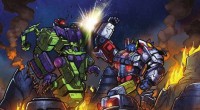 Tuesday, March 26th, 2013 11:55am CDT
Category:
Comic Book News
Posted by:
Va'al
Views:
25,458
Topic Options: View Discussion · Sign in or Join to reply
Plan for Everything
(Spoiler free-ish)

Synopsis
THE END OF THE WORLD! When Cybertron collapses—who will pick up the pieces? MEGATRON stands poised to triumph—locked in final battle with BUMBLEBEE, STARSCREAM, METALHAWK, and PROWL! One will stand… the rest will fall.
Story
Last issue, the big revelation (or cop-out, depending on which side of the argument you are) took place: Megatron is in control of everything, thanks to Bombshell's cerebro-shells controlling Prowl – who is now Devastator's headbot. But Ironhide, the Dinobots and Superion are back from the wastelands, and it's time for a bigger robot than usual to fight with another bigger robot.
Yes, Ironhide's back. The Dinobots are back. The Aerialbots are back. But... something's missing. If this is the big climax to all that has been building since issue 1, it's a bit disappointing. It's all a giant fight scene, and while there's nothing wrong with that, I expected a little more.
Arcee's motives are revealed, and they are entirely unsurprising. Although there are redeeming features to her over the top characterisation since her Spotlight. Sort of. Ironhide and Jazz are the token tough bots, and that may go down well with some, may not with others.
The thread running through the whole issue is Prowl's inner monologue, as he sees the devastation he causes to Cybertron, now that he's part of the big green. And he refers to events from Costa's ongoing, and Spike. I can't shake off the feeling that Barber is trying to explain and fix continuity and characterisation, and this time it just doesn't work. I didn't mind the exposition with floating heads in RID #14, personally, but this one is a bit off. Until the very end.
Art
Andrew Griffith is on pencils, with Brian Shearer on inks. Shearer did a really good job on MTMTE 15, so I wonder if it's Griffith's robo-facial expressions that don't work for me this time. Superion, Megatron, Bumblebee, Jazz all seem to have at times a wonky (can't think of a better term) mouth. This may be me, but I think perspective is a bit off.
I do like Mowry's lettering though, and the colours by Perez are really well executed. There are not as many variations in the lettering designs, but sound-effects really pop, both in font and colour. (There are a lot of colour metaphors running through the issue, actually, and art and story really do work well in that aspect.)
I think the biggest problem, in terms of artwork for the issue, is the amount of action and characters per panel: there's just too much going on in the story, and a price has to be paid for it. The artistic team have done a fabulous job at conveying the absolute chaos of a whole (ish) planet at war, and something's bound to slip. But well done to them anyway!
Thoughts
Spoilerish ahead
I'm not convinced about this one, to be honest. The Arcee twist was predictable, there's a lot of fighting, fighting and more fighting, and some of the facial expressions really didn't do it for me. I'll admit, though, that the final panel was not what I, and I think most readers, was expecting. Personal highlight, however, was Shockwave's absence, and how other characters are trying to cover it up or dismiss it. Purple reign, anyone?
This issue is a little disappointing, in my opinion. The artwork is there, the story is ok, but Barber seems to be taking a long time to do things, so let's throw in some fighting, shall we? Here's hoping to a satisfying and, dare I?, logical conclusion in the next issue.
.
out of
Credit(s): IDW Publishing
---
Got Transformers News? Let us know here!
Most Popular Transformers News
Most Recent Transformers News
News Categories:
Toy News
,
Movie Related News
,
Cartoon News
,
Comic Book News
,
Site News
,
Rumors
,
Event News
,
Digital Media News
,
Collectables
,
Sponsor News
,
Game News
,
Site Articles
,
Store News
,
Company News
,
People News
,
Press Releases
,
Reviews
,
Sightings
,
Unlicensed Products News
,
Auctions
,
Transtopia
,
Interviews
,
Knock Offs
,
Collector's Club News
,
Editorials
,
Heavy Metal War
,
Podcast
,
Contests
,
Book News
,
Top Lists
Re: Seibertron.com Reviews Transformers: Robots in Disguise Ongoing #15 (1474406)
Posted by
sabrigami
on March 26th, 2013 @ 3:36pm CDT
Ty for the review Va'al. Sorry to hear that it's a bit disappointing still. I'm buying it anyway, but now I'm not getting my hopes up
Re: Seibertron.com Reviews Transformers: Robots in Disguise Ongoing #15 (1474410)
Posted by
Neurie
on March 26th, 2013 @ 4:19pm CDT
In this series deaths seem to be either misdirection or not very moving due to charecter A introduced then by the end of the issue dead, as is the case with the deaths in this issue.

The deaths felt kinda "Meh" really, its a very slow burn and perhaps too slow. Exposition is good, but compared to its sister series this is too slow.

75% filler not too much thriller.
Re: Seibertron.com Reviews Transformers: Robots in Disguise Ongoing #15 (1474481)
Posted by
Henry921
on March 26th, 2013 @ 11:45pm CDT
Soundwave can speak once more! Guess he got his voicebox repaired after OP shot it back in '10.

Not surprised we came crashing down this issue... the momentum falls apart after those major revelations in 13 and 14.
Re: Seibertron.com Reviews Transformers: Robots in Disguise Ongoing #15 (1474587)
Posted by
Va'al
on March 27th, 2013 @ 3:00pm CDT
Courtesy of the official
Transformers Facebook page
, we have this month's
Transformers: Robots in Disguise
issue 15 commentary! Read below for the full deal with Andrew Griffith, featuring his own pencil art for the issue.
TRANSFORMERS: ROBOTS IN DISGUISE #15 hits the stands today, courtesy of IDW Publishing and Hasbro! Bumblebee and his provisional government have had to face a lot over the past year… but they never imagined they'd have to fight an angry Devastator with Prowl as its head! In honor of this action-packed issue, we sat down with artist Andrew Griffith to take a look at his original pencil art! The comic, by Griffith and writer John Barber is available at comic book stores everywhere and at

https://transformers.comixology.com/

or via the Comixology and iBooks apps on your computer or mobile device!
PAGE 1- We're inside the Autobot Med-Center as the action goes on outside—there's quite a few different 'bots in here, all—of course—with different designs. Did you spend a lot of times on this page, making sure everyone was correct and adding the various states of damage? ANDREW GRIFFITH: Well, since I only pencilled this, I had to leave a lot of that up to the inker [Brian Shearer]. Maybe it's just me, but I find I can only put so much detail in with pencil before it becomes a smudgy mess. But I did make sure to let Brian and [colorist] Josh [Perez] know who the guys were, that were intended to be specific characters.
PAGES 2 and 3: When designing Devastator, did you have any kind of specific brief to follow, other than including Prowl as a vital component? And were you given much freedom in the design? ANDREW GRIFFITH: Yes, there were definitely specific aspects of his design to keep in mind, some of which I shouldn't even hint at so as not to ruin anything about issue 16. I had a good bit of freedom in his design. The toughest part was the fact that John wanted Prowl to be the head and part of the torso, so I wouldn't be able to just use Prowl as a leg in place of the deceased Scrapper. And I wanted to keep some of what Guido [Guidi] designed for ALL HAIL MEGATRON, so hopefully there was some of that look still there. I did have to add the purple chest shield back in though, because if I would have left it off like Guido did, Prowl's integration into Long Haul's section just didn't look very good.
PAGE 4: The Autobots fight Devastator, which doesn't seem to go well. When doing the drawings, do you take a much of a vested interest in the characters, knowing what might happen further down the line, and maybe not denting up the ones you like better as much as others? ANDREW GRIFFITH: Doesn't go well for the Autobots, you mean? Seems to go pretty well for Devastator, though. Well, the way John likes things to go, everyone ends up pretty well beat-up and dented. But sometimes damage to a particular character has to be kept in mind very specifically, such as Metalhawk's gutshot wound, or Bumblebee's crumpled face. The best stories are character driven as far as I'm concerned, and the characters are what draw me most to Transformers, so I think it's safe to say I take a lot of stock in how the designs and wear and tear reflect on specific characters. There's some battle damage that's appeared in recent issues that even provides a bit of foreshadowing, if you know where to look.
PAGE 5: Megatron watches as the destruction on Cybertron continues. Again, with Megatron in his new body, why did you make the choices you did in this design? Were there many different versions before settling on what we see here? ANDREW GRIFFITH: Not really, this was the only real design that I came up with. The idea was to make a Megatron that was indicative of both his original G1 look and his pre-Earth comics design, as seen in STORMBRINGER. Sort of your quintessential Megatron. So… hopefully, I pulled it off. I hope to get the design I did for him out somewhere in the near future, as well as some of my designs for Devastator and how Prowl's section fits in.
Re: Seibertron.com Reviews Transformers: Robots in Disguise Ongoing #15 (1474604)
Posted by
sabrigami
on March 27th, 2013 @ 5:08pm CDT
I actually found this issue enjoyable. At least I didn't feel ripped off like the last 2. I will admit a lot is very cliche. Especially Acree's revelations (
so now we're supposed to believe she's not crazy? And she's a good guy all along? Really?
). The characters have some shining moments or dialogue (Sideswipe is my fave
) but I've notice that when it shifts to the plot instead of the characters it all falls apart. I've come to the sad conclusion that this plot just isn't very strong. there's simply not enough in the issues. Not even a small resolution to tide us over. There doesn't even seem to be any subplots either. it's just so bare.
My other gripe is the villan aspect. Megatron has been reduced to a saturday morning villain. Which is sad because Robert and Roche showed me just how dangerous and smart he can be. When reading this I just don't have the confidence he even has an idea of what he wants anymore. Sure, he has all the big guns and evil sith powers, but what else? I just fail to see the danger he presents anymore, may as well throw him with Spike. I like Megs about as much as him these days.