Seibertron.com's Comprehensive Unofficial Guide to BotCon 2012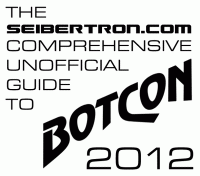 Thursday, April 19th, 2012 12:46pm CDT
Categories:
Site News
,
Event News
,
Site Articles
,
Collector's Club News
Posted by:
Savage
Views:
91,587
Topic Options: View Discussion · Sign in or Join to reply
Okay,
so you've decided to attend BotCon
, but you probably have a lot of questions. Hopefully this article can put a few of your fears to rest and answer some of those questions. There are many elements to BotCon, including Hotels, Registration Packages, Exclusive Figures, Sales Room, Panels, Seibertron.com Meet ups, etc., and we are going to examine each one in some detail.
If you're attending BotCon, let us know here on Seibertron.com's event page on Facebook for BotCon 2012 at https://www.facebook.com/events/344112488979798/.
First up,
Hotels and Travel:
Depending on the location, many people choose to fly to BotCon each year, others turn it into a road trip. If multiple collectors from your area are planning to attend, a carpool road trip can save everyone some money on gasoline. If flying is your preferred mode of travel, it is a wise idea to buy plane tickets early (often before BotCon Registration opens) to get the best price.
Every year, there are several hotels (2-3) that are within a block or two (or attached to) the convention center where BotCon is held. These hotels usually offer reduced prices for the convention.
BotCon.com
usually provides this information after the dates and location are announced. Bear in mind, however, that these are generally 4 or 5 star hotels. Even with the BotCon discount, you are looking at approximately $150 per night. Many people choose to stay at a cheaper hotel within a short driving distance. This can save you some money on hotel costs. However, you will also have to pay for parking at the convention center each day, and that can add up. Or you could take a taxi from your hotel to the convention. The major downside to an offsite hotel is that you miss out on a lot of the room-to-room trading and general hanging out that happens during the evening and nights in various hotel rooms. It's a lot easier to stay up until three am talking Transformers if your bed is right down the hall.
Otherwise, you end up in ours...
Registration Packages:
Primus Package
- This package generally costs about $340 (For club members, nonmembers pay more.) Also, prices vary slightly from year to year) and includes the following:
Full admittance to the convention, sales room, panels, and autograph lines
Admittance to the Saturday Night Awards Dinner
Six-Figure Boxed Set
One Free Attendee Figure
Minicon Package - Can only be purchased as an add-on to a Primus Package. This package is typically around $100, depending on the year and whether or not the person is a club member. Minicon Package includes:

Full admittance to the convention, sales room, panels, and autograph lines
Admittance to the Saturday Night Awards Dinner
No figures

[i]Protoform Package
- This package generally costs between $180-200, and includes:
Full admittance to the convention, sales room, panels, and autograph lines
No figures, no Awards Dinner
Iacon Package
- This package is for NON-attendees who wish to purchase a boxed set and have it shipped to their home. The price is typically equal to the price of a Primus Package. However, with the Iacon Package, you do not receive the free attendee figure. It does however include domestic shipping. International shipping is extra.
General Admission
- General Admission is available for walk-ins on Saturday and Sunday ONLY. Includes admittance to sales room, autograph lines, and panels.
***
Golden Ticket Packages
- These are "Golden Ticket" versions of the Primus, Minicon, and Protoform Packages. For approximately double the regular Package Price, "Golden Ticket" Package Holders are allowed to purchase triple the regular limit number of Souvenir Sets from the Club Store, and receive front-row reserved seating to the Panels.
Picking Up Your Package:
If you are enrolled in one of the Customizing Classes, you will receive your Package on Wednesday for Early Pickup. If, for whatever reason, you are not arriving at BotCon until Friday or Saturday, but choose to register a package, you will be able to pick it up upon your arrival at the con. In previous years, Late Package Pickup began at 9:30am on Friday. Otherwise, you may pick up your Package (name badge, boxed set, convention comic book, etc) on Thursday evening. Times will be assigned by FunPub prior to the convention, so you will know when it is your turn to get into the first of many long lines.
Would you believe this was only half the line? It was.
Customizing Classes:
There is usually one class on Wednesday and one on Thursday. They are not included in the cost of any of the above Packages. They cost extra. You will be given one figure and the instructor will walk the class through customizing it. These classes are very small and fill up quickly. For 2012, the Customizing Classes sold out 10 minutes after Online Registration became available. If you are lucky enough to get into one of these classes, you will receive your name badge, boxed set, etc, on Wednesday instead of the normal Package Pickup on Thursday night.
Exclusive Figures:
The Boxed Set - Six figures in a box with certificate of authenticity. These are limited in number and available only to those who buy a Primus or Iacon Package. Primus Package holders receive them at Package Pickup along with their name badge, club comic, etc.
Loose Set - Primus and Iacon Package holders have the option to purchase an additional loose set of the figures from the boxed set. Many Primus Package holders choose to buy these to turn around and sell them to other convention goers to recoup some of the cost of their trip.
Free Attendee Figure - Each Primus Package holder receives one free figure at Package Pickup. This figure is usually a repaint of a mold used in the boxed set.
Souvenir Sets - Each year, the club provides two or three "Souvenir Sets" these are additional pairs (or trios) of exclusive figures. They usually complement the boxed set and/or a previous year's set. Souvenir Sets may be purchased from the Club Store after Package Pickup on Thursday night, or anytime throughout the convention until they sell out. If they do not sell out by the end of the con, the remainder will be sold in the Collectors' Club online store.
Speaking of the
Club Store:
The Club Store opens Thursday evening after Package Pickup. Once you pick up your name badge, etc, you are free to get into the Club Store line. There is usually one line for cash and one for credit. The cash line has moved slightly faster in previous years. At the Club Store, you may purchase the Souvenir Sets, t-shirts, other TF memorabilia, other Club exclusive figures (like Astrotrain, Airrazor, Nightbeat, Punch/Counterpunch if he wasn't sold out, you get the idea). Friday evening, the Club Store booth will be dismantled and rebuilt inside the Sales Room on Saturday morning, where it will remain for the duration of the show. The Club Store accepts both cash and credit, however the cash line moves slightly faster.
The Sales Room / Dealer Room:
Primus, Minicons, and Protoforms gain admittance to the dealer room for a few hours Friday evening, and Saturday morning before General Admission opens. The dealer room usually closes at 5pm on Friday and Saturday, and at 3:30pm on Sunday (when the entire convention officially ends). Certain dealers in the sales room accept credit cards. Mostly big names like BBTS and TFSource. The smaller, private dealers are usually cash only.
Raffles & Drawings:
Once you pick up your package, you will find that it includes a few pieces of paper for voting for your favorite Transformers website
(Seibertron.com!)
in three categories (News, Layout, & Resources), and other feedback forms. You should definitely fill these out and turn them in to the Club Store. Over the weekend, slips of paper will be drawn and the names will be called out in the Sales Room. If your name is called, you win a door prize. These vary but are usually deluxe class figures or something of similar value. On Saturday the voting slips will be collected from the Club Store and tallied up. The winning website/s will be announced at the Saturday Night Awards Dinner and the webmasters will be presented with a small trophy.
Panels:
Many Panels are conducted on Friday, Saturday, and Sunday. These generally include a Hasbro Panel (which includes sneak peeks at future figures, you do NOT want to miss this!), an IDW panel where they talk about recent and upcoming TF comics, a video game panel to promote and discuss the latest TF video game.
Your convention name badge will have a complete schedule of the weekend's events on the back of it. This will become your best friend. You can also view the complete schedule by clicking
here
.
Autographs:
Many guests will sign autographs. These are done at certain times (see the back of your name badge for times), and it is wise to get in line early, ESPECIALLY for guests such as Peter Cullen whose line will be exceptionally lengthy. Be prepared to sit in line for an hour or two. In previous years, people have been allowed to have two items signed and a quick picture taken.
Seibertron.com Meet-up:
One night (typically Friday), Seibertron.com organizes a meet up in one of the hotel (or nearby) bars. This event is for anybody who wants to come or happens to wander in. It is an excellent chance for Transformers fans to get together, talk Transformers, and make new friends in an open, relaxed atmosphere. If this is your first BotCon, or if you just want to make some new TF friends, this event is for YOU!
At BotCon 2012, the official
7th annual Seibertron.com Bar Meet up
will be at Monduel's on Friday night (April 27th) around 8 or 9pm. For more information, please visit Seibertron.com's Facebook page for this event at
https://www.facebook.com/events/412475178782279/
.
Saturday Night Awards Dinner:
For Primus and Minicons only. This is the only time that food will be provided. The type of food varies from year to year. There will be food, socializing, and a small presentation that varies from year to year. For 2010, we are being treated to the induction of the first of the Transformers Hall of Fame. 2009 was a Stan Bush concert and sneak peek at a few scenes from "Revenge of the Fallen."
The show officially ends on Sunday afternoon at 3:30pm. Of course, many people tend to mingle, say their goodbyes, grab dinner on their way out of town, etc. BotCon is an amazing experience. Despite the exclusive figures, awesome guests, huge sales room, it is the people you meet at BotCon each year that will make it worth the trip time and time again.
Me, Geekee1, & Counterpunch
What You Can Expect Day By Day:
Wednesday - Customizing Class
Thursday - Customizing Class in the morning, Package-Pickup & Club Store line in the evening
Friday - Sales Room open, Club Store open, Autograph lines, Panels
Saturday - General Admission open, Sales Room & Club Store open, Autograph lines, Panels, Awards Dinner
Sunday - General Admission open, Sales Room & Club Store open, Autograph lines, Panels
The complete schedule can be found
here
.
Well, that's all for now. I hope this guide has answered a few questions for you.
---
Got Transformers News? Let us know here!
Most Popular Transformers News
Most Recent Transformers News
News Categories:
Toy News
,
Movie Related News
,
Cartoon News
,
Comic Book News
,
Site News
,
Rumors
,
Event News
,
Digital Media News
,
Collectables
,
Sponsor News
,
Game News
,
Site Articles
,
Store News
,
Company News
,
People News
,
Press Releases
,
Reviews
,
Sightings
,
Unlicensed Products News
,
Auctions
,
Transtopia
,
Interviews
,
Knock Offs
,
Collector's Club News
,
Editorials
,
Heavy Metal War
,
Podcast
,
Contests
,
Book News
,
Top Lists
Re: Seibertron.com's Comprehensive Unofficial Guide to BotCon 2012 (1370858)
Posted by
mattwhite924
on April 19th, 2012 @ 1:36pm CDT
For those of you have have used the non-attending packages before, how long does it normally take for them to ship out?
Re: Seibertron.com's Comprehensive Unofficial Guide to BotCon 2012 (1370919)
Posted by
LiKwid
on April 19th, 2012 @ 4:00pm CDT
mattwhite924 wrote:For those of you have have used the non-attending packages before, how long does it normally take for them to ship out?
Depends but most of the time its not too long after the con. I know BBTs starts selling them a week or two after the con.
One bit of advice I can give for those who are making this their first con, prepare yourself for sensory overload! There will be so much going on it will be easy to get overwhelmed. Good job on the guide savage!
Re: Seibertron.com's Comprehensive Unofficial Guide to BotCon 2012 (1370929)
Posted by
Hip-Hoptimus Rime
on April 19th, 2012 @ 4:25pm CDT
Reminds me of the car club events I used to go to, looks like a great time.