Sneak Peek: Transformers: Dark Cybertron #1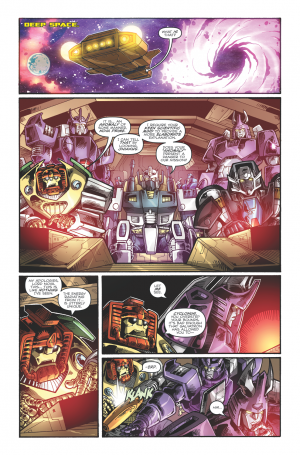 Thursday, October 10th, 2013 10:39pm CDT
Category:
Comic Book News
Posted by:
El Duque
Views:
18,212
Topic Options: View Discussion · Sign in or Join to reply
Our friends at IDW Publishing have updated their
deviantART account
with the script, lineart, and a full color preview of page one. The Transformers: Dark Cybertron crossover event starts next month. They've also provided a timeline laying out the books that will form the story arc. Enjoy the sneak peek below.
The TRANSFORMERS event of the century, Dark Cybertron debuts this November! Written by John Barber & James Roberts, Dark Cybertron is brought to life by an unbeatable crew of artists. With layouts by legendary Phil Jimenez, finished art by Andrew Griffith, and colors by Josh Perez, the first issue will be the blockbuster debut of the year!

As artists yourselves, IDW wanted to thank you for your support and offer the members of deviantART something special: for the month leading up to the release of Dark Cybertron, you can find the stunning process pages that went into the creation of issue #1 here on IDW's deviantART group. From layouts, pencils, inks, colors, and even scripts, deviantART users will be able to see first-hand, the behind-the-scenes work that went into this monumental issue. Thanks to the amazing support from our fans, TRANSFORMERS has become an IDW staple; join us this November for cataclysmic events that will shock you to your Energon Convertor—in Dark Cybertron!
TRANSFORMERS: DARK CYBERTRON ISSUE #1

Dialog by John Barber & James Roberts Draft 2 (July 12, 2013)

PAGE ONE

1/ Deep space, millions of years ago, near the star GORLAM. A planet, GORLAM
PRIME, orbits the star. The starship ARK-1 approaches a SPACE ANOMALY in the
Benzuli Expanse, a region of deep space. (We've seen fragments of this sequence here
and there, but never the whole thing. There should be some reference of the anomaly).

1 LOCATOR: Deep space.
2 NOVA PRIME (INSIDE): What is that?

2/ Inside, we see the main crew. (There are dozens of crew members, but there are some
key players on the bridge.) NOVA PRIME commands the ship, with GALVATRON and
CYCLONUS at his side. JHIAXUS responds to Nova's question--in terms of command
structure, Jhiaxus, the scientist, is second only to Nova. Jhiaxus is scheming, untrusting;
Nova is powerful; a commanding, fascistic, presence. Galvatron is the chief warrior,
brutal and barbarous—Conan as a Transformer; Cyclonus a more thoughtful, philosophic
warrior. All these guys are important to the rest of the series. TAILPIPE, who we've
never seen but has been established as being there, sits at the controls. Also around, as
needed, are SCOURGE, GRINDCORE and STRAXUS (all seen in previous comics).

3 JHIAXUS: It is… an anomaly of some manner, Nova Prime.
4 NOVA PRIME: I can tell that by looking, Jhiaxus.
5 NOVA PRIME: I require your keen scientific mind to provide a more elaborate explanation.
6 NOVA PRIME: Does your "anomaly" present a danger to our mission?

3/ Jhiaxus looks at a monitor, displayiing the anomaly.

7 JHIAXUS: My apologies, Lord Nova. This… this is like nothing I've seen.
8 JHIAXUS: The energy radiating from it… is utterly unique.

4/ Cyclonus pushes up next to Jhiaxus, examining the readings.

9 CYCLONUS: Let me see.
10 JHIAXUS: Cyclonus, you overstep your bounds. It's bad enough that Galvatron has allowed you to—

5/ Galvatron taps his fusion cannon against Jhiaxus chest, sternly, like you mind stick out
an arm to stop someone from doing something wrong. Cyclonus doesn't react, he looks at
the readings.

11 JHIAXUS: —erp.
12 SFX: KLANK
13 CYCLONUS: Hm…



Credit(s): IDW Publishing
---
Got Transformers News? Let us know here!
Most Popular Transformers News
Most Recent Transformers News
News Categories:
Toy News
,
Movie Related News
,
Cartoon News
,
Comic Book News
,
Site News
,
Rumors
,
Event News
,
Digital Media News
,
Collectables
,
Game News
,
Sponsor News
,
Site Articles
,
Store News
,
Company News
,
People News
,
Press Releases
,
Sightings
,
Reviews
,
Unlicensed Products News
,
Auctions
,
Transtopia
,
Interviews
,
Knock Offs
,
Collector's Club News
,
Editorials
,
Heavy Metal War
,
Podcast
,
Contests
,
Book News
,
Top Lists
Re: Sneak Peek: Transformers: Dark Cybertron #1 (1523148)
Posted by
Henry921
on October 10th, 2013 @ 11:59pm CDT
Nice to see the final order. Looks like we get two separate Dark Cybertron titles, in addition to RID and MTMTE...
Re: Sneak Peek: Transformers: Dark Cybertron #1 (1523165)
Posted by
No One
on October 11th, 2013 @ 3:18am CDT
LOVE Jhiaxas's head. HATE seeing him with a lacky facial expression.
Re: Sneak Peek: Transformers: Dark Cybertron #1 (1523254)
Posted by
deliciouspeter
on October 11th, 2013 @ 10:30am CDT
erp.

hmmm.
Re: Sneak Peek: Transformers: Dark Cybertron #1 (1523414)
Posted by
Manterax Prime
on October 12th, 2013 @ 4:18am CDT
Is that Drift in the seat opposite Jhiaxus???
Re: Sneak Peek: Transformers: Dark Cybertron #1 (1523417)
Posted by
Va'al
on October 12th, 2013 @ 4:25am CDT
Manterax Prime wrote:Is that Drift in the seat opposite Jhiaxus???
According to the script, that's Tailpipe. And he looks as though he's modeled after the Human Alliance Basics toy!
Re: Sneak Peek: Transformers: Dark Cybertron #1 (1523419)
Posted by
Manterax Prime
on October 12th, 2013 @ 4:26am CDT
Yeah, I see it now.