'The Road to Chaos' - Transformers Ongoing #19 Reviewed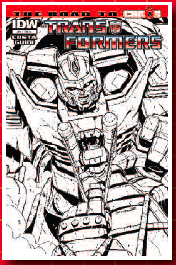 Tuesday, May 17th, 2011 8:46pm CDT
Categories:
Comic Book News
,
Reviews
,
Site Articles
Posted by:
Tigertrack
Views:
97,570
Topic Options: View Discussion · Sign in or Join to reply
Lots happening in the Transformers universe.
Galvatron and company are around the 'live' universe becoming more powerful and with purpose. The Autobots are in the most disarray that you can imagine them ever being in--- and making choices that lead to serious, SERIOUS ramifications.
Megatron is simply toying with Optimus Prime, and Optimus Prime is showing an extremely frustrated side that one would rarely remember seeing before from the freedom focused noble-bot in even the most dire of circumstances.
But we're leaving this scene for another corner of the TF-universe. A corner not seen in more than a few issues (at least six!). A section that can only make fans scratch their heads, and imagine what could possibly happen next. Enter Rodimus.
After being 'ka-boomed' by Megatron's super-charged rail gun in the climax of Ongoing issue #13, we catch up with Rodimus floating dead in space with the matrix. He achieves planetfall, and crashlands on a planet that this reader has to say, he didn't think he would see again with the way events had been going, previous events getting lost in favor of, and sometimes seemingly replaced by newer directions recently.
But in an effort to perhaps reach out to loyal readers, or maybe it was the plan all along, IDW has been returning (finally!) to previously set plot points, and events once again. Plot points that may have been going somewhere in the previous creative crews' minds' eyes, but were seemingly lost when they left. The newest example of revived plot points, Rodimus landing on the very same planet that holds FAN FAVORITE, should have been First Ballot hall-of-famer, rhyming, wildbot of Cybertron....Wheelie!!!!
*Pauses for cheers to die down*
Last seen stuck on this far away planet thanks to Spyglass, and his Reflector crew, with a 99.999999% chance of never being rescued (fudged that number a little bit), and ominously living near some ruins containing hieroglyphs of a familiar alien race, WHEELIE is once again reunited with a fellow Autobot after quite a long time. The Autobot is fortunately for him, no longer dead ("I feel happy!"), as the matrix is now imbedded into Rodimus' chest plate like it was always meant to be there, and sparks life back into him.
Rodimus remembers Wheelie immediately upon meeting up with him stating, "You've been MIA for almost as long as I can remember. From since just after I got recruited to the Autobots."
That seems like a long time ago indeed. It's so long in fact, Wheelie does not even remember being an Autobot.
This issue is otherwise fairly boring. Setting up for the next, much more grand event, where these two young Autobots are going to make their return to Cybertron, and confront a very familiar foe, this issue mainly provides, well, not much. There's some small piece concerning three other aliens on the planet, but it is quickly put to bed in favor of getting us to the next issue's 'will-be-awesomeness'. Yes, Wheelie and Rodimus are going to, thanks to the unlimited power of the matrix and the three disposable aliens, be able to escape the un-escapable planet, and arrive on Cybertron just in time to be a part of this summer's CHAOS event.
Wheelie rhymes. Rodimus expounds on his injuries, and his new life, and his previous life, vowing to never leave a fellow Autobot behind...again. And Wheelie plays music now. 'Nuff said?
The Story:
...Is forgettable. This inconsequential issue will quickly be lost in the excitement of this summer's huge CHAOS events. The two weary Autobots seem to be a bit less than benevolent in their dealings with the three aliens...a streak that seems to be on par with recent Autobot events.
Some might say this could be one of the most annoying issues ever containing both whiny
Rodimus
, and rhymey
Wheelie
, but overall the creative crew handled the two well, making sure to focus more on the positive aspects of each, rather than the more negative pieces of them that the fans have come to on some cases...loathe.
The dialogue is smooth and clean. I really wish if IDW changed something from G1 'as we know it' that they would have kept Wheelie from rhyming. The Wheelie-logue drives me bonkers. Thankfully, it is not overwhelmingly done here. I'm just worried now that Wheelie's back on cast, that his dialect will quickly make its way to the 'drives me up the wall when I read it' category. But Wheelie calls Rodimus dumb to his faceplate, so it can't be too bad right?
The Art:
---Is Phenomenal. But I'm a Guido slappy. He renders and lines like the pro we know here creating some very beautiful portraits of Wheelie and Rodimus. His alien grunts are excellent as well, reminding me of Skeletor's hench-lackeys from Masters of the Universe. And the alien 'general' seems to have a bit of a cthulhu in his family tree at some point. I have to say, I think Guido stepped it up. His lines on the robots seem more angular and straight, his figures more detailed and less cartoonish. HIs backgrounds detailed, and immense.
The inks, and colors are superbly done, as well.
Honestly, I thought the whole creative team did a really nice job with this issue. 'It is what it is' as the oft overused phrase goes. A simple re-introduction tale, setting up a lot bigger event. We get some characterization, and exposition, but not a lot of action. It's cool though, because the excellent art will keep your eyes and mind quite busy.
Transformers Ongoing #19 is in stores Wednesday, May 18th, be sure to check it out yourself. If you still need more convincing,
just check out the 7-page preview
, and that should be the deal breaker. See you next time gentle-bots.
Credits to Mike Costa, Guido Guidi, Joana Lafuente, Chris Mowry, Carlos Guzman, and Andy Schmidt.
Credit(s): tigertracks 24, IDW Publishing
---
Got Transformers News? Let us know here!
Most Popular Transformers News
Most Recent Transformers News
News Categories:
Toy News
,
Movie Related News
,
Cartoon News
,
Comic Book News
,
Site News
,
Rumors
,
Event News
,
Digital Media News
,
Collectables
,
Game News
,
Sponsor News
,
Site Articles
,
Store News
,
Company News
,
People News
,
Press Releases
,
Sightings
,
Reviews
,
Unlicensed Products News
,
Auctions
,
Transtopia
,
Interviews
,
Knock Offs
,
Collector's Club News
,
Editorials
,
Heavy Metal War
,
Podcast
,
Contests
,
Book News
,
Top Lists
Re: 'The Road to Chaos' - Transformers Ongoing #19 Reviewed (1224274)
Posted by
Doctor McGrath
on May 17th, 2011 @ 11:02pm CDT
Great review TT. I'm going to have to check this out.
Re: 'The Road to Chaos' - Transformers Ongoing #19 Reviewed (1224324)
Posted by
Hans
on May 18th, 2011 @ 2:07am CDT
Excellent art, the best artwork I've seen in the ongoing so far. Love Guido's little tip off the hat to the inking style of Stephen Baskerville in that one panel that shows the side of Hot Rod's head. Let's hope Mike Costa is getting better as a writer, at least the subject material is getting more interesting. Really tired of his angry, frustrated grunty Optimus Prime. Because that's *so* in character... :S
Re: 'The Road to Chaos' - Transformers Ongoing #19 Reviewed (1224437)
Posted by
Overloaded
on May 18th, 2011 @ 9:04am CDT
amcgrath929 wrote:

Overloaded wrote:I just hoipe the Matrix some how is give back to Optimus so he is on level par with Megatron again

Like this?:
Oh yeah