Too Much Circuit Smasher?--Review of Transformers Regeneration #83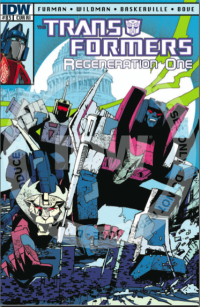 Tuesday, September 4th, 2012 11:47am CDT
Categories:
Comic Book News
,
Reviews
Posted by:
Tigertrack
Views:
41,901
Topic Options: View Discussion · Sign in or Join to reply
How do you write a spoiler free review? It's not easy, but I'll give it a whirl, so you can enjoy the issue for yourself when it hits comic store shelves tomorrow.
In the very last issue, Megatron made himself and his actions more than known to the Wreckers. Kup captured by the Lobotocons and in Megatron's clutches, the Wreckers at the mercy of Circuit Smasher after being chased relentlessly by Megatron's resurrected army and barely getting away a distress call to Cybertron...
"You kids get off my front lawn!"
In this issue it's no surprise that Megatron goes forward with his plan to face Optimus Prime...again. Using the Wreckers and Kup as bait he's hoping to lure Optimus to Earth for another final duel --a more final duel than any video game, or space bridge, or crashed starship, or alien controller could hope to achieve--. On Cybertron the message is finally received. But will Optimus answer the call from his deadly nemesis? Will he possibly forego the peace that has been established to once again take up the mantle to fight for freedom that he has been most known for?
On to other new issue news: Circuit Smasher is revealed to be Spike Witwicky -- didn't see that coming did you--. But how did he become this newly enhanced being with glorious flowing locks? The last thing we all knew, including the Autobots, Spike was binary-bonded with Fortress Maximus. Where was this giant of a warrior, this hero of so many Cybertronian battles? Circuit Smasher Spike's origins are revealed and the story also uncovers another familiar former human ally of the Autobots. No surprise really, it seemed this major Marvel contributor had to come along at some point with his relationship to the new powers that Spike is showing, and his relationship with the Transformers in general from the previous 80 issues. Maybe he can help the Wreckers to create something as deadly as 'The Car Wash Of Doom' to defeat Megatron and the Decepticons.
"I can look thoughtful and glow at the same time."
"Bet you didn't know I was so smart, huh?"
Unfortunately, this story still leaves us with no answer related to Grimlock's capture from last issue when he went back to the planet Nebulos to get help with his affliction. Instead, we get another plot lead to what might be the end of Cybertron's peace, and a whole lot more responsibility for the young Autobot cavalier under Prime's tutelage.
'Resistance is futile.' Like the Borg, the rogue, off-planet Decepticons have been working to assimilate other robotic planets to help rebuild their strength, but their real desire, a certain home planet of a certain transforming robot species amy be attainable. If only the Autobot forces there were weakened, or spread thinly enough that a Decepticon uprising and assimilation would work. Hmmm.
Teaser image to a teaser image.
For me, this issue went way too fast and left way too much for next time. Circuit Smasher took up a lot of the story, and we all know that there are copyrights in the way to bringing back Circuit Smasher's predecessor. It had to be, we had to get this out of the way so that Spike could be used again, even if he looks more like Josie, and less like Spike than I remember. Why he couldn't remain the Fortress in Fortress Maximus, and Buster couldn't become Circuit Smasher, I'm not sure? That answer may never come. I honestly wish that Circuit Smasher was not going to become a major character, but I believe he will since Furman has worked so hard to reintroduce Spike and his new powers, back into the plot, and has written out the old Spike. I wonder if we had not stopped with issue #80 way back when, if Furman would have continued to use Circuit Breaker, and found another fate better suited for Spike and Fortress Maximus?
Finally, Optimus Prime is no longer annoying me as much as he did in the first few issues of Regeneration. Furman has crafted him nicely, purposefully making us all feel frustrated like Kup toward Optimus' in-action. We find out a lot about Optimus' reasons for acting (not acting) as he has and it was enough at this point for me to forgive him.
"Duh."
I hope Kup lives long enough for him to be able to apologize and forgive Optimus as well. Poor Kup has contracted a pretty bad disease thanks to Megatron, and we'll need Spike's human ally to help him to overcome it. At least, that's what they did when they faced this before.
There's plenty for the previous Marvel Transformers and Marvel UK readers to find and recognize. But honestly, sometimes it feels like we are being hit over the head and forced to notice these details, rather than having them smoothly worked into the story for us to connect with. Sometimes they seem to be really syrup-y heavy, and not just light, and flavorful, as I feel they should be.
"Torkulon. Torkulon. Why does that sound familiar?"
Wildman's art is still steadily decent, harkening back to simpler times in Transformers, but some of the panels, and some of the characters really do look very, very simple, with some odd looking facial expression, details, and simplified forms. Scale suffers, as it always seems to with Transformers. Geoff Senors alternate covers also make for some excellent nostalgic feel. Wonder if he'll ever pencil the interiors?
"
Don't look at my hand. It's hideous. I mean my other hand."
Of course, these are just my feelings toward the experience of issue #83. By no means do I not enjoy it, I really do, I love the restart of the old comic series. I often times feel as if it were the early nineties again, and I'm reading this series like it didn't stop for twenty some years. And that I believe, is a major point of it all. Keep it up guys! And thanks to Seibertron for allowing me to share my ideas out loud with the rest of you all.
A few stars out of some amount of stars.
Credit(s): tigertracks 24
---
Got Transformers News? Let us know here!
Most Popular Transformers News
Most Recent Transformers News
News Categories:
Toy News
,
Movie Related News
,
Cartoon News
,
Comic Book News
,
Site News
,
Rumors
,
Event News
,
Digital Media News
,
Collectables
,
Sponsor News
,
Game News
,
Site Articles
,
Store News
,
Company News
,
People News
,
Press Releases
,
Reviews
,
Sightings
,
Unlicensed Products News
,
Auctions
,
Transtopia
,
Interviews
,
Knock Offs
,
Collector's Club News
,
Editorials
,
Heavy Metal War
,
Podcast
,
Contests
,
Book News
,
Top Lists
Re: Too Much Circuit Smasher?--Review of Transformers Regeneration #83 (1417205)
Posted by
Blurrz
on September 5th, 2012 @ 2:22pm CDT
I loved the Optimus and Rodimus dialogue, the rest of the issue was sort of meh, and I agree with a majority of your points, TT.
Re: Too Much Circuit Smasher?--Review of Transformers Regeneration #83 (1418176)
Posted by
Omegatron10
on September 8th, 2012 @ 10:38am CDT
I personally liked the issue more as it filled in some holes as to what happened on Earth during the Autobots absence.

However honestly I can't believe that for one second that Optimus Prime would just abandon Earth and completely forgot all about after he spent over 10-20 years defending the place from the Decepticons. Surely he would have sent someone to get the Ark and Fortress Maximus not abandon him to die.

I predict at the end of the series we will see Galvatron re-appear along with Rodimus Prime.
Re: Too Much Circuit Smasher?--Review of Transformers Regeneration #83 (1418473)
Posted by
Scourgescream
on September 9th, 2012 @ 1:11pm CDT
Regeneration is by far the weakest of the 3 ongoing IDW titles right now