Top 10 Best Transformers Action Figure Hauls of 2019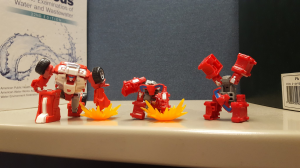 Sunday, January 5th, 2020 12:06pm CST
Categories:
Site Articles
,
Editorials
,
Top Lists
Posted by:
D-Maximal_Primal
Views:
27,929
Topic Options: View Discussion · Sign in or Join to reply
Another year, another round of toys! 2019 offered up not only some excellent new figures, but it also provided collectors of all ages plenty of opportunity to collect older figures as well.
And that is what we will be focusing on today. Today, I will be sharing with you the Top 10 Transformers that I collected last year, and then you can comment on the hauls as well as share your own Top 10 of 2019! And remember: any figure you bought from January 1, 2019 through December 31, 2019 is fair game for your lists! And the figures don't have to be ranked based on being technically good, they should also be ranked on how much joy they gave you.
So here we go!
10) Transformers 2007 Movie Premium Optimus Prime
This was
the
figure that I was hunting when I went to TFcon D.C. this year, which was also my first ever TFcon. And it was a great experience! If you haven't gotten to go to a convention like this, I highly recommend you do.
But back to Prime: I have the leader Allspark Power Nightwatch version of this mold from the 1st movie, and it is my all time favorite Transformer, the one I could not give up ever. And I wanted to find the version with the sword, very badly. But throughout the Con, I could not find a hint of it, anywhere. And then, when me and my buddies were getting ready to leave, I ran to grab one final autograph. And after getting that, I saw a Prime on top of a pile at a table; it was the Leader with a gun; underneath that, a 2nd of the same Prime; and then, somehow, at the bottom of the pile, was a 3rd Leader Prime, and it was the one with the sword.
I got him! It was a great find, and one I will cherish not only since it is a good figure, but also because of the circumstances of the score.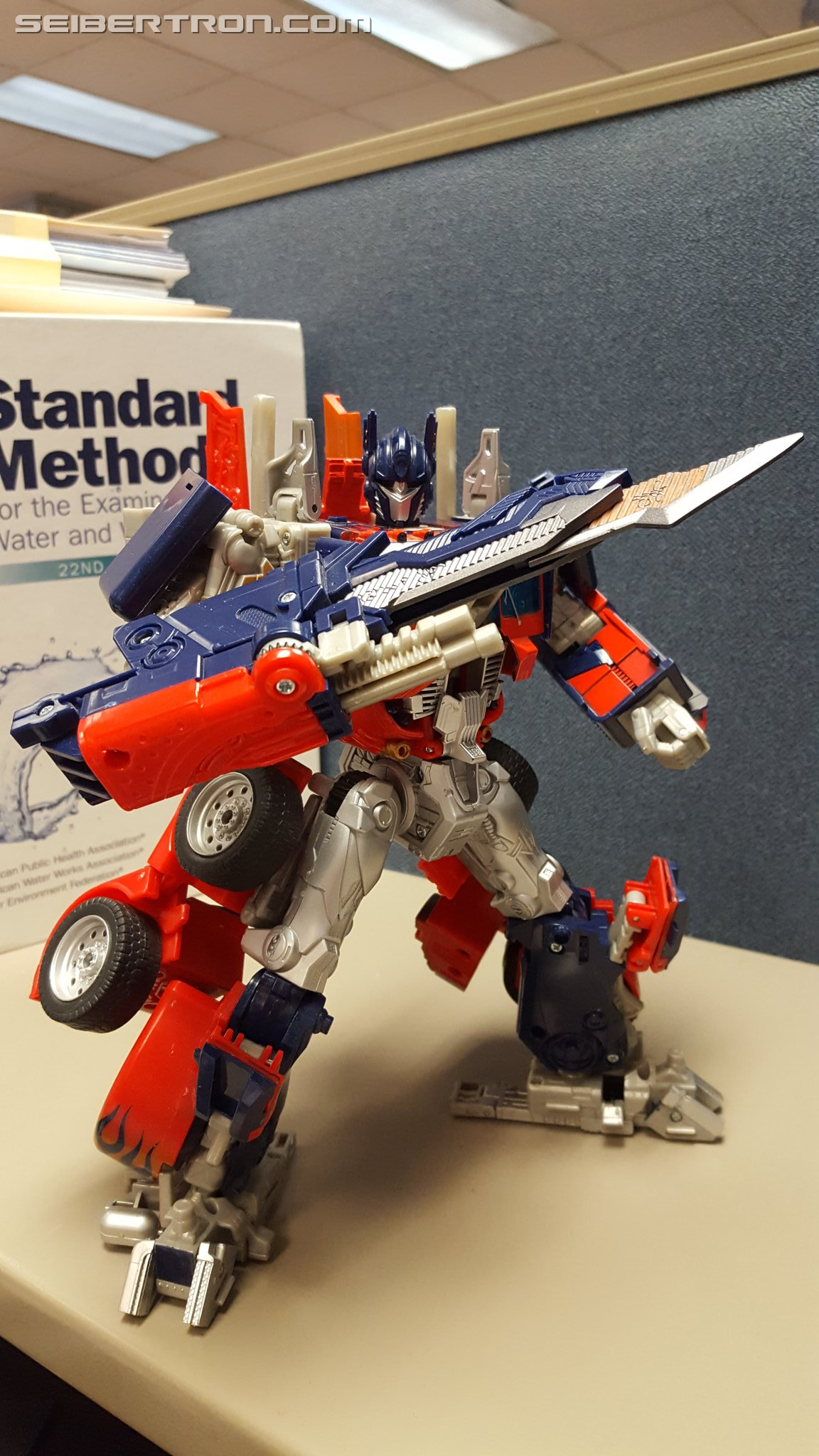 9) Studio Series Dark of the Moon Optimus Prime
This one ends up on the list not for being the best Studio Series figure, but for being the one that I had been hoping to happen for 8 years.
When I saw Dark of the Moon, all I wanted was a Prime with a trailer that turned into a combat arsenal and flight tech, and it finally happened. And while it does leave some to be desired in terms of trailer detailing/paint, it is still a joy to finally get this set as I had always wanted and envisioned it.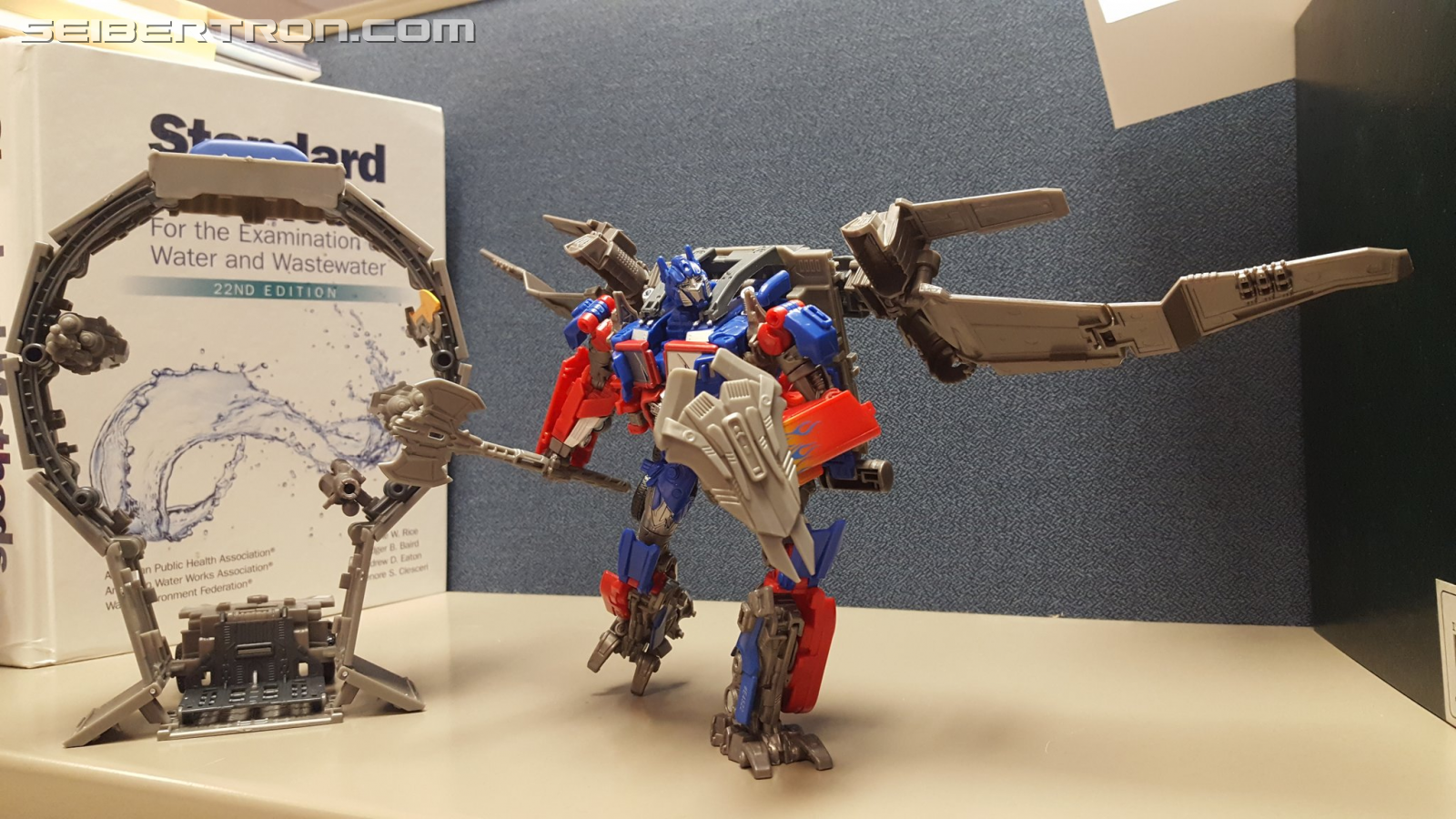 8 ) Ghostbusters / Transformers Ectotron
At the beginning of this year, we knew a Ghostbusters MP-10 was coming out, but we had no idea this wonderful thing was coming. And it was the most fantastic surprise ever. Not only is it a wonderful crossover of 2 franchises I love, but it is also a very very good figure in and of itself. Ectotron is a wonderful figure that is so full of fun stuff, least of all being the first ever Transformer with a Proton Pack.
Ectotron was probably the greatest surprise of 2019, and is one of the best of the year, retro-hauls and all.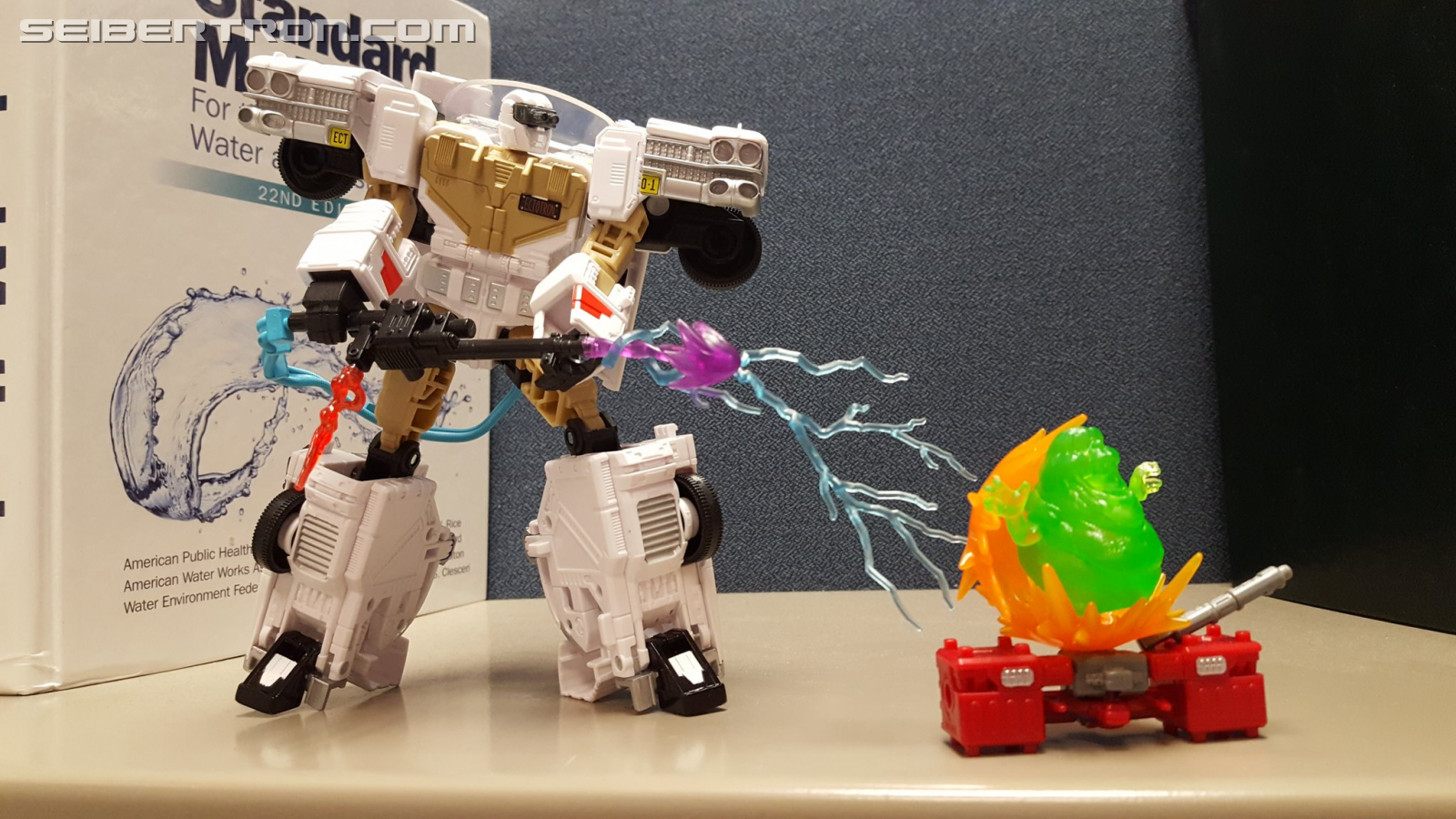 7) Siege Omega Supreme
This was a late entry to my collection this year, but ever since I have gotten him, I can't stop messing with and talking about him. Omega is the Titan that we have always deserved, he is of great quality and posability, with intricate detailing and some great paint work. Not to mention his transformation is really fun and his alt mode has so much playability. Omega is a fantastic figure, and one that everyone should get if they want a Titan figure.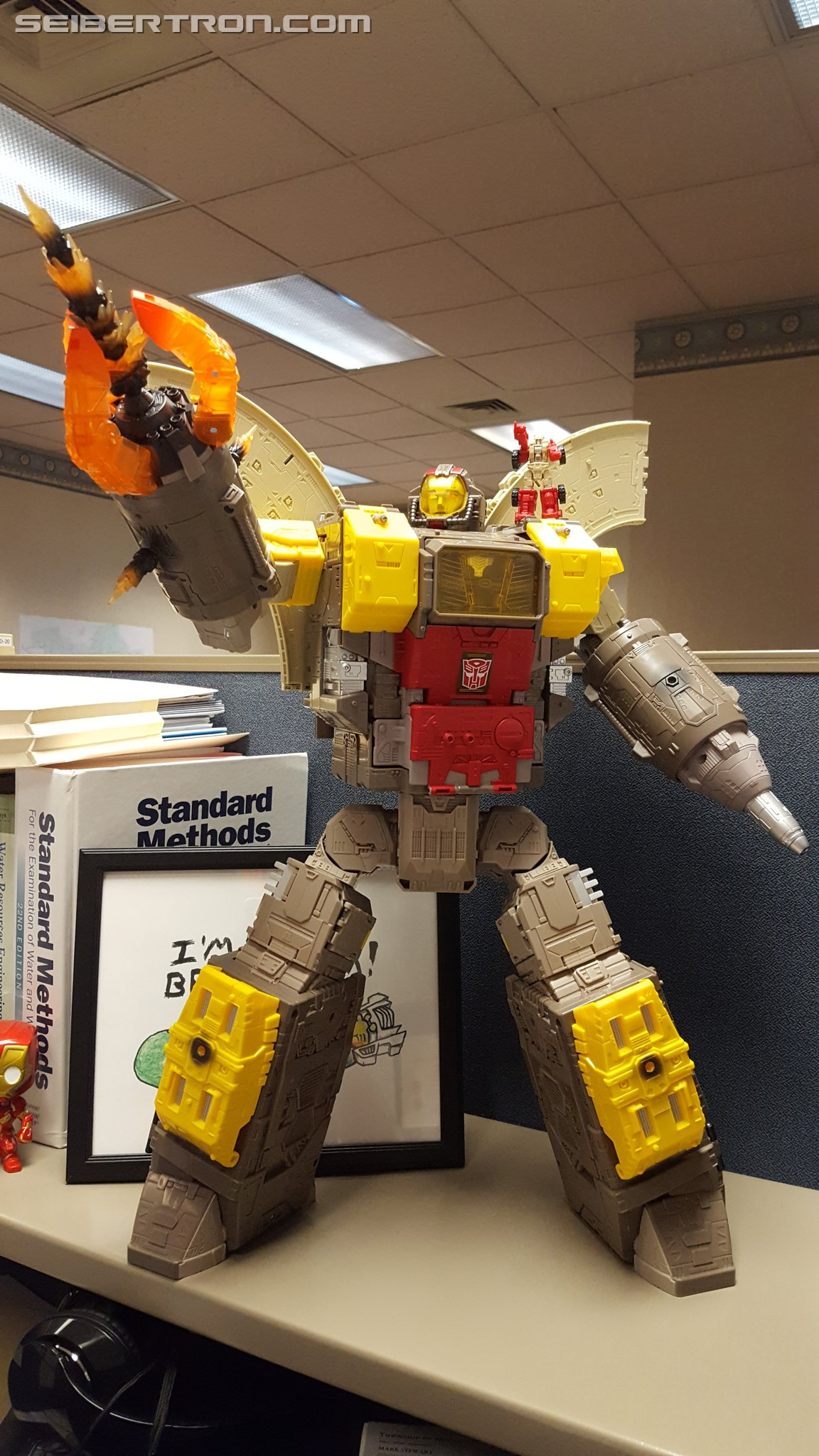 6) Studio Series Rampage
My Studio Series figure of the year. Rampage this year was a lot like Jazz from 2018 - He is immensely fun. He is the best figure, technically? No. He doesn't even have elbows. But is he ridiculously fun, and also forms a leg to a massive combiner? Absolutely. Rampage is a wonderful Decepticon figure, and is one of the best Studio Series figures of the year, and one of the best figures of the year.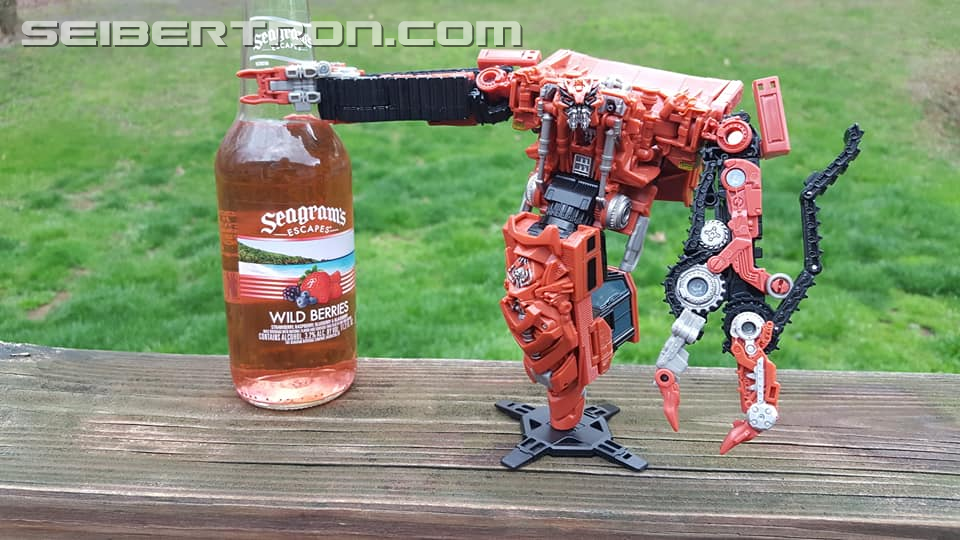 5) Siege Smashdown
I cannot stop singing the praises of this figure. For a $6 figure, this thing delivers so much. For one thing, a Minotaur that turns into a Hammer. That is brilliant. And then, a hammer, the one sole hammer that we have got in the battlemaster class, one of the few melee weapons, and one of the few hammers we got in the decade. Hammers are rare in Transformers, and I love every single one of them.
This is a figure where you can get 5 of them (like me) or more, and not feel like you've wasted money. Get as many of them as you can. And with a re-release coming in Earthrise, it's evident Hasbro recognized how good Smashdown is.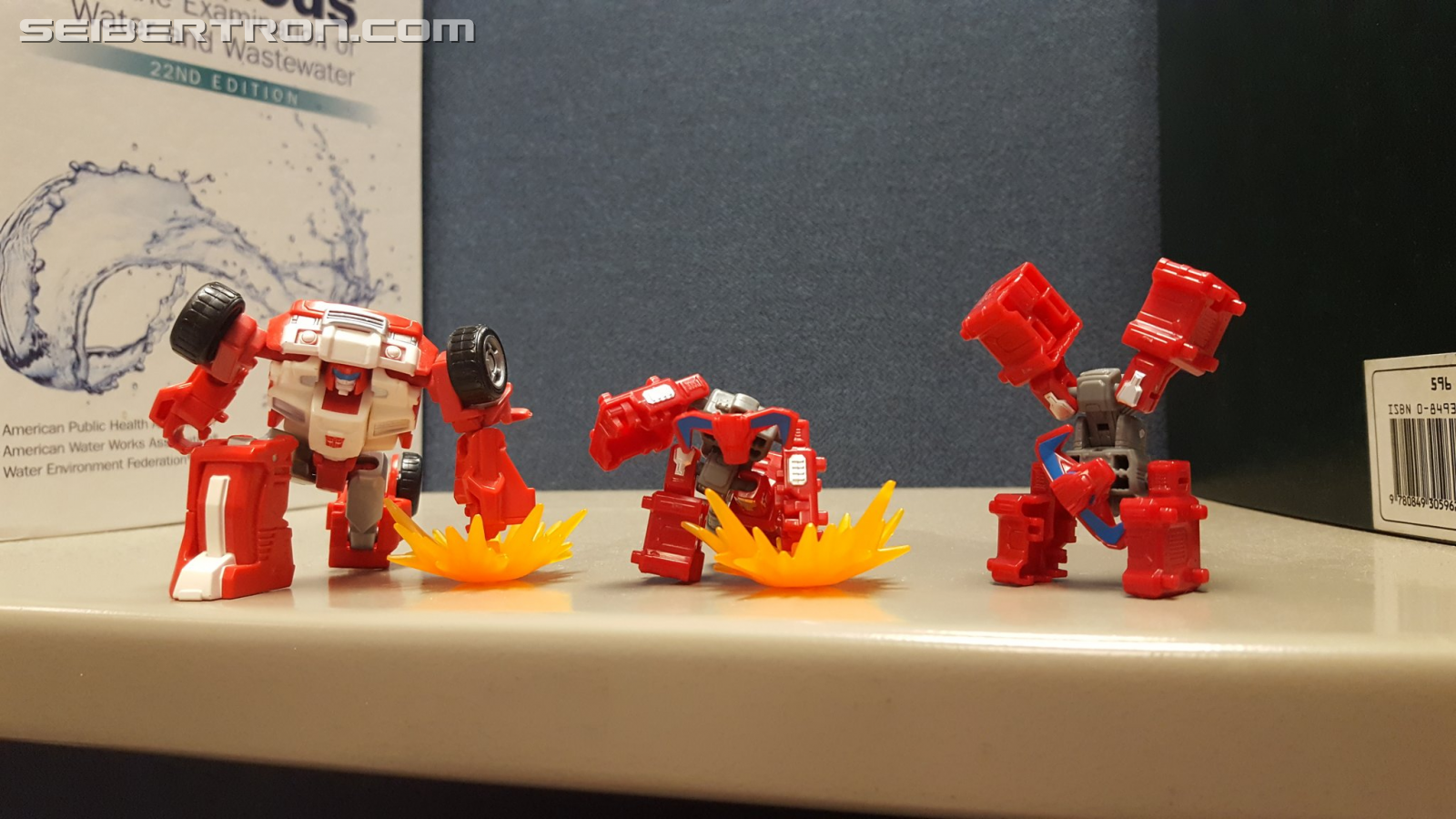 4) MPM-8 Megatron
While I ranked Smashdown as the figure of the year, Megatron is the most important figure of the year to me. This was a masterpiece of my first ever Transformer, and it was a perfect update. This is a huge figure that impresses in so many ways, not least of which is the fact that he is combiner sized and heavy as heck. He is wonderfully painted, and the sculpting is perfect. This was the update I really wanted my first Transformer to have, and it was delivered upon perfectly.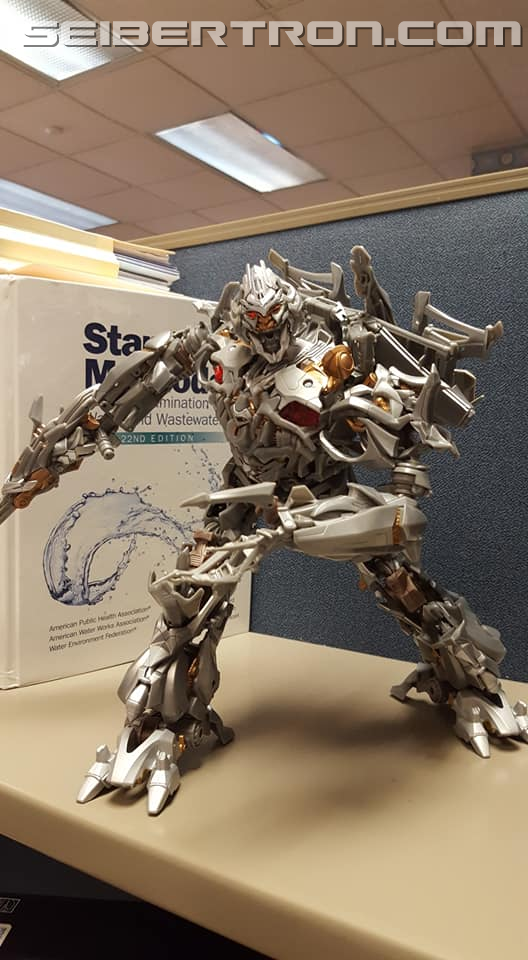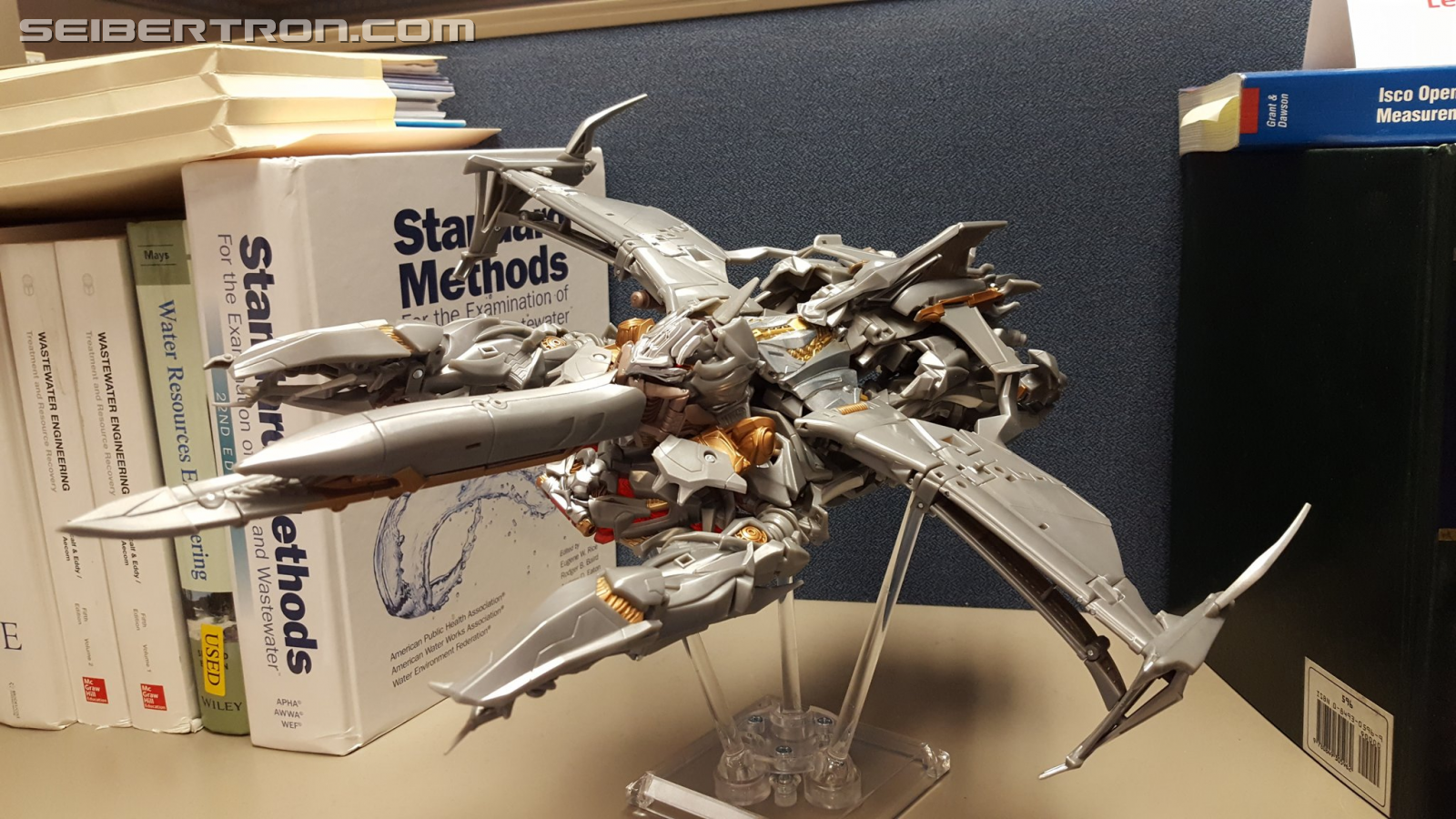 3) Armada Powerlinx Jetfire
The final 3 on my list are older figures, and those 3 start with Jetfire. I have recently been getting into the Unicron Trilogy, and bought a lot from those lines this year. Armada Jetfire was one of the very first figures I got this year, and it should say a lot that one of the first is in the top 3 of my year-long list.
This Jetfire is really good and really fun. For one thing, he is a massive shuttle, and he forms a great giant robot from that shuttle. The Powerlinx colors are great on him, and I love the faceplated head. And then he forms the pants to a giant Prime. This is an insanely fun figure by himself, and he's a team player too. I could not be happier to have him.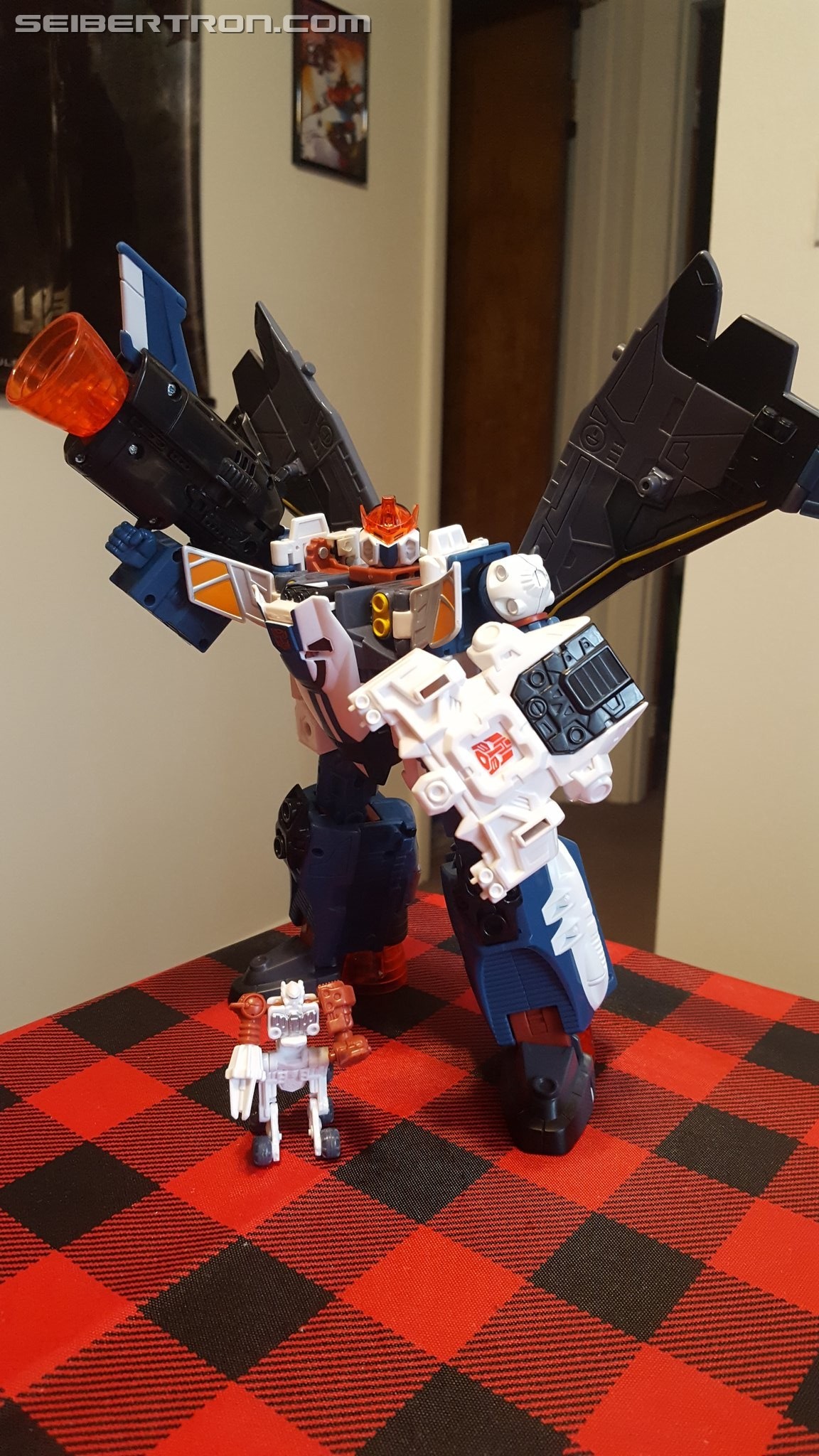 2) G1 Dreadwind and Darkwing / Dreadwing
This was a pair where the story is as important as the actual find. This was a 1:00 AM Friday night hotel find at TFcon D.C., where both of these, as well as a G1 Slapdash and Flywheels, were up for a barter for a half hour, with some help from a friend of mine from the Podcast. Finally, after a half hour, I got the price I wanted, and suddenly I had 3 of the Powermasters in one go, and these 2 are the greatest of that. I now have 5 of the Powermasters, including all 3 Decepticons, and plan to finish that entire team this year.
But back to these 2: not only was getting them a highlight, but these 2 are pretty dang good by themselves. The robots and jets are really good, and then the combined jet mode is really fun and bonkers. It's a sign to me that G1 still has some pretty nice tricks up its sleeve, and I love the entire Powermaster team/concept.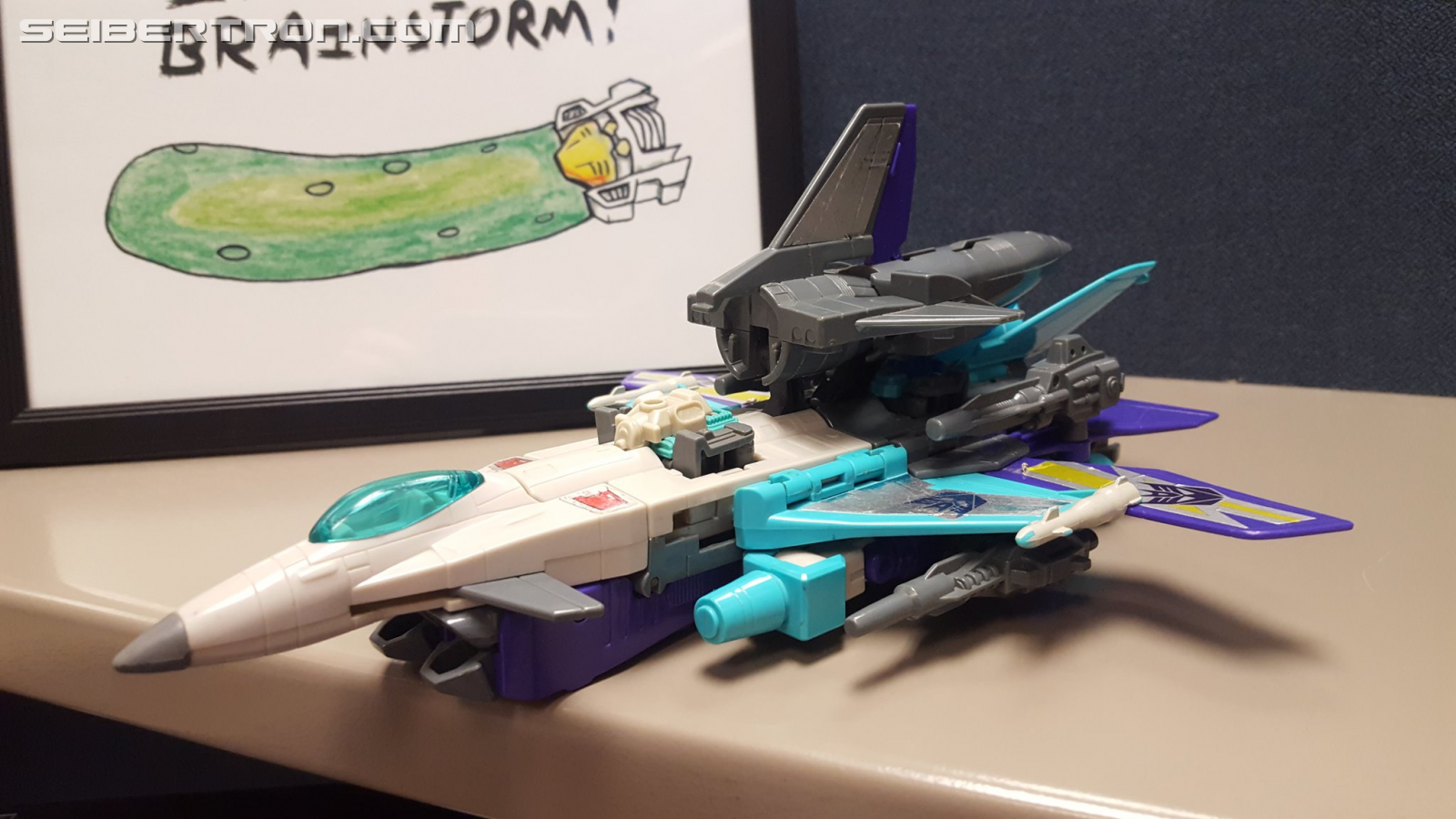 1) Cybertron Defense Red Alert
I will be fully honest, this one was a huge surprise to me. Whenever the Siege Selects Cybertron Defense Hot Shot was revealed, I ended up getting the original from a Twitter friend, and once getting him, I decided to get the other 2 members of the team if I could. And late Saturday night at TFcon, I found a boxed Red Alert and scored him for a great price with the last of my cash (and some help from previously mentioned friend/podcaster).
And wow, this figure is so good. So so good. This is a large toy that has some great weapons, poses pretty dang well, and is just
fun
. And that chest and head sculpt are fantastic. This is the figure of the year for me, special both for how I got it, and for just how dang good the toy itself is. It is pure joy.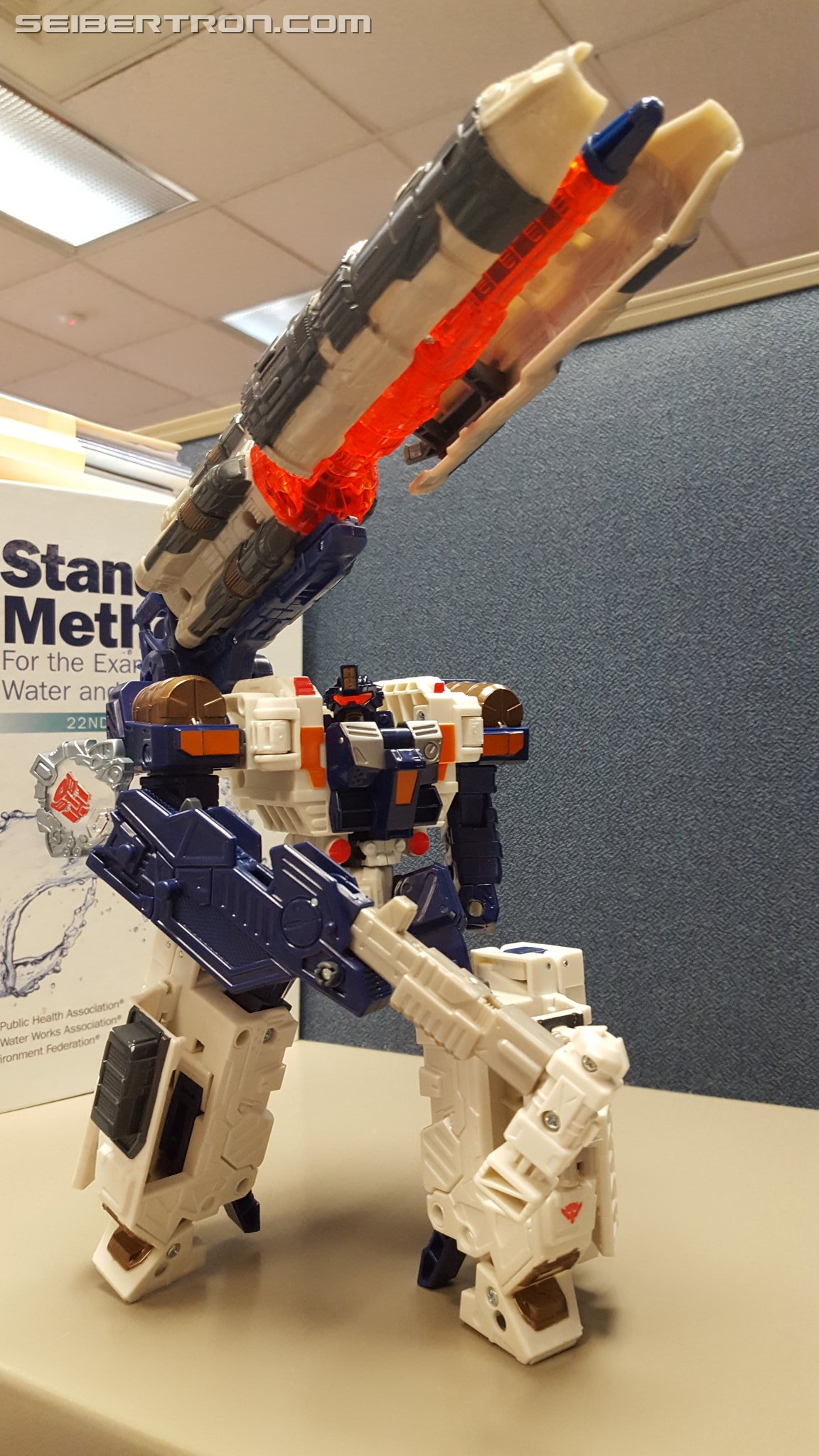 Honorable Mentions:
- Classics Optimus Prime
This was another TFcon haul, and while it was not a Top 10 of the year, it is still a great toy that is fun to mess around with and is a good toy all on its own. It feels good to experience a mold so many have had such high praise for.
- G1 Pretender Jazz
Also TFcon haul, this one was complete and a surprise to find for his price. After some Toyhax stickers, he is nearly perfect, and is a wonderful Pretender addition.
- Cyberverse Ultimate Grimlock
I got 4 Cyberverse figures, and this Grimlock is a great toy. He is one of the best Grimlocks we have ever gotten, and he's a great Cyberverse toy. He also has a fun gimmick. This is a toy that Cyberverse needed, and it's one I am glad to own.
- G1 Powermaster Prime with Apex Armor
I got this figure in the fall, and it was wonderful. This G1 toy is incredibly fun, with tons of great features and gimmicks. Every mode has something fun about it, and it is a large great toy.
Credit(s): D-Maximal_Primal
This article was last modified on Sunday, January 5th, 2020 2:52pm CST
---
Got Transformers News? Let us know here!
Most Popular Transformers News
Most Recent Transformers News
News Categories:
Toy News
,
Movie Related News
,
Comic Book News
,
Cartoon News
,
Site News
,
Rumors
,
Event News
,
Digital Media News
,
Collectables
,
Game News
,
Sponsor News
,
Site Articles
,
Store News
,
Company News
,
People News
,
Press Releases
,
Sightings
,
Reviews
,
Unlicensed Products News
,
Auctions
,
Transtopia
,
Interviews
,
Knock Offs
,
Editorials
,
Collector's Club News
,
Heavy Metal War
,
Podcast
,
Contests
,
Book News
,
Top Lists
Re: Top 10 Best Transformers Action Figure Hauls of 2019 (2048588)
Posted by
Tigerhawk7109
on January 5th, 2020 @ 3:59pm CST
Alright Dmax, here's my list:
#10: Combiner Wars Swindle
#9: Thrilling 30 Jetfire
#8: Titans Return Hardhead
#7: Siege Megatron
#6: Siege Cog
#5: Siege Thundercracker and the Rainmakers
#4: Siege Shockwave
#3: Siege Ultra Magnus
#2: Power of the Primes Predaking
#1: Unite Warriors Superion
'Til all are one!
Re: Top 10 Best Transformers Action Figure Hauls of 2019 (2048591)
Posted by
TulioDude
on January 5th, 2020 @ 4:14pm CST
Nice list!You can feel this came form a very personal place.

Day 5 of waiting for Transformers Armada masterpiece news.
Re: Top 10 Best Transformers Action Figure Hauls of 2019 (2048605)
Posted by
Ironhidensh
on January 5th, 2020 @ 6:09pm CST
1) MP Hound
2) BWMP Megatron I didn't keep it but one hell of a figure
3) Ectotron
4) SS38 Bumblebee movie Prime
5) MP44 Optimus Prime
6) MP45 Bumblebee
7) MP Wheeljack + edition
8: MP Silverstreak + edition
9) Siege Jetfire
10) Rung
Re: Top 10 Best Transformers Action Figure Hauls of 2019 (2048615)
Posted by
Comic_27
on January 5th, 2020 @ 8:59pm CST
Great list! "I'M PICKLE BRAINSTORM!" absolutely cracked me up
Re: Top 10 Best Transformers Action Figure Hauls of 2019 (2048620)
Posted by
GeekyGamer Gal
on January 5th, 2020 @ 10:36pm CST
My top hauls have a lot of G1... 2019 was kinda my year to randomly stumble upon them.
10.) Siege Greenlight. She just tickled me with how crazy awesome Amazon Prime is, and her colors are are awesome.
9.) Prime Darksteel. He finished out my Prime show Predacons, and he's just a big chunky boy compared to Predaking and Skylynx. Just a fun time.
8.) Siege Shockwave. Due to some coupons, gift cards, sales, and a refund, I managed to snag this guy for free. I've fiddled with him quite a bit, and he's set up now as a tentacle armed Ironman with his platform shoes/feet cannons set up as shin boosters. He's just fun and kinda over the top obnoxious.
7.) Studio Series Sideswipe. This is my only Sideswipe this year, as I have a large collection of Sides, and even better he's a corvette!
Anyway, I am just amazed by this guy for the fact that despite his wheeled feet, he stands better than some of my guys with regular feet. I also love the ability to switch around with the swords and guns.
6.) Prime Soundwave with Laserbeak. This was a figure that I wanted after I had fallen in love with Soundwave in the show, but by the time I was ready to buy him. Every single store that had been sitting on about three or more of him had sold out, and he was $50+ online. This made me a bit bitter about this guy for awhile. Anyway, I happened to visit my usual haunt, where I picked up my #2 on this list, and they had one on the peg. Sure, Soundwave had been opened for display, but he was resealed onto the card with all of his accessories and paperwork, and he was reasonable. I've now gotten over my bitter feelings about this guy and love how eerily creepy he is.
5.) G1 Tracks. Tracks was my last Transformer purchased in 2019, about a week before X-mas, and I promptly got in trouble from the hubby because of that timeline. I have a bit of a corvette hard on, to quote said hubby, and finding a clean complete Tracks with the box and paperwork was sweet. Tracks was not as cheap as some of my other purchases on this list, but he was definitely below current market value. I like oogling at the classic corvette, and even better Tracks is a C3 or 3rd generation of corvette, which is my second favorite body style.
4.) G1 Thrust. Thrust, like the next entry, was a Decepticon that my older brother had wanted as a kid during the original 80's madhouse. Albeit it was mostly for being a "Harrier VOTL jet," even though he's still technically an F-15... Anyway, he never got one while he was a kid and I stumbled across a complete one. My brother gave me a look when he got to see it, but he did tell me that he didn't want it for his B-day or X-mas. Mine now I guess?
3.) G1 Soundwave. This is the other one that my older brother had wanted as a kid, and had never gotten. The main difference between Soundwave and Thrust was the fact that he, and consequently I, had most of the initial release cassettes. I spent almost the entirety of 2018 piecing the cassettes back together, getting Laserbeak and Buzzsaw, but I didn't have Soundwave. Then at my one convention I can easily get to, and with my hubby's encouragement, I worked out a deal and finally got one. This was all right before the re-release, which was my plan B, despite then having the second Buzzsaw, but it never hit the shelves in my area making finding an actual G1 even beter.
2.) Diaclone/G1 Jazz. So Jazz was the second Diaclone figure I had ever seen, and when I came upon him at one of my haunts for Transformers I was in awe. Even better the owner gave me a B-Day discount, and I sat through a showing of Captain Marvel with Jazz on my lap. Also for those who are wondering, the first Diaclone Transformer I ever saw was Swoop at the 2016 Botcon.
1.) G1/Diaclone Trailbreaker. I've said it before, but this is my second Diaclone figure. I found him during an exploration with my hubby at a hole in the wall antique store near our house, and I was all over getting Trailbreaker out of the case and into my hands. At the time, and even after I had posted pictures of him on my desk, I didn't realize he was Diaclone G1 repackage until after I had transformed him a few times. It was the little lost TF that kept giving, and now I have all the accessories for him. He just brings a smile to my face, and reminds me that sometimes you need to check every hole in the wall because you never know what you'll find.
Honorable Mention:
Siege Omega Supreme. He's an honorable mention mainly due to my issues in getting one replacement piece due to a QC issue. It took about three weeks, and now he sits very fittingly, at least until the shelf is built, in one of my armchairs. He looms just right in the chair that when my nearly year old retriever boxer mix knows she's been naughty; she actually tucks her head and tail when walking past him in the chair. Omega has just somehow become the third puppy parent by sitting in the chair, and it is hilarious.
Re: Top 10 Best Transformers Action Figure Hauls of 2019 (2048626)
Posted by
Rogue-Primal
on January 6th, 2020 @ 1:35am CST
Here's mine all are hasbro versions
5: Cyberverse Spark Armor Bumblebee
4: Siege Laserbeak & Ravage
3: Cyberverse Spark Armor Grimlock
2: Siege Deluxe Sideswipe
1: Siege Voyager Optimus Prime
Re: Top 10 Best Transformers Action Figure Hauls of 2019 (2048628)
Posted by
Bucky
on January 6th, 2020 @ 4:28am CST
Some very, very cool hauls there, D-Max. I'm shocked that there isn't a single Beast Wars toy in there.
Snagging Dreadwind and Darkwing is definitely neat. They look awesome. I really need to pull the trigger on MPM Megatron. He looks so big and imposing. Never had any Armada or Cybertron toys, but looking at Jetfire and Red Alert has me thinking that maybe Has/Tak should bring back ridiculously oversized weapons. They're absurdly huge, but they look like they'd be so much fun.
If I find time later, I might have to think about what all I got this year, and make a list.
Again, excellent hauls!
Re: Top 10 Best Transformers Action Figure Hauls of 2019 (2048763)
Posted by
D-Maximal_Primal
on January 7th, 2020 @ 2:51pm CST
Bucky wrote:Some very, very cool hauls there, D-Max. I'm shocked that there isn't a single Beast Wars toy in there.
I regret not putting Longrack on there as an honorable mention, I honestly am surprised looking back that a Beast didn't make it on there! damn.
Nice lists everyone! Geekygal, the amount of G1 is cool in that case for all the stories!
Re: Top 10 Best Transformers Action Figure Hauls of 2019 (2048765)
Posted by
GeekyGamer Gal
on January 7th, 2020 @ 2:54pm CST
D-Maximal_Primal wrote:Nice lists everyone! Geekygal, the amount of G1 is cool in that case for all the stories!
Thanks!
I didn't put the G1 Dirge I also ran into as an honorable mention, but he's just a nice shade of blue. That and now I feel like I need to get a G1 Ramjet just to finish the set...
Re: Top 10 Best Transformers Action Figure Hauls of 2019 (2049162)
Posted by
Bumblevivisector
on January 13th, 2020 @ 12:53am CST
I'm a few days too late to this thread, just like last January.
10. Siege Ultra Magnus:
The theme of last year's collecting turned out to be 3rt party and KO stuff getting 1-upped, or at least matched by official toys. Every time I handle this fearless leader-class, I get all these flashbacks to City Commander, the Classics Magnus upgrade that really jumpstarted the 3rd party market, so popular that it became the first 3PP to have another company do an upgrade to it. (does that make Wrecker Leader the first 4th party product?) Now, it could be a coincidence, since there are only so many ways to pull off Magnus armor that utilizes the articulation of the inner white Op, but I honestly think the designers studied City Commander to improve on it. Of course, they'll never legally admit to it, but that's exactly the symbiotic relationship HasTak ad 3Ps
should
have! Let the unofficial companies do whatever they want with designs that the official two are ignoring, since theft hardly seems like the right word for something that's just been sitting in the trash for years/decades (but if HasTak
are
using it, the occasional exception does need to be smacked down deep into the void, this year's huge example being that not-Unicron); but when HasTak finally does decide to make use a design that's been fleshed out by a 3PP, they can just take what was copying their rightful property all along for an official tune up. Everyone wins!
9. Decibel (+Frenzy) Reissue:
I remember how ecstatic I was when KOTOYS announced that CHMS was doing reissues of all 4 pairs of combining cassettes, long suspected of having their molds lost/unusable due to their absence from the Big Mission sets. When I finally got the W cassettes in repros of the Japanese boxes, almost a decade gone by now, it was like getting some forbidden, alien relic of the distant past, and the KOTOYS-destroying crackdown they inspired only amplified the feeling.
But getting Gurafi and Noizu on Hasbro cards brought back memories of seeing my all time favorite toy Slamdance for the first time at a TRU in '88, practically retconning two cassettes that Hasbro should've released stateside right back into my childhood. We had reports of an inexplicable supply-side shortage from Hasbro, which in effect oddly paralleled the one caused by the KO crackdown, but I got two sets from Robotkingdom. And if the detailing on these official W cassettes actually does have more in common with the CHMS ones than the originals (someone around here said that, but I didn't dig into it myself), then everything I said about the symbiosis between 3Ps leading to better official products can apparently apply to certain knock-offs!
8. Siege Redwing:
Found a returned on in a physical Target. And yet, the supposed need to buy it online forced me to buy a RedCard, which still gives me that discount at the chain that now has more TF exclusives than any other, so that card was more than worth the trouble.
Nice to see any background character get their first, overdue toy, and I also got Siege Starscream, Thundercracker, and the Rainmakers in 2019, but I have so many mixed feelings about this Tetrajet mold. I'll eventually get the reprolabels upgrade with dorsal peak, but that alt still pales in comparison to the show accuracy of the Impossible Toys Tetra Squads jet modes. The only minor problem with those 3P figs being that the bot modes and transformation were so atrocious, they ended up putting the company out of business. If only there were some way to combine their Tetrajet modes with the Siege robot mode...but we so rarely get everything we want in a single toy, do we.
And he's RedWing, I live near Hockeytown, so he has to represent all that is good about the Siege Tetrajets in my list. My only other complaint is that he didn't get the Classics Seeker treatment before they retired the mold.
7. G1 Slapdash:
The last Sunday of the year saw my last local mini-con in Farmington. Maybe the only vintage I bought this year. ADD makes for a sympathetic character trait, and the past two decades each gave us one awesome toy that I consider partial homages to this guy (Energon Cliffjumper and PCC Leadfoot), so when I saw him complete, it seemed worth the $60. Got a lot of weird books I never expected too, including one on the history of animated feature films with an entry on Cleopatra, Queen of Sex, a movie I'd been able to find so little info about online, I was beginning to doubt its existence, so it was a great way to close out the year.
Though unlike D-Max, I'll have to make do with PotP Dreadwing for the time being. I actually like their combined mode, considering the molds they had to work with.
6. Cyberverse Gnaw:
Another one I'd had no luck finding until the end of the year. I was skeptical of the simplifications from the TR Sharkticon I so love 2-dozen times over, but this guy's action feature makes all the difference the second you press that fin. Too bad those widdwe baby Sharkticon 3-packs with cajun-pan-blackened Hot Rod for dinner didn't show up until just after New Years.
5. Siege Greenlight with Dazzlestrike:
This one just somehow picked up a lot of associations, half of which only make sense in my head. First off, it went from being a Prime exclusive to regular Amazon exclusive just in time to be my birthday present, slightly redeeming my dim opinion of the etailer from the previous year. Shipped it with the season 1 DVD of The Handmaid's Tale to get free shipping, which I still haven't watched, but it'll therefore be the toy I most associate with THT unless it gets a toyline, which only occurred to me because I found these plastic clothespins that look kind of like the bonnets if you stick one on a Vitruvian HACKS blank, but I'd have to improve my sewing skills or butcher a SW imperial guard to get the right cloak...ahem.
And while it's awesome whenever a background character who appeared in one story with no lines or name finally gets the toy they deserve decades later...I keep wanting to call her Beta; did Floro Dery just tweak her model a bit amid the designs for Forever Is A Long Time Coming? Beta has just enough white that Superlink Ariel Paradron type is still a better representation, especially with the bow, so no chance I'd double dip to repurpose. But I still think Beta when I see her, maybe because her Crossbow eventually became Deployer animal sidekick Rav, so Dazzlestrike--well, see next entry for the coolest thing about her.
4. Siege Chromia:
Still frustrated that Chromia was needlessly retooled so she can't be combined with her commander Elita-1, but still doesn't look any more like her Search For Alpha Trion van mode than her Generations motorcycle alt? I sure was, until I actually handled this toy. The new details and weapons juuust barely make up for that. While the gunbarrel and grenades may be the tiniest, most loseable weapons any Siege figure has come with (bought a second Chromia just in case), I find myself reconfiguring them more that any others. And no, my constant fiddling with her has nothing to do with the removable groin plate. You can just create a lot of slightly different guns.
But she wouldn't have made my list if not for the the Orthia announcements. Now, announcing an official all-fembot-underground-resistance gestalt should've just made it even more infuriating that Chromia couldn't be a limb, right? And so it did...until that last announcement that Orthia's special power was to be the modern-day avatar for Solus Prime's
Macguffin
weapon and artifact forging abilities. Again, kind of a shame than neither Greenlight or Lancer comes with a big hammer to represent an updated Forge, yes?
Or did they?
You see, it IS possible to fan mode Chromia into a passable hammer,
IF
you attach Dazzlestrike to serve as the grip! Tack the grenades onto the head so they jut off like Frankenstein bolts, and you've got a definitive forge of creation! Sorry I still can't find my digital camera, I swear I'll post pics to this thread ASAP.
But not until I also get Lancer. That's why I couldn't count Orthia in this year's list.
3. Siege Crosshairs:
Found him at a Target at the very tail end of the year, and couldn't wait to get him home, where Windblade had been keeping Pinpointer warm for him. While Ironhide's vehicle mode isn't
perfect
for him, opening it up to carry Battlemasters and additional weapons around makes up for it in playability. And I've wanted one with that head sculpt for so long, accurate not only to Marvel continuity, but to the Targetmaster commercial used in the Rebirth intro, where Crosshairs and Pinpointer skid towards the camera with their feet sparking; I have a friend who swears that's the best 6 seconds of TF animation ever, and can't wait to show him how close it can be recreated with Siege energy effects!
2. Siege Refraktor (regular retail version):
I'll also get the deluxe gift set eventually, but this guy stirred up something greater than extra accessories: the thrill of the hunt! In June, I found what will surely be the last PotP Wreck Gar I encounter in the wild(-greens), leaving me 5 cards shy of a complete set. But hunting 3 of these guys down without online cheating proved just as much fun. As show-accurate as we could hope for, before combining them, I made sure to assemble them into the cheerleader pyramid they used to face off against...
1. Siege Jetfire:
Was this guy seriously not on anyone else's list? I mean, talk about a show/comic design that was decades overdue for an accurate toy, all because each major update insisted on blurring in elements of the original Macross toy. And sure, each one was accurate to a contemporary comic appearance (Titanium to The War Within, Classics to Stormbringer, and Thrilling 30 Leader to later IDW), but it always struck me as strange that while the whole point of Dery's Skyfire redesign was to avoid a lawsuit, no subsequent toys were entirely accurate to it, always falling back on the G1 toy to the point that the boosters on that SDCC Skystriker provoked a (admittedly laughable) legal challenge.
I almost shelled out secondary market prices for FT Phoenix when this official dream come true was announced. And when I surprisingly saw it in Meijer, despite no brick and mortar reports outside WalMart at the time, it was the best belated birthday present imaginable. Our biggest and best Jetfire ever, sure to remain so unless he gets MP treatment.
And thus, an awesome Siege figure that somehow improves on a 3P endeth my list as well.
Here's hoping 2020 indeed proves to be the year of Hasbro-hindsight, where they look back on characters and designs from fiction to give us more figures than ever that they could and should have already done within the past 3 decades. The Quintesson love is such a great start, they've got my hopes up that they'll even do a few Quint designs that dear departed Impossible Toys never got around to, mostly from Dweller In The Depths. I mean, the security guys killed by the transorganics would've been an easy retool of the scientist...
Honorable mentions:
Two groups of figures that just didn't quite fit into a proper list. One because it's a 3rd party gestalt team that's almost an enlarged KO, but apparently just based on the CW Aerialbots, with their alt modes tweaked much closer to the original 5 jets they were based on. Not sure what JuJiang's original MSRP was, but TFSouce had it on sale for $100 Black Friday week, and he's tall enough to clobber PotP Predaking. Had fun opening and combining them during my Christmas Day viewing of Pinocchio And The Emperor Of The Night, a tradition that started just last year, but takes me back to Christmas of '87 when I got my Technobots. (Sadly, I couldn't find my tape of Candy Claus to make the experience complete)
The second group is one that I started accumulating for someone else. Last June's family reunion in Illinois, I gave my 3rd cousins Hana Zuki, Miraculous, Mysticon, and a mix of G.I.Joe, Star Wars, and Marvel toys, the 3.75" figures of which were crammed into that WalMart KO box set of a VAMP chasing a generic copter, with the Baroness swinging out of the latter in order to kick Rey off the former. Much as they appreciated them, it only occurred to me afterwards that they probably all would've rather gotten Transformers, something I hadn't noticed due to my own personal preference. So next June, they're getting as many as cheap as possible so all three of them can have some complex battles. It started with some 10-15 year old KO box sets of Devastator, Superion, and Defensor, the kind you used to find in prefab Easter baskets and Tuesday Morning, but that I have no use for since those exact repro KOs and Combiner Wars came to be. I'll be adding in some PotP scouts, a spare Cyberverse Thundercracker I found at Ollie's for $3.50, and the Spark Armorless Prowl and Shockwave that came with the recent Quintesson. T'was a tip from this site that led me to the luckiest find 2 days before Christmas: One TJMaxx had Warrior Megatron and Windblade, plus Energon Igniters of Muscle Car Shatter and VW Bumblebee, all for $5 each! Also found three Evergreen Starscreams at various 5 Belows, which I intend to dye into the Rainmakers, so their 'Cons have enough Seeker-power to outnumber the Aerialbots, something I never had as a child. And since they've only seen the Bumblebee Movie and don't have cable or internet access, I'll be loaning them my G1 and Joe box sets, so they'll know who most of their new toys represent. Yep, my greatest finds of 2019 may be the ones I can share with my youngest relatives in 2020.