Transformers: Autocracy TPB - Interview with Flint Dille & Chris Metzen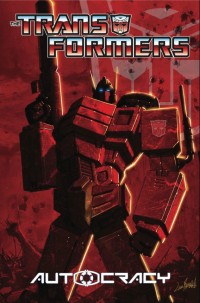 Wednesday, July 18th, 2012 5:49pm CDT
Categories:
Comic Book News
,
People News
Posted by:
El Duque
Views:
40,356
Topic Options: View Discussion · Sign in or Join to reply
The
official Transformers facebook page
has shared an interview with
Transformers: Autocracy
's Flint Dille and Chris Metzen. The
Transformers: Autocracy
TPB is scheduled to hit store shelves next week. It was revealed during SDCC 2012 that we can expect a sequel titled
Transformers: Monstrosity
in January 2013 from the same creative team. The interview has been mirrored below for those without facebook accees.
Transformers: Autocracy broke new ground for Transformers comics—it was the first-ever Transformers comic released digitally first! Now it's being collected in print—and e-book—form. With the paperback hitting stores next week, we sat down with writers Chris Metzen (superstar video game creator from Blizzard Entertainment whose credits include World of Warcraft and Diablo) and Flint Dille (legendary writer of the original Transformers and G.I. Joe cartoons). The 12 chapters of Autocracy are still available for 99¢ each at

http://idwpublishing.com/digitalcomics/transformers

!

Q: Flint, having written for Transformers in the beginning, was it always your intention to go back in the future? And Chris, was Transformers something you always wanted to write for?

FLINT DILLE: To be honest, I didn't have any intention at all. I have actually wandered back into Transformers a couple times. One was the game on the first Michael Bay movie and another was consulting on the Prime MMOG from Jagex. But this was the first time I've gone in with the idea of creating new mythology. No way would it have happened without Chris.

CHRIS METZEN: Yeah, I've been chewing on Transformers stories since I was a kid. This was definitely a "bucket list" project! It's been very satisfying from both the creative end and from the perspective of just being a life-long fan.

Q: When did you both start writing together? Or was this your first collaboration?

CHRIS METZEN: We did a lot of story development and editing on Diablo 3 and Diablo: Book of Cain. Since we're both so passionate about Transformers, this collaboration was kind of inevitable.

Q: Did you guys go to IDW with the project or did they come to you?

FLINT DILLE: Chris had the idea. He knew somebody at IDW and pitched it. I was kind of along for the ride.

Q: The general story is the rise of Optimus Prime in the comics universe. Was this always the story you wanted to tell or did you have others first?

FLINT DILLE: Chris had the idea. I had a bunch of unfinished business with these characters and didn't know it.

CHRIS METZEN: Yeah, Optimus getting the Matrix and really becoming the leader we always knew him to be was the core of the idea. We modified a lot of the original hook to work within the [comics'] continuity, but I think all of those gymnastics made it a better story. The volume of continuity details made us think a lot harder about the decisions we were making.

Q: How much research did you have to do to get the story to fit as seamlessly as possible into what had already been established in the IDW universe?

FLINT DILLE: Chris, Andy Schmidt, John Barber and Livio carried all the continuity issues. I've worked in G1, Bayformer and Prime Universes and am easily confused.

CHRIS METZEN: I read everything I could get my hands on (especially pre-publication scripts for [the James Roberts written/Alex Milne drawn comic book] "Chaos Theory" – which were amazing, obviously). However, it was pretty hard to remember every little nuance and moment across dozens of detail-rich stories. That's where the editors really come in and help sort through the maze of everyone's ideas.

Q: Once the writing began, how did it work? Did you write scenes together or did one person write and then the other person just added to that?

FLINT DILLE: We did it every which way. Generally, but not always, Chris wrote the first drafts and I followed along.

Q: How many of the characters would you say changed from how you first saw them in your heads to how they became on the page?

FLINT DILLE: Zeta was always kind of a murky guy. Hot Rod has a whole new aspect to himself. One I want to pursue further.

Q: Did anyone inspire the character of Zeta Prime, or was he written just the way he was always envisioned to be?

FLINT DILLE: Obviously, there's a heavy Roman influence in Autocracy. If you had to pick an emperor who matches him, it would probably be Diocletian. A competent and tyrannical emperor who heard footsteps. Of course, Zeta didn't hear the footsteps. He's a villain in our piece, but probably from his own perspective he is only doing what he thinks is necessary. Or at least it started out that way.

Q: With the many characters and events taking place in this story, which from them all would you guys say is the most important?

FLINT DILLE: Well, obviously, the Matrix stuff is most important to the future of the franchise.

CHRIS METZEN: I'd agree – Optimus and his [change] was always pretty important to the core of the story. The surprising character for me was Hot Rod. We really tried to show him as this pivotal character that was caught between the two main ideologies. Showing how he had a legitimate gripe against the government (just like Megatron), but that he sided with the angels (and kept his integrity without becoming a jaded brute) was always the more interesting story just below the surface. I think Hot Rod's arc was one of the more unexpected themes that arose during the story's development.

Q: Were there any characters you would have liked to have gotten too if you've had had the space to do it?

FLINT DILLE: Working on that now.

CHRIS METZEN: I would have liked to explore Grimlock a bit more… maybe one day…

Q: If Autocracy was 22 pages per issue instead of 8, how much different do you think the story would have been?

FLINT DILLE: To be honest, I think it would have just been more bloated. One of the fun things about this story was telling it in this lean format. Each chapter was kind of like an act of the animated show. Not a lot of room for self-indulgence and certainly no filler.

CHRIS METZEN: I think those factors created a certain discipline needed to communicate the core story beats in a very limited space. I like the idea of trying to get better and better at that process. However, for my money, these overarching ideas could certainly have breathed a bit more. Maybe TEN pages would have been better? 12? …22…?

Q: How much did you enjoy it when you saw Livio Ramondelli's covers and pages coming in? That must have been special?

FLINT DILLE: The stuff was incredible. I'd have an "okay" idea of what things would look like, and then BLAM, the stuff came in from Livio and it was a big plus.

CHRIS METZEN: I'm STILL in awe. Livio's art legitimized this whole project. The fiction was still have been a blast to write as a series – but his art made this project into a Transformers EVENT. Just leveled-up the whole thing.

Q: On the whole, looking at Autocracy, how pleased are you both with how it turned out?

FLINT DILLE: It was just a really cool and satisfying project. Its one of those projects that I walk away feeling nothing but good about it.

CHRIS METZEN: I totally agree. To be honest, never having written comics before, I was really intimidated to do this. Especially when we had only 8 pages per chapter. But looking back on Autocracy, I'm totally awed and proud of how it turned out. It ain't perfect (what ever is?), but it's a hell of an opening salvo! I think we learned a lot about writing comics and taking Transformers fans for a satisfying ride. This has been one of the most enjoyable projects I've ever been a part of.

Q: If there were to be a sequel to Autocracy, do you guys already have any ideas about what you would do for it?

FLINT DILLE: Funny you should ask…

CHRIS METZEN: There's ALWAYS ideas… Way I figure it, even though Optimus has won a critical victory in Autocracy, the real hard work for him still lies ahead…

At the San Diego Comic Con, Transformers: Monstrosity was announced from the same creative team. Monstrosity will debut in 2013.
Credit(s): Transformers facebook page
---
This article was last modified on Thursday, July 19th, 2012 8:37am CDT
Got Transformers News? Let us know here!
Most Popular Transformers News
Most Recent Transformers News
News Categories:
Toy News
,
Movie Related News
,
Cartoon News
,
Comic Book News
,
Site News
,
Rumors
,
Event News
,
Digital Media News
,
Collectables
,
Sponsor News
,
Game News
,
Site Articles
,
Store News
,
Company News
,
People News
,
Press Releases
,
Reviews
,
Sightings
,
Unlicensed Products News
,
Auctions
,
Transtopia
,
Interviews
,
Knock Offs
,
Collector's Club News
,
Editorials
,
Heavy Metal War
,
Podcast
,
Contests
,
Book News
,
Top Lists
Re: Transformers: Autocracy TPB - Interview with Flint Dille & Chris Metzen (1402270)
Posted by
BumbleDouche
on July 19th, 2012 @ 5:35am CDT
WOW! I can't wait until JANUARY 2012 when Monstrosity comes along. Waitaminnit...
Re: Transformers: Autocracy TPB - Interview with Flint Dille & Chris Metzen (1402310)
Posted by
Rodimus Prime
on July 19th, 2012 @ 9:05am CDT
I might have to actually read Autocracy when it hits stores.
Re: Transformers: Autocracy TPB - Interview with Flint Dille & Chris Metzen (1402318)
Posted by
Va'al
on July 19th, 2012 @ 9:57am CDT
Rodimus Prime wrote:I might have to actually read Autocracy when it hits stores.
I'm seriously looking forward to my copy arriving in a couple of weeks.
Re: Transformers: Autocracy TPB - Interview with Flint Dille & Chris Metzen (1402675)
Posted by
Rodimus Prime
on July 20th, 2012 @ 11:43am CDT
I wonder if it will fit in with War Within at all.