Transformers: More Than Meets The Eye # 2 Review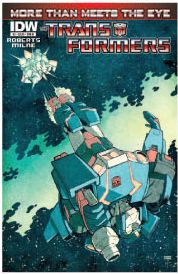 Tuesday, March 6th, 2012 10:39pm CST
Categories:
Site News
,
Comic Book News
Posted by:
El Duque
Views:
40,893
Topic Options: View Discussion · Sign in or Join to reply
Review courtesy of Seibertron.com staff member Psychout:
In the past month there has been a veritable smorgasbord of Transformers comics for every palate to taste.
Autocracy
is the darker, grittier style of story, where actions speak louder.
Robots In Disguise
, as we explored last month, has a more thought provoking theme looking into the inner workings of an unwanted government doing what it has to survive (whilst
Infestation
is another therapy session entirely) so, does
More Than Meets The Eye #2
live up to the high standard of its first issue and the burden placed upon it?
From the very first page, you can tell the humour level of this issue will match its predecessor. The opening dialogue demonstrates the writer's good brand-knowledge and understanding that this is a comic about
giant cartoon robots lost in space
is refreshing when compared to the serious RID arc that is still in its infancy, but this might not be to the most hardcore fans taste due to its refusal to take itself too seriously.
Maybe aspects of this story will seem slightly familiar; A ship, lost in the middle of who-knows-where. A captain, new to his command, clearly capable but young and brash with a stalwart and serious lieutenant as his second. There's a doctor, feeling the pressures of age and looking for rejuvenation. The tale of the displaced traveller coming to terms with a whole new world. The 'reformed' bad guy and the 'nut-job' who are cleverly setup together... All these personalities fighting for the limelight in the first issue are developing well, even in such a short time, although some obviously evolve better in this style than others. Overall, the ensemble cast is cleverly picked and mixed and, remembering that this is a story that currently has no antagonist so all the direction and content is all internal, it almost takes on a sitcom-style life of its own in places - however I wouldn't consider describing that as a 'negative'.
The art standard is as high as one would expect. Alex Milne and Josh Burcham have developed a believable world and play with different styles for very different characters skilfully, whilst James Roberts has brought new creations such as the ship's Psychiatrist,
Ring
Rung, to life (whom you almost feel sorry for), and the previously very background Swerve, mercifully filling the a comic relief role as intelligent and witty instead of the traditional clumsy and simple, and has rejuvenated old classics like Ratchet and Skids, giving them a new direction, away from their tried and tested support roles. One would hope that both sets of characters are given the opportunity to develop as this series goes on, but with a cast list so large, it's going to be a struggle to give everyone the face-time they deserve.
Another break with tradition is, instead of long monologues, the general rhythm of the story is in the dialogue itself which needs little narration allowing the story to flow freely and enjoyably, so much so that in parts I actually had to go back and take the time to enjoy the art, I was so wrapped in the conversation. Then, even with all of this going on, Roberts still finds time to incorporate an extra character into the story who, naturally, has his own tale to tell, and still manage to give us an ending from out of nowhere that will make you forget all about that fact that there isn't a real Decepticon in sight for the whole comic. The Duobots won't thank him for it though.
This was a greatly enjoyable read and I found myself laughing both at the general banter between characters but also the sharp observational and insider-humour (even flirting with breaking the 4th wall at times), this has the potential to be the breakout series of the two main lines as long as it can keep up this pace and style. That's not to say that this is flawless, Swerve has every chance of becoming tedious in his banter if not carefully handled, and with so many characters to follow there are bound to be those that are left by the wayside, but for all that, it was still a much enjoyed read.
For all those who tailed off after the slow pace of All Hail Megatron and the year-long stop-start run up to the end, this series could well be the jumping on point you have been looking for.
Pick this up, it's very unlikely you will regret it.
---
This article was last modified on Wednesday, March 7th, 2012 4:42pm CST
Got Transformers News? Let us know here!
Most Popular Transformers News
Most Recent Transformers News
News Categories:
Toy News
,
Movie Related News
,
Cartoon News
,
Comic Book News
,
Site News
,
Rumors
,
Event News
,
Digital Media News
,
Collectables
,
Sponsor News
,
Game News
,
Site Articles
,
Store News
,
Company News
,
People News
,
Press Releases
,
Reviews
,
Sightings
,
Unlicensed Products News
,
Auctions
,
Transtopia
,
Interviews
,
Knock Offs
,
Collector's Club News
,
Editorials
,
Heavy Metal War
,
Podcast
,
Contests
,
Book News
,
Top Lists
Re: Transformers: More Than Meets The Eye # 2 Review (1355668)
Posted by
T-Macksimus
on March 6th, 2012 @ 11:28pm CST
Great review. I'm loving this new series so far. The whole dynamic is excellent. From the very start of the expedition there has been a great blend of lighthearted misadventure offsetting the dark manner in which everything started. The range of the characters involved is so much broader. This really is a great jump in point for the people that were hating the way the series was going. It's a reboot in the right direction and has been the most enjoyable TF comic (for me, at least) in recent memory. That's saying something considering I've been collecting since the first ones came out in 1984.
Re: Transformers: More Than Meets The Eye # 2 Review (1355719)
Posted by
Va'al
on March 7th, 2012 @ 6:26am CST
The review is nice, the comic is good.
EDIT: That sounds sarcastic, sorry!

Nice review, good comic!

But the best part is, for me, Drift.
He got religion, man! He got it bad..
Re: Transformers: More Than Meets The Eye # 2 Review (1355738)
Posted by
Marcdachamp
on March 7th, 2012 @ 7:41am CST
Great review. I couldn't agree more. MTMTE has been an absolute blast, so far.
Re: Transformers: More Than Meets The Eye # 2 Review (1355739)
Posted by
Prime Evil
on March 7th, 2012 @ 8:03am CST
I've always been a fan of big cast comic books. I got my first real taste of a huge ensemble cast when I first started reading X-Men and that was right smack dab in the middle of the Extinction Agenda! Since then, I've always preferred team books over single hero books. (There are always exception to the rules however)

After reading this, I couldn't wait to see what happens next. I haven't been this excited about reading the next issue since the ongoing of the DW days. For me, this takes us away from the played out war that exist in EVERY incarnation of Transformers. This is such a refreshing and much needed change IMO. This is a comic book that I feel that I can recommend to non Transformers people.

Again, the current staff for the guys over at IDW that are handling the TF titles deserve a big old pat on the back. From top to bottom, you have reignited my interest in Transformers comics again, something that I wasn't sure that was going to happen again for a loooong time.