Transformers: More Than Meets The Eye Ongoing #8 Preview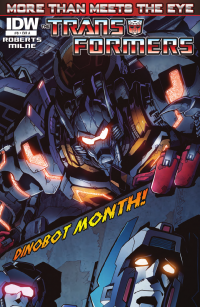 Tuesday, August 21st, 2012 8:18am CDT
Category:
Comic Book News
Posted by:
El Duque
Views:
26,401
Topic Options: View Discussion · Sign in or Join to reply
From the fine folks at IDW Publishing we have the preview for
Transformers: More Than Meets The Eye
Ongoing #8.
Transformers: More Than Meets The Eye Ongoing #8

James Roberts (w) • Alex Milne (a) • Milne, Nick Roche (c)

DINOBOT MONTH! Three years ago, Grimlock disappeared from his prison cell on Garrus 9. Where did he go? What happened to him? One thing's for certain: the leader of the Dinobots is back—and he's itching to settle some scores!

FC • 32 pages • $3.99

*Variant covers:

Marcelo Matere variant! Interlocks with TRANSFORMERS: Robots in Disguise #8's incentive cover!

Bullet points:

GRIMLOCK UNLEASHED!
The return of the Dinobots!
Incentive cover by Marcelo Matere that connects with Robots in Disguise #8!
Credit(s): IDW
---
Got Transformers News? Let us know here!
Most Popular Transformers News
Most Recent Transformers News
News Categories:
Toy News
,
Movie Related News
,
Cartoon News
,
Comic Book News
,
Site News
,
Rumors
,
Event News
,
Digital Media News
,
Collectables
,
Sponsor News
,
Game News
,
Site Articles
,
Store News
,
Company News
,
People News
,
Press Releases
,
Reviews
,
Sightings
,
Unlicensed Products News
,
Auctions
,
Transtopia
,
Interviews
,
Knock Offs
,
Collector's Club News
,
Editorials
,
Heavy Metal War
,
Podcast
,
Contests
,
Book News
,
Top Lists
Re: Transformers: More Than Meets The Eye Ongoing #8 Preview (1412499)
Posted by
El Duque
on August 22nd, 2012 @ 6:25pm CDT
The
official Transformers facebook page
has posted the creator commentary for today's new release from IDW Publishing,
Transformers: More Than Meets The Eye
Ongoing #8. Writer James Roberts, artist Alex Milne, and colorist Josh Burcham give us their thoughts on the first few pages. Mirrored below for those without facebook access.
PAGE 1- We're seeing a bit more of Fulcrum's back story. Was there always a specific look in mind for this K class ship, and would every one of them have a character like Torque on board?

JAMES ROBERTS: Yes, I wanted the drop-ship to have a World War 2 look about it, to complement the look that Alex gave Fulcrum. That paratrooper feel extends to inside the ship, where the Decepticons are packed tight, waiting for the jump. Incidentally, I love the detail that Alex brings to this page—the idea that there are dozens, if not hundreds, of these ships flying over Clemency, each of them full of soldiers. Part 1 of the story included a scene where Krok is telling Fulcrum about a period in the Transformers' war when Optimus and Megatron essentially directed thousands of battles from afar—I think that this was the war's peak, when there were literally millions of warriors on both sides. Now, that number is vastly, vastly reduced. I like to think there's a Torque in most combat units—the guy who is totally sold on the mission. He's genuinely excited about the battle to come—in contrast to Fulcrum, who plainly isn't.

ALEX MILNE: When I got the script from James, I was very excited to create this new drop ship, especially since James wanted a World War 2 feel to it. When designing it I looked back to some of the bombers from that era, and added elements that I felt best gave the feel that James wanted. For example, the positioning of the wings and placement of the main engines on the wings. The heaviest armament is at the front, but you can all see it has an upper gun turret which aims back. If we were to see more of it, it would have an underside ball turret as well.

When dealing with the inside, I took cues from one of my favorite movies, Aliens, and based some of the interior design on the APC interior and dropship from that movie. All the 'Cons are tightly packed in their seats and there are two handrails that run above them. I put those there since I thought when the 'Cons are standing they might need something to hold onto while the craft is flying through some sort of bombardment. The third thing I thought of with the overall look of the page, was the panel designs. I made them look like used bullet casings. Overall I'm very pleased with the way this page turned out.

JOSH BURCHAM: Yeah, this page was a lot of fun to work on! As you can tell, James and Alex both gave me a lot of great things to embellish upon! I tackled the colors in this sequence as if these guys are going on some kind of a night raid. Dark and turbulent and explosions all around them. Totally feels like war! And it was fun for me to light the interior of the bomber where all these bots are hanging out in. You always see in movies and such how the bay these guys drop from is always kind of lit by this one little red light until (in panel 5) it turns green to signal the all-clear. It's probably not all that exciting to you guys reading this but it's a fun little thing I was pretty excited to bring across over these few panels here!
PAGES 2 and 3- Misfire and his group are figuring out what to do when the Decepticons Justice Division comes to visit them. Presumably these are not the first group of Cons who think they can take them on?

JAMES ROBERTS: Just for the record (and as the name of this issue's story attests), Krok and his ragtag team of Decepticons are called the Scavengers. I didn't want to give issue 7's story title a "Scavengers" prefix because I wanted readers to assume it was a one-off and not the first half of a two-parter.

Anyway, your question. I don't think all the Scavengers think that they can take on the D.J.D. At this stage in the D.J.D.'s "career," the stories about them are legendary—and legendarily horrific. It's reached the point that the mere mention of the D.J.D. is enough to make wayward 'Cons change their ways and tow the line. And that's how Tarn likes it—that's how it should be.

ALEX MILNE: Well, what can I say about these two pages? Only I think James was trying his best to kill me through sheer amount of things going on! These two pages were very challenging to do, due to the number of panels on the spread and what was being said in each panel. The one thing I knew from the moment I read the script was that I wanted the first panel to the biggest and standout the most.

It was also a nice way to have another look at the symbol ship from a different vantage point. Overall, I had a lot of fun dealing with the conversation between the Scavengers.

I'd like to think that there is a little part of each 'Con that has a dream that they can take down the DJD. Will that actually happen? Well, you'll just have to read the issue to find out. Oh, it was also nice to get to draw flywheel turning into his second alt mode. Triple changers all the way!

JOSH BURCHAM: Yeah! This was definitely a fun and challenging set of pages. We haven't done very many double-spreads like this in the MTMTE books. I was kind of dreading it at first, just because I know Alex! He loves his detail! And in a two-page spread like this there's sure to be lots of it, but you can't argue with the results!
PAGES 4 and 5- Skids and Chromedone are talking about retrieving Skid's lost memories. Where did the idea for Movie Night come from? And how dangerous could using Chromedome to retrieve those memories be?

JAMES ROBERTS: Movie Night... I liked the idea of Rewind being used as a glorified cinema projector. I wanted an opportunity—even in the form of a cutaway—to show people what the "junior" members of the Lost Light were up to at this point in time, and to show that this particular set of characters have formed something of a friendship. I wanted to remind everyone that, in contrast to the horrors unfolding on Clemency, life for (most of) the Autobots on the Lost Light is, well, pretty good; this is peacetime, and Autobots will form friendships and do sociable things. And finally—this being MTMTE—the film they're watching has special significance that we will explore in due course.

As for Skids' missing memories, and the consequences of Chromedome retrieving them, I will say that Skids is the backbone to the first long-form story arc in MTMTE, and his memories—and his past generally—feed into all sorts of crazy stuff that will appear in future issues. Aside from his encounter with the sparkeater in issue 3, this is the first time we've seen Chromedome perform mnemosurgery—and there's something decidedly shady about the whole thing. Chromedome's "specialism" is important for all sorts of reasons...

ALEX MILNE: Ah, movie night. That has to be my favorite panel on this whole spread. When I read the script and came to this panel, I jumped at the chance to create something fun and friendly. Since Swerve is there, I felt that he would be the guy to bring the refreshments along, so that's why I have him legs crossed eating some energon goodies. Also, he brought some drinks for people, so I have Pipes drinking from a straw. It was a fun panel. As for the rest, I always love a chance to draw more Skids.

JOSH BURCHAM: RID has pizza parties and MTMTE has movie nights? I like the sound of that! This was another fun moment, and in its own way, challenging two-spread. It's definitely not as detailed as the one before, but the fact that the bulk of it takes place in an all new location means I get to stretch my legs and come up with some sort of nifty color scheme.

This being the Oil Reservoir, I wanted very much to try and capture that… "oily" feel. I looked up a lot of neat references of spilled/pools of oil and it has deep, dark, rich look about it but it also sort of has a kind of rainbow feel to it as well when the light hits it just right. It was fun trying to bring that across color-wise. There's quite a crazy mix of colors swirling around in the background there that I hope gives this room that dank oily feeling. Like when the ships flyin' around that big ol' pool just splashes ALL over the place and soaks everything or something. I dunno. It was just fun! Another great location! I just hope it comes across well enough!