Transformers Regeneration #86- Natural Selection- Seibertron.com Commentary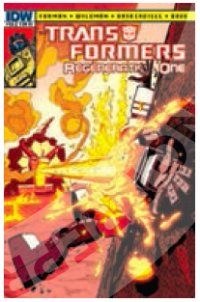 Wednesday, December 5th, 2012 9:50am CST
Categories:
Comic Book News
,
Reviews
Posted by:
Tigertrack
Views:
70,164
Topic Options: View Discussion · Sign in or Join to reply
What's the angle in this issue? What's the hook?
Scorponok. Scorponok and his plans for Cybertron. Or is it Soundwave's plans for Thunderwing's remains? How about the AFTERMATH of the EPIC battle for Earth?
"One shall stand, one shall fall!"

(not used in the last issue surprisingly...)
Last issue Optimus did it, he killed Megatron.
Spoiler alert by the way
. It's really not one though, he's done it before, and chances are he'll end up having to do it again somehow. So how do you come back next issue and beat that?
In this issue, Optimus is dealing with his short-sighted 21 year error (a blink to Transformers, right?) and it's effect on Earth. He and the Transformers are being told to get out. No
'thank you's
, no
'see you later-thanks for the freedom'
, just
'we want you gone'
. Can you blame the humans for having this attitude? The Autobots have been very irresponsible, and even though they cleaned up their mistake with heavy casualties of their own, counting Springer and Ratchet amongst their dead, and deactivated; the humans do not once again count them as friends or allies. The humans want no help, they simply want to be left alone to start again. I'm so cool with that story element from the book. Less humans and Earth the better in my Transformers fiction.
"It's a shame you Autobots die so easily, or I might get some satisfaction out of this..."
Another piece of the story in this book has Grimlock dealing with his nucleon birthed guilt. Of course, he has some help in this as Scorponok explores the halls of Grimlock's mind, inducing more guilt, and ultimately, getting Grimlock to help him in his current plans for Cybertron. I'm good with this part as well. Dinobots are excellent characters to exploit, I mean use.
"Me Grimlock kick butt...."
Meanwhile at the Hall of Silence
, the justice league of Autobots has been dealing with Soundwave trying to get Thunderwing's remains out from the sacred, impenitrable hall, and Hot Rod has to make a command decision to stop him, which Soundwave is counting on... I'm not yet interested in this 'stuff'. Not at all. Well, maybe slightly.
"Insert Harry Potter line here"
This issue is enjoyable. It's sad when a favorite character dies, be it Megatron, or Springer, or any of the Decepticon zombies. But, I don't feel either/any death in this series has a huge impact. The story has been slow building, and 5 issues in we lose two major characters? It's like,
"See you later Megatron, Springer, we barely knew ya'."
Which is oddly reflected in the Autobots burial and subsequent destruction of the
'zombies'
. This part had me scratching my head. No real emotion shown as they dump piles of bots in a hole to then be vaporized. Really? I had to assume none of the Autobot dead were put in the pit (although Monstercons are mentioned as being a part of the Decepticon hordes, oops), so I'm not sure that they would feel much towards bots they already thought were dead--and they were enemies nonetheless, I suppose--it just felt oddly handled. Situations like this are rarely perfect, so I guess I can give it a pass. In either case, I really feel like the lack of emotion by everyone else, is foiled by Optimus over-emotional reaction to EVERYTHING going back to last issue where he beat Megatron to death. And it's a comparison that is not needed. Autobots in general are supposed to feel, care, etc. They should all be super-depressed (or at least somewhat) after what they have seen and experienced. I guess they are, but just not remorseful toward the Decepticons, which is causing my uncomfortable itch, I suppose.
"I thought you were made of sterner stuff..."
Okay, over-analyzing aside, if you've been reading the issues you'll grab this and not bat an optic, read it, consume it, and wait until a few issues down the line where Springer and Megatron, and others will be brought back to life (death is never final in comics...except in GI JOE, right?). Fine, this time they are dead, and Prime may have a nervous breakdown, and Thunderwing's remains may or may not be vaporized too, which means no more creation matrix pieces... I guess. Hot Rod will lead and somehow become Rodimus and Unicron will return even though he was destroyed and eat Cybertron as Scorponok tries to stop him for the second time, because he has his own dastardly plans for Cybertron.
A word on the art. I think it's getting better.
"Me Grimlock need new strategy..."
Me read book, and forget next day... Time to play with my toys. Enjoy next issue that comes out, when comes out. You could do worse. But could you do better? I am sure as REGEN goes, I probably can't.
I am a fan of Transformers fiction and toys. Seibertron.com generously allows me to continue to try to share ideas and opinions about this fiction, even though I have no other qualifications. I'm full of inconsistencies, and overlapping ideas and opinions. Please excuse my grammar and thought errors as this is done on my 'free' time to create conversation amongst collectors and readers. -tt24
Credit(s): tigertracks 24
---
Got Transformers News? Let us know here!
Most Popular Transformers News
Most Recent Transformers News
News Categories:
Toy News
,
Movie Related News
,
Cartoon News
,
Comic Book News
,
Site News
,
Rumors
,
Event News
,
Digital Media News
,
Collectables
,
Sponsor News
,
Game News
,
Site Articles
,
Store News
,
Company News
,
People News
,
Press Releases
,
Reviews
,
Sightings
,
Unlicensed Products News
,
Auctions
,
Transtopia
,
Interviews
,
Knock Offs
,
Collector's Club News
,
Editorials
,
Heavy Metal War
,
Podcast
,
Contests
,
Book News
,
Top Lists
Re: Transformers Regeneration #86- Natural Selection- Seibertron.com Commentary (1444365)
Posted by
Rodimus Prime
on December 5th, 2012 @ 11:24am CST
You're over thinking this a bit, aren't you?
And way to be cynical. Having said that...
I just finished reading it, and I have to say I am disappointed in the story. I started reading, I got into it, and POOF, it was over. I wasn't going to, but now I feel I have to get the TPBs so I can read ALL of the issues at once to get a good read. In the originals there was always more story crammed in. I was very excited about the restart of Generation 1, but now I feel a bit let down. It's good to see the story go forward, I just wish it was a bit faster paced, and there was more per issue. The best thing about ReGen so far is the art. It had me hooked from page 1 of #81. Something iDW has failed to do with
any
of its other titles.