Transformers: Regeneration One #83 Creator Commentary with Simon Furman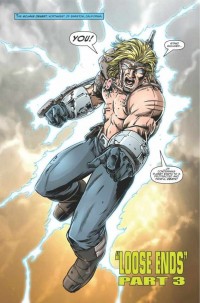 Wednesday, September 5th, 2012 4:48pm CDT
Categories:
Comic Book News
,
People News
Posted by:
El Duque
Views:
36,823
Topic Options: View Discussion · Sign in or Join to reply
The
official Transformers facebook page
has shared this week's creator commentary for IDW's Transformers Regeneration One #83. Hall of Fame writer Simon Furman gives some insight into the first five pages. Mirrored below for those without facebook access.
PAGE 1: Spike Witwicky marks his return, now as Circuit Smasher! What inspired this radical new take on an old favorite character?

SIMON FURMAN: Having Spike back served a twofold purpose. On the one hand, the current status of/fate of Fortress Maximus was on my RG1 "to do" list. It was something else left kind of dangling at the end of #80. I did and do like the basic concept of a character who, to save their life, has to surrender a part of their humanity, and Spike (already being a Headmaster) was partway on that course already. Once I knew the fate of Earth and roughly the state of play there, using him just fitted. It's that "everything old is new again" tag that I keep applying to RG1. Take the familiar and twist it, reinvent it. I want to keep surprising people with this book, and if doing that also ties a few plot points together, all the better.
PAGE 2: Rack 'N' Ruin are taken out by Spike, as he displays his power. Clearly what Megatron did to Earth has had a profound affect on him and how he now views all Transformers.

SIMON FURMAN: Yes, and just how much is going to become evident when we hit our third story arc. Spike's a complex character. He's human, and blames the Autobots for almost all the bad things that have happened to planet Earth in the intervening 21 years (between #80 and #81). But he was, for a while, half Nebulan/Cybertronian too. He's literally been inside the heads of the Transformers. But his separation from Fort Max (as well as almost killing him) has left him full of misdirected anger, anger that will spill out in #91-95 in terrifying ways, blurring his place among the "good guys" of RG1. But those kind of characters have always been my favourite. You never know which way or how far they're going to go, and subsequently if there's any way back for them once they've stepped over that line.
PAGE 3: Topspin and Spike talk about where Spike was when he was last seen in Marvel US issues. Did you always know this was where Spike was going to be when you last wrote him?

SIMON FURMAN: Honestly, no. I think it's the gulf of time and the fact that we're heading for an honest-to-gosh conclusion that allowed me to go so dark, both with the state of play on Earth and just how off the deep end Spike is going to go. But some of the seeds of Spike's state of mind were sown back in #79. To use a kind of drug analogy, Spike was trying to kick the Fort Max habit and get back to his own life. But in many ways he was now Fort Max, so that kind of enforced distance was bound to have some fallout, a kind of enhanced separation anxiety. It's like the thing you need most, you're denying yourself, and it's bound to splinter your psyche. So, even though Fort Max is gone (rather than just shelved), the effect is going to be the same. But even more pronounced. Even once Spike understands what is missing, what he needs, it's impossible to get.
PAGE 4: Spike and the Wreckers stand down after their initial confrontation. Considering both of their desperate situations, you'd think it couldn't get any worse of them. Right?

SIMON FURMAN: Oh, it's going to get a lot worse. For both. Even when the dust settles on #85 and that storyline, the Earth angle is far from finished. And the Wreckers are going to be reeling for a long time.
PAGE 5: Optimus Prime is sharing his seemingly infinite wisdom with Hot Rod. Do you see Prime as someone who, even with all his experiences, still learning new things about the world around him?

SIMON FURMAN: My take on Optimus Prime is that while he's a Prime, he's not THE Prime. And that's what he's been gradually starting to understand. I always feel that Optimus never really wanted the role, but grew into it. Grew into this amazing, inspirational leader. But it was never natural. He had to walk the shoe leather in before it fitted. And maybe for all his incredible wisdom and courage he's still just a link in chain from their creator, Primus, to… ???. A chain (mentioned in #65) that got broken when the Matrix was lost/corrupted/destroyed. Is it a coincidence that Hot Rod kind of looks like Primus? I tend not to believe in coincidences.
Credit(s): Transformers facebook page
---
Got Transformers News? Let us know here!
Most Popular Transformers News
Most Recent Transformers News
News Categories:
Toy News
,
Movie Related News
,
Cartoon News
,
Comic Book News
,
Site News
,
Rumors
,
Event News
,
Digital Media News
,
Collectables
,
Game News
,
Sponsor News
,
Site Articles
,
Store News
,
Company News
,
People News
,
Press Releases
,
Sightings
,
Reviews
,
Unlicensed Products News
,
Auctions
,
Transtopia
,
Interviews
,
Knock Offs
,
Collector's Club News
,
Editorials
,
Heavy Metal War
,
Podcast
,
Contests
,
Book News
,
Top Lists
Re: Transformers: Regeneration One #83 Creator Commentary with Simon Furman (1417518)
Posted by
bluecatcinema
on September 6th, 2012 @ 12:25pm CDT
We've never had a storyline concerning what happens when a Headmaster loses their Transformer partner, have we? I'm interested to see just how much Spike was affected by that. And it sounds like Hot Rod will be getting some focus somewehere down the line...