Transformers Regeneration One #88 Creator Commentary with Simon Furman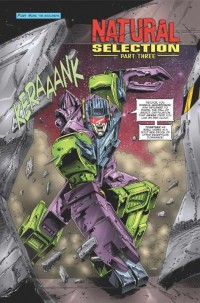 Thursday, February 14th, 2013 8:35am CST
Category:
Comic Book News
Posted by:
El Duque
Views:
31,578
Topic Options: View Discussion · Sign in or Join to reply
The
official Transformers facebook page
has posted the Creator Commentary for this week's comic release, Transformers: Regeneration One #88. Hall of Fame writer Simon Furman gives us his thoughts on the first five pages, which we've mirrored below for those without facebook access.
PAGE 1: What is it about the character of Scorponok that draws you to him?

SIMON FURMAN: When he first appeared, Scorponok was a fairly die-cut Decepticon (somewhat second-tier) tyrant, but the introduction of Lord Zarak, his binary-bonded Headmaster component, gave him much more in the way of layers and a kind of noble gravitas, and he gradually became a character who walked the same fine line between good and evil as Grimlock (always a pull for me as a writer). But, of course, that Scorponok died in #75. And Zarak was the more dominant in that incarnation. Here/now, I was interested to explore the other side of the equation, see what the original Scorponok was like. This time, he's the dominant personality, but you don't share a head with someone for all that time without some kind of evolution. So there's two reasons for going with Scorponok: one, there are parallels with Grimlock, the other main focus of this second story arc, and two, I get to bring the original Scorponok (who I never wrote) back and watch him struggle against who and what he was versus who he is (or thinks he is) now. Lots of great character potential there to explore, which I love!
PAGE 2: Scorponok comes across the other Decepticons, who may/may not accept him as their leader. How do you approach a scene like this in the writing, getting the tension across from the characters as they decide what to do next?

SIMON FURMAN: The theme underlying the whole "Natural Selection" arc is choice, or rather the enforced withdrawal of choice (and its consequences… which will ripple on well after this arc). And here the Decepticons are presented with just that, a choice: join Scorponok or stay loyal to the absent Soundwave. Scorponok overrides that bit of free will/loyalty pretty brutally, which plays into his more blanket intentions to skew the whole nature of Primus's creations and push them all in a more Decepticon-oriented direction. But I also wanted to show here that there is loyalty and shades of grey even among Decepticons. They're not all of one mind. Not all stamped out of the same world-conquering mold. There are factions and differing agendas and varying methodologies.
PAGE 3: While choosing the Cybertron cast, did you have to do a lot of trading with the Earth bound characters or was the process very straightforward?

SIMON FURMAN: Right at the start of RG1 I kind of assigned a non-official sub-group affiliation to the various Decepticons, some of which was predicated by where they were and who they were with when the original series ended with issue #80. So most of those fighting alongside Bludgeon on Klo at the end stayed with Bludgeon. Others I assigned to Soundwave's neo-Decepticons. The rest I left a little more independent or undecided, like Dreadwind and Darkwing, so in reserve for more general/later use. The Earthbound Decepticons tended to be the older/original characters, whereas those still active on Cybertron the newer ones (in terms of toy release). I also had a list of those Decepticons who demonstrably died in #75 in the battle with Unicron (like Quake, Runabout and Apeface), and I was careful for those characters to stay dead.
PAGE 4: Soundwave meets with Bludgeon and they discuss his plans. Didn't Soundwave die back issue 86 while trying to access Thunderwing's remains? What happened to him?

SIMON FURMAN: Ah no, the destruction of the Hall of Silence was designed to mask Soundwave's exit (via teleporter) with the remains of Thunderwing. Both were just assumed vaporized by the explosion. If you read those Soundwave scenes again, you'll see he's waiting for/relying on the more inexperienced Hot Rod to follow protocol and (in the event of a breach) destroy the entire building (and everything/one in it). This way, there's no pursuit, no suspicion the Thunderwing remains are still out there.
PAGE 5: Soundwave continues to see more of Bludgeon's grand plans for the future. Was Bludgeon your favorite Pretender back from the original run? Do you find him any more difficult to write than the other Pretender characters?

SIMON FURMAN: Bludgeon was always, and still is, one of my favourite characters. He's a prime example of there not being much in the way of precedent or character detail originally (in either comics or tech specs), so I was able to embellish and create a lot of his character from the ground up. He's also, let's face it, just a really cool looking character with a ninja/warrior vibe and a big sword. What's not to like. Bludgeon comes back into things in a big way in the third arc. What Bludgeon really wants is… well… not what Soundwave necessarily thinks he wants, and it's going to result in one of the biggest shocks in RG1. Andrew's cover for #91 just gave me chills! I think he kind of likes Bludgeon too.
Credit(s): Transformers Facebook Page
---
Got Transformers News? Let us know here!
Most Popular Transformers News
Most Recent Transformers News
News Categories:
Toy News
,
Movie Related News
,
Cartoon News
,
Comic Book News
,
Site News
,
Rumors
,
Event News
,
Digital Media News
,
Collectables
,
Game News
,
Sponsor News
,
Site Articles
,
Store News
,
Company News
,
People News
,
Press Releases
,
Sightings
,
Reviews
,
Unlicensed Products News
,
Auctions
,
Transtopia
,
Interviews
,
Knock Offs
,
Collector's Club News
,
Editorials
,
Heavy Metal War
,
Podcast
,
Contests
,
Book News
,
Top Lists
Re: Transformers Regeneration One #88 Creator Commentary with Simon Furman (1464386)
Posted by
Rodimus Prime
on February 14th, 2013 @ 11:26am CST
El Duque wrote:Furman: ...What Bludgeon really wants is… well… not what Soundwave necessarily thinks he wants, and it's going to result in one of the biggest shocks in RG1. Andrew's cover for #91 just gave me chills! I think he kind of likes Bludgeon too.
I think I feel a bit of GEEWUNNER nerdrage coming on. Do NOT, I REPEAT,
DO NOT
KILL SOUNDWAVE!!! Especially not at the hands of a 2nd-tier character, which I always thought Bludgeon was. As far as I'm concerned, the "honor" of vanquishing Soundwave should be reserved for either Grimlock or Optimus Prime, or if it has to be another Decepticon, let it be either Galvatron or Scorponok. No, not even Starscream deserves to do that.