Transformers ReGeneration One #92 Review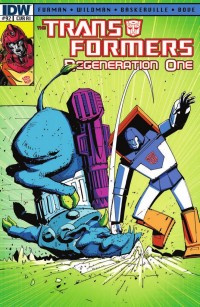 Tuesday, June 11th, 2013 6:07am CDT
Categories:
Comic Book News
,
Reviews
Posted by:
Va'al
Views:
20,454
Topic Options: View Discussion · Sign in or Join to reply
Mayhem!
(Spoiler free-ish)
Synopsis
CRISIS ON CYBERTRON! A whole society, wounded and reeling after SCORPONOK's genetic manipulations, teeters on the edge of anarchy and uprising, a situation SOUNDWAVE is only too happy to exploit! When the newly recovered BLASTER uncovers the truth, he finds himself on the endangered species list—courtesy of the all-new, all-deadly MAYHEM ATTACK SQUAD.
You know, these guys
Story
We left issue 91 with shattering revelations about everything ever in the universe in its totality and more. We've had Jhiaxus show up, we've had Grimlock die with Scorponok, we've had all sorts of chaos. So the set up looks pretty promising, but it has a lot to live up to.
So let's start with unrelated things, shall we?
The first storyline we encounter is a bit of an abrupt start: Optimus Prime being attacked by Spike Witwicky/Circuit Smasher, then he isn't, because he has something to say, but the humans don't like him anyway, but maybe they do, oh it's confusing, but maybe not. Anyway, let's skip to Cybertron, shall we?
Oooh, will they fight?
The second, however, is the one that takes up the focus of the entire issue, for once abandoning the multi-plot device for the length of the issue - though repercussions of other narratives are clearly at work here. This is the Nucleon-infused bots' time to shine, as something seems to keep affecting everyone in Cybertron. And Blaster is with no doubt the main player here.
And then there's these guys
As I mentioned, the focus on just one storyline gives it more time to work, but I'm no sure it does that much in any case. The issue at hand is resolved pretty quickly, and the Mayhem Attack Squad are disappointingly introduced for the sole purpose of a fight, it seems. Though I will not say anything as to how it resolves.
Art
This is Wildman's final issue on the series for now, and he has not confirmed whether he will be back or not before issue 100, or the rumoured issue 0. The artwork, inked by Baskerville, is the usual goodness, and by now we've come to recognise the style - it'll be interesting to see what Guidi will do with it. Some of the characters are really well done too, and Bludgeon has yet to be replaced as my top pick from Wildman's work.
He ain't half bad
I apologise for repeating myself every time, but I really do like (Bradley-)Bove's colours in this series, and I will pretty much always gush a little about them. Especially skies and backgrounds. In addition, there is a lot to be said for various aura-like details, such as Spike's glowing energy, the 'red mist' and Blaster's sonic er.. stuff.
Op op gadget Sky Lynx arms!
The artwork is good, as always, and the colours are still my favourite part of the series. It just makes everything looks so much prettier. Or darker. Or whatever it's supposed to look like, even in the midst of heavy action fights, such as in this issue. And the final page is stunning.
Thoughts
Spoilerish ahead
You might guess that I wasn't that much of a fan of this issue, again, and mostly because not that much happened. It felt very similar to the previous one, but without the kick at the end - though there is a minor, if a tad confusing, bringing-in-a-character-we-hadn't-seen-yet moment.
Oh, yeah, they're still doing stuff too
The artwork is as good as usual, and it is the saving point of an otherwise enjoyable but not crucial issue. It addresses the Nucleon issue, and furthers the Earth plot, brings in various spacecraft to Cybertron but seems to forget the revelations from 91. The action is quite nice though, and we get some interesting looks at some of the neglected characters this far.
.
out of
Credit(s): IDW Publishing, Va'al
---
Got Transformers News? Let us know here!
Most Popular Transformers News
Most Recent Transformers News
News Categories:
Toy News
,
Movie Related News
,
Cartoon News
,
Comic Book News
,
Site News
,
Rumors
,
Event News
,
Digital Media News
,
Collectables
,
Sponsor News
,
Game News
,
Site Articles
,
Store News
,
Company News
,
People News
,
Press Releases
,
Reviews
,
Sightings
,
Unlicensed Products News
,
Auctions
,
Transtopia
,
Interviews
,
Knock Offs
,
Collector's Club News
,
Editorials
,
Heavy Metal War
,
Podcast
,
Contests
,
Book News
,
Top Lists
Re: Transformers ReGeneration One #92 Review (1494352)
Posted by
Rodimus Prime
on June 11th, 2013 @ 9:55am CDT
Am I the only 1 who thinks Grimlock isn't dead? Scorponok might be, but not Grimlock. I didn't think he was even before 1 of the Dinobots said what he said in the last issue.
Re: Transformers ReGeneration One #92 Review (1494366)
Posted by
Va'al
on June 11th, 2013 @ 10:27am CDT
Rodimus Prime wrote:Am I the only 1 who thinks Grimlock isn't dead? Scorponok might be, but not Grimlock. I didn't think he was even before 1 of the Dinobots said what he said in the last issue.
I'm pretty sure most readers would agree with the fact that Grimlock, and possibly even Scorponok, might still be alive. Their death scene was a little too trite to be definitive, at least in my opinion, and had a bit of a Gandalf vibe to it. (That would suggest, as you say, that only Grimlock survived.)
The next issue might explore it more, as more of Rodimus' quest is brought to light - and the Dinobots are with him this time.
Re: Transformers ReGeneration One #92 Review (1494703)
Posted by
bluecatcinema
on June 12th, 2013 @ 2:08pm CDT
Love the cover. It's been too long since Huffer saw some real action. The last time he had anything close to that was in #10 of the original comic, where he smacked Soundwave around.