Transformers: ReGeneration One #93 Script (W)Rap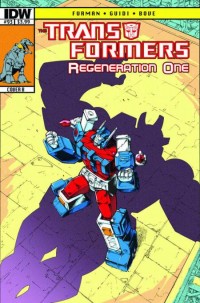 Monday, July 15th, 2013 3:27am CDT
Categories:
Comic Book News
,
People News
Posted by:
Va'al
Views:
16,802
Topic Options: View Discussion · Sign in or Join to reply
Transformers writer extraordinaire Simon Furman has updated his
blog
with a Script (W)Rap for this week's IDW release: ReGeneration One #93! Check out the commentary below, and visit Furman's blog
here
for more.
SCRIPT (W)RAP – REGENERATION ONE #93

While not exactly all change, change is in the air as Transformers: Regeneration One #93 hits the stands (Wednesday July 17th to be exact). And I'm not just talking about the change of artist! But, before I delve into another post-script ramble/tease, as is my wont, it's time to welcome aboard (pencil) artist Guido Guidi. Of course, Guido's no stranger to either Transformers or Regeneration One (having worked extensively for both Dreamwave and IDW on their TF titles and supplied the variant 'B' covers for RG1), but it's some consolation for the loss of Andrew (no, he's not dead, just busy — in a kind of flat out, full time way — on an upcoming kids' animated TV show) that we gain Guido's amazing and detailed pencils. Guido really hits the ground running with #93, affecting a seamless transition (aided and abetted by the inks of Stephen Baskerville and the colours of John-Paul Bove). Trust me, this and the next few issues are gonna knock your socks off and shatter trousers in trans-continental style. And Andrew's with us for the duration in one form or another, continuing as 'A' cover artist and returning for #100 to see us out in fitting style. Right, onwards with the issue itself. As usual, spoiler alert, first. My intention is always more to tease than reveal, but if you'd rather delve in stone cold, cease reading now. Okay, so, #93, phew, what a packed issue. With both Galvatron and Bludgeon on the last legs of their respective journeys to Cybertron, with starkly different agendas (which we delve more into here), matters build to a pre-invasion head. For a start, there's a rather disgruntled Starscream, the not-as-helpless-as-he-appears fellow traveller aboard the Ark. Voice back – check. Attitude back – check. Need for payback back – check. Galvatron is in for a rude awakening! And then there's Bludgeon. Having allied himself with Soundwave, you'd think it was a simple matter of conquest on his mind. Not so. There's a far darker agenda simmering behind that skull face. One that we peel back and reveal this issue. It's a shocker and a portend of things to come. Plus, Wreckers action, Dinobot action and Primus action. Yep, Primus! But… he's gone, isn't he? Deceased? An ex-god? Well… Remember I mentioned that change was in the air. It's coming for Hot Rod… in a big way… and it begins right here. All i can say is… hoo boy! You can check out the official IDW preview

here

.
Credit(s): Simon Furman
---
Got Transformers News? Let us know here!
Most Popular Transformers News
Most Recent Transformers News
News Categories:
Toy News
,
Movie Related News
,
Cartoon News
,
Comic Book News
,
Site News
,
Rumors
,
Event News
,
Digital Media News
,
Collectables
,
Sponsor News
,
Game News
,
Site Articles
,
Store News
,
Company News
,
People News
,
Press Releases
,
Reviews
,
Sightings
,
Unlicensed Products News
,
Auctions
,
Transtopia
,
Interviews
,
Knock Offs
,
Collector's Club News
,
Editorials
,
Heavy Metal War
,
Podcast
,
Contests
,
Book News
,
Top Lists
Re: Transformers: ReGeneration One #93 Script (W)Rap (1503279)
Posted by
Fires_Of_Inferno
on July 15th, 2013 @ 4:50am CDT
I seriously can not help but point out that Galvatron's shadow isn't being cast on Ultra Magnus who's own shadow isn't being cast on the ground.
Re: Transformers: ReGeneration One #93 Script (W)Rap (1503580)
Posted by
Va'al
on July 16th, 2013 @ 4:43am CDT
Fires_Of_Inferno wrote:I seriously can not help but point out that Galvatron's shadow isn't being cast on Ultra Magnus who's own shadow isn't being cast on the ground.
That's.. quite a point you have there.
Re: Transformers: ReGeneration One #93 Script (W)Rap (1503590)
Posted by
Va'al
on July 16th, 2013 @ 6:00am CDT
New Look
(Spoiler free-ish)
Synopsis
BATTLETIDE! Opposing factions and forces meet head on, as the battle for
Cybertron (and indeed the future) begins in earnest. BLUDGEON, SOUNDWAVE, GALVATRON, STARSCREAM, and—caught in the middle—the Autobots, most crucially their greatest warrior ULTRA MAGNUS! And HOT ROD meets his maker. Literally.
Or even legen...
Story
In issue 92, Hot Rod and the Dinobots were headed towards Cybertron's core, as the surface was under the attack of Soundwave and the Decepticons, with the Wreckers and Ultra Magnus defending their home planet. Meanwhile Bludgeon and Galvatron are on their way too, and that's where we start with issue 93.
Insert obvious joke here
And it's a Furman-tastic issue at that: major players play major roles, with favourite characters becoming really
really
interesting and the plots seeding what might develop with issue #0, too. And, finally, we're getting closer to the heart of the events, with everyone almost on Cybertron.
Gettit? Heart? Core?
The Bludgeon aspects of the story are only briefly worked on, but the multiple strands do seem to be converging into one single narrative. Same with Galvatron, though there are some twists, albeit predictable.
We all know what happens when you monologue like that
The stories all seem to blend really well, here, and the narrative is becoming more and more cohesive and unified, without losing a degree of originality. And old-time readers and fans will get several kicks out of references, subtle and explicit, to some previous work in the franchise!
Art
This issue marks Guido Guidi's debut on the ReGeneration One artistic team, at least for the interior art (as he provided all B covers in the run so far). And it's good. Real good. There's one panel in particular which I personally adored, working amazingly well with Furman's 'timey' script, and that I'll leave for readers to discover.
What? What can you see?!
Not all the credit goes to Guidi, though: Baskerville's inks make the pencilwork as similar to the previous style as possible, while still keeping their original take on it, and JP Bove's colours, always the highlight of these issues, really help in the effect, retaining their usual eye-sparkling qualities.
That's space, and it looks mouth-watering
The artistic continuity, which seems to be the new fan-thing, is kept beautifully intact, and Guidi, Baskerville and Bove do a great job of making everything blend gorgeously together. Mowry's lettering is consistent if not overly creative, but everything just works.
Thoughts
Spoilerish ahead
This is Furman at his best. The characters are there, the plots are there, the references are there. It's all there. There are hints at several continuities that have been explored, or might still be, and it all works so nicely with the new artistic team.
The old-style editorial notes are there, too!
Definitely pick this one up, even if it's just for the one panel that I still will not spoil. Or the other one. Or that one. Though that one's cool too. Oh, and that one's nice as well. I think you know where I'm going with this..
.
½
out of
Re: Transformers: ReGeneration One #93 Script (W)Rap (1503642)
Posted by
fenrir72
on July 16th, 2013 @ 9:20am CDT
Love him or hate him..........Furman really dishes out TF stories unlike any other.
Re: Transformers: ReGeneration One #93 Script (W)Rap (1503659)
Posted by
Va'al
on July 16th, 2013 @ 10:10am CDT
It looks like Guidi is actually a lot closer to Wildman by himself than I originally thought!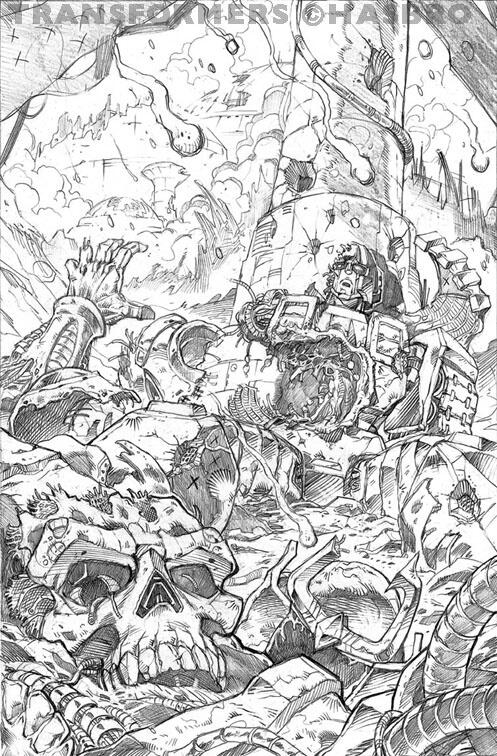 Re: Transformers: ReGeneration One #93 Script (W)Rap (1503684)
Posted by
Mkall
on July 16th, 2013 @ 12:09pm CDT
The TF Universe needs more Rack 'n Ruin focus.
Re: Transformers: ReGeneration One #93 Script (W)Rap (1503720)
Posted by
gothsaurus
on July 16th, 2013 @ 2:50pm CDT
Wow. So this issue starts the artist switch? Pretty seamless. Wow. Kinda shocked. And have to say, that opening spread looks amazing. Beautiful work.
Re: Transformers: ReGeneration One #93 Script (W)Rap (1503753)
Posted by
Neurie
on July 16th, 2013 @ 6:00pm CDT
Va'al, was you as shocked as me about some ones fate?

Solid issue over all.