Transformers: Robots in Disguise #11 Andrew Griffith Interview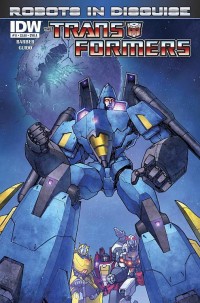 Thursday, October 4th, 2012 12:55am CDT
Categories:
Comic Book News
,
People News
Posted by:
El Duque
Views:
65,961
Topic Options: View Discussion · Sign in or Join to reply
The
official Transformers facebook page
has shared an interview with
Transformers: Robots in Disguise
ongoing artist Andrew Griffith. The interview has been mirrored below for those without facebook access.
Transformers: Robots in Disguise #11 Andrew Griffith Interview

As the Transformers: Robots in Disguise comic book series from IDW Publishing and Hasbro approaches the end of its first year, we thought we'd sit down with the series artist, Andrew Griffith, for his thoughts on the first nine issues of the series (the first five of which have been collected in a paperback) as well as the future of the series! Back issues (and last week's giant-sized annual) are available at comic book stores everywhere, and digitally at

http://read.idwpublishing.com/

—or download it on Comixology on your mobile device!

Q: Hi, Andrew. As we're approaching the end of Robots in Disguise's first year—how has it has been for you?

ANDREW GRIFFITH: Oh, it's been fantastic. I'm enjoying working on this book as much now as when I first began. I mean, nothing can beat the initial thrill of getting a call to take on the art chores for an ongoing Transformers series, but the fun and challenge of it has not dwindled a bit. I even recently tweeted the fact that it's been a year and a half since I got that call and I'm still as excited to be on the book now as I was then.

Q: You and writer John Barber have been working very closely on the look and feel on this book. Has it changed much from where you started out to where you are now?

ANDREW GRIFFITH: John Barber the writer? For a second, I was afraid you were asking me about the John Barber responsible for the development of rail gun technology. No really, look it up. Same name.

Parenthetical humor aside, John's a dream to work with. We've been working together since July of 2010 when we started the Dark of the Moon movie prequel series Foundation, and I feel like it didn't take us long at all to meld with each other's storytelling ideas. I really notice as I read his scripts that he's writing them specifically for me—he's gotten to know what he has to detail out for me, and what he can let me take hold of and run with.

That man is writing so many different things now, as well as editing a few more, that I don't know how he manages to keep each book straight—but working closely with him for so long I haven't seen any less commitment or intensity from him on the part of RID. It's kind of amazing. He just chugs right along. As far as the look and feel, I think it's stayed pretty consistent over the issues. We're really been trying to do some world building, with Iacon changing constantly as more ships arrive, ships are converted into buildings, and civilization takes hold. Meanwhile, this relatively settled section is surrounded by an entire planet that's been reborn and essentially unexplored. We've been working to establish a mix of strange structures naturally forming, ruined husks of ancient Cybertronian structures, and bizarre alien landscapes. Hopefully that comes across in the books.

Q: What characters have you been finding more of a challenge to draw, and do any of them come as a surprise to you? I bet there are some you can do with your eyes closed.

ANDREW GRIFFITH: I don't know what it is, but for some reason whenever I draw a Sweep's decapitated head in RID (specifically in issue 5) it never looks right to me. Something about the boxiness of the helmet, I think.

Q: You did a different design for Starscream before going for the War for Cybertron designs. How many of the characters did you re-design that weren't used?

ANDREW GRIFFITH: Well, truth to be told, not too many. I knew the series was going to feature Bumblebee, so my thought was to nail down (no pun intended) Bee's look, and then base the aesthetic of the rest of the characters off of his appearance. I ended up doing about three Bumblebee designs that were never good enough that I'd want show them to anybody, and then I did some of characters like Prowl and Starscream. The Starscream one is the one you're talking about, but looking back I don't think the Prowl one would have worked well at all for his role in the series and I don't know that I'd ever want to show him off. Just not a very good design in retrospect.

Q: Any stand out issues for you during this first year that surprised you?

ANDREW GRIFFITH: You know, I really enjoyed #4. When I first read that issue, I was instantly eager to draw it. On one level it read as a fairly straightforward action issue, but underneath there were a to of things going on, some of which has yet to be revealed to the reader. But I think eventually people will be able to look back at that issue and see it in a different light and say "ooooohhhhhhh."

Q: Would you say that you've changed much as an artist during the year as you've done more and more issues?

ANDREW GRIFFITH: Well, I hope so. I always want to be improving as an artist. I definitely feel like I can confidently turn out a competent page at a faster rate than I could have at the beginning. And there are certain things I wish I would have drawn differently in the first few issues, like Bumblebee and Prowl's heads. I don't know what it is about Bee, if I'm not careful I just end up making his head wider and wider and wider.

Q: You went to San Diego Comic Con this year, met the fans, signed many things and talked giant robots. How'd you find it? Was it a fun experience?

ANDREW GRIFFITH: Well, I've gone to a number of conventions this year, and from all the fans I've talked to, they are all really excited about what is going on in Transfomers comics, so it's been really encouraging. That's a very rewarding thing to hear, that what you're pouring your heart and soul and time into is being appreciated. The highlight of SDCC for me is always getting to see the people there that I never get to see otherwise, and getting to meet and talk with [legendary G.I. Joe writer] Larry Hama and [legendary Transformers writer] Flint Dille for example. But the best part was probably finally meeting John Barber and [editor] Carlos Guzman, who I'd been working closely with for two years by that point but had never met in person.

Q: From the characters you've designed for the series, which one of them would you like to see turned into a toy? If you were given the choice.

ANDREW GRIFFITH: I'm pretty happy with what I've come up with for the Constructicons, they retain enough of their G1 appearance while still looking like Cybertronian in nature. It'd be pretty awesome for me to see a Generations-line Devastator combiner based on them, similar to the combining Fall of Cybertron Bruticus toy that's out.

Q: As we're wrapping up the first year, there's still to more issues to go until we hit #12. is there anything little snippets you can say without giving to much away?

ANDREW GRIFFITH: Well, I can't say too much without IDW snipers placed across the street filling me with tranquilizers and shipping me off to Siberia, but I can promise that issues 11 to 15 are ones not to be missed. By the end of that arc, you'll have a lot of questions answered, some long unseen characters make an appearance, and some resolution to the first year's over-arching story. Basically, it's good stuff. I just hope I can draw it as well as it's written.

Q: Heading into year 2, you've probably been talking with John Barber about the future. Anything you can say about what the fans could possibly expect?

ANDREW GRIFFITH: Yeah, we had a chance at SDCC to sit down and bounce ideas off of each other. A bit early to see if he uses any of mine. [Laughs] In all seriousness, one of the great things about John is how he's so open to collaboration between us, and if he likes an idea I have, he's not too proud to use it in the story. If it seems like I'm avoiding spoilers as far as where the story is going, I am. It's hard to discuss it without giving too much away. But I will say that John and I are both excited about where things are headed.
Credit(s): Transformers facebook page
---
Got Transformers News? Let us know here!
Most Popular Transformers News
Most Recent Transformers News
News Categories:
Toy News
,
Movie Related News
,
Cartoon News
,
Comic Book News
,
Site News
,
Rumors
,
Event News
,
Digital Media News
,
Collectables
,
Sponsor News
,
Game News
,
Site Articles
,
Store News
,
Company News
,
People News
,
Press Releases
,
Reviews
,
Sightings
,
Unlicensed Products News
,
Auctions
,
Transtopia
,
Interviews
,
Knock Offs
,
Collector's Club News
,
Editorials
,
Heavy Metal War
,
Podcast
,
Contests
,
Book News
,
Top Lists