Transformers: Robots in Disguise #4 Creator Commentary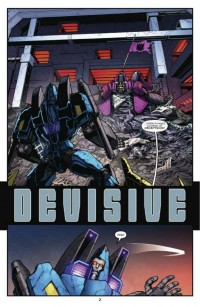 Thursday, April 26th, 2012 12:57am CDT
Category:
Comic Book News
Posted by:
El Duque
Views:
37,420
Topic Options: View Discussion · Sign in or Join to reply
The
official Transformers facebook page
has posted the Creator Commentary for
Transformers: Robots in Disguise
Ongoing #4 with insights on the first five pages by John Barber, Andrew Griffith, and Josh Perez. Check it out below:
PAGE 1. Swindle is his usual self while Dirge appears to be finding his feet. We get the sense that maybe the Decepticons are really up to something bad. You think we're getting to know them again as the bad guys here?


JOHN BARBER: Well, they're kinda the bad guys, yeah. I mean, they don't see themselves as the villains of the story, but that doesn't make them not villains. However, these guys, they're really trying to get by—especially Dirge. He just wants to move on with life. I think Swindle was a character that writer Mike Costa nailed in the last run of the book, before we came on, so I kinda wanted to have Swindle looking back at the days of him going toe-to-toe with Prowl and Ultra Magnus (during Transformers Vol. 6: Police Action) as the glory days; the best it ever got for him. He just fills the air with dialog—grand schemes, half-thought-through philosophies—and Dirge just wants to do his job and get on with his life.


ANDREW GRIFFITH: For my part, I just loved the idea that Swindle is shooting off his mouth and aggrandizing to the best of his ability, all the while carrying around a full basket and doing absolutely zero work. We've all known that guy. I agree that Swindle was one of the best characters during Costa's run, and I'm glad to see John picking up where he left off. Fans are always glad to see Swindle.


JOSH PEREZ: Can I mention how much I love how Andrew drew Swindle on this page? Something about how he's drawn makes him look so nosey—like he's always gonna be up in your bid'nis with opinions and stuff. I tried to make him look extra nosey and "annoying" (in the best way possible) with how I rendered his eyes. I'm in love with all of Swindle's dialogue.
PAGE 2. A dead Decepticon with a Decepticon's flag in it. Obviously some things haven't changed but Dirge wasn't expecting to see who he is seeing off panel.


JOHN BARBER: Yeah—well, Dirge wasn't expecting to see any of that. Especially who he saw. Also, I became super-paranoid after we sent this out to the printer: "Devisive" is a pun, not a typo. You'll see what we're going for on page 6.


ANDREW GRIFFITH: I just hope to have portrayed the emotion I was going for on Dirge's face. This poor guy gets no luck. All he wants is to be left alone, and here he is stumbling upon a murder, and suddenly he's surprised by the likely assassin. What's next for poor Dirge??


JOSH PEREZ: Ha ha—oh, man… poor Dirge…
PAGE 3. Starscream continues to preach politics and Prowl obviously doesn't believe him. Do you think these two can ever put the past behind them and move on in rebuilding Cybertron?

JOHN BARBER: I know the answer to that question, but I won't tell! Starscream is fighting on a new battlefield and he's proving he's better equipped at it than Bumblebee anticipated.


ANDREW GRIFFITH: The question in my mind is, do either of them honestly even WANT to move on? I know Starscream is adept at taking advantage of the new status quo, but I like to imagine that whenever Prowl's around Starscream he's always just desperately wanting to smack him! If only there weren't so many NAILs around and such a delicate political balance to uphold.


JOSH PEREZ: I really think there's too much blood spilled between both sides for Prowl to really trust a Decepticon again. I really feel frustrated for Bee here! Starscream is just saying things before checking them over with everyone else. He's promising Cybertron a pizza party and Bee never agreed to it! What was the question again? Will Cybertron ever have a Pizza Party?

PAGE 4. Prowl looks like he may be regretting some of the things he has already done but always believes he is doing the right thing. Do you think he even knows where that fine line is between right and wrong anymore?

JOHN BARBER: That's the million-dollar question, isn't it? Over the course of Mike's run writing the book, Prowl sort of mellowed… but he got a pretty bad jolt at the end. And now he's dealing with a new situation on Cybertron… it's a tough time for ol' Prowl. We get an indication here that he didn't exactly order Ratbat's murder… but how much of that is his conscience and how much is the truth is… well, that's the question. I love making Andrew draw these Arcee and Prowl conversations. "Here's an 8-panel page—good luck" I say to him. And he nails it with this. How do you get a giant image on an 8-panel page? And look at the emotion there. Arcee on panel 4, and Prowl look on panel 6. Amazing.


ANDREW GRIFFITH: Thanks, John. It's certainly a challenge to find a new way to stage a scene that we've seen several variations of already. Yeah, Prowl is one of the big mysteries of this book. Just what is going on in that cold, calculating processor of his and where does he draw the line? Do the ends really justify the means?


JOSH PEREZ: I really like the relationship between Prowl and Arcee. Arcee is totally who Prowl WOULD be if he wasn't Regulationstron, to me anyway. I feel like her presence kind of keeps his mind in check—despite of all the craziness he's been through so far. You really start to feel bad for Prowl; he is totally gonna snap from all the pressure he's putting on himself.

PAGE 5. The question becomes who killed the Decepticon from page 2 and why. And we're venturing deeper into the bowls of Cybertron. Keeping more of a sense of what the world is like. Are there are any plans to literally get under the skin of this world as well as the volatile situation itself?

JOHN BARBER: Yes, absolutely. Not to keep you in suspense—we're back out in the nearby wilderness next issue—but issues 8 and 9 really delve into what's going on in the deep, creepy parts of the world. For now, though—we've got a more immediate problem to deal with. I wonder how long it'll take Prowl to solve the mystery? I wanted to do a Prowl police procedural from day one… and a Prowl police procedural is a pretty different animal, in my mind, anyway, than most police procedurals…


ANDREW GRIFFITH: I just think it's great to see some of the infrastructure of this new Iacon being established on Cybertron. On page 1 it's (hopefully) clear the Constructicons are still building this waste disposal area as the Decepticons are starting to go about their days with jobs in the new facilities. It's great to see the lives of these 'bots fleshed out a bit more than we've seen in the past and see what's "behind the walls." In the past we've seen very little of Cybertronian culture outside of war, and RID gives us an opportunity to see some of that.


JOSH PEREZ: I certainly look forward to diving deeper into Cybertron! But lemme tell y'all—I REALLY love coloring Blurr. This is the first time I get to really work with him this much, and there is just something so satisfying to laying down his flats. Also, panel 3; just look at how Andrew drew Sideswipe. That had me cracking up for a little bit. Poor Swipe's TOTALLY uninterested in Prowl's assignment for him.
Credit(s): Transformers facebook page
---
Got Transformers News? Let us know here!
Most Popular Transformers News
Most Recent Transformers News
News Categories:
Toy News
,
Movie Related News
,
Cartoon News
,
Comic Book News
,
Site News
,
Rumors
,
Event News
,
Digital Media News
,
Collectables
,
Game News
,
Sponsor News
,
Site Articles
,
Store News
,
Company News
,
People News
,
Press Releases
,
Sightings
,
Reviews
,
Unlicensed Products News
,
Auctions
,
Transtopia
,
Interviews
,
Knock Offs
,
Collector's Club News
,
Editorials
,
Heavy Metal War
,
Podcast
,
Contests
,
Book News
,
Top Lists