Transformers: Robots in Disguise Annual 2012 Creator Commentary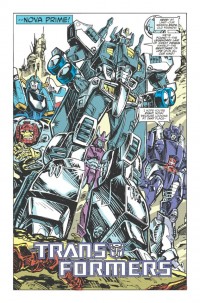 Wednesday, September 26th, 2012 5:05pm CDT
Categories:
Comic Book News
,
People News
Posted by:
El Duque
Views:
41,114
Topic Options: View Discussion · Sign in or Join to reply
The
official Transformers facebook page
has posted the creator commentary for this week's Transformers: Robots in Disguise Annual 2012. Artist Guido Guidi and writer John Barber give us their thoughts on the first five pages. We've mirrored the commentary below for those without facebook access.
PAGE 1: A flashback page to the early days of Cybertron. It strongly evokes the look of the original Marvel Comics back from 1984, when Transformers first began. Was this a deliberate stylistic choice?

JOHN BARBER: Totally coincidental. There were Transformers comics before this? No, seriously—of course we were evoking that story. I remember being blown away by the TV commercial and picking that issue up off the stands and literally wearing it out—reading and rereading it over and over… Years later, when I worked at Marvel, I worked with Ralph Macchio, who scripted the issue. Ralph was really a mentor to me—I learned a lot about comics from him. Well—a lot about everything, but especially comics.

To me, not to take anything away from everybody else who worked on the original Transformers #1, this was my homage to Ralph; me trying to write Ralph Macchio dialog… It was important to me to embrace it, not make fun of it, and I was really really lucky to have a collaborator like Guido on this. I mean, I would have never attempted—or wanted to attempt—writing anything like this if it weren't for Guido's retro-style images, like he's been doing on the TRANSFORMERS: REGENERATION ONE covers.

GUIDO GUIDI: I had already the chance to draw three retro-stylized pages in the TRANSFORMERS: MORE THAN MEETS THE EYE ANNUAL, were I used a more Kirby-inspired style (see the Guiding Hand designs) to emphasize the fact that we were telling the begin of everything in the very distant past (at least from Cyclonus' point of view!).

For the RID annual instead, I had a very strong direction: John was going to evoke and homage Ralph Macchio's work from the original Transformers #1, so the logic choice for me was to follow the steps of Frank Springer and Kim DeMulder.

So in order to evoking their bold linework look I opted for different inking tools for usual, like brushes, markers with broad tip and fountain pens that emulated quite well the look of the pen and brush work used in the mid '80s.

The color palette also was studied after the original work of Nel Yomtov, especially in the background colors, for which I used exclusively yellow, cyan and magenta values. Working on limited 64-colors palette is actually an advantage. While not realistic (but this wasn't the goal) in this style colors can even regain a certain symbolism.
PAGE 2: The introduction of Nova Prime and his followers. Nova was last seen like this, before his corruption, in Spotlight: Optimus Prime, in another flashback. Why go back now to Nova's story and explore what he did while he was Prime?

JOHN BARBER: In that first issue from 1984, all this stuff was brand new. You didn't know who was going to be the good guy, where the story was going, what anybody was like. It was the first piece of Transformers fiction, and there was a weirdness to the whole proceeding that by it's nature isn't replicable. But by using these characters that we've seen hints of, or seen years and years down the road… well, I thought it would be cool if some of the older 'bots from the present day had their own set of adventures and stories back in the past.

Once, they were the heroes. Are the Cybertronains doomed to repeat these cycles forever? That's a question that comes up in the present day sequence of the Annual, and in the whole of the Robots in Disguise series

GUIDO GUIDI: Here started the real challenge: I knew I had to draw this in a particular retro style, and that I had to do that with characters the readers were already familiar with in the modern style and design. Not only, most of these "heroes" would have ended in being "bad guys" in the contemporary stories, so I tried to add a subtle evil vibe to each of them (all but Dai Atlas), increasing that aspect as the story proceeds (just look at Nova Prime in the early pages here, compared to page 24).

So I had Nova Prime, Dai Atlas, Galvatron, Jhiaxus and Cyclonus, all of them quite different in terms of look, since they were designed by different artists in different contexts. What I tried to do was redesigning them in order to make them look more uniform in style, as if they were all from the 1984 comic universe, while keeping the overall look and features the IDW readers were used to.
PAGE 3: Nova and his friends start exploring an ancient structure, with quite possibly ties in with Primus himself. Did you and James Roberts work very closely in fleshing out the story of Cybertron's origins, even though you were telling separate Annual stories across your two titles?

JOHN BARBER: Yeah, we both talked out the annual scripts together. James came up with the idea of Metrotitan appearing in More Than Meets the Eye's annual and then showing up on Cybertron in RID. And I started to think about it like an archeological excavation… like, James would tell the legend passed down by Cyclonus' story; but I'd have the reality of what Cyclonus saw first-hand.

GUIDO GUIDI: In an early sketch I depicted the cave as very large, with the entrance filling almost all of the panel, but I thought we would have lost the overall look of the outer structure and the sense of scale compared with our "heroes," since we had no previous glimpse of the hill.

I was also tempted to add a sort of Primus face/head ornament on the top of the hill (Like the temple in the recent Prometheus movie) or to make the entrance as if was a monstrous mouth in an Omega-Supreme-head-shaped building. But it would have looked too sinister, so I opted for a more neutral look: I still had the inner cave's tunnel to add some mood in this and the subsequent pages. Since the tunnel was very old, maybe created with forgotten Cybertronian technologies, I made the internal structure still mechanical, but as if it was grown rather than built. We can see parallel layers of metal following the direction of the tunnel.

On a side note, John raised the issue of how our heroes would have brought light into the dark tunnel: he suggested looking at panels from TF #1 where the Ark reactivated its systems with a stream of light coming out from an hatch in the hull. That's how I added the built-in lights coming from Nova Prime, lighting the path for his followers.
PAGE 4: Back to the present day Cybertron, and we're seeing the events played out through Metalhawk. With such a large cast to play with, why choose him to be the focal point for this story?

JOHN BARBER: I'd very intentionally not used Metalhawk as a point-of-view character. I figured we know Ironhide, and Bumblebee, and Wheeljack, Starscream, Prowl—we know those characters in the comic book universe, so it makes sense to get into their heads. But Metalhawk, I wanted us to learn about him by interacting with the character—seeing him bounce up against the others, and grate on them, and then slowly you'd (hopefully) see him as a character full of contradictions and hopes… and when the Annuals came into being, I talked to my editor, Carlos Guzman, and we thought it might be time to show some of what's going on inside of Metalhawk. Now we've come to know him… so it seemed right.

And this is where we switch over to Brendan drawing, with Joana LaFuente on colors. Brendan's an old friend—we've worked on comics together since the 1990s. While I was writing the Annual, I knew Guido was going to draw the retro scenes, but editor Carlos Guzman and I weren't sure who was doing the present day. About halfway through the annual, I started imagining Brendan drawing it… and we were lucky enough that he agreed to come onboard!

BRENDAN CAHILL: Well, sometimes we all have to do stuff we don't want to, to pay the bills, am I right? No, I was excited when John asked me about the Annual, especially when he told me about splitting the issue with Guido. (Have you freakin' seen his stuff on this issue? Awesome. I feel like here I have this opportunity to talk about my art, and all I want to do is talk about Guido's. But anyway.)

I was also excited about the subject matter. One of the really fun things about drawing Transformers is scale—making them feel big and heavy—and with Omega and Metrotitan, that just gets amped up even further. Plus, I got to do one of those John Barber-patented crowd scenes, so now I know how Andrew Griffith feels every month.
PAGE 5: A speeding Blurr is spotted by Metalhawk and Starscream. It's almost as if something big was on the verge of happening here.

JOHN BARBER: Why, what do you mean? Yeah, something pretty big happens here… I kinda like the unlikely friendship that Metalhawk and Starscream form. Starscream lets his guard down a little, and Metalhawk is… well, Starscream definitely isn't his usual type of friend…

I really like Metalhawk's and Starscream's relationship, and I love this opening scene with them. It was a lot of fun doing the "acting" in that scene (facial expressions, body language, etc.) since there's a comfort level between the two of them. Posturing and fighting is always fun to draw, but sometimes the best scenes are just two friends talking—and screwing with each other a little.

In fact, I liked working with Starscream in general in this issue. There's a great writerly trick John pulls where you've got this guy we all know as a villain, and John makes him sympathetic. You've got Prowl talking down to him and Sideswipe bullying him. After enough of that, you're rooting for Starscream, even if just in a small way. Like, sure Starscream has done terrible things, but Sideswipe's just being a jerk, and that's uncalled for. Those moments are great to read, and just as great to draw.

Also, a word about Joana's colors on this. There are basically two main "chunks" in my pages: the above-ground chunk, and the underground chunk. They are very different spaces, both physically and, I guess the right word is thematically. I did what I could in the lineart to draw that distinction, but the colors are where it really came together. Joana did these great melting golds, and warm shadows in the above-ground scenes and then transitioned into that cold, stark look for underground. They couldn't look more different, and more importantly, they couldn't feel more different. Awesome stuff.
Credit(s): Transformers facebook page
---
Got Transformers News? Let us know here!
Most Popular Transformers News
Most Recent Transformers News
News Categories:
Toy News
,
Movie Related News
,
Cartoon News
,
Comic Book News
,
Site News
,
Rumors
,
Event News
,
Digital Media News
,
Collectables
,
Sponsor News
,
Game News
,
Site Articles
,
Store News
,
Company News
,
People News
,
Press Releases
,
Reviews
,
Sightings
,
Unlicensed Products News
,
Auctions
,
Transtopia
,
Interviews
,
Knock Offs
,
Collector's Club News
,
Editorials
,
Heavy Metal War
,
Podcast
,
Contests
,
Book News
,
Top Lists
Re: Transformers: Robots in Disguise Annual 2012 Creator Commentary (1424283)
Posted by
Tigertrack
on September 26th, 2012 @ 5:47pm CDT
I totally forgot that Cyclonus connection in the Annuals.
Re: Transformers: Robots in Disguise Annual 2012 Creator Commentary (1424375)
Posted by
kirbenvost
on September 27th, 2012 @ 2:37am CDT
So these annuals will be in the TPBs, right? I wouldn't want to miss out, but I can't imagine IDW would leave part of the story out.
Re: Transformers: Robots in Disguise Annual 2012 Creator Commentary (1424488)
Posted by
Downbeat
on September 27th, 2012 @ 2:06pm CDT
Enlightening commentary for an enjoyable issue.
Re: Transformers: Robots in Disguise Annual 2012 Creator Commentary (1424490)
Posted by
Blurrz
on September 27th, 2012 @ 2:11pm CDT
kirbenvost wrote:So these annuals will be in the TPBs, right? I wouldn't want to miss out, but I can't imagine IDW would leave part of the story out.

Nope.

The Annuals are in a standalone paperback form because they are 50+ pages.