Transtopia Newsletter - August 2009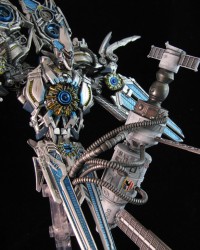 Sunday, August 16th, 2009 12:41pm CDT
Categories:
Site News
,
Site Articles
,
Transtopia
Posted by:
First Gen
Views:
151,168
Topic Options: View Discussion · Sign in or Join to reply
Hello Seibertronians and welcome to the newest Transtopia Newsletter. This month we have a nice arrangement of custom works from the fine patrons of the
Transtopia Forums
that we want to showcase for all you diehard Transformers fanatics.
Each month, we go through a detailed review of submissions for the monthly newsletter along with searching the posts in the Transtopia Forums for new works that may have not been submitted. The Transtopians here at Seibertron.com do some of the finest customizing in the field and we are very thrilled and proud to bring you the next batch of modified goodness.
How to Showcase Your Work…
The newsletter is your opportunity to show off your work and talent. We rely on your articles, artwork, and customs to make it interesting. Entries will be reviewed on a monthly basis. You can submit your work here:
Repaints
,
Kitbashes
,
Scratchbuilds
Fan Art
Fan Fiction
Guides
Newsletter Credits:
Design - Flix
Formatting – Mattyc1007, First Gen
Fan Art - Mykltron
Customs - First Gen
Fan Fiction – Name_Violation
Editing – First Gen, hellkitty
Artist Interview - Burn
We don't get much (or any, to my knowledge) artwork submitted that is purely photo manipulation so I thought I'd bring tljhtr1979's contribution to your attention this month.
In 'Battle For The Arch' we see Megatron beckoning Optimus Prime as Prime prepares himself to leap to the challenge. In the background Bumblebee seems to be preparing to comb the wreckage of a nearby damaged building for survivors, unaware that Starscream is lurking atop a building behind him.
tljhtr1979 has used '09 concept Bumblebee, '07 Movie Megatron with ROTF Prime and Starscream. Pictures of these are superimposed onto a photograph of a street scene which has had rubble and damage added.
It's a shame that tljhtr1979 is not also a talented model painter. This picture would look better if the toys used had been painted to add that extra touch of realism, but even so, this is a very effective piece of work.
Bumblebee sig by Aman10000
The Soundwave Complex by Noshrok Grimskull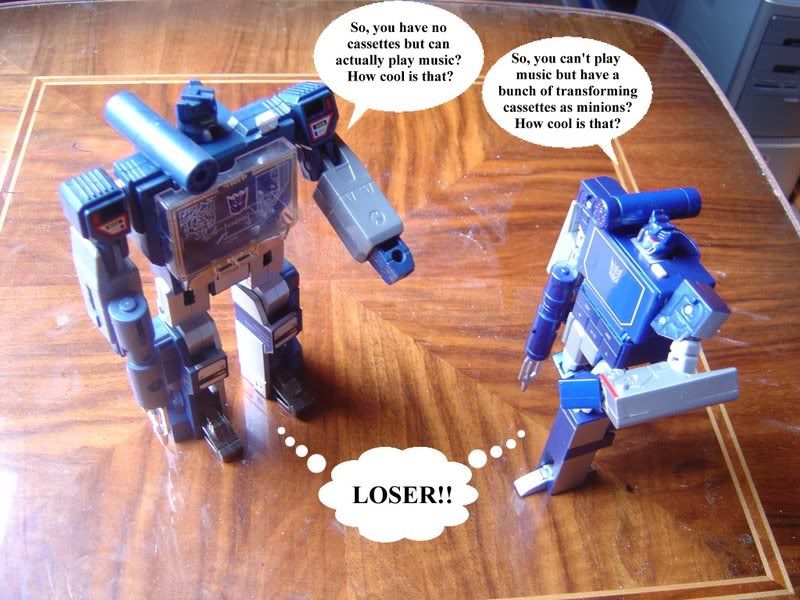 "Well, now what?" also by Noshrok Grimskull
Burn was kind enough to talk to resident Transtopia Artist Psychomud this month for our Artist interview. Here's what he had to share:
Joining us this month from Transtopia is none other than Psychomud. Residing in South Korea, Psychomud is a talented artist who took out 2nd place in this year's BotCon art contest for his rendition of Apeface, and was also crazy enough to put his hand up to be interviewed. So enthusiastic he virtually interviewed himself for me!

About me in a nutshell:
1. I live and work in South Korea for the Department of Defense.
2. I won 2nd place at Botcon for "Decepticon Apeface".
3. At Chicago Comic-con (Wizard World) 2008 - i was a featured artist at the Sketch Magazine artist alley table.
4. Did a pin-up for Skystorm Studios "Art of HellGirl" comic.
5. I have designed and illustrated logos for various organizations/sporting venues/motorcycle clubs here in South Korea - including recently designing/illustrating for the Songtan-Si Dart Association (dart league). I work for them to design the special award dart pins.
6. I DREAM to one day work for IDW - preferably but not limited to drawing transformers.
7. Right now, I am working on a "mosaic-like" 1-shot full comic written by Mike Priest and Shaun Flaughterty (which I am sure I misspelled his last name).
8. I has survived 2 wars (once as military, once as a contractor - as I am now) and if things keep going like they are - might be in a 3rd one here on the Korean penninsula. ;(
9. Although I started working hard at obtaining an illustration career late in life (36 now) - I have been drawing since 3. Not to mention, I know illustration pays next to nothing, and with my current job I will be able to retire in Thailand (at 45-ish) to live/work - hopefully long distance as an illustrator for IDW.
10. I love seibertron.com - and play HMW while I draw.


But I wasn't about to let it end there, I had to explore deeper, find out what makes Psychomud tick, or at least ask a few more questions so I look semi-professional!
Plenty more to this interview, click
here
to get the full scoop on Psychomud!
Universe Jazz (WIP) by hXcpunk23
ROTF Octane with Motormaster by Jin Saotome
ROTF Soundwave with tentacles and satellite also by Jin Saotome
This past month saw a huge increase in Repaint postings. Please submit your work that you'd like to be featured each month as getting to every new work posted can be a task.
Universe Aerialbots by our own Mykltron
ROTF Ravage by Universe
Movie Acurate Optimus Prime by hakka with 20 LED's
Universe Treadshot by leobreaker1977
Universe Scourge by hXcpunk23
Alright folks, Name_Violation here, reminding you its that time again. So this month I searched high and low (not really) to find this months fanfic selection. I would like to thank everybody who submitted something this last month, I actually had something to do this time.
This months tale is set in the Movie universe, and is about humans, Autobots, and... well i should Just let everyone find out for themselves. A good read and precursor of things to come. I rate this pick 3.5 stunticon names out of 5.
Dead End
by hellkitty
Pars Prima
Bourzey Castle, Southern Syria
Ratchet ducked, instinctively, at the buzz-thump of the EMP burst. Yellow dust shook down from the large stone walls of the gateway he crouched in. Something deep in his chassis gave a sickening dropping feeling as he heard the distinctive clattering crash one of his fellow Autobots falling over. He cursed, softly.
"Ironhide," Flareup said, her voice sick. "He'd gone ahead."
"As usual," Lennox added.
Prime gave a worried scowl. He wasn't angry at Ironhide, Ratchet knew; but he'd been fighting these challenges to his authority for cycles now. It didn't make them any easier that they were familiar. "We'll need to disarm the EMP before we can retrieve him," he said, calmly, changing the mission objectives instantaneously, without any outward sign of the inner distress he was feeling.
"On it," MacCallum, one of the NEST soldiers, said, shucking his electronic equipment and grabbing a tool kit and running into the darkness of the Syrian night. The stars above gave a cold and lightless light , just enough for the humans to be able to pick out the contours of the old castle which the Decepticons had picked for their first base on Earth. Ratchet and the other bots had no choice but to wait. One EMP casualty was enough, especially on a mission with one approach route up a steep grade of shifting gravel and very little chance of a Chinook pickup. Chromia and Flareup rolled up to Prime.
"We can go on with the humans," Chromia said.
Prime shook his head.
"We're faster than Ironhide. We can dodge an EMP. You know that: that's why you brought us along."
"You might be able to dodge one, but they might have daisy chained them." Lennox, cutting in. He was strangely protective of the cycle bots.
"So what do we do?" Flareup rolled back and forth on her wheel, anxious, peering into the night into which MacCallum had run.
Want to read more,
Credit(s): Team Transtopia
---
This article was last modified on Sunday, August 16th, 2009 6:03pm CDT
Got Transformers News? Let us know here!
Most Popular Transformers News
Most Recent Transformers News
News Categories:
Toy News
,
Movie Related News
,
Cartoon News
,
Comic Book News
,
Site News
,
Rumors
,
Event News
,
Digital Media News
,
Collectables
,
Sponsor News
,
Game News
,
Site Articles
,
Store News
,
Company News
,
People News
,
Press Releases
,
Sightings
,
Reviews
,
Unlicensed Products News
,
Auctions
,
Transtopia
,
Interviews
,
Knock Offs
,
Collector's Club News
,
Editorials
,
Heavy Metal War
,
Podcast
,
Contests
,
Book News
,
Top Lists
Re: Transtopia Newsletter - August 2009 (975093)
Posted by
Primus C-00
on August 16th, 2009 @ 1:22pm CDT
*hOLLERS!*
AWWEEEEESOOOOOOOOOOOMMMMMMEEEEEEEEEE!
Re: Transtopia Newsletter - August 2009 (975228)
Posted by
Anonymous
on August 16th, 2009 @ 4:28pm CDT
In tljhtr1979's "Battle for the Arch" photo! It's Barricade in that wreckage!!
Re: Transtopia Newsletter - August 2009 (975240)
Posted by
Noshrok Grimskull
on August 16th, 2009 @ 4:52pm CDT
Nice to see two of my pics up there, but my username has been misspelled.
Otherwise: Cool stuff.
Re: Transtopia Newsletter - August 2009 (975353)
Posted by
First Gen
on August 16th, 2009 @ 6:14pm CDT
Noshrok Grimskull wrote:Nice to see two of my pics up there, but my username has been misspelled.

Otherwise: Cool stuff.
Fixed.
Re: Transtopia Newsletter - August 2009 (975438)
Posted by
Megatron Wolf
on August 16th, 2009 @ 8:11pm CDT
Strat as Octane is a wicked idea. Why didnt hasbro do that in the first place? That Soundwave is awesome as is the light up prime. Wish i could think of (and do) stuff like that. All ive ever made out of TF parts was a Beast Wars Ravage. Still not complete either.
Re: Transtopia Newsletter - August 2009 (975470)
Posted by
DevastaTTor
on August 16th, 2009 @ 8:51pm CDT
A really great bunch of work here. Jin's pieces, especially Soundwave, is fantastic as always. That Ravage is amazing too. Wish I could paint like that.
Re: Transtopia Newsletter - August 2009 (975634)
Posted by
Noshrok Grimskull
on August 17th, 2009 @ 1:45am CDT
First Gen wrote:

Noshrok Grimskull wrote:Nice to see two of my pics up there, but my username has been misspelled.

Otherwise: Cool stuff.

Fixed.
Thanks.