Twincast / Podcast Episode #260 "Pulsecon 2020"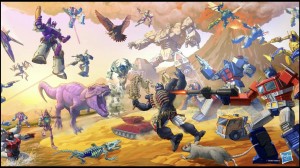 Sunday, September 27th, 2020 1:56pm CDT
Categories:
Site News
,
Digital Media News
,
Podcast
Posted by:
xRotorstormx
Views:
21,730
Topic Options: View Discussion · Sign in or Join to reply
The Seibertron.com Twincast / Podcast is pulsing with excitement as your host ScottyP sits down with Mr. Starscream, Megatronus, xRotorstormx, and Seibertron himself to discuss the first ever PulseCon and all the amazing reveals.
Episode #260 "PulseCon 2020" is available directly and in our RSS Feed, and should appear on Apple Podcasts, Google Play, and Stitcher Radio within 24 to 48 hours of when you see this news post.
Here's what we discuss in this episode:
Kingdom reveals were a plenty during the 50 minute toy panel from the Transformers brand team but the first thing we laid our eyes upon was the new Kingdom poster that shows some of our favorite Beast Wars and Generation 1 characters...along with a few surprises!





Earlier in the week, blueprints to a familiar ship were released.





Next, we finally get to see the official reveal for Rattrap, Cheetor, Cyclonus and Megatron and boy, do they look great!





We also got to see the adorable new core class Optimus Prime.





Along with some more in hand shots of Vertebreak, Blackarachnia, Warpath, and Paleotrex.





Just when you thought your quest to collect trading cards was over, Hasbro decided to unveil new "Reveal Your Destiny" Gold Holographic trading cards that will come with all Deluxe, Voyager and Leader class figures.





Transformers Prime is celebrating its 10 year anniversary (wait, what!?) and Hasbro Pulse is giving us two new exclusives to celebrate.





Also revealed during the event were Prime Arcee and Cheetor from the R.E.D. non-transforming figure line.





We also got to see the exclusives for the second *err* I mean third planet from Amazon's Galactic Odyssey called Biosfera.






Hold Up! It's almost 5 pm - PULSECON EXCLUSIVES GO LIVE ANY MINUTE!!! AHHHHH GO, GO, GO!



Whew, glad that is over with. Changing gears...It is only fitting that with a new G1 inspired Cyclonus, we get a new Scourge right?





We also get to see some in hand video of the upcoming Studio Series 86 Hot Rod and Kup.





New images of Masterpiece V2 Starscream have been spotted.





As this episode comes to a close, we jump back into PulseCon to chat briefly about Knockout making it into the Transformers Hall of Fame and the Entertainment Panel that brought us the new trailer for the upcoming Earthrise series coming to Netflix.





In closing, Happy 10 Year Anniversary to the Twincast Podcast! Although technically we forgot our own birthday.
|
Love us?

Hate us?

Extra Super Love us? Drop us a review on Apple Podcasts or on your favorite podcatcher.
|
|
Want to keep the discussion going? You can do so by simply replying to this post!
|
|
Got a question for the Twincast? Ask the Twincast.
|
---
Got Transformers News? Let us know here!
Most Popular Transformers News
Most Recent Transformers News
News Categories:
Toy News
,
Movie Related News
,
Comic Book News
,
Cartoon News
,
Site News
,
Rumors
,
Event News
,
Digital Media News
,
Collectables
,
Game News
,
Sponsor News
,
Site Articles
,
Store News
,
Company News
,
People News
,
Press Releases
,
Sightings
,
Reviews
,
Unlicensed Products News
,
Auctions
,
Transtopia
,
Interviews
,
Knock Offs
,
Collector's Club News
,
Editorials
,
Heavy Metal War
,
Podcast
,
Contests
,
Book News
,
Top Lists
Re: Twincast / Podcast Episode #260 "Pulsecon 2020" (2082059)
Posted by
D-Maximal_Primal
on September 28th, 2020 @ 12:49pm CDT
Another Monday, another Twincast. Here we go!

Arkbot art was a nice surprise in that art piece. Nothing Commander related, but cool to see a Titan tease. I kinda like the fact that the thrusters just become the entire front of the lower legs. And the Last Autobot head is a nice touch on top.

While rumor has it that Gears, Polar Claw, and that saber tooth fossilizer have been cut, I would still love to see the Polar Claw. That is one I want so badly to have a new toy!!!

Fossilizers are my new favorite original idea. I love it so much! Cannot wait to build a boney army.

Primal never used his mace in the show, I completely rewatched the series recently and would've remembered that!

More Ari is always a good thing!

The fact that the same guy that designed MP-43 also worked on his new Megatron is awesome. That toy looks so good and so sharp!

I fully agree with Ari, I feel perfectly OK with having my MPs of the Beasts I already own because the new Kingdom ones are all shooting for a completely different look. The realistic beast modes are awesome.

I actually like the way they went for the cheetor. form some reason I like the legs a lot.

Surprised Cheetor is one of the best things to happen in that panel, that was hilarious.

Vertebreak is pretty awesome, I love the dino mode. i think Vertebreak is the cooler of the 2 fossilizers so far.

Also, did you guys see what F.O.S.S.I.L stands for? I'll need to find it again, but the abbreviation is so hilarious.

I really hope Beasts stick around more, I want to see a new Silverbolt and Tigerhawk. If we could at least get maybe a wave a year sort of range I would be happy. Just keep them around some please!

Ryan asked the question about Target pre-orders. oh man.....

The new Pulse requirement to make sure things don't sell out very quickly was very effective, I am very grateful for it!

Funny to hear you guys do that live, well done on that. I got the Pit of Judgement, Hades Megs, Breakdown/Vehicon, ML Silk, BS Armorer, and some of the stands. It was a great weekend.

clones were a decent reveal, glad others are getting them, but I am more than happy with mine that I have.

I didn't pre-order anything that's wider retail from Pulse. I usually see it or find it elsewhere before Pulse gets it in stock. I use Pulse for exclusives and some other things like Marvel Legends or Black Series that I do not see as often.

I did not even know there was a Plasma series Ecto-1 coming until this podcast, thanks guys! Target is sold out, but I will get that!!

I would have loved Final Battle Megatron. I want that one so bad. The Prime arm with Dark Star Saber is my dream Prime figure.

Paul: Megs reattaches his original arm after Prime cuts off the arm at the end of Season 2. That Prime arm was lost and never seen after Optimus cuts it off.

RED Arcee looks pretty dang good. I am excited to see her, and hopefully she is nice in hand. She is a definitive grab.

new card adventure for kingdom!

Earthrise trailer looked fairly boring again. I am excited for Doubledealer, but that's about it.

Seeing Coneheads from the tetrajet mold is surprising, but welcomed.

Knock Out and Sky Lynx deserve their Hall of Fame spots. Now put Knockout in more fiction dammit!

I'm guessing the new Seeker will be around $300 minimum from Amazon JP priced. $350-$370 at import sites.

Happy 10th Anniversary Twincast!