Unproduced Beast Machines Megatron Megabolt prototype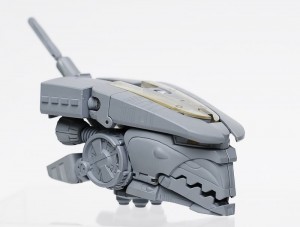 Thursday, September 19th, 2013 9:54PM CDT
Category:
Toy News
Posted by:
LOST Cybertronian
Views:
16,759
Topic Options: View Discussion · Sign in or Join to reply
The
Robotpoints blog
gives a look at a rare Beast Machines Megatron Megabolt prototype. This figure was originally intended for the
Beast Machines Battle for the Spark
line. This figure differs from the one we finally got for the
Robots In Disguise
toy line. While being a completely different mold, the most noticeable difference is the lack of legs that the final toy sported. Instead, this prototype includes the original jet thrusters underneath.
Here is the
Megatron Megabolt
that came out of the Robots In Disguise line.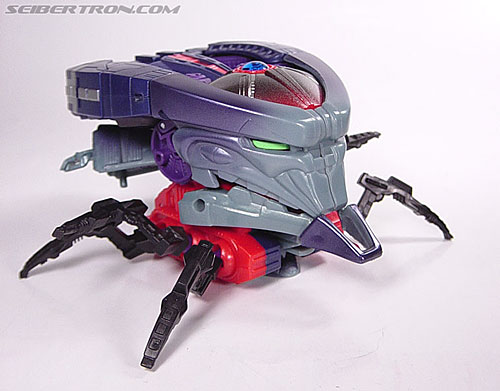 Here is unproduced original Megatron Megabolt prototype.

The basic idea is the same as the production model (in that they're both transforming head/space crafts), but is essentially a completely different toy. It's actually easier to note the similarities between the two designs. Basic shape and certain areas of transformation are akin, but like the cartoon; does not have the legs. Instead the original jet thrusters adorn the underside of the prototype. Interestingly though, the lower jaw of the production version more closely resembles the cartoon.
A comparison shot of the two toys.

Robot mode images
Not to gloss over the below debut robot mode images but the most incredible feature of this concept is the working mechanism visible through the clear sections. When the eyebrow/chest section opens up, a series of cogs engage and actually move within the prototype giving a true mechanical effect.


For the full story behind this piece of Transformers history, check out the
Robotpoints blog
.
Credit(s): Robotpoints blog
Most Popular Transformers News
Most Recent Transformers News
News Categories:
Toy News
,
Live Action Movie News
,
Comic Book News
,
Cartoon News
,
Site News
,
Rumors
,
Event News
,
Digital Media News
,
Collectables
,
Game News
,
Sponsor News
,
Store News
,
Company News
,
Site Articles
,
People News
,
Press Releases
,
Sightings
,
Reviews
,
Unlicensed Products News
,
Auctions
,
Transtopia
,
Interviews
,
Knock Offs
,
Editorials
,
Collector's Club News
,
Heavy Metal War
,
Podcast
,
Contests
,
Book News
,
Top Lists
Re: Unproduced Beast Machines Megatron Megabolt prototype (1518832)
Posted by
Sabrblade
on September 19th, 2013 @ 10:01pm CDT
Inb4 nerdrages: The robot mode IS mistransformed, people.
Which is a shame since since it looks like it could have been interesting to see.
This thing was reportedly seen very briefly in a slideshow at BotCon 2005.
The packaged Beast Machines version was also definitely seen in a slideshow at BotCon 2011.
Re: Unproduced Beast Machines Megatron Megabolt prototype (1518841)
Posted by
Bumblevivisector
on September 19th, 2013 @ 11:03pm CDT
Ah, the whatmightabeens! If only they could've all seen print in The Vault. Every once in a while, it's something SO great that I must dare risk possible offense by suggesting that a KO company should acquire it to share with the world.

But this time it's Beast Machines. So to Hell with "possible".

The only reason I wouldn't bother pissing on this thing's grave is that whatever forcibly injected all that organic glop into the previously all-technological Cybertron defiled it so thoroughly as to make the point moot.

I'd normally just keep that to myself, but a close friend's having a cyst drained, and it's giving me traumatic BM flashbacks. I had to vent this once. I'll accept any warnings forthcoming.

Still, increased focus on show-accuracy is always worthwhile, regardless of the show. I think the final product fell victim to a cheap trend of disembodied toy heads having spider legs. Mr. Freeze was like that not long before, right?

Anyone else think the jagged teeth on that shape of face gives this prototype's profile a resemblance to Mumm-Ra? A weird nod to Kid-Stuff read-along continuity? Yeah, given enough cosmic power, Mumm-Ra could've done the deed. The sonic canyons had something to scream about that day...blech.

*ahem* This does come from a pretty cool site. Some of this stuff, I'm not sure the Spacebridge could even get their mitts on. So Diaclone was essentially considering doing an Autojetter, hmmmm.
Re: Unproduced Beast Machines Megatron Megabolt prototype (1518866)
Posted by
Mykltron
on September 20th, 2013 @ 5:16am CDT
Mistransformation aside, I can see why they didnt' release it.
Re: Unproduced Beast Machines Megatron Megabolt prototype (1518868)
Posted by
griftimus prime
on September 20th, 2013 @ 6:45am CDT
garbage. just like that toyline and the even worse show.
Re: Unproduced Beast Machines Megatron Megabolt prototype (1518870)
Posted by
Sabrblade
on September 20th, 2013 @ 6:55am CDT
Word has it this could have originally been an Ultra class figure.
Re: Unproduced Beast Machines Megatron Megabolt prototype (1518922)
Posted by
Flashwave
on September 20th, 2013 @ 12:08pm CDT
Well shucks, I actually prefer the cleaner look of the proto's alt mode, and thrusters work for it much better than spider legs, or so is my opinion. But would it have fit on Fort Max as an Ultra? I'm thinking no, and while I don't have Maxy either, that's just too cool of a coincidence to pass up. Certainly the bo mode needs finished, but I'm still wondering where some of that kibble goes. And while the missile as an antennae is cool, it being able to simulate a breath weapon is more awesomer.

Ah well. Too bad this was canned though, I'd have bought it.