Well the question on everybody's mind right now is "where can I find 'em?" the better question you should be asking yourself is, "Is he worth it?" In my opinion...a solid maybe. Read on...
Packaging
Pros:
Stands out from the rest of the packaging on the shelves and in a nice, shiny, glossy box.
Great facial artwork on the front of the packaging and clear pics on the back.
Cons:
Again, the gaudy Allspark Power blue...ugly as sin, but it does stand out.
Overall:
Nothing new from what we've already seen, but does the job that Hasbro had intended.
Incinerator
Vehicle mode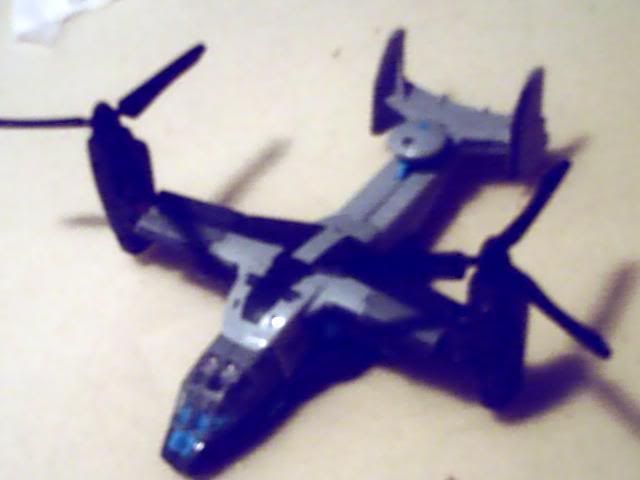 Pros:
Quite a bit of detail work put into the second of the three last original molds for the Movie line.
Other than under the wings (where arm innards are exposed) he carries the Osprey's look quite well and he does the real deal, justice.
Propellers spin when radar dish (mechanism trigger) is pulled.
Cons:
The arms showing underneath the wings is absolutely irritating and ruins the whole "robots in disguise" thing. Does it ruin the vehicle mode completely? No. But it's jarring when you expect this to look like a model kit or something. (and admittedly, quite a few of the Movie line figures looked like a model kit....from afar.) Incinerator doesn't capture that feel quite as well as his fellow figures.
Overall:
A sturdy vehicle mode is a solid plus in my book. Things won't be flopping around or coming loose at the drop of a hat and his windows are actually windows, you can see through them. (hah!) Details are quite nice (once you get beyond the arms)
A solid (very solid)
Transformation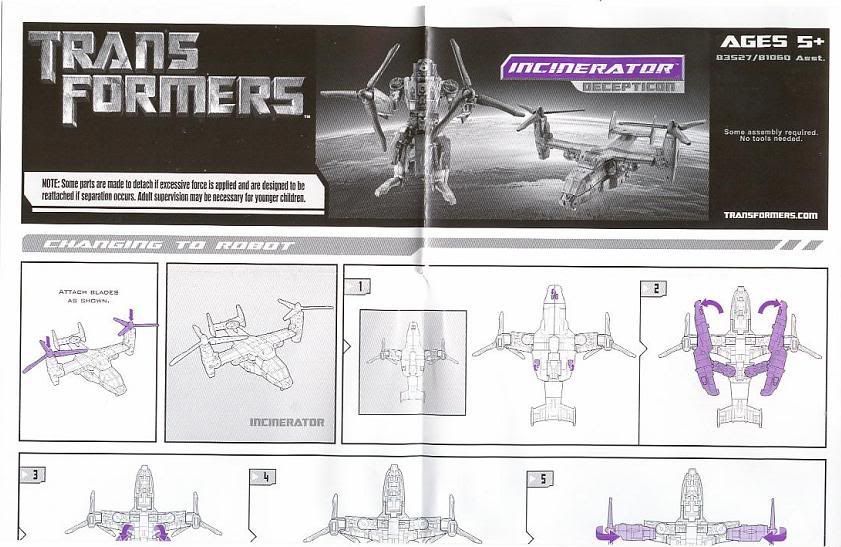 1.) Flip over on top, split undercarriage of fuselage into two pieces and swing down away from the body to form legs.
2.) Flip panels downward to expose knee, and then push knee cover (aforementioned panels) into place. (doesn't lock. Grrr...) swing feet out.
3.) Fold wings toward you, fold propeller/engines in until they click in place, forming the forearm. Bring shoulders forward and swing arms down.
4.) Pull cockpit down and push the underside of it against the fuselage, Automorph kicks in and spreads the windshield to form chest and expose head. (Make sure nose piece is snapped in place behind pelvis tabs. He'll flop apart if not done correctly.)
Overall:
Not a very satisfying transformation, due to it's simplicity, still...it's better than Landmine's. That was just pathetically simple. Transformation has to be done just right or he will flop apart left and right. Instructions, of course, don't even mention the nose piece/pelvis connection. At all.
Once you get past the quirks, the transformation is fluid and easy to master.
A solid (but low)
Robot mode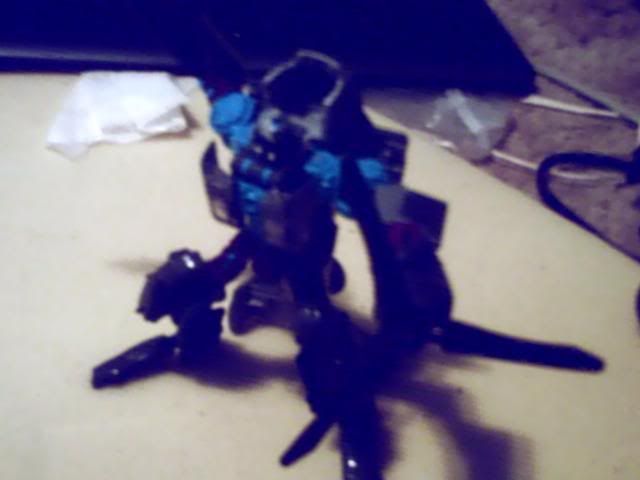 Pros:
Quite posable. Head, shoulders, elbows, hips, knees and ankles all have a small to medium range of movement. Can make for some nice poses, but nothing groundbreaking or wow inducing. No waist articulation. (Sacrificed for Automorph, you'll see it once you have him in hand.)
Even more detail in robot mode, (though a little bit of paint could go a long way to bringing some of those details out.) and if nothing else, he at least looks intricate.
Cons:
No paint apps worth mentioning. (Lots of details that could pop right out at you.)
Allspark blue all over him. The purple, gray, black and blue all feel out of place with one another. The gray and black would suit him just fine in a combo, or the blue and purple, but to put all of them together on one figure is a big no no. He looks like well...I don't even know, really.
LACK OF HANDS. (Although once you see how the spinning gimmick works, you'll see why they didn't include hands. That won't stop me from giving him some though...and soon.)
Overall:
A mixed bag. Some great poses, plenty of great details, looks like he could be quite intimidating under the right circumstances.
Colors are terrible, lack of paint apps is absolutely ridiculous, and his small stature doesn't quite feel worthy of Voyager Class. He's on par with Ironhide and Starscream in terms of height and vehicle size, but he feels like a bloated Deluxe to me. Still, he's leaps and bounds better than Blackout in this department.
If you do some detail work, give him some hands...Incinerator could shine. He has the potential to be a great figure, but Hasbro robbed him of it. It's up to us to make it happen, and I know we can do it, because there's some talent in the fandom that is just ridiculously good.
An iffy (eventhough it's not his fault)
Overall:
I'm a little underwhelmed by the figure and there are places for improvement, however...he's not a total loss by any means. He's still far better than his fellow Allspark power mate, Landmine. I have Stockade coming in the mail this week and I hope he fares better than these two did (eventhough I'm giving Incinerator a passing grade....he's not an A+ figure.) It feels as though Hasbro put all of their eggs in one basket and they're gonna over use it 'til we can't take it anymore. All the work that's gone into repaints, remolds, repacks, etc... you can tell the last three original molds have suffered for it. They feel very much like a last minute addition and given about as much care in their design and construction.
It's sad, some of the in Movie figures haven't been Masterpiece quality, and some of the added figures (Arcee, Towline, etc) really show what can be done if they put their minds to it. Incinerator, Landmine and Stockade should be no different, but they are. It's a cryin' shame they got the shaft so more efforts could be put into the craptastical repaints we're getting.
I highly recommend this figure for completests, mildly recommend it for casual collectors/fans and wouldn't say he's a gotta have/must have figure in general. He fits a certain niche, but that's about it. *sighs*
...Stockade better rock. HARD.
P.S. pictures will be attached within the hour. Thanks for reading.