Yesterday, the
Transformers Collectors' Club
took some time out of their busy schedule to answer some of the questions we've been asking here at Seibertron.com. Our Q&A covers everything from the next big reveals for Subscription Service 2.0, concerns about packaging issues with Circuit and Scourge, BotCon 2014, original characters, reusing heads from previous Club molds, and much more. To find out the Club's responses, keep on reading fellow Seibertronians! And don't forget to visit the
Transformers Collectors' Club
at
TransformersClub.com
.
Seibertron.com:
With the recent reveals of several Subscription Service 2.0 figures such as Barricade, Fisitron, and Treadshot, when can fans expect to see the rest of the reveals?
Transformers Collectors' Club:

We just revealed Rewind yesterday, Sept 5th and we plan on the last two reveals over the next week and a half.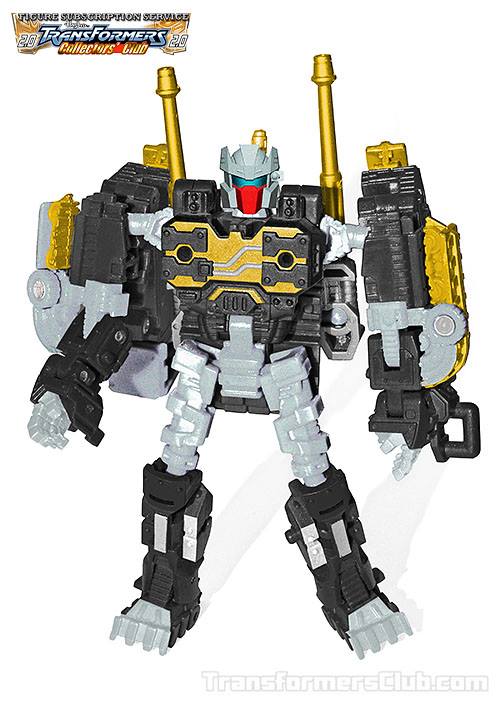 Seibertron.com:
Many fans are intrigued by the inclusion of a bonus figure for next year's subscription service. Can you tell us about what lead to this decision and can you share any possible hints with us about who the 7th figure might be?
Transformers Collectors' Club:

Doing a Voyager sized figure this year presented some challenges across the board so we decided to go down in size for that figure. As we were discussing character/mold choices we started thinking about basing the TFSS 2.0 a little more on the G.I. Joe version, which would mean including an "incentive" figure. Once we figured out the final line-up for the TFSS 2.0 we pretty much knew who the incentive figure would be. I hope people really dig a lll 6 figures and sign up for the full subscription because the bonus incentive 7th figure goes perfectly with another figure in the set!
Seibertron.com:
During the Club's panel at BotCon 2013, it was mentioned that there had been some difficulty coming up with characters that Fun Pub could use for Subscription Service 2.0 because Hasbro already had plans for characters you guys had pitched. Can you tell us any characters that Hasbro said no-go to?
Transformers Collectors' Club:

Can't really get in to that but I look forward to seeing what they have planned for the characters we were also thinking about.
Seibertron.com:
The Club has created many new heads for the Club and BotCon exclusives over the years. If I recall correctly, I thought Fun Pub answered a question at a previous BotCon that the molds are destroyed for the new heads. Yet here we are receiving a G1 repaint of G2 Breakdown complete with the BotCon exclusive head, which I believe is the first time that a BotCon head has been reused a few years after its initial usage. Can we expect other BotCon and Club exclusive heads to popup again in the future? Is there more of any effort to save these molds for future use?
Transformers Collectors' Club:

Initially, I understood it that the heads were done in a fashion that did not allow multiple uses. As it turns out, the heads are molded the same as with any other Hasbro produced item. So yes, if the situation calls for it, you may see a previous mold that we had engineered re-used down the road if it makes sense.
Seibertron.com:
I'd personally love to see some weapons packs or accessory packs or unique accessories come out of the Club. I was a little bummed that BotCon 2013 Hoist didn't come with a remolded weapon or with a new accessory so that his alt mode could be a tow truck. Has Fun Pub considered making new accessories for upcoming exclusives or for existing Transformers figures or is this cost prohibitive?
Transformers Collectors' Club:

Next week we will have a BIG reveal in regard to ANOTHER feature for the TFSS 2.0. We have been holding on to this news, but I think fans are going to be stoked when they find out what will be included with their TFSS 2.0 shipments. And we are talking more than just one add on!
Seibertron.com:
With Scourge and Circuit, there were some issues with the figure rubbing against the inside of the box causing some minor paint damage to both figures. Scourge was easily fixed with a silver sharpie but Circuit is a little more difficult to restore. Would it be cheaper to bubble wrap the figures or place them in high quality bags like the loose figures are sold at BotCon instead of using the foam cutouts in order to better protect the paint on these high end exclusives? Is this issue being addressed for future releases?
Transformers Collectors' Club:

Yes, we are working with the company that packaged these to ensure this does not happen again for the TFSS 2.0 offering.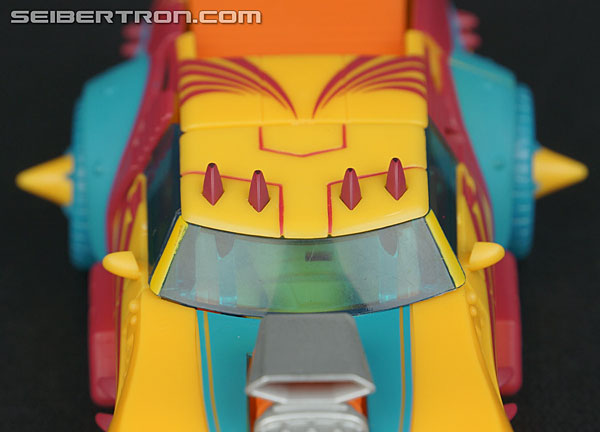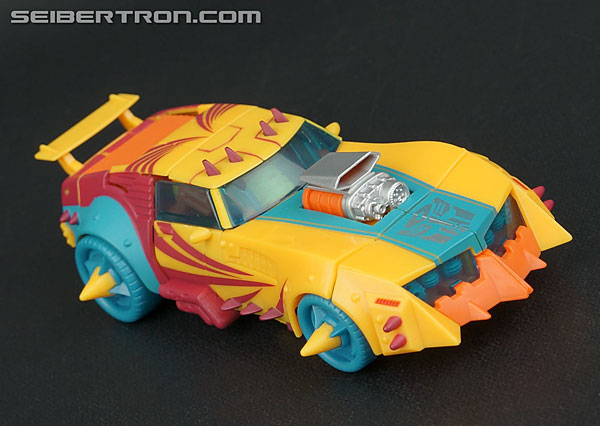 Seibertron.com:
Why are the figures being packaged with a custom foam cutouts? Are the cutouts more expensive than other packaging alternatives?
Transformers Collectors' Club:

We find when implemented properly, this is the best way to ship these figures. We are constantly evaluating processes and improving them. Sometimes what we ask for is not implemented in the final version in China and we have no way to change it.
Seibertron.com:
Are there any plans to have a box for Club members to purchase as an additional item for us to store our prized Club Subscription Service figures in? Is this something that might be an option for us later down the road?
Transformers Collectors' Club:

We have talked about that. Maybe that is something we should poll people on. It's not a bad idea...
Seibertron.com:
Being able to purchase Depth Charge on a sealed card at BotCon and through the Club's website was a nice surprise. Any possibility other Club or BotCon figures will be sold in this manner?
Transformers Collectors' Club:

Transmutate, next years club exclusive (separate from the TFSS 2.0), will come in a collector box. That box will have a cutout where fans can store their Rampage figure. This worked out really well for Runabout/Runamuck and we think fans will dig having that option again.
Seibertron.com:
A couple of us were wondering why the Club hasn't created any original characters recently instead of reusing familiar faces. Many of us have enjoyed the new and original characters and would like to see more of them such as Landshark and Nexus Prime (who ended up being used by Hasbro as one of the Original 13). Any chance we'll see a few original characters come out of the Club in the next year or so?
Transformers Collectors' Club:

I think Landshark is great. Nexus Prime, part of Hasbro's "original 13 Transformers" line up, is also another really great character and the fact that we contributed to the 13 is very satisfying.

So, with that said, original characters can be a hard sell though. We did, however, reach back in to the vault when we released the cancelled Hasbro character, Toxitron. And that did well. So they can work, depending on their origin and how they are handled in fiction. Sometimes, rarer on new is not always "popular" so it is a very tricky decision. We think this idea works better in a set of figures rather than a one off.

We never want to get in to a formula where we never try new things. We don't wan't to just produce homages/updates. We like to take risks where it makes sense. Next week, when we reveal our 5th subscription figure, fans are going to see a character like they've never seen before in TF fiction. He's new, but "not new" at the same time. There is one part of the offering that has been widely popular for years, but NEVER in this way.

Let's just say, next week is going to be full of epic reveals...
Seibertron.com:
While many fans are expecting BotCon 2014 to be very special because of the 30th anniversary, it's also a very special year because it's the 20th anniversary of BotCon. My how time flies. What can you tell us about special BotCon 20th Anniversary plans?
Transformers Collectors' Club:

We are still working out all the details. The location coupled with the timing for the show allows us many great opportunities to celebrate 30 years of Transformers and 20 years of BotCon!
Seibertron.com:
When can fans expect to hear an official announcement about the date and location of BotCon 2014?
Transformers Collectors' Club:

When all the details are finalized. There are many different entities we have to work with to put the entire program together. If you announce it too early and then the details don't fall into place for the registration to start ... well then people get upset. Also we are in the middle of re-writing the entire Eventman system to add new features and to move to a different coding platform.
Seibertron.com:
Thank you again to the
Transformers Collectors' Club
for taking time to answer a few questions for all of us here at Seibertron.com. We really appreciate you sharing some behind the scenes info with us.