*MPC-03 : G1 Transformers Combaticons BRUTICUS !!

*MPC-03 ( MASTERPIECE CUSTOM - 03 ) / The custom made Transformers MPC series by L.K.
With all these 5 Combaticons can combine into Giant Decepticon Robot : BRUTICUS ! These 5 Combaticons can not only transform from Army Vehicle mode into Robot mode, but they can also combine and transform into Giant Decepticon : BRUTICUS which stands about 15 inches tall!! Huge and Heavy! This is the Only one custom made BRUTICUS figure by L.K. All the parts and mode are sepcific designed for this figure at one time use only. This is the One and Only One MPC03 BRUTICUS by L.K. One-of-a-kind !!
Custom Made Details:
Most of the BRUTICUS joints are movable, head moves up and down, left and right. Shoulder rotates 360, Fingers moves up and down ( thumb has individual ball joints ). Legs/hips moves forward, knees bends !! All figures has been given a fixative coating on top of the paint to make it durable.The paint used are the professional resin base paint.Apart from these, all figures have been given a muddy/metalic effect on the surface to make them looks more realistic like an Army Set !! Besides, with Combaticons' individual wapeans, can combine and form a giant Weapons for Bruticus !! And NOW, MPC03 BRUTICUS is ready to fight!!
This Limited Edition MPC03 Bruticus includes :
BLAST OFF
BRAWL
ONSLAUGHT
SWINDLE
VORTEX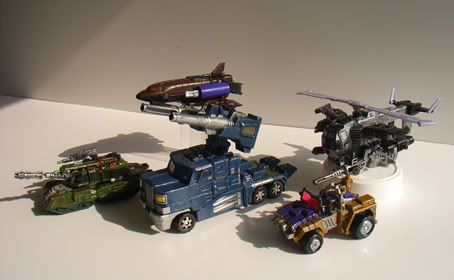 Hope you guys like it.....