Transformers: More Than Meets The Eye Ongoing #10 Preview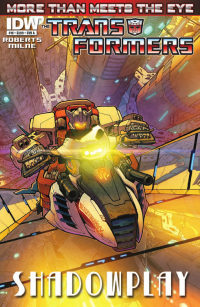 Tuesday, October 30th, 2012 1:26am CDT
Category:
Comic Book News
Posted by:
El Duque
Views:
27,845
Topic Options: View Discussion · Sign in or Join to reply
Our friends at IDW Publishing have sent over the preview for Transformers: More Than Meets The Eye Ongoing #10. Enjoy the preview below!
Transformers: More Than Meets The Eye #10
James Roberts (w) • Alex Milne (a) • Milne, Nick Roche (c)
SHADOWPLAY continues! On pre-war CYBERTRON, Prowl and Chromedome realize they've got a serial killer on their hands, and Orion Pax receives a summons from an old friend that will change his life forever!
FC • 32 pages • $3.99

*Variant covers:
Variant Marcelo Matere cover!

Bullet points:
• Part two of the three-part SHADOWPLAY epic!
• The secret history of OPTIMUS PRIME!

Credit(s): IDW Publishing
---
Got Transformers News? Let us know here!
Most Popular Transformers News
Most Recent Transformers News
News Categories:
Toy News
,
Movie Related News
,
Cartoon News
,
Comic Book News
,
Site News
,
Rumors
,
Event News
,
Digital Media News
,
Collectables
,
Game News
,
Sponsor News
,
Site Articles
,
Store News
,
Company News
,
People News
,
Press Releases
,
Sightings
,
Reviews
,
Unlicensed Products News
,
Auctions
,
Transtopia
,
Interviews
,
Knock Offs
,
Collector's Club News
,
Editorials
,
Heavy Metal War
,
Podcast
,
Contests
,
Book News
,
Top Lists
Re: Transformers: More Than Meets The Eye Ongoing #10 Preview (1435297)
Posted by
sabrigami
on October 30th, 2012 @ 8:46am CDT
Even just the first few pages are the highlight of the month. seriously, I laugh almost every page. Man I wish these were bi weekly or something. So hard to wait between issues
Re: Transformers: More Than Meets The Eye Ongoing #10 Preview (1435372)
Posted by
Sodan-1
on October 30th, 2012 @ 2:06pm CDT
Is that Knock Out in shuttle bay 3?!?
These comics are brilliant. I love the stories and all the new character that's been injected into the... well, characters. Except for Drift. He used to be such a badass. He didn't move unless it was to cut someone down. He spoke only when necessary. And now here he is, acting all hard like he's the man and getting pillaged. That blows.
I'm also starting to get a sore head regarding Orion Pax. So G1 had him as a dock worker/warehouse manager, the Aligned Continuity had him as a records clerk in Iacon, and IDW has him as an officer of the law. Is that right? How long until we get a continuity where he's the winner of Cybertron's Next Top Prime? And is that yet another Prime added to the list of those who preceded Optimus? And Sentinel Prime: murdered Prime or Prime murderer?
Argh!
Re: Transformers: More Than Meets The Eye Ongoing #10 Preview (1435374)
Posted by
Tigertrack
on October 30th, 2012 @ 2:12pm CDT
It's awesome that they are basically using Prowl's Actionmaster cycle. That's the kind of easter egg/fanwank I like.

Can't wait to nab this tomorrow.
Re: Transformers: More Than Meets The Eye Ongoing #10 Preview (1435424)
Posted by
Sagitta
on October 30th, 2012 @ 5:26pm CDT
I'm personally liking Rodimus' leadership less & less. (Even if it is in character for him.) And can't say anything but disappointed in Drift too. Talk about jumping the gun. (Or sword?)
Have to feel sorry for Cyclonus for being made the scapegoat for Red Alert's condition.
Makes for terrific story-telling though.
Re: Transformers: More Than Meets The Eye Ongoing #10 Preview (1436546)
Posted by
El Duque
on November 2nd, 2012 @ 10:40pm CDT
The
official Transformers facebook page
has posted the creator commentary for IDW's
Transformers: More Than Meets The Eye
Ongoing #10. Writer James Roberts gives us insight into the first five pages. We've mirrored the commentary below for those without facebook access.
PAGE 1: We're getting more into the politics of Cybertron with Senator Proteus, the rise of the Decepticons and how to deal with them. How far in advance did you have these kinds of political games worked out, and who would benefit from them?

JAMES ROBERTS: With "Shadowplay"—particularly Part 2—I'm trying to move MTMTE into "political thriller" territory. Well, a political thriller with some old-fashioned conspiracy tropes thrown in. This isn't the first time I've explored the socio-political infrastructure of pre-war Cybertron—"Chaos Theory" (which can be found in the trade paperback of the same name), laid a lot of the groundwork upon which the plot of "Shadowplay" rests.

Structurally and hierarchically, ancient Cybertronian society has parallels with our own—there's apartheid, civil rights, democracy (of a sort), classism, etc; to counterbalance that I wanted to bring something uniquely Cybertronian to the fore—namely the fact that these creatures are blessed (or cursed) with a second shape that determines their lot in life.

As for how far in advance I had these political games mapped out… far enough. Far enough to extend beyond this particular story.
PAGE 2: Chromedome gives chase to the bot who threw the body in front of him and Prowl from the last issue. Did you give specific designs on the sky bike and the craft he is pursuing as well as the Translucentica Heights?

JAMES ROBERTS: I certainly wanted Prowl and Chromedome's sky bikes to be reminiscent of Action Master Prowl's motorcycle. Just because.

The key thing about Translucentica—as the name (from "translucent") suggests—was to make it look like it was entirely made of glass. Issue 9's script said, "Translucentica is visible in the distance, a cluster of shimmering glass skyscrapers, sculptures, monorails, all of it tinted blue." That was easy for me to write—the ever-talented duo of Alex Milne and Josh Burcham—had the difficult task of bringing that sentence to life.
PAGE 3: Chromedome loses his quarry and meets up with Prowl. Why put these two characters together for this story and not another pair?

JAMES ROBERTS: The simple answer is: I love Prowl and I wanted him in MTMTE.

Way, way back I pitched a story to IDW—a Prowl Spotlight set on pre-war Cybertron which had him tracking down a Transformation-Cog-stealing serial killer against a background of Decepticon rioting. Obviously that story was never written, but I was attracted to the idea of Prowl working for this CSI-type unit called the Mechaforensics Division.
PAGE 4 and 5: Prowl and Chromedome meet Red Alert and find the 'bot they are looking for. As all three of these characters have quite a bit of history to them, will we be seeing some of their actions catching up to them in future issues? Maybe across Robots in Disguise with Prowl as well?

JAMES ROBERTS: Your question reveals a universal truth about MTMTE: every character has a past, and everyone's past will catch up with them. We're not jumping back to pre-war Cybertron at random: events that take place during the run-up to war will have lasting repercussions on our present day crew.
Re: Transformers: More Than Meets The Eye Ongoing #10 Preview (1436648)
Posted by
Tigertrack
on November 3rd, 2012 @ 4:59am CDT
Love the cc. It sheds light on choices and also in some places cleans up what may be not entirely clear (see last issue RID).

I'm not a fan of prowls current treatment fully (in RID), but it's cool, he's here and a main character.

I really enjoyed the art in this issue. Story was good but there was a metric ton of dialogue (from what I remember reading as I was falling asleep- re-reading soon).
Re: Transformers: More Than Meets The Eye Ongoing #10 Preview (1437097)
Posted by
Blurrz
on November 4th, 2012 @ 11:06pm CST
I do agree that it was a bit heavy on the dialogue. However the way the issue leads into Part 3 is pretty exciting. That's one thing that I do like about MTMTE - I know it's leading into something else, but there's still so much within the issue that makes each issue great by itself. I feel like RID is trying to close off each issue as a separate story, resulting in things getting rushed and what not. Just not the same flow.
Re: Transformers: More Than Meets The Eye Ongoing #10 Preview (1437112)
Posted by
Bubbah
on November 5th, 2012 @ 12:49am CST
I agree this was a fairly dialogue heavy issue. But it read fairly well, and all played an integral part of the story. Even with everything going on, they still managed to keep in enough humor and little jokes, even though this issue had a more serious overall feel. So far Mtmte has been an awesome book.
Re: Transformers: More Than Meets The Eye Ongoing #10 Preview (1437348)
Posted by
hardreturn
on November 5th, 2012 @ 5:33pm CST
such a good comic