Welcome once again folks to Seibertron.com's weekly round up from our creative forums, bringing all that our talented members have shared with us over the last week.
Customizations
Mykltron
unveils his latest repaint, this time taking
First Edition Bulkhead
to task.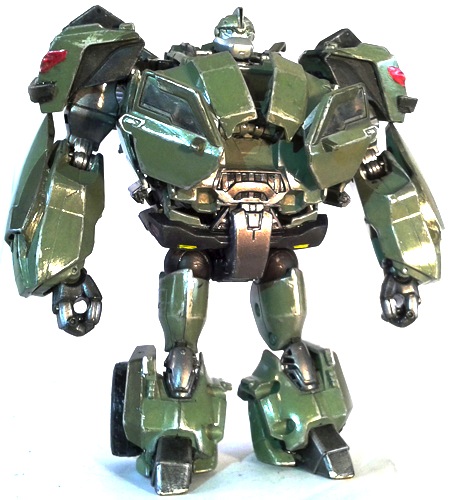 Wheeljacks-S70
takes a crack at
Cliffjumper based off a Porsche 924 Turbo
.
Next up we have brand new member
riceboi2005
gives a touch up to what seems to a character that seems to be becoming a regular in these weekly round ups,
Transformers Prime Knockout
!
alanyap
breaks out the Lego this week and brings us an awesome
Lego Based Sandstorm
.
Heckfire
answers the question of what to do when you have an excess of ROTF Skids,
turn him into Tap-Out
!
crazyjeffy
goes crazy with touch-ups bringing us touch ups of
PRID Arcee, PRID Optimus Prime, FE Starscream, PRID Wheeljack, Generations Kup, and PRID Megatron
.
ebay
(the user, not the website) turns a Generation Kup into a young
Orion Pax
.
ebay also brings us
Menasor
daimchoc
brings us an
add-on set for RTS Grapple
courtesy of Shapeways.
Swindle01
breaks out the brown paint and brings us his repainted
Scrapheap
.
jcartwork
brings us not one, but FIVE customs this week in the form of the
Stunticons
.
And yes,
they do combine
as well!
|
Motormaster
|
Wildrider
|
Deadend
|
Drag Strip
|
Breakdown
|
Fan Artwork
Snowy
gives us a peek at just what is behind Transformers Prime
Soundwave's visor
.
wulongti
gets ultra creative bringing us a template for
SD TF:Prime Vehicon
for you to download, printout and fold up for your own troop building!
Fan-Fiction
M3Gr1ml0ck
updates on the status of the on-going
Seeds of Deception project
.
That's it for the week folks, thanks for having a look and remember to give our creators feedback!