TRANSFORMERS DEVICE LABEL RAVAGE KO REVIEW.
OK this is my first toy review so be gentle with me, the toy up for review is two different versions of Device Label Ravage, one good one not so good, there are comparison photos included so here goes.
I would like to make it clear hear that I do not own the official Device Label Ravage, and am basing comparisons on photographs and You Tube videos.
First up is what I think is the first KO to hit the market, at first glance it appears quite a faithful reproduction, the joints are nice and sturdy without being too tight, the Alt mode feels secure and is made of good quality materials, however the parts that form the lower legs is finished in white plastic, which is a little cheap looking, the Decepticon logo is well formed and has accurate placement compared to the official version, however it is finished in blue rather than purple.
Upon transformation it becomes apparent that there have been many shortcuts made with this KO, the main problem is that they have decided to combine the torso and front leg hinge so during transformation it makes Ravage much longer which in turn creates two further problems, first it creates a sizable void in ravages mid section, which is not that big a problem if you extend the USB (I'll get to that later), secondly it make ravage look a bit stretched and lanky. Other differences include disproportionate sized legs which is amplified by the added length and a very simplified head mould giving Ravage a kind of flat headed appearance, he also has a row of teeth rather than distinct fangs, which makes him appear a little weak.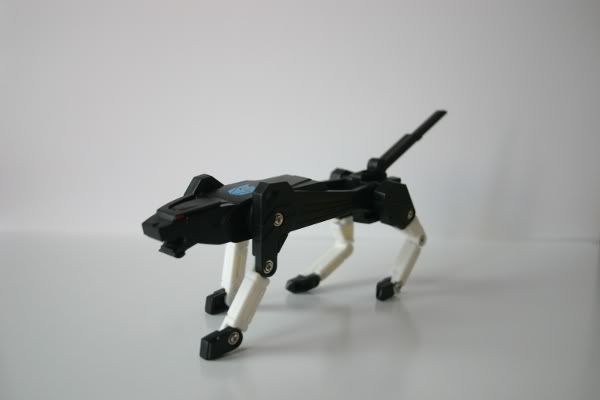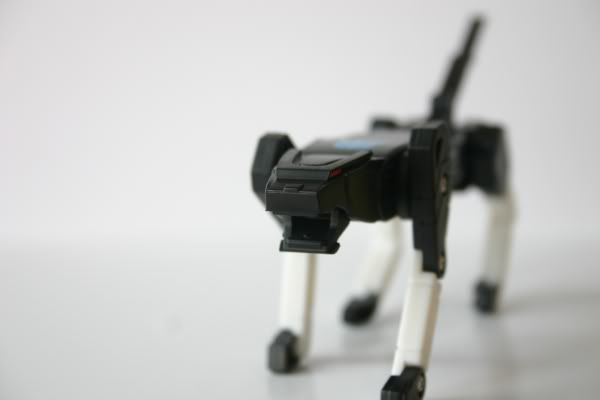 USB functionality was a problem from the offset, firstly the sliding mechanism was very stiff (I needed to force it with a pen), when retracted it still protruded about 2-3mm and when opened parts of the circuit board were visible. However the final nail in the coffin for this rather disappointing purchase was that when I tried to remove the USB from my computer, ravage came out fine however the USB component remained in my computer, effectively disembowelling poor Ravage!
Overall I give Version I KO Ravage a 3 out of 10, it's a fair attempt but the shoddy build quality and excessive simplification leave this Ravage coming up a bit short (even though technically it's longer, damn, did I say this was my first review?).
Now for what appears to be the modified KO, which is an entirely different animal (metaphorically speaking of course because they're both panthers, damn! Never mind). At first glance it is apparent that this version is much more in keeping with the official product, however in USB mode the joint feel a little looser than its predecessor, giving it a fairly loose and "rattly" feels, it is made of good quality materials and the parts that form the lower legs are finished in silver painted plastic which despite being of a lighter shade than the official version looks very nice, the Decepticon logo is differently placed (on the head) is smaller and well formed, however is still blue!?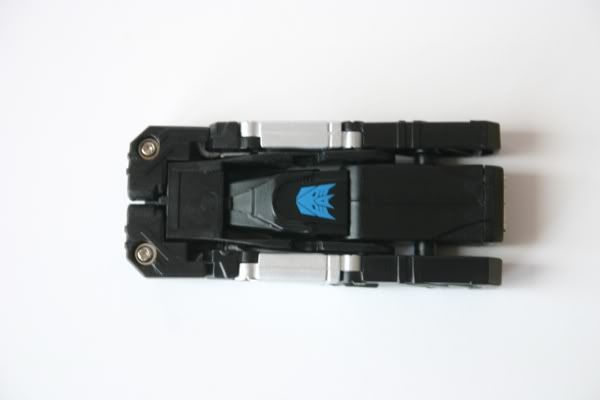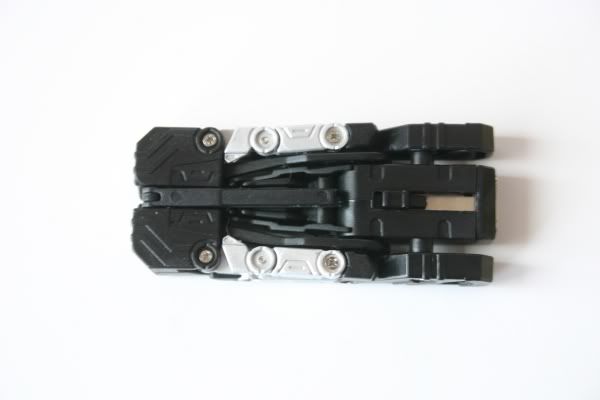 Transformation proves to be a much smoother process this time around, the simplification at the torso is virtually nonexistent which keeps Ravage in proportion and is very pleasing to the eye, the only noticeable simplification is at the neck, the official version appears to have a neck hinge allowing articulation of the head, this is sadly lacking here, however this is not a major problem and certainly not a reason to dismiss this version, there is further simplification to the head mould, however these are minimal, Ravage has fangs and looks truly menacing . As an aside the legs on this KO appear to be of better quality that the official version, the official version appears to have hollow legs, where the KO's legs are solid.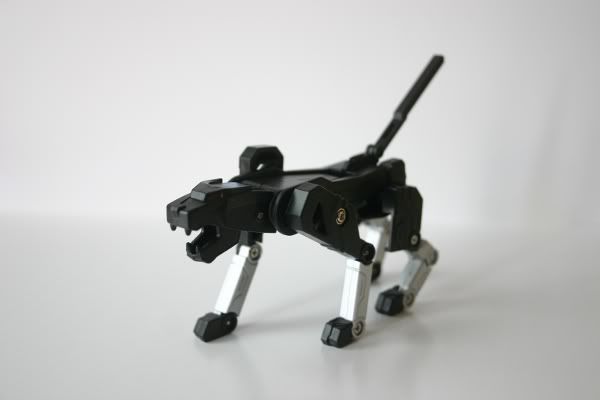 USB functionality was also much better, the mechanism is slightly stiff but not a major issue, the only problem is that the USB device has been inserted upside down (this may just be an oversight on my particular purchase, not sure if it is a persistent issue) , which damages the aesthetic a little when plugged into a computer.
Overall I give Version II KO Ravage a solid 9 out of 10, it loses half a point for being a little loose in USB mode and another half a point for having an upside down USB, a very good quality KO and as near as you will get to the real deal.
Some comparison pics for you.