So I've been working on a custom deciding to use DOTM Bee as a base (as there are presently a f**kton of Cyberfire "Murderbee" figures available in my general area for fairly minor amounts of money) and I decided I wanted to remove the bulk of the factory paint apps for the process, no sense in having areas slightly raised in my paintjob due to past paint apps still being present.
I was thinking of using a hobby knife to scrape the paint off, or sandpaper to sand it down, or even rubbing alcohol since I'd heard of it before...
It dawned upon me to try something I'd been using in my Gundam model building for years, the Gundam Marker Eraser pen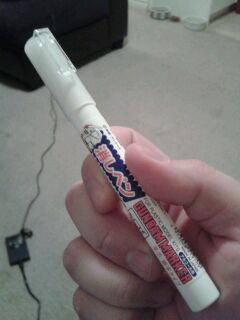 To my surprise, this instantly began removing the paint from Bee. Finally something completely approved (in fact designed) for use on plastics, that removes factory paint apps from Transformers, and is accurate, being a pen and all... Great if you want to remove certain areas of paint while leaving others intact (as long as you're careful, of course)
The only problem was that I wanted to remove a lot of paint from this toy... And a Gundam Marker Eraser doesn't have a whole lotta juice in it. So I went looking for a similar effect from a product with more volume, and I think I have the answer.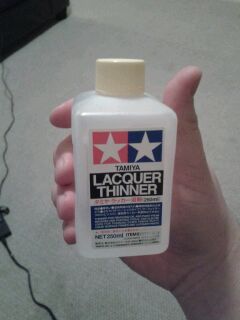 This, as the label no doubt shows, is Tamiya Lacquer Thinner. Again a Japanese modelling supply, I bought some today, on a whim to see if it could stand up to these paint apps like the Eraser pen did... Well it did, I dabbed some paper towel in it, and started rubbing Bee's forearm guard with it, and lo and behold the yellow started coming right off.
For reference, here's Bee right now, as I continue to remove more paint from him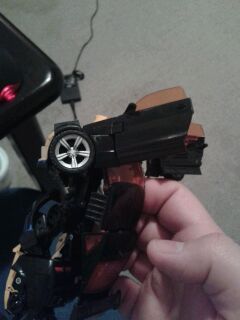 for those unfamiliar with the figure, he;s supposed to have yellow electric-looking "cyber fire" running the length of his roof and doors etc.
So there ya have it, something to use to get those pesky paint apps off for doing custom work, I hope this helps.