Here is a quick look at Transformers Prime:
AM-26 Smokescreen
. He comes with his Micron
S.2
.
HUGE thanks to
Kapow Toys
! -
http://www.kapowtoys.co.uk
It came at an amazing speed and as always they give exceptional service and are highly recommended.
As always I apologise for some of my camera work but I try my best.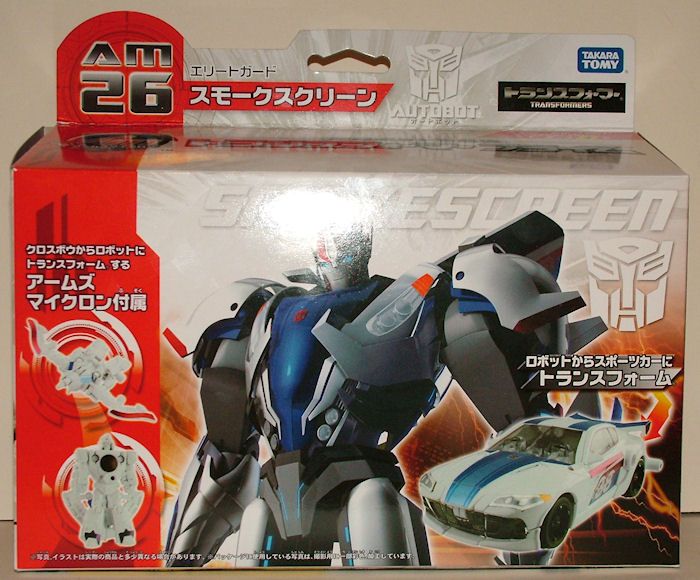 Smokescreen has just been released and is a Takara exclusive. The current buzz is that Hasbro will create a new mold and release in 2013 for the Beast Hunters line.
Here's hoping as the repaint doesn't look like the screen version too much.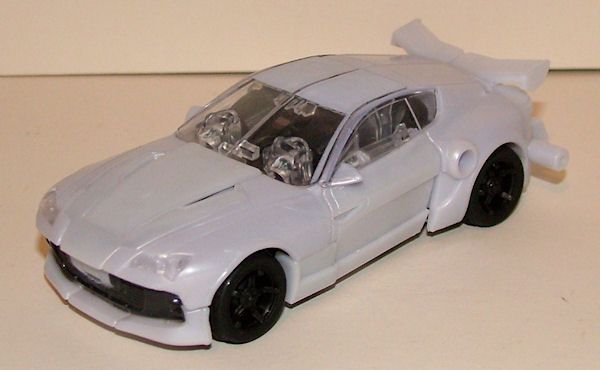 Smokescreen is a repaint of Knock Out. This is the Hasbro version not the AM one as it is missing the hood port.
I say repaint it's almost a
no
-paint! It's very light swirly grey plastic, not white. Almost reminds me of a prototype figure. The top of the roof is a painted silver. It doesn't stand out too badly but it is noticeable.
The colour for me is one of the biggest annoyances. It would look so much better in white rather than grey and I really can't understand why Takara did this? In some lights I would say it's almost a pale lilac. I'm sure I've seen the shade in soap dispensers!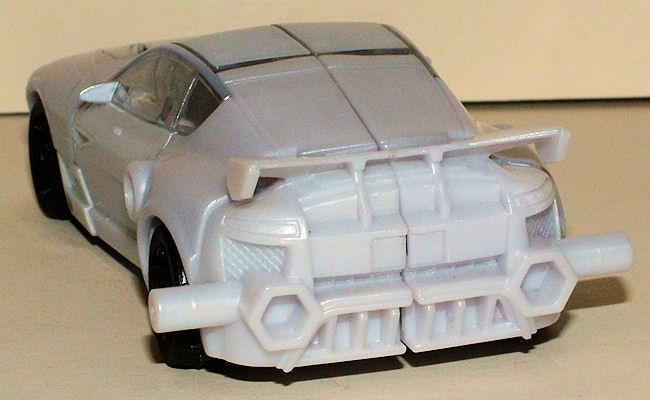 The main change to the figure is the rear. A new section has been added with a spoiler. Without this addition the car mode wouldn't have worked. Also it includes 2 long pegs and 2 Micron ports. While you can add weapons sadly it spoils the sleek car form.
Here he is in robot mode with no labels. The figure itself is good, nice tight joints. I kinda wish my Knock Out was as tight as this. It may not be show accurate but it's still a nice figure.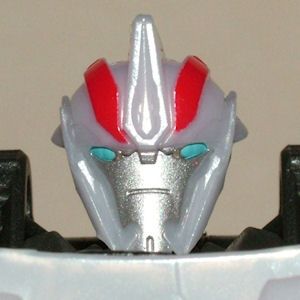 The other only change is the all new head. It's a pretty good representation of Smokescreen.
He has painted eyes and a clear light piping rear. This doesn't work as the only area that shows the light is the corner of his eyes. Kinda giving him a twinkle in his eye but it looks poor. A coloured piece may have worked.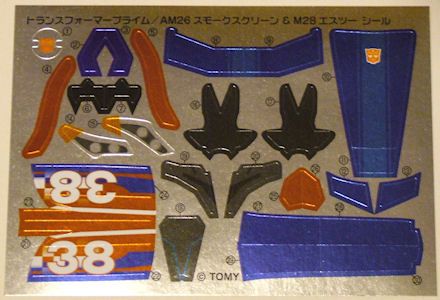 As with all AM figures it comes with labels to add the colour. These are the only things to associate him with Smokescreen. They are nice and shiny but that's also part of the problem I feel. The reflective nature makes the centre blue stripe trickier to see.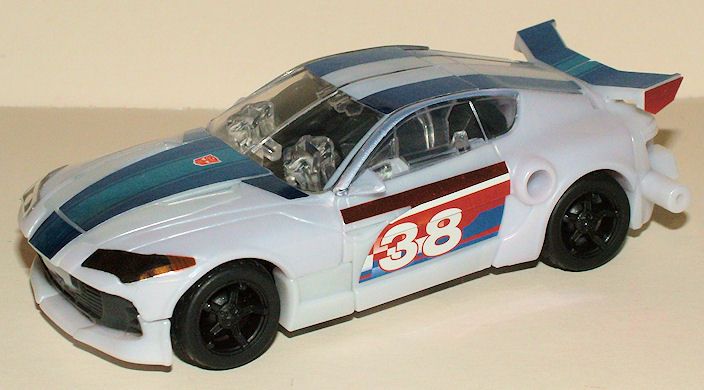 The labels go on the headlights, over the hood and roof, spoiler and side. The number 38 is added to both doors. The car rear area is left blank.
They do go a long way to make it resemble Smokescreen but again I wish he was white.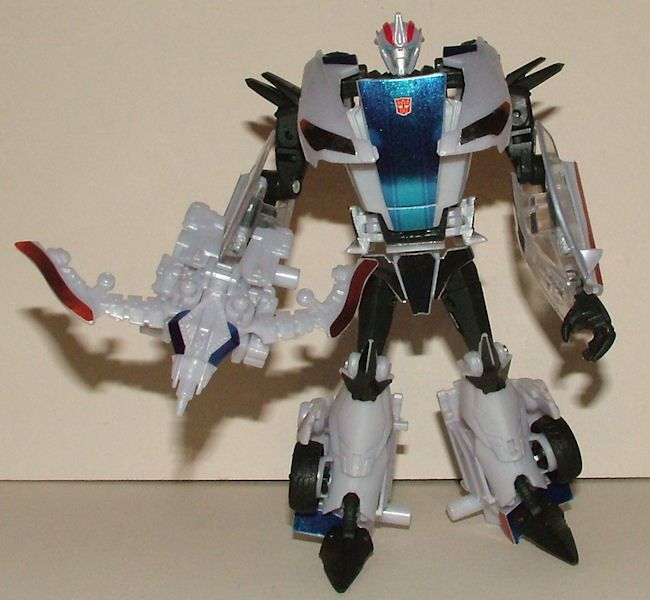 Robot mode gains labels for his waist and knee spikes. You can see him holding his large Micron figure. The hands are the only place suitable for it.
I decided to try and vary his look from Knock Out in the chest area. Smokescreen is a mix of Bumblebee and Knock Out in the show so using the Knock Out is only a partial success. His arms are wrong, the shoulders and he should have doors on his back.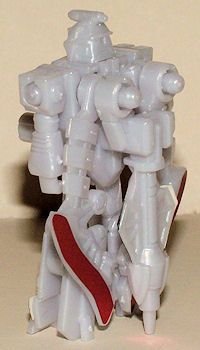 His Micron S.2 is really good and one of the best ones so far I think. He's a proper simple robot mode for once. Even has a small laser on his wrist. The rear weapon area can be popped off to leave the robot mode only.
He transforms into like a Laser Crossbow weapon. The wing areas can be folded in for a more simple look. It is a large weapon but there is lots of detail! Again it's the same plain grey plastic.
You can mount the Micron on the side or rear in a couple of ways. I doubt he can get to 150 on his dial carrying S.2 though!
Lastly a couple of comparison pictures of Smokescreen.
This is a look at him without my camera flash to try and get an idea of the plastic colour.
Next to the Hasbro version of Knock Out.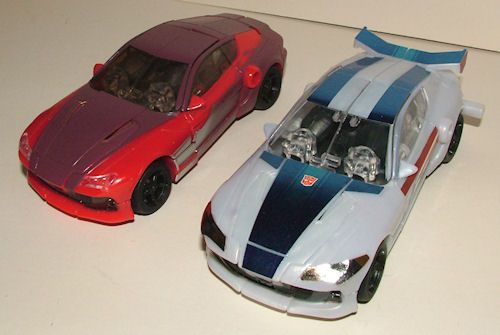 Comparing Smokescreen with the proper white of United Drift.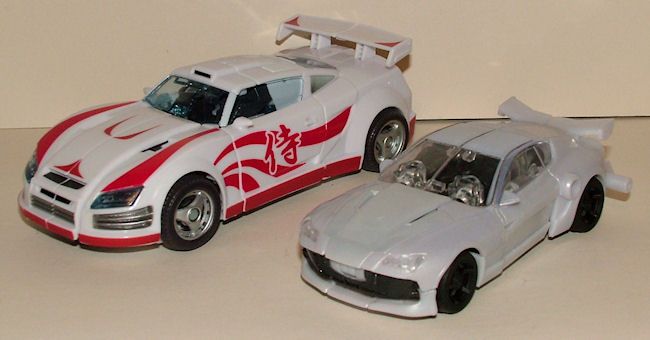 In summary I feel a little let down with Takara. Until now all the repaints they've done haven't been bad. Ironhide, Dead End, Hot Shot, Frenzy, all nice figures. The problem with Smokescreen is not the Knock Out mold it's the fact that it shouldn't have been used! Smokey is too different and needs a new figure. Added to that not using white paint all strikes me as a lazy cash in.
There are talks of an Ariel Lemon Shapeways set coming to add doors and other fixes. Also it's highly likely a Reprolabel set will improve on the accuracy of this as they did with Knock Out. All good additions but they make an already high price exclusive even more expensive.
I do hope Hasbro make a deluxe Smokescreen to go with the Cyberverse version. I dread though it will be covered in Beast Hunter spikes. If you can't wait several months for that and like the Knock Out mold then grab AM-26. It's actually sold out in many places already.
I hope you've enjoyed my review and thanks for taking the time to read it.