Hi to all. Here are my views on Transformers Prime:
Sergeant Kup
.
Big thanks once again to all at
Kapow Toys
-
http://www.kapowtoys.co.uk
in the UK! Superb service and super fast shipping speed as always. They still have some left if you want to grab one!
http://tinyurl.com/cqmyxws
There are good and bad things about this figure so I think I will split it like that.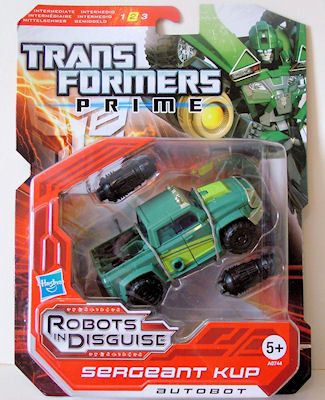 These came from Hasbro Asia but this time came in the smaller multi language box. Smaller height, no tech spec and tiny Bio. The back has zero wording, so nothing about his modes or weapons. The Bio reads:
"Sergeant Kup delivers advice and encouragement, even in thick crossfire."
The truck mode is pretty nice but quite small for what it should represent. A definite green compared to the Generations Kup blue shade. It has a rather nasty lime green hood and side stripes.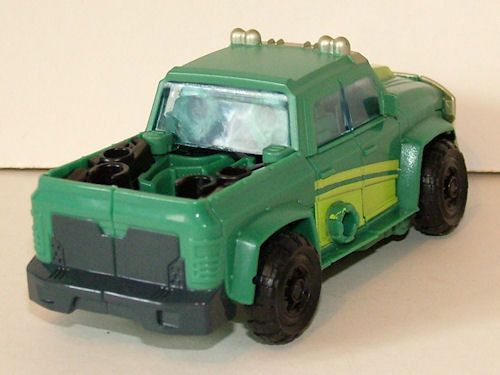 It does have a lot of nice little details on it though. Gold rollbar and roof lights. Plenty of areas for Reprolabels to be added. You can see his fists through the rear window.
A neat touch is Autobot logo outlines on his centre tyre rims. There is no actual logos on the alt mode though.
He is essentially the Cyberverse version upscaled! Not by very much though. The details on the 2 are identical with the exception of the rear window and transformation.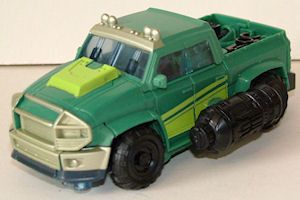 There are 2 micron ports on the sides and 2 in the rear, which is actually his feet! The cannons only fit on 1 way. You can give him jet thrusters for old timer turbo mode!
They fit on and blend ok. There is detail inside the barrel end so it's not just a tube.
The robot mode is very nice. A bit on the plain side with just green and black but used to not much paint now. He has a small Autobot logo, which I believe is the first Autobot TFP
RID
Deluxe to get one!
He has a fake windscreen chest which looks ok with good detail behind it.
He has a lot of articulation and very nice small details. Ball joints on the shoulders, elbows, hips and ankles. Swivel thighs and jointed knees.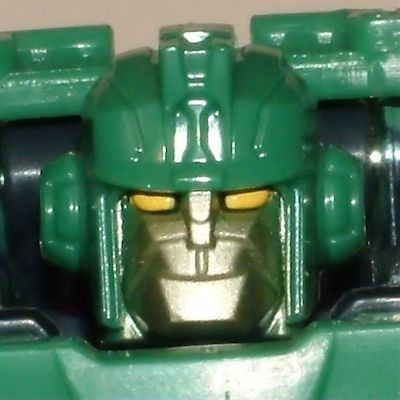 The head is on a ball joint and can move side to side. The back prevents it from moving more. It could be possible to swap the head but it would have to be small.
It has a kinda Kup look to it but I personally feel it's more Ironhide.
It does have the "Revealer" feature that happens when you push his chest up.
The weapons can be held in his hands or on his arms. Also they lock together to form a Bazooka like gun. Again the same as the Cyberverse figure. I feel holding them as pistols suits him better.
What I plan on doing is giving the cannons to Takara AM Ironhide and give Kup the Micron or other gun.
In summary I feel Kup is a great figure and another nice addition to the line! His robot mode has lots of personality but his truck mode is a bit too small.
He really is an Ironhide repaint and if that came first I would have been happier. If it had I don't think many would be buying this. We've been spoiled with the iGear Kup head.
But like all figures there are some negatives.
So I will post them next and some comparison images. I hope you liked my review.