Back on Board - Review of TRANSFORMERS REGENERATION #88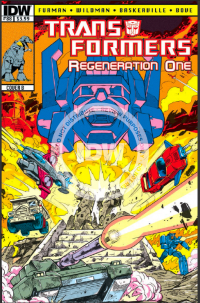 Wednesday, February 13th, 2013 2:09pm CST
Categories:
Comic Book News
,
Reviews
Posted by:
Tigertrack
Views:
34,011
Topic Options: View Discussion · Sign in or Join to reply
Transformers REGENERATION #88
(CUE OMEGA SUPREME VOICE INTONATION)
Time-off taken. Return imminent. Content Limited, Discussion: Classic Transformers Storytelling.
As worn out as the first arc of REGENERATION made me in trying to review, analyze, and decode; I found Issue #88 a pleasant, fun story (and it's lead issue 87) to return to.
As I dig into Grimlock making a cliché 'deal with the devil' to receive a new body and get his fellow Dinobots restored to full health as well, I can't help but think about all the previous versions of Grimlock there are in the fiction, and what kind of a metamorphosis he underwent throughout Simon Furman's work with him. Back on topic- Grimlock's deal.
This deal my friends is what steers the course for Scorponok's adventure to Cybertron. Like the classic Transformers tales of nearly 30 years ago, whether it be in comic or cartoon form, this issue oozes magnificent world domination scheming reminiscent of cartoon Megatron, and one trick devices that look to turn the tide for one side or another along the lines of 'THE HATE PLAGUE', 'THE ULTIMATE DOOM' or 'MEGATRON's MASTER PLAN'.
The best thing is, for me, that was part of the excellence of Transformers from my youth, the unbelievable plans, the crazy inventions and devices that just happen to come into being with each new story or episode. The gullible-ness (innocence?) of many of the characters to be misled.
This issue takes me back as fan-favorite Scorponok sans his former headmaster partner Zarak, looks to take back Cybertron for the Decepticons. He plans to do this by making all the inhabitants into Decepticons using a gene key that will unlock the 'warrior gene' in all the Autobots, basically taking away their inhibitions, and morals -- for all purposes making them Decepticons as well. The device is first used on a small scale so that Scorponok and his partners can set up the large planet-sized key that will do the work a lot more quickly.
Grimlock, meanwhile, is back on Cybertron as well, aiding Scorponok as little as possible, but not trying to put a stop to his efforts either. Grimlock's mind is trapped on his fellow Dinobots, and the whole Nucleon experience that he put them through.
And there are plenty of side plots to help keep all the characters moving somehow: like Hot Rod's search for the Primus chamber; Optimus cleanup on Earth; Starscream, Shockwave, and Galvatron re-united; and Soundwave's scheme with Bludgeon, all of which could be linked to Scorponok's current bid for dominance of Cybertron, and possibly... the universe!
It's nice to feel this way again. I mourn the loss of Springer before he really even got started in this NEW (old) series, but find myself now that we are past that whole big, huge Optimus versus Megatron event, able to enjoy REGEN again.
Pick it up and enjoy the fun!
Easily 4.5 nostalgic stars out of 5!
Credit(s): tigertracks 24
---
Got Transformers News? Let us know here!
Most Popular Transformers News
Most Recent Transformers News
News Categories:
Toy News
,
Movie Related News
,
Cartoon News
,
Comic Book News
,
Site News
,
Rumors
,
Event News
,
Digital Media News
,
Collectables
,
Sponsor News
,
Game News
,
Site Articles
,
Store News
,
Company News
,
People News
,
Press Releases
,
Reviews
,
Sightings
,
Unlicensed Products News
,
Auctions
,
Transtopia
,
Interviews
,
Knock Offs
,
Collector's Club News
,
Editorials
,
Heavy Metal War
,
Podcast
,
Contests
,
Book News
,
Top Lists
Re: Back on Board - Review of TRANSFORMERS REGENERATION #88 (1464103)
Posted by
Blurrz
on February 13th, 2013 @ 3:51pm CST
Description:

War in the city! Anarchy reigns on the streets of Iacon as Scorponok's grip tightens further, and those Autobots still willing and able to resist look to their absent leader -- who is on an endangered list all of his own. Beneath the surface of Cybertron, Hot Rod runs for his life, locked on a collision course with his maker, Primus!
Re: Back on Board - Review of TRANSFORMERS REGENERATION #88 (1464271)
Posted by
Rodimus Prime
on February 14th, 2013 @ 1:23am CST
Yes, the 2nd story arc is picking up nicely. The B cover for this is great, it's probably my favorite cover of the series so far. I can't wait to see where this ends up. Anyone else thought that the obstacles Hot Rod faced were reminiscent of the 3 tests Indy had to pass to get to the grail in
Indiana Jones and The Last Crusade
? Like the "leap of faith" and the invisible passage way?
Re: Back on Board - Review of TRANSFORMERS REGENERATION #88 (1464444)
Posted by
Va'al
on February 14th, 2013 @ 1:48pm CST
A good issue, I am also glad that the Optimus/Megatron issue is, for now, solved.
For some reason, the artwork seemed to pop more this issue, too.

Especially that first Scorponok. He pretty.