Exclusive Interview with Transformers Animators from Sequence Group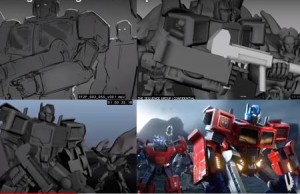 Monday, October 16th, 2017 9:49pm CDT
Categories:
Site Articles
,
Game News
,
Interviews
Posted by:
william-james88
Views:
29,127
Topic Options: View Discussion · Sign in or Join to reply
Seibertron.com had the pleasure of conducting an exclusive interview with The Sequence Group, a design and animation firm in Vancouver, who recently animated our favorite franchise, Transformers. Teaming up with Kabam, Sequence helped create cinematic trailers for the TRANSFORMERS: Forged to Fight mobile game. Through speaking to Sequence, we were able to gain better insight into the design of these digital 3D characters, not unlike the live action Transformers films. Due to the interview being conducted in a conversational manner, what you will find below is a description of was discussed, followed by two videos showing the step by step process of creating the cinematics for game studio Kabam.
A Love for Transformers
I was glad to hear how overjoyed the entire team was at the opportunity to dabble in the Transformers franchise. These are all people that grew up with the G1 cartoon and the toys, much like the Forged to Fight team, and they poured their heart and souls into the few minutes we have in the trailers.
Speaking of time, this was their main constraint. Sequence and Kabam initially had longer scenes in mind, especially of the characters emerging from the crash landing, but that had to be cut to make the trailer fit within the tight run time. For those curious about other "deleted scenes", Sequence was eager to show a view from inside the Ark as it crashes, rather than seeing it plummet through the atmosphere.
Level of Creativity in Cinematics Based on a Video Game
I was very curious as to what Sequence's leeway was in terms of creativity, especially since we are talking about an animated trailer sequence based on a game, based on pre-existing characters and designs.
Ultimately, Kabam had already developed a thorough script and a character roster line up (with design cues for the characters to match up with their looks in Forged to Fight), along with prerecorded voice clips of Peter Cullen. There wasn't any leeway in how Optimus Prime appeared, but the rest was up to Sequence, with a little guidance from Kabam's talented art department.
Working closely with the Art Direction team at Kabam, a huge range of visual elements had to be strategized for maximum impact; including camera angles, lighting effects, particle effects, basically everything in the way a shot is composed and presented.
The example given to me was Megatron's reveal. The script says when Megatron is revealed and his design was provided by Kabam (using his Revenge of the Fallen body), but it was up to Sequence to make this moment stand out as much as possible. Sequence added extra smoke effects, worked with lighting and established the environment to add a sense of foreboding to his reveal, and that of his Decepticon army. By combining creative concepts between Sequence and Kabam, the two companies found a quick but efficient way to establish who Decepticons are (the bad guys), even to someone who may not know these characters.
While the trailer is very quick, a lot of thought went into making each character feel unique, which is important in a fighting game with different classes and different characters that suit different play styles. Sequence aimed to have each main character walk and move in a particular way, for instance, with supervision from Kabam's game developers.
Lighting and Challenges with Scale
I wondered if Sequence was given any specific directions. It turns out Kabam wanted to use lighting like in a car commercial, highlighting bot shapes to make the models look as good as possible, since many of these models reflect toys we already have. And that is what Sequence was going for, because as I learnt, having 3D models be simpler and smoother makes them lose a sense of scale. Light needs to bounce off of the material in order to make it look realistic to the human eye, so you have to add as many light sources as possible.
This lighting approach ends up working fine if your goal is an awesome toy commercial, which was the goal in this case, but then I realized the big challenges Michael Bay and company may have had with bringing these characters to life. The importance of lighting and its connection to realism was very revealing to me. I will admit, I do prefer a smoother, simpler look to my Transformers over the extremely busy designs in the Michael Bay films, but this helped me understand the choice behind it.
In animation of any kind, it is the studio artists who can control infinite light sources in fictional 3D space but once you mix in live action, the light sources have to be consistent with whatever else is seen on screen in order to keep the realism that both the CG and live action components of a shot are sharing in the same space. So since the light source is limited by the practical environment (for example, take the shot in the 4th movie where Lockdown hunts down Ratchet), the realism of the scale within the shot has to be compensated by the light bouncing off of as many bot faces and facets as possible, hence the very busy character designs. And in a less technical way of seeing it, it is harder to get a sense of scale with a smooth surface so adding a lot of detail, rivets and plating to any design of a robot helps you see and understand how big it is, even in closeups where there is nothing to compare its size to.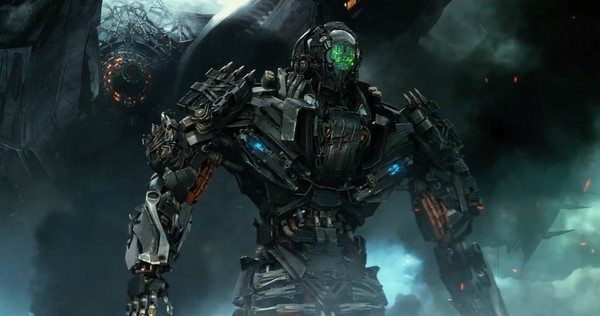 Challenges with Posing and Positioning
Lighting and complexity of design isn't the only challenge when it comes to animating Transformers. The thing is, as explained by The Sequence Group, Transformers don't usually have the same proportions as humans. When keeping the more blocky character designs, which they do in this case, the action can be obscured by a bot's chunky features so it's all about positioning and layout. Since the characters are blocky, certain poses will result in the viewer having a hard time understanding the intended action.
Sequence pointed toward a shot of Bludgeon entering the scene. They wanted to capture the most dynamic angle possible as his sword dropped down. After much discussion, Kabam and Sequence decided on having the camera fall under him and off center, so the audience could see as much of his pose as possible. This is very different than having two humans fighting with swords, I was told, where several clean and readable angles are possible.
This also gives me another tip regarding recent choices in the Michael Bay films where the robots have gotten much closer to human proportions starting in Age of Extinction with Optimus Prime, Lockdown, Crosshairs and Drift (followed by all those knights in The Last Knight). Perhaps their solution to having clearer action scenes was to make the bot character models more humanoid than ever before in the franchise, instead of limiting possible camera angles.
Difference between Trailer and Game Graphics and Trailer Breakdowns
From a technical aspect, I was curious as to how these trailers differed from cinematics in the game itself. For instance, why couldn't the game's engine be used for trailer cinematics? As it turns out, the difference lies in the amount of light-sources available and the overall quality. If graphics were all in engine (rather than pre-rendered), you wouldn't be able to run the game.
Now here are two videos showing the breakdown of two trailers. You will see how it starts with an illustrated 2D storyboard, then transforms into rough 3D models, and then rendered models, followed by all the environmental effects.
Special thanks to founder and Creative Director Ian Kirby and Executive producer Dan Sioui for the interview as well as Georgia at Grammatik PR for helping this interview happen and connecting us with The Sequence Group.
Credit(s): The Sequence Group
---
Got Transformers News? Let us know here!
Most Popular Transformers News
Most Recent Transformers News
News Categories:
Toy News
,
Movie Related News
,
Cartoon News
,
Comic Book News
,
Site News
,
Rumors
,
Event News
,
Digital Media News
,
Collectables
,
Game News
,
Sponsor News
,
Site Articles
,
Store News
,
Company News
,
People News
,
Press Releases
,
Sightings
,
Reviews
,
Unlicensed Products News
,
Auctions
,
Transtopia
,
Interviews
,
Knock Offs
,
Collector's Club News
,
Editorials
,
Heavy Metal War
,
Podcast
,
Contests
,
Book News
,
Top Lists