Transformers Rising Storm #02 Review!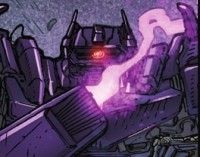 Thursday, March 31st, 2011 9:19am CDT
Categories:
Comic Book News
,
Movie Related News
,
Reviews
Posted by:
Dead Metal
Views:
106,793
Topic Options: View Discussion · Sign in or Join to reply
So I get to review something again, this time it's Rising Storm #02, a comic set in the Movie Universe, it's a prequel to Dark of the Moon.
In Frank Miller's world, that's what all cops are like.
Naturally this is chock full of spoilers.
So it starts off with Megatron monologuing to Optimus Prime, only Prime isn't anywhere near him which means that he's monologuing to an imaginary Optimus Prime.
It sounds a lot like every other monologue Megatron has held in the Movie Universe, and just like all those before them, it's the exact same monologue, just slightly rewritten to include new characters and things that have happened that didn't exist the last time the monologue was spoken. And boy does it sound stupid and strange this time round.
So let's get to the parts that are new:
This time when Megatron left, Shockwave was left behind on Cybertron so that he could show that he's the best at what he does, and what he does is killing Autobots. I would like you to write this down, it's important for a later part of the comic/review, Shockwave freaking loves killing, loves it, he clearly has a swell time doing so.
In short, killing = FUN to Shockwave.
OK did you write it down or at least memorized it?
Shockwave is the only constant in Transformers, he's always badass.
So We see Shockwave killing Chromia, then the AllSpark cries out because humans have started touching it, Shockwave is the only one who can hear it and leaves Cybertron in an EXGTREAMLY fast space ship to go and play Chris Hansen.
Take a seat.
Oh he also leaves Dreadwing in charge of the one eyed drone army.
He causes the
Tungasta Event
and gets captured by the Soviets just like Megatron, just you know Megatron was captured by the USA.
Megatron later finds and reactivates Shockwave, who impatiently asks when he can finally start killing himself some Autobots, Shockwave F**king loves killing, Megatron brings Shockwave to his nest; yea let's call it a nest. In this nest are a few Decepticons loyal to Megatron and Hatchlings. It's implied that Starscream now has his own faction of Decepticons, let's call them Clup Starscream. The hatchlings, like the annoying children they are, demand to be fed., Shockwave again states his desire to kill Autobots, Megatron then waffles on about his plans that involve killing a few Autobots they don't need, and that there's plenty of time for fun later.
Now get out your note from earlier, what was it?
Ah yes, Shockwave thinks killing is fun.
This makes his next line, absolutely hilarious:
"Fun is not logical."
Oh so he's suddenly in G1 mode and forgot that to him killing is the embodiment of fun? Awesome.
So if Megatron's the mum, who's the dad is it Shockwave?
Then Shockwave says he too has a pet, because Megatron is caring for hatchlings, Megatron then states that Hatchlings are more than just pets. He then calls:
"Hatchlings, come it's feeding time."
This is probably followed by nap time, so Megatron's like a mother taking care of her babies now, pretty funny actually.
Up until now this comic does not feel like an Issue 2, but more like an issue 1, you know like the beginning. But now in the last third of the comic we cut to a scene involving Bumblebee, Sam, Wheelie and a robot I first thought was a Fridge. This scene actually feels like it continues something. Turns out that the Fridge, is actually not Frenzy but a drone like Wheelie by the name of "Brains". The whole scene involves Sam moving and shouting all EXTREAM. There is a somewhat funny part where Sam asks why Wheelie isn't in the room he looked him in and if he broke the door again, Wheelie says no, and we see that instead of the door - he broke the wall.
Bumblebee is freaking annoying in this scene, yea I know he's supposed to talk via sound clips from the radio like in the movies, but it just doesn't work in comic form. Comics unlike movies are a purely visual media and do not have the ability to use sounds to distinguish different voices. So Bumblebee sounds like he's brain damaged, instead of cute.
There is a scene of Optimus Prime going on a mission, telling "The Three" that they cannot come, because they are girls or something. The Three are Arcee, Chromia, and Elita-0ne. They are the three that are one, the one that is three, so they are all one person, while still being different persons – and yes, my head did just explode.
It's alive!
Must open door in an

EXTREAM!

way
We cut back to EXTREAM Sam and company. Club Starscream, including Barricade (he's not dead!), suddenly attacks and demands to be given "The Brain Unit", I guess that's Brains. Then a battle ensues, Bumblebee gets captured by a Decepticon I first thought was Starscream. This guy then gets killed by Wheeljack, who states that is friend Mirage is now no longer invisible. Then there is some shooting.
During this battle Megatron continues his monologue to Optimus Prime, seriously, get a Blog.
What the hell is going on, who are you people, what's wrong with

your

FACE
So that was the story, let's get to the criticizing part, like the last time I'm doing the art and the writing part separate from each other.
So we'll start off with the art first, since that's the first impression you get from a comic. The art is done by Carlos Mango, who was also responsible for the previous Transformers Movie tie-in comics Tales of the Fallen and Nefarious. The line work is actually pretty good, well most of the time anyway. However, when there are multiple characters in a panel, the art goes all fuzzy as in everybody and everything looks the same. This is also partly the fault of the colourist. Who uses dark flat colours for everything, the colours are also not detailed, meaning that they only cover the main colours of each character, Wheeljack for instance is white. Just plain white, maybe it's a very light grey but it's still just this one colour, nothing brakes it up, no dark grey gears no nothing – just white. Also the colours are also just flat, no lighting, or shades. This and the at times fuzzy line work let everything blend together letting you not care for what the hell is going on.
I give the artwork as a whole 4 from 10 stars, had the colours been better it could have been 7 stars, since I do like most of the line work.
Now on the writing itself. It's all over the place, it's not particularly bad, but it's also not great. Keeping in mind that this is issue #02 of a miniseries I'm going light on it, since these kind of stories tend to work better when read all at once, and the fact that I did not read issue #02. But this is also this comics downfall. You see, beginning with page one 3/4 of the comic are dedicated to what feels like the beginning of a whole new story, while the remaining ¼ is a continuation of the previous issue, but by the time you get to it, it just comes out of nowhere and makes you feel like there's been a mistake at the printers and they accidentally mixed up two separate comics. Then there is Megatron's awful monologue, it starts off someone cool and interesting but once you reach page 4 and you realize that it's mostly just stuff we've already heard in previous Movie comics and that it just won't stop it just starts annoying you.
I do like what John Barber is trying to do here, and give him kudos for it. So what is it that he's trying to do? Well, he's trying to get rid of some of the more glaring inconsistencies and questions that exist in the Movie Universe, and tries to stay consistent himself, unlike other writers who have been assigned to task of continuing a Transformers comic property. The characters are the same as we know them from earlier stories, well except Shockwave (who changes in the comic itself for no apparent reason, maybe that's just the way he'll be in the movie) and Jolt, who actually has a personality now.
I give the writing 5 of 10 stars.
As I said previously this is just part 2 in a 4 part story, and therefore believe that once this is finished it will be a good read and make a lot more sense. The story and art both have potential, it just needs better, shinier colours and seriously needs to drop the unnecessary Megatron monologues.
So all in all it has 4.5 of 10 stars.
Credit(s): idw
---
Got Transformers News? Let us know here!
Most Popular Transformers News
Most Recent Transformers News
News Categories:
Toy News
,
Movie Related News
,
Cartoon News
,
Comic Book News
,
Site News
,
Rumors
,
Event News
,
Digital Media News
,
Collectables
,
Sponsor News
,
Game News
,
Site Articles
,
Store News
,
Company News
,
People News
,
Press Releases
,
Reviews
,
Sightings
,
Unlicensed Products News
,
Auctions
,
Transtopia
,
Interviews
,
Knock Offs
,
Collector's Club News
,
Editorials
,
Heavy Metal War
,
Podcast
,
Contests
,
Book News
,
Top Lists
Re: Transformers Rising Storm #02 Review! (1202930)
Posted by
BATTOUSAIXD
on March 31st, 2011 @ 10:01am CDT
So does Megatron reactivate Shockwave after ROTF? In the picture Megatron looks like he did in the first movie.
I like these movie comics, so I'll have to get these when they are all finished.
Re: Transformers Rising Storm #02 Review! (1202937)
Posted by
BeastWarsFTW
on March 31st, 2011 @ 10:15am CDT
BATTOUSAI XD wrote:So does Megatron reactivate Shockwave after ROTF? In the picture Megatron looks like he did in the first movie.

I like these movie comics, so I'll have to get these when they are all finished.
Megatron is in his new form in the comics. If you look at the page where he just freed Shockwave you notice rubber tires and some chains on Megatron.
Re: Transformers Rising Storm #02 Review! (1203080)
Posted by
BATTLEMASTER IIC
on March 31st, 2011 @ 2:57pm CDT
Why couldn't they make the Shockwave toy look like that...
Re: Transformers Rising Storm #02 Review! (1203307)
Posted by
jON3.0
on April 1st, 2011 @ 12:19am CDT
I just finished it as well. I was not impressed. Shockwave is all overkill and DESTROYER OF AUTOBOTS at the same time he's "emotionless" and "logical???" The artwork looks like something from a 1980's Tales from the Crypt. NEARLY TEN PAGES OF MEGATRON NARRATING? The writing was absolutely horrid. Wheeljack is a stuffy Brit? The motorcycle trio are all alive? It seemed specifically written for kids and young adults as opposed to the rest of us. It was a waste, in my honest opinion. Wheelie returns to annoy us more, Bumblebee's radio voice, a NEW annoying character, Sam's character gets even MORE annoying... I honestly don't think it could've been much worse.