With the animated series of
Prime: Beast Hunters
now behind us, and
Predacons Rising
almost here, we are very happy to welcome show and comics writer Mairghread Scott for another interview with the minds and hands behind IDW!
Va'al
- Thank you for agreeing to do this, Mairghread - you have the honour if being our first writer! My first question, before we jump into your work, is about origins: How did you first become a fan of Transformers?
Mairghread
- I actually grew up on
Beast Wars
, which makes me a bit odd because I never really saw Optimus turn into a truck (although I knew he did) until the Michael Bay films. But in some way, I think
Beast Wars
really was the best place to start when I worked on
Prime
. The idea of being outmatched and outnumbered, the shifting alliances; these are all important elements of both shows. Plus, even though our CG technology has come a long way, we still face a lot of the same challenges in terms of characters and sets.
Va'al
- At last, someone else who grew up in the Beast era! I thought I was the only one, by now. How involved were you with the franchise back then? Did you collect the toys as well as watch the show, or branch out into other aspects of the Transformers like comics or other cartoons?
Mairghread
- Neither. Comic books and action figures were 'boy things' and as a little girl I just sort of knew (and I'm sure my friends re-enforced) that I wasn't supposed to have either. I remember I looked for Airrazor a few times, but I could never find her on the shelf. On the bright side, it meant I got to play
Beast Wars
a lot with just my sister. I was an Osprey (until
Jurassic Park
, then I was a 'raptor for a while). I upgraded to puma-osprey with rocket launcher wings when everyone went all Fuzor/Transmetal. I feel like my sister was an orca because she was really into whales and I was always harrassing her about how she couldn't do anything in Beast-mode then. I wasn't the best sister.
Va'al
- At least you played with her, though! I have to ask - were you ever able to track down an Airrazor figure later on in life? A lot of Transformer fans have their personal 'holy grail' toy, or so I'm told; would you say that was, or still is, yours? Or did you just outgrow the toy stage, and never really bothered?
Mairghread
- No, although I would take one if I came across it. I tend to collect characters I've written for, so my Holy Grail is a modified Rip Claw made to look like Ser-ket. I just picked up a G1 Sludge at BotCon and would love to give him a sister to play with.
Va'al
- You heard that, customisers. Be ready to be inundated by offers now! Speaking of writing characters - you're a writer for essentially two parallel stories, one told in the animated series, one in the comics. How do you juggle the different approaches, if they are different? Are there similar challenges in the two media? Do you have a preference between the two?
Mairghread
- Well it does help that we have two different casts in each book and that they are both tailored to their medium. The Dinobots aren't nearly as talkative as, say, Optimus, and that works much better when you have the ultra-limited space of a comic. Since the Dinos don't do well in close-up or just talking, I try to think of the comics almost as an 80ish panel haiku instead of a TV script. I'm trying to pick out the best possible moments to suggest the movement, drama and staging that make Prime what it is instead of just transcribing an episode onto the page. When it comes to which I like more, I think I'd have to say comics, if only because I get to really interact with the fans in a way I never could if I just wrote TV. Talking to people who are passionate and nerdy about what you're passionate and nerdy about...it's the best.
Va'al
- Communities of fans like the one for Transformers are indeed a gathering of multiple backgrounds and views with an extremely passionate dedication to the common interest! You're obviously welcome to join us on Seibertron any time, I know you write on other fansites at the moment. Speaking of fandoms, I was wondering about something. You've always been pretty determined and vocal about the female presence among the Transformers fans, but there are only a few named women creators in your position (alongside colourists Priscilla Tramontano and Joana Lafuente) - do you think the franchise is still a bit of a boys' club, or is that a misperception? Have you ever received criticism, from fans or peer creators, which was more about you as a woman than your work?
Mairghread
- It's funny, I used to be really worried about the role my gender played when it came to my writing and how others saw it. So much so that once I was brought in on a non-TF show to write an episode that had a lot of female characters in it and I actually asked point-blank if they'd picked me because I'm a woman. The response was they'd seen Hurt and they picked me because I could write revenge. So 'no' I've never felt that people see my gender as anything other than another aspect of who I am.
That said, Transformers is still thought of by the public, the media and the industry at large as being a male-oriented brand. It's not surprising: the industry category for
Prime
is called 'boys action,' the toys for Transformers are in the blue-colored section at toy stores and in several TF comic books there are no female characters at all. This obviously makes it harder for women to feel like we want them to be involved in our brand and I want to change that. Everyone should feel allowed to like Transformers. If seeing my name on a comic makes a woman in the store give it a try, that's great. If writing Firestar means someone's daughter will read his Beast Hunter's issue with him -- awesome! But most importantly, if some little girl out there wants an Arcee as badly as I wanted an Airazor toy, I want her to know that she's not weird, or silly, or alone and if my work does that for her, that's the best thing of all.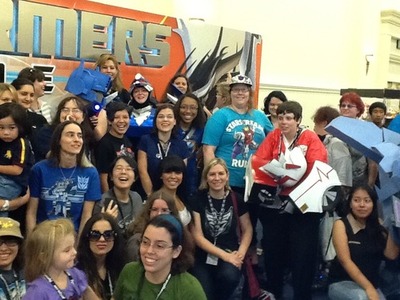 Va'al
- That's a great goal, and I agree wholeheartedly with your mission. It's also nice to read that the industry is changing its attitude towards pre-existing ideas, even if slowly. This is a franchise that, as you said, starts by being aimed at a young male audience, even though, in fact, there is a fairly big adult reception already - showing how there is also a good female reception should be next! You mentioned Firestar, a character who for now only shows up in a couple of issues of
Beast Hunters
- was that entirely your idea (with Mike Johnson), or was it suggested by IDW/Hasbro? How did she come about? And for that matter, how was Zoom introduced too?
Mairghread
- Bringing back Firestar was my idea. As soon as we got picked up I decided to start adding female characters until someone told me to stop (and, actually, a lot of the background characters are also female, even though it's not obvious). So far, Mike, IDW and Hasbro have all been fine with it, so I press onward. I'd love to bring back all the pre-existing TF ladies, but we'll see how many I can squeeze in before the end.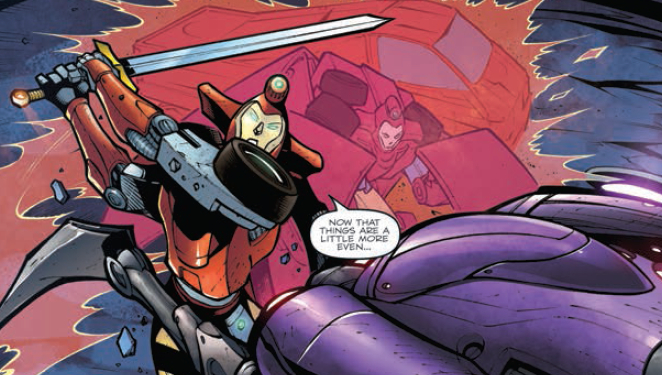 Zoom is Mike's creation and another good example of IDW and Hasbro giving us a fairly free hand. I'm sure if we tried to remake the book as the Firestar/Zoom show, they'd say something, but when it comes to adding more minor characters, we get a lot of control.
Va'al
- I did notice some of the remains in Last Spark were mentioned as being female, actually, yes. You don't seem to have been told to stop bringing in characters so far! Are we to expect any other ones before the series ends? I realise we're only half-way through, and that leaves us with two story-arcs worth of potential new faces.
Mairghread
- Well, we just got preview images from Issue 5 and, I don't know if anyone's picked up on it, but they reveal Chromia, the blue Autobot next to Grimlock telling everyone to get under their beds (for protection in an earthquake). But don't worry, she does a lot more than that, but it's been fun to see her sneak into the sneak peek.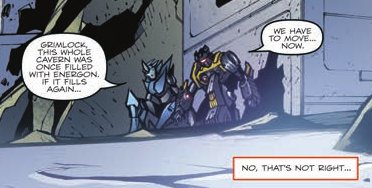 Va'al
- Yes, I did spot Chromia, and I mentioned her (and Scrounge) in the
review for issue 5
. And speaking of issue 5, we now have the announced point of contact between the animated series and the comics, and we're very close in its placement with the end of the TV series. Will the comics cross-over or spill into the upcoming Predacons Rising epilogue?
Mairghread
- While the two lines will merge in 7 and 8, the timeline between TV and comics means that we are following the show and not the other way around. That said, I've very excited at what Mike's cooking up, so you'll have to wait and see.
Va'al
- Really not letting anything out of the bag, huh? Well, I think that moment of suspense is actually a good place to stop this time round. Mairghread, it's been an absolute pleasure talking to you, thanks again for doing this! Do you have any last words for the readers on Seibertron.com?
Mairghread
- Only to thank them for the chance to play with characters they know and love. Hopefully, we can bring more fans to planet Cybertron. And if anyone has any more burning questions, you can reach me on Twitter at
@MairghreadScott
or Tumblr at
mscottwrites.tumblr.com
.
You heard her, readers - head over to the social media to ask your questions, or post them along with your comments in this thread! Stay tuned for another interview soon, we have some really interesting guests coming up.