The Multiverse is immense. There are many universes of Transformers Gen 1, so of course there are many universes of Shattered Glass Transformers.
Since may 2012 SGC started with several short 1-page stories of the Shattered Glass Transformers.
Last month we started with our very first multi-page stories.
The year 2014 will bring even more bigger stories, but for who's not familiar with Shattered Glass Comics, take a look at our deviantart.
These are the stories: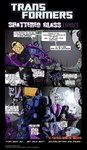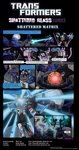 I Will be a God
is the very first Shattered Glass story I wrote.
The story is about the captured Megatron by the evil Optimus Prime. Optimus needed him to find the Key of Vector Sigma, so he can open a special gate. This gate brings you to other dimensions. It's also a little tribute to Stargate SG1.
I love the Shattered Glass Universe and I really want to expend that with more stories!! The wonderful art is done by Philip Knott and the perfect colour is done by Sam Palmer.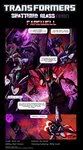 Farewell
is true artwork! I love all the work Rui Onishi And I was very happy when she wanted to do this story. This time Phillip Knott has coloured the page. He really known how to capture the atmosphere of the story.
The story is edited by Paul Vromen, also a very good artist.
The sequel is called
All About Trust
. The style of Koen Luyten is unique and I love it.
This was the first story that is coloured for me by Caroline Richard a very good artist.
Tomoko Honda has done a wonderful job on the posters in the story.
The story is edited by Paul Vromen.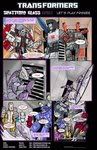 Let's play Frisbee
is my first funny comic page I wrote. I love the Recordicons. Both artist did a wonderful job!
Art:James Cox
Colors & Letters; Brandy Dixon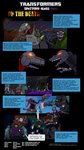 I really Love Grimlock. When I asked Mike Ackerman, he asked me if I had a story of Grimlock and Overkill. Well, I didn't but I could write one. That story became a Gen 1 story.
This story,
To the Death
, is the very first story about Trustor. At least, I think. But he changes into a dinosaur, so that's why he appears into this story.
Story: Wout Jut (me)
Art by: Mike Ackerman
Colours by: Lisa Sky
The Gen 1 version
Brothers in Arms
:
With the comic
Birth of the Sixchangers
, I think Kei Tomoe has made the most beautiful comic ever. She really know how to make the script alive.
Story: Wout Jut (me)
Art and colouring: Kei Tomoe