After a week off because I had a headache and robofreak had to have a shower, we return with not one but TWO weeks of goodies from our
Transtopia Forums
.
CUSTOMIZATIONS
Hip-Hoptimus Prime
brings us a little gem this week as he transforms his
Botshot Jetfire into a three wheeler
.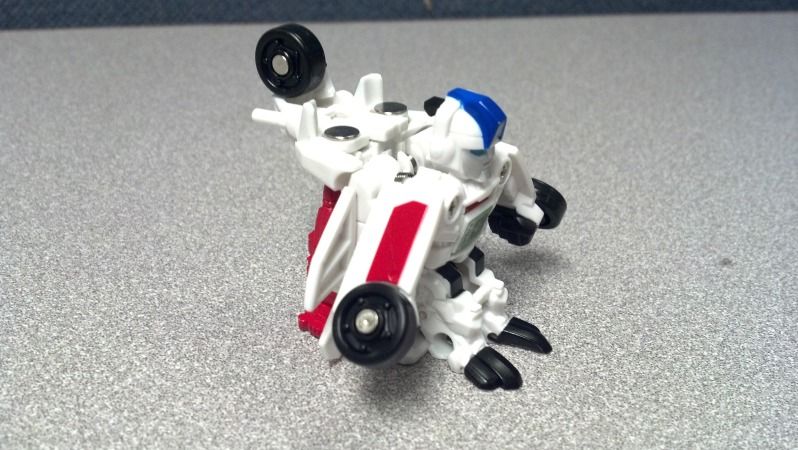 frenzy_rumble
brings us seven different, but all connected customs this week.
His first showcase is six
WST: Generation 2 Seekers
.
Not stopping there with the little guys, he then brings them all together to combine them into
Seeker
.
Taiki
returns to bring us
FOC Beachcomber
.
He was also lucky enough to get his hands on a
Kabaya Fortress Maximus
and gave him a touch up or two.
In our last update
Jin Saotome
took us into an apocalyptic future to bring us End of the Road Bumblebee. He returned again and this time brought back from the end of the world
Wheeljack
,
Ultra Magnus
and
Shockwave
.
Another regular to our Transtopia forums is
DreamersImperial
who brings us a custom FOC character
Blindeye
.
xueyue2
brings us an interesting custom as he shows us how to turn a
DOTM Megatron into a G1 styled handgun
.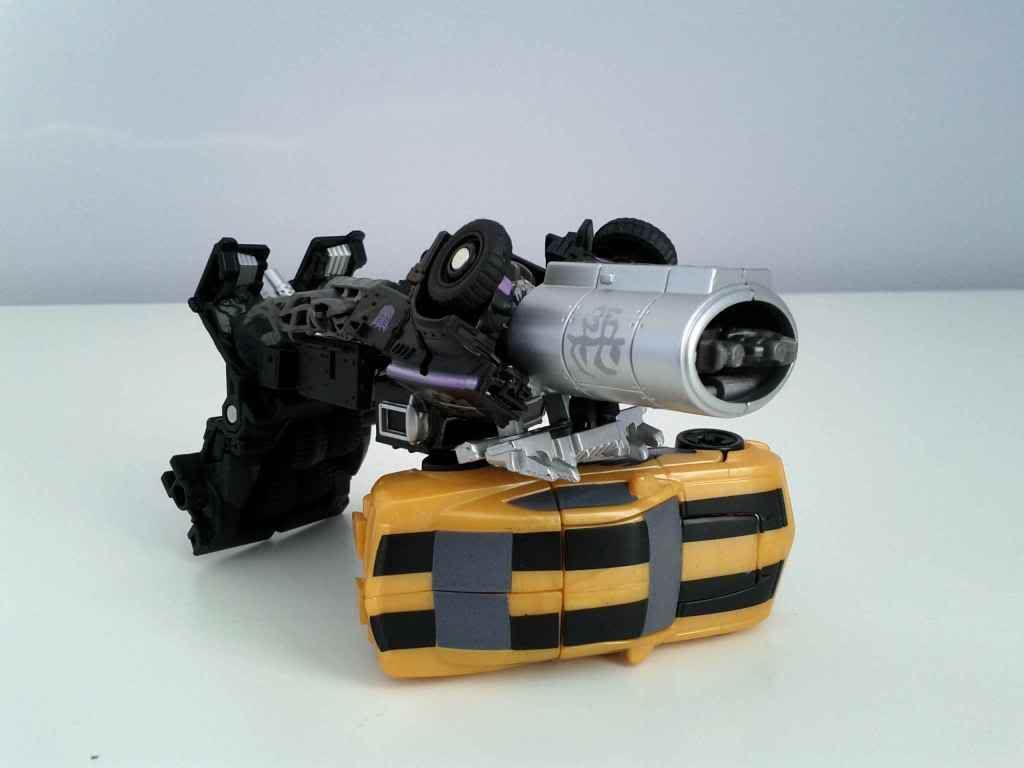 Autobot Strider
gives us a modified
PRID Bulkhead Mace
.
Dawgstar
joins the forums to bring a collaborative venture with Spurt Reynolds,
Masterpiece Bombshell
.
And last for the week is
Deathsaurus_emperor
brings us
Classic Chromedome
.
FAN ARTWORK
From near the bottom of the world,
Verno
gives us a sneak peek at his upcoming comic
Transwarp: CSIRAC
.
FAN-FICTION
kota720
brings us their first attempt at fan fic entitled
A Mech Can Dream
All of a sudden a barrage of plasma and other energies flew through the air taking the Decepticons by surprise causing Megatron to drop me to fire back at the onslaught of Autobot shells.
"Where did that useless excuse for a mech go?"
"It doesn't matter just follow that Autobot ship we cannot let them escape to gather more energon!" Megatron shouted as they ran past the battling armies not noticing me as I ran up beside their ship jumping inside the storage compartments.
Rodimus_2316
introduces us to a new project that's in the works,
Transformers Virtual Season 4
.
How the project works: We think of ourselves as made-up "1987 cartoon show writers, hired as new writers of the original Transformers cartoon." Not only do we see it from that time-perspective, but also we continue the show's natural toy-character-introductory process. However, instead of being allowed to use *ONLY* G1 toy-characters of that year, we use them at least mostly, with out-of-production characters allowed to have a smaller amount of usage. As a G1 cartoon writer on-staff, one would use their own judgement on "how much Hasbro would allow that, as they'd want their current-year toy-characters mostly used and promoted." Later virtual seasons would be "done in 1988," and so on, following the same rules.
And last but not least,
M3Gr1ml0ck
updates the
Seeds of Deception Project
.
PHOTO BLITZ
LaserbeaksPrime
brings us another episode from the late night talk show
The Jackie Wheeler Show
.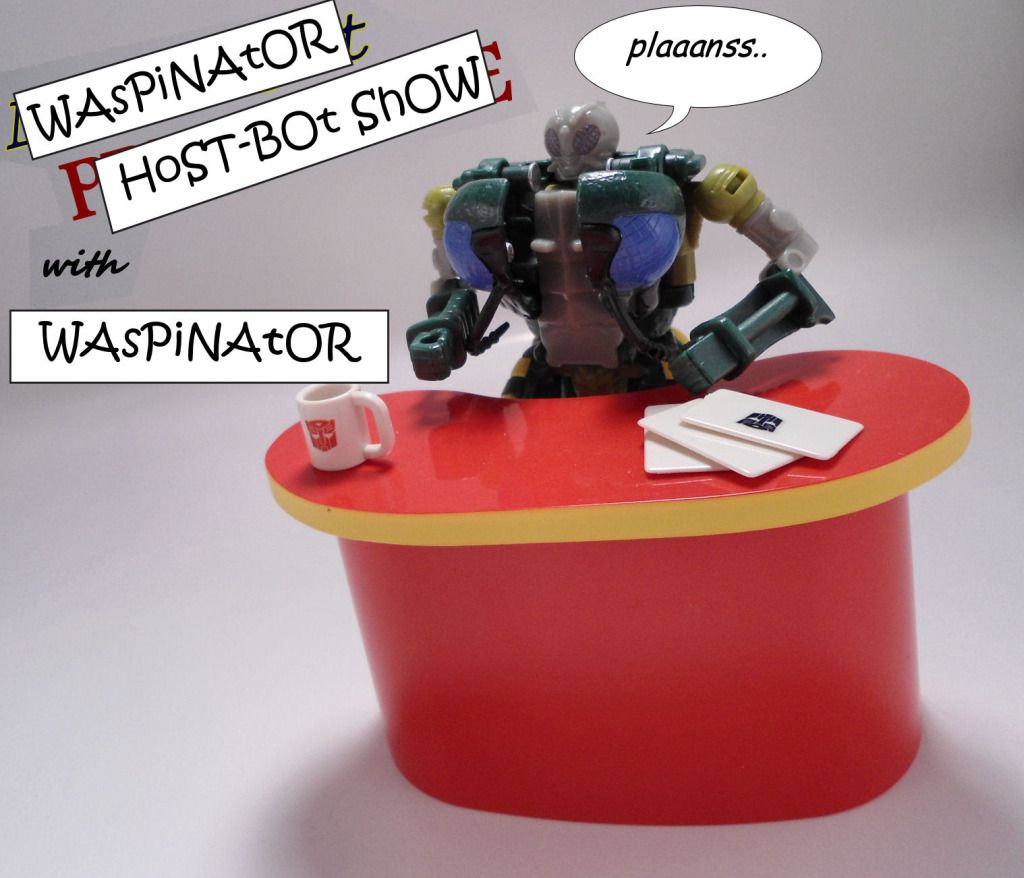 Va'al
continues to make Starscreams Coronation look hilarious as he continues with
The Amazing Adventures of Dennis and Bruce
.
And of course our two regular photo blitzers
Godzillabot Primal
and
BeastProwl
update their on-going threads.
BeastProwl's Digibash Thread
Godzillabot's Photocomic Funny-ness
Godzillabot's Digibashes
I Can Has Energon?
And that's it for the week folks! Check out the contributions, give them feedback, contribute yourself, and check back for our next update (hopefully next week). Until them, i'm going to go have something to eat and attach big guns to a repainted Alternator Silverstreak!