IDW Transformers: Galaxies #1 Review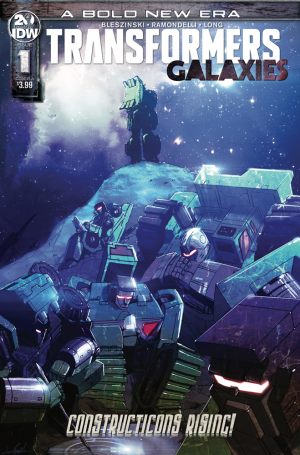 Saturday, September 7th, 2019 1:12PM CDT
Categories:
Comic Book News
,
Reviews
Posted by:
ScottyP
Views:
13,798
Topic Options: View Discussion · Sign in or Join to reply
Constructicons Rising!
A Review of
Transformers: Galaxies

#1
Spoiler Free-ish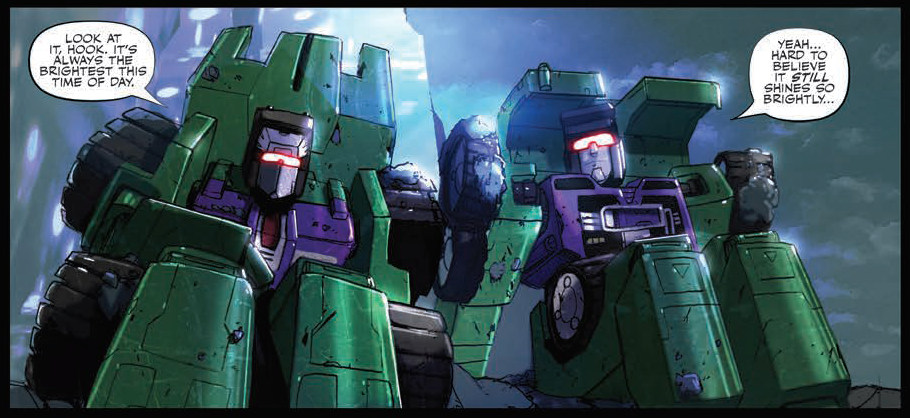 Fighting about who's the leader is forbidden
A brief editorial note: while most of our comics reviews are published just around an issue's day of release, IDW Publishing provided Seibertron.com with an advanced review copy of this book. The release date for this comic book is September 25th, 2019.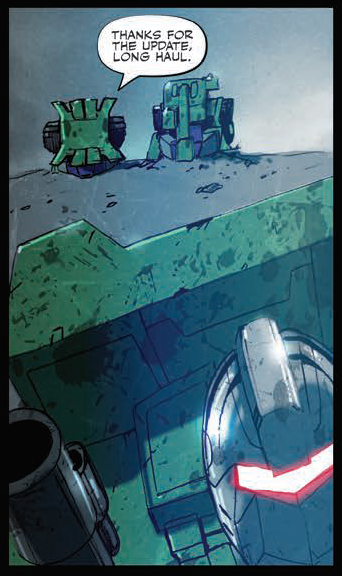 The first expansion of IDW Publishing's 2019 relaunch is set to arrive soon with
Transfomers: Galaxies

#1
providing a first look into both the Constructicons as well as this new ongoing anthology series. Many readers dissatisfied with the pacing of
Transformers
"bold new era" have found themselves already looking for something else new for a monthly Transformers comic fix. Will this first four issue arc fill this need for Transformers fans? In a word, yes. Read on to find out more!
One of the primary challenges in creating a combiner team is clearly defining each character within the team while not relying on shallow archetypes to prop up a member or three. With limited page space as an additional challenge,
Galaxies
takes an approach here that provides the basics of each member in a no-nonsense head shot sequence that's great for those not already generally familiar with the Constructicons. The basics are more-or-less faithful to their original incarnations, but it's a smart move to present said basics close to the start as new readers are less likely to have familiarity with a 35 year old cartoon with each passing day.
Hook and Scrapper are the stars of the first issue and are no doubt the characters with the most depth realized after 20 pages. Their interactions and conversations also help build up the definition of one another and I was left with a sense that these two have been very close for a very long time. Contrasting actions and reactions leave the reader with a clear idea of who these two are and what their place is within the larger unit that is the Constructicons. Long Haul and Bonecrusher have supplementary moments as well that provide substance to their personalities, leaving Mixmaster and Scavenger to fight for panels and dialogue. While these two aren't totally ignored by any means, there's not much to them here yet, but what is provided is enough to give me faith that this is merely a consequence of this being one issue out of four rather than an indication of what to expect in the future.
One thing that may be daunting to new readers is that this is part of a wider universe, regardless of the fact that said wider universe is only 11 issues and four months deep at the moment. These fears can thankfully be disregarded. While characters already seen in
Transformers
do appear, the nature of their presentation within this story is handled in a way that requires absolutely zero prior knowledge of their other exploits. In fact, I would go so far as to say that Termagax's prior appearances are enhanced and now mean more to me than they did upon my initial readings of her chat with Megatron over in
Transformers

#8
. The interplay between the books is subtle enough that it manages to have importance while not at all being an obstacle to a new reader's enjoyment of the story.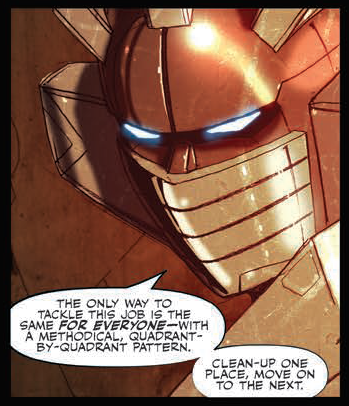 Foreshadowing, just not literally. You know, from the art standpoint. The foreground is ok you know what nevermind this too much explanation of a bad joke.
Listeners of our
Twincast Podcast interview with writer Tyler Bleszinski and artist Livio Ramondelli
will recall their mention of the collaborative process used to bring this story to life. This really shows throughout with both the layouts and actions shown in the artwork supplementing the dialogue and vice versa. I can say without hesitation that
Galaxies
#1 is up there with Ramondelli's best work on Transformers and might possibly be his finest hour to date. While the sense of scale, lighting and coloring are what readers have come to expect, much of the line work is extremely crisp and suits these characters appropriately. The facial expressions are spot on, even on characters like Scrapper and Wheeljack without a true "mouth" to supplement their emotion. The letter work from Tom B. Long is exemplary as always, with a particular sequence featuring all six Constructicons on the page simultaneously using a dash of color within the speech bubbles to help the dialogue and art with their clear conveyance of precisely who's doing the speaking.
On covers, there are six available but most folks will only have two choices, those being the Livio Ramondelli A Cover featured in this review's news story thumbnail and the Nick Roche and Josh Burcham B Cover. George Caltsoudas provides a highly stylized 10 copy incentive cover with Casey Coller and Burcham chipping in with a tougher to get 25 copy incentive cover. Retailer exclusives are out in force as well, with both still available for preorder as of this writing! For the
Clayton Crain Scorpion Comics exclusive click here
, or
look here for the Torpedo Comics Livio Ramondelli exclusive
. Both are limited to 500 copies. As always, you can also find all the cover images, full credits for the issue and a list of all the characters that appear in the book through our
Vector Sigma Database page for

Transformers: Galaxies

#1
.
Transformers: Galaxies
#1 does most everything that a first issue can do and does it well. An easy introduction to the characters provides an accessible path into this new Transformers universe and the final page hook (no pun intended) throws a curve ball that makes you want to read more without feeling dishonest or random. While I did find one page featuring Termagax and Wheeljack a bit slow its place in the issue is still deserving and it helped to clarify their perspectives on the other events witnessed. The fact that Scavenger really doesn't get much characterization keeps me from putting a perfect score on this one, but that's probably due to the fact that it's a first issue
and
my generally being stingy with said perfect scores moreso than anything else.
Transformers: Galaxies
#1 is the finest work delivered so far in IDW's Transformers relaunch and provides great entertainment for both old-timers and anyone brand new to these comics. Look out for this issue on September 25th where you can pick it up at the
Seibertron.com eBay store
or at your local shop,
check here to find the closest shop to you
.
Final Score
.
½
out of
Most Popular Transformers News
Most Recent Transformers News
News Categories:
Toy News
,
Movie Related News
,
Comic Book News
,
Cartoon News
,
Site News
,
Rumors
,
Event News
,
Digital Media News
,
Collectables
,
Game News
,
Sponsor News
,
Site Articles
,
Store News
,
Company News
,
People News
,
Press Releases
,
Sightings
,
Reviews
,
Unlicensed Products News
,
Auctions
,
Transtopia
,
Interviews
,
Knock Offs
,
Editorials
,
Collector's Club News
,
Heavy Metal War
,
Podcast
,
Contests
,
Book News
,
Top Lists
Re: IDW Transformers: Galaxies #1 Review (2037367)
Posted by
Archforce
on September 7th, 2019 @ 3:48pm CDT
I guess if you want to build a new comics continuity, you'd better hit up the Constructicons, eh?
Re: IDW Transformers: Galaxies #1 Review (2037393)
Posted by
Stargrave
on September 7th, 2019 @ 10:10pm CDT
I'm so excited for this. Great review ScottyP thanks!
I think you really cemented what I've been hoping this title will be like, what it will bring and offer for TF fans.
Another win in a Golden Lagoon of a year for fanformers.
Re: IDW Transformers: Galaxies #1 Review (2037482)
Posted by
Rodimus Prime
on September 9th, 2019 @ 5:17am CDT
I'm looking forward to this, especially after the disappointment of the "bold" new book. I also like the combiner teams and their concept, and would love an immersive story about what makes a team like that work. I was hoping we would get that with TAAO, but that was also a disappointment. I don't care for this style of art, it's too flat and void of emotion, but I'm willing to get past it if the story is worth it. Hopefully it is.
Re: IDW Transformers: Galaxies #1 Review (2037490)
Posted by
ScottyP
on September 9th, 2019 @ 7:21am CDT
Archforce wrote:I guess if you want to build a new comics continuity, you'd better hit up the Constructicons, eh?
They should use this in marketing for the series
Re: IDW Transformers: Galaxies #1 Review (2037522)
Posted by
AllNewSuperRobot
on September 9th, 2019 @ 2:40pm CDT
ScottyP wrote:

Archforce wrote:I guess if you want to build a new comics continuity, you'd better hit up the Constructicons, eh?

They should use this in marketing for the series
I mean, it makes sense given the context, but the Constructicons are so overexposed. I'm a fan of villains, of the Decepticons and outside of their one scene in The Movie, I don't like them. They are just so dull, so one note (like most of the exclusive Earth-based bots). I am optimistic I may be proved wrong in this iteration.
IDWverse started with Monstructor. A completely out of left field decision and I think the overall mythology of Gestalts was enhanced by the basis for the technology being one of the more "bestial" combiner teams. Obviously the rest of them were pretty screwed over by subsequent runs EG Ironhide landing a one hit KO against Bruticus - The noted strongest of the Gestalts - was laughably ridiculous.