Hey all,
So I picked up a PRID Ultra Magnus and I'm super happy with the figure. However, a few things about the paint apps (or lack thereof) bugged me, so I decided to fix them with a little paint. I considered getting the Reprolabels set, but it didn't even cover up the parts I wanted, so maybe some other time.
Basically, I took a look at his box art image and thought "that is what I want him to look like." So I added some paint to the following spots:
Smokestacks and Abdomen - GW "Boltgun Metal"
Upper chest - GW "Blood Red"
Front turn signals and all tail lights - GW "Blood Red", "Blazing Orange", and Codex Grey".
All painted areas were then coated with a glossy varnish.
It's not the cleanest job around, and some of the spots I over painted on had to get cleaned up by a darker blue (ummm... shadow effects, right?)but overall I am very happy with the look. While I had the paints out, Smokescreen walked by so I gave him red headcrests too. Enjoy!
Magnus and Smoke:
Close-up of Magnus' chest and shoulders: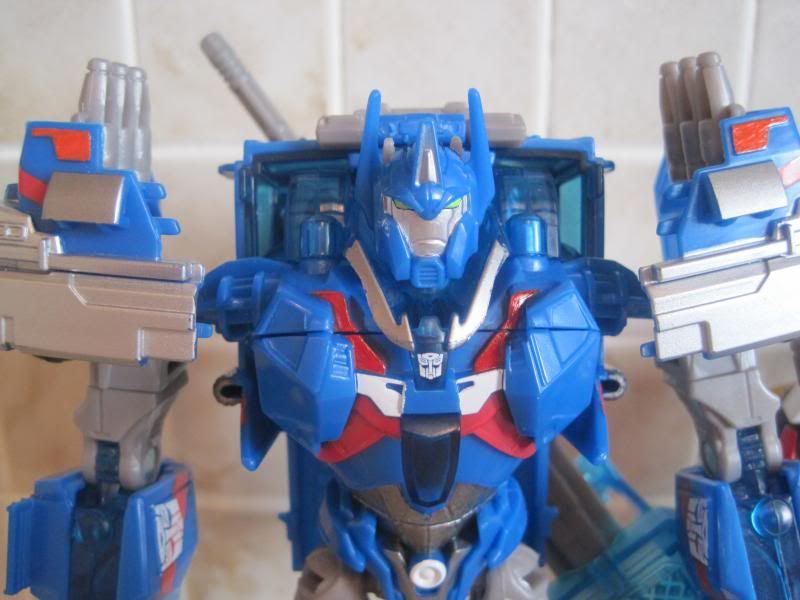 Close up of Magnus' abdomen:
Close of up Magnus' legs (to see the tail lights):
Not pictured - his smokestacks. I don't feel like transforming him just for that!
Now that I've seen these pictures I can see a few spots that look sketchy, but they don't really show up on the figure in hand so I'm probably just going to leave them as-is.
For those who are thinking about doing this: Magnus' crotch plate is held in by two screws... by taking those out, you can remove the piece by pulling it forward away from the "pelvic bone". The legs are still attached to the "pelvic bone" and thus the rest of the figure without the crotch plate. However, taking this piece out makes painting the silver MUCH easier.
I hope you all enjoy!