IDW Transformers: Galaxies #2 Review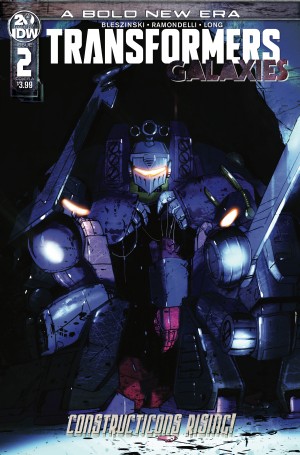 Wednesday, October 30th, 2019 8:20AM CDT
Categories:
Comic Book News
,
Reviews
Posted by:
ScottyP
Views:
12,721
Topic Options: View Discussion · Sign in or Join to reply
Trainspotting
A Review of
Transformers: Galaxies

#2
Spoiler Free-ish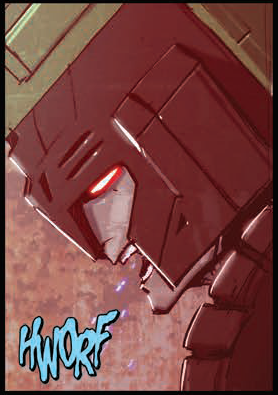 Starring Ewan McMixmaster
Given the
early look we were given of

Transformers: Galaxies

#1
, it feels like ages ago that the first issue hit. Not much has hit in between for Transformers fans other than issue 13 of
Transformers
and a couple issues of a Hulkling & Wiccan book with "Death's Head" as the title but we aren't really even covering that here.
Transformers: Galaxies

#2
is a very good issue that shows this four issue story might end up being something truly great. Read on for some elaboration, but if you want the shortest version of this review possible here it is: this is a fantastic follow-up to the first issue with plenty of depth and none of the typical second issue let-down you might have expected. Transformers fans would do well to pick this up today!

All the images are from the first five pages because let's not talk about it right now, I'm so tired.
Picking off where things left off after issue 1, we find the Constructicons still on the mysterious planet of Malayx where they've just completed an energon processing facility. Thinking their duty is complete, the group is getting restless wondering when they'll be able to return home. Construction bots wanting to go home after a construction job is a simple setup but one that's quite welcome because it lets the subtler details of the characters - or not so subtle in Bonecrusher's case - shine through via plenty of dialogue that never got itself bogged down. Tyler Bleszinski puts a lot of words on some pages and panels but I found that everything flowed smoothly and kept me engaged through to the end. Put another way, larger word count in a comic is never a bad thing when you want to read those words and see what they're adding to the pictures they're accompanying.
While Scrapper, Hook and the other Constructicons are still no doubt the stars of the show, for this issue some others may have stolen it: the Insecticons, whose presence on the issue's cover hopefully make this firmly not a spoiler. There's so much that they bring to this new Transformers universe and some of its wider historical context that it felt like one of the best issues of the old
Spotlight
books. Finer details and intriguing moments of potential foreshadowing help make the conflict beginning to boil over in the current
Transformers
ongoing simultaneously clearer and muddier. Throw in some genuinely gruesome panels just in time for Halloween and it's a recipe for a great introduction to this version of Kup's doormats.
Livio Ramondelli handles the art duties once again and, once again, does so expertly. The continued use of blacks around panels adds to the feeling of isolation conveyed throughout which is a very welcome additive on a book set on an alien world. I could go for a little less red in the color temperature from time to time, but given my TV settings this is almost undoubtedly personal taste more than actual critique. The panel sequencing works in a way that prevents the pace from stalling and turning the book into a 20 page exercise in exposition. Editors David Mariotte and Tom Waltz surely deserve praise for the pacing as well, because this definitely felt like a serial to me and not like a purposefully decompressed chapter out of a bigger book coming out later.
Tom B. Long masterfully handles both the volume of dialogue sometimes present and creates some fantastic onomatopoeia graphic text for sounds I never thought I'd hear in a Transformers book. I'm not sure if this is his last work for IDW yet or not, but if it is, a special salute is in order for the years of phenomenal contributions he's made to our favorite robots in disguise.
On covers, the Livio Ramondelli "A" cover is appropriately spooky for the issue and season, with this cover being the one used in this review's news story's thumbnail image. A "B" cover featuring an intimidating group shot from Alex Milne and Josh Perez will also be available at most shops, with Andrew Griffith and Priscilla Tramontano also delivering a ten-copy retailer incentive option also featuring the Constructicons as they prepare to drop the season's hottest tracks. As always, you can also find all the cover images, full credits for the issue and a list of all the characters that appear in the book through our
Vector Sigma Database page for

Transformers: Galaxies

#2
.
Transformers: Galaxies
#2 is a comic I found to be pretty great and I'm not going to get too picky about making the verdict here complicated. If that sounds inconsistent, well, let's just say I'm no Ultra Magnus. The point here is that while reading panel after panel and page after page, two things were true. First, I didn't press on out of any obligation to this review or Brand Loyalty or anything else, it was because I
genuinely wanted to keep reading
. Second and finally, reading this made me feel like the magic is back in Transformers comics, at least for this one issue.
Final Score
.
out of
Look out for this issue today, October 30th, where you can pick it up at the
Seibertron.com eBay store
or at your local shop,
check here to find the closest shop to you
.
Most Popular Transformers News
Most Recent Transformers News
News Categories:
Toy News
,
Movie Related News
,
Comic Book News
,
Cartoon News
,
Site News
,
Rumors
,
Event News
,
Digital Media News
,
Collectables
,
Game News
,
Sponsor News
,
Site Articles
,
Store News
,
Company News
,
People News
,
Press Releases
,
Sightings
,
Reviews
,
Unlicensed Products News
,
Auctions
,
Transtopia
,
Interviews
,
Knock Offs
,
Editorials
,
Collector's Club News
,
Heavy Metal War
,
Podcast
,
Contests
,
Book News
,
Top Lists
Re: IDW Transformers: Galaxies #2 Review (2043377)
Posted by
D-Maximal_Primal
on October 30th, 2019 @ 6:29pm CDT
This was a good issue 2! I like the insecticon backstory, and the insecticons themselves are pretty dang cool (and creepy). First time I've given more than a thought about them, it was well written!
Re: IDW Transformers: Galaxies #2 Review (2043417)
Posted by
ScottyP
on October 31st, 2019 @ 7:44am CDT
D-Maximal_Primal wrote:This was a good issue 2! I like the insecticon backstory, and the insecticons themselves are pretty dang cool (and creepy). First time I've given more than a thought about them, it was well written!
Definitely the most "human" Insecticons I've ever read, or as much as they can be. They still eat metal and turn it into Energon. Kickback might be the exception, he still felt one sandwich short of a picnic.
Re: IDW Transformers: Galaxies #2 Review (2044994)
Posted by
Bounti76
on November 18th, 2019 @ 2:05pm CST
Thanks to the folks over at iTunes, we have a three page preview of the upcoming issue of the Transformers Galaxies series. While these few pages don't reveal a ton about the story that Tyler Blezinski is telling, they are very nicely illustrated by Livio Ramondelli.
This issue is due to be released next week on November 27th, just in time for Thanksgiving (if you live in the U.S.). Of the two current Transformers series, Galaxies seems to be the better reviewed of the two. Will you be picking up your copy next week?
Re: IDW Transformers: Galaxies #2 Review (2045004)
Posted by
D-Maximal_Primal
on November 18th, 2019 @ 6:13pm CST
Looking forward to it! Eager to read more about Wheeljack and the Constructicons and Insecticons