Transformers: More Than Meets the Eye vol. 2 Alex Milne interview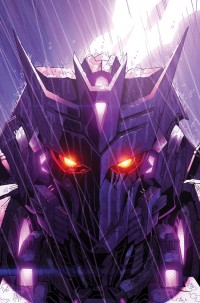 Thursday, October 25th, 2012 7:42pm CDT
Category:
Comic Book News
Posted by:
El Duque
Views:
17,272
Topic Options: View Discussion · Sign in or Join to reply
The
official Transformers facebook page
has posted an interview with Transformers: More Than Meets The Eye Ongoing artist Alex Milne. He discusses his first year on the title and working with writer James Roberts. We've mirrored the interview below for those who may not have access to facebook, enjoy.
Q: Hi Alex. We're almost at end of the first year of More Than Meets the Eye. How have you been finding it working on the book?

ALEX MILNE: Has it been a year already? Wow, I guess it has. Where does the time go? So, how has the first year of MTMTE been? It's been a real joy to work on. I don't think there has been a Transformers book that I've worked on where I have had this much fun. I'm always excited to work on the next issue, even when I'm feeling drained.

Q: Compare the book from 12 months ago to where you are now. Has the direction it has gone in surprised you at all?

ALEX MILNE: That's an interesting question since James always writes something that surprises me. It's always exciting to get the next script to find out what going to happen next. Sometimes that can be a bad thing too, but only due to that fact that it makes me want to work on what's coming up now. Like now, I'm working on issue 12, but I had a couple things mentioned to me about what's happening in issue 14-16, and I now want to jump to work on those things since they will be epic. James sure does know how to keep me excited to draw. Throw a little tidbit out of what's coming up and I just get all excited to work and get to that point.

Q: From all of the characters that you've had to design for the book, is there one in particular that you're proud off? And would you change any if you were allowed to?

ALEX MILNE: Hmmmmm, it's really hard to pick just one of them. I suppose if I can only pick one, then I would have to say Tarn. I love creating bad guys, and when I got the description of him, I knew he had to look like someone not to be messed with. He took a fair bit of time to come up with, but he wasn't the hardest of the Decepticon Justice Division to design (that was Kaon) but I can say I spent a good day on the head design for Tarn until I came up with the final for him. Cover 7 is still one of my favourites 'cause it's all a headshot of Tarn.

I don't think I would change any of the MTMTE designs. Nick [Roche, who drew issue 1 of the series] did a great job creating most of the main cast, and I really enjoy drawing those designs, so no, I wouldn't change any of them.

Q: How have you found the challenge of doing a monthly book? Has it been okay or a bit harder than you may have anticipated?

ALEX MILNE: Overall, I've found it to be as I expected for a monthly book. A lot of hard work. Each issue of MTMTE is just crammed full of TF goodness. There are issues that are harder then others, but that only natural depending on the story you're trying to tell. I think the only thing that has been hard to deal with has been a few personal and family issue that have popped up over the last year, and it has been a bit rough at times to juggle them and work at the same time. Hopefully I've done a good job of keeping on track, but there have been times where it has been a little taxing. Everyone has been very supportive and I try to make the book the best I can.

Q: Do you have a favorite issue for the first year of MTMTE?

ALEX MILNE: Let me see. That's also a tricky questions, since there are so many that I like. I'll say issue 6. The whole story of Fort Max and Rung was just too good. I remember when I originally read the script for 6, I thought it was one of the best stories James has written. I also love to see books that Nick draws [like issue 6 was]. So yeah, issue 6 all the way. But I will say that issue 11 is also epic, but that hasn't come out yet.

Q: Would you say that you have changed much in the last 12 months as an artist and how you approach drawing the book?

ALEX MILNE: I would say yes. Part of being a artist is that you're always changing how you do things. I look back at even the first issue of MTMTE that I worked on, and there are things I have changed in the current books. MTMTE is a very expressive book, and I really couldn't approach it the way I did with the Ongoing [series that preceeded More Than Meets the Eye and Robots in Disguise]. Even with Ongoing issues 22 and 23, I was playing around with how I did things. It's a really fun book to work on, and I feel it allows me to have fun while drawing it. As I said earlier, this is the first Transformers book I've worked on where I'm always having fun working on it, even when it's a pain in the butt at what James asks me to draw. Overall, its just been great fun to work on, and hopefully that comes through in the pages ;0

Q: How have you found the fan reaction to the book, at the various shows and cons that you've attended throughout the year?

ALEX MILNE: That's a very funny question, since I've only done one convention this year. I will be at another one in a about a week or so, so that will be 2 for the year. MTMTE has kept me very busy that I haven't really been able to go to many conventions at all. A bit sad, but it had to be done. So the first con that I went to was back early in the year, I think only issue 3 had come out by then, so the buzz was just starting up with the fans. I guess I'll see in a week how it's doing now. Issue 10 should be out by the time this convention I'm attending rolls around, so it should be interesting. Hopefully I'll get a lot of requests to draw Rung and Swerve.

Q: If you could have any character from the series you've designed appear in a future TV show, which one would it be and who would you have voice them?

ALEX MILNE: Aghhhhhh, what's with these questions where you make me pick only one? It's so hard. So I'm going to pick two. I would like to see Rung appear in a show, and voiced by Brent Spiner or David Hyde Pierce. Those were the two voices I had in mind when designing him back in Ongoing. I push more towards Brent, since I'm a huge Star Trek fan, and having Mr. Data voice a character of mine would be the bee's knees. My second pick would be Tarn, and have him voiced by Keith David. He's the voice of Goliath from Gargoyles, and I feel he would suit Tarn perfectly.

Q: Is there anything you can say about what we might see in the last batch of issues from the first year of MTMTE?

ALEX MILNE: You will see pain. You will see suffering. You will see death. You are about to move into areas of MTMTE containing wonders more incredible then you can possibly imagine, and terrors to freeze your soul. It's wondrous. With treasures to satiate desirers both subtle and gross, but it's not for the timid. So, fun times all around.

Q: Obviously you and James Roberts have hit your stride on MTMTE this year. How would you describe the process you go through to make an issue into what it is?

ALEX MILNE: Well James writes its. I then read it, then cry and complain about it for a whole day. After the tears of my free time wash away, I start making thumbnails of every page. I mark some of the characters expressions in the thumbnails, then I send them to James and we go over them. I will tell him why I think a panel works better a different way, or which panel visually I feel need to be stronger. We have a good chat about it, then when we're both happy, I go off and draw up the pages. Sometimes I'll have a panel where I re-read the script to see whose talking, then I might play around with that panel to make it easier for the word bubbles to fit. There have been a couple times where the final image of a panel is completely different from my thumbnail. Then I ink them and send them over to Josh Burcham to be coloured. Pretty basic stuff.

Q: Is there any hints or words you can say about what the second year of MTMTE has in store for the fans?

ALEX MILNE: It's not for the timid.

Q: In the next 12 months, do you have any more ambitions you'd like to fulfill or have any expectations about where you'd like to be?

ALEX MILNE: That's a good question. There are a few things that I would like to do, and I am working slowly on, but I'm pretty happy working on MTMTE right now. Who knows what the future will have in store for me. Only time will tell!
Credit(s): Transformers facebook page
---
Got Transformers News? Let us know here!
Most Popular Transformers News
Most Recent Transformers News
News Categories:
Toy News
,
Movie Related News
,
Cartoon News
,
Comic Book News
,
Site News
,
Rumors
,
Event News
,
Digital Media News
,
Collectables
,
Sponsor News
,
Game News
,
Site Articles
,
Store News
,
Company News
,
People News
,
Press Releases
,
Reviews
,
Sightings
,
Unlicensed Products News
,
Auctions
,
Transtopia
,
Interviews
,
Knock Offs
,
Collector's Club News
,
Editorials
,
Heavy Metal War
,
Podcast
,
Contests
,
Book News
,
Top Lists
Re: Transformers: More Than Meets the Eye vol. 2 Alex Milne interview (1433924)
Posted by
Henry921
on October 25th, 2012 @ 8:39pm CDT
Alex Milne is one of my favorite TF artists and he is absolutely right. His design for Tarn he absolutely hit out of the park.

Every time I see that guy in panel all I can do is think 'please be a toy, please be a toy, please be a toy.'

Great interview.