Review of IDW Transformers: Salvation One-Shot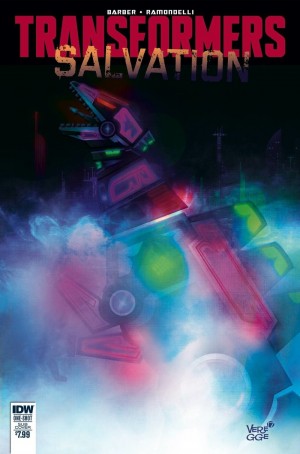 Wednesday, June 14th, 2017 2:07am CDT
Categories:
Comic Book News
,
Reviews
,
Site Articles
Posted by:
Va'al
Views:
17,448
Topic Options: View Discussion · Sign in or Join to reply
Cue the Cranberries
(Spoiler free-ish)
Synopsis
Exiled from civilization, the Dinobots are the last line of defense against the ultimate Cybertronian dinosaur—Trypticon! But how much are the Dinobots willing to sacrifice for a world that hates them?
Story
We now return to your yearly schedule update on the Dinobots, minus Grimlock, because we wouldn't want you to forget that the Dinobots are very much still a thing, except when they're not (most of the time), but here - the third part of the Barber/Ramondelli 'we need more Maximum Dinobots' story: after
Punishment
and
Redemption
, comes Salvation.
Despite my initial tone there, John Barber is actually able to bring together a lot of previous material into the book, and clear out some air that needed airing, from Trypticon (and even
Chaos
and
Monstrosity
) fulfilling the toy quota without a special event, to Bludgeon, Strafe, Swift and the general characterisation of the Dinobots (plus other characters, which I won't go too into here) - and carrying over some
Redemption
material, at risk of otherwise being ignored.
All the character work, of course, is to be nicely found in Bludgeon too. He follows quite steamrollingly in the footsteps of Jhiaxus and Thunderwing - his predecessors in more ways than one - of being a complete cosmic rustheap. However, the Dinobots are most definitely the stars of the book: character, dialogue, interactions, snide comments and shade are all perfectly in line with their personalities as developed in IDW, but also with callbacks to other TF tropes.
Art
I am aware of the fandom's divided opinion on Livio Ramondelli, but the book - in my opinion - shows an artist working on full throttle, with some very well laid out passages and compositions, some clearly defined sequences, and designs that are both recognisable and well-utilised for the individual characters involved in the book. And splash pages and spreads have always been his forte anyway.
Not to forget, Ramondelli provides his own colours too - which sometimes still leaves me wondering what a different colour artist might do with that lineart - and he captures the various moods of this dark but still somehow hopeful story well, bringing different lights and hues to the scenes that take place. Even on the vaster scale of Cybertron's plains.
Tom B. Long's lettering work - with all the above said, perhaps works best with Ramondelli too, giving a chance to the particular style with words that pair and weave with the fiery scenes, or moody scapes. And the caption positioning, of course, eases the reading beautifully. There are two covers alone for the issue, one by Ramondelli, one by Jeffrey Veregge (thumbnailed), but both spotlight the giant space dinosaur in the room in their own way, and are both really great.
Thoughts
Spoilerish ahead
This review was a piece of cooperative work, between staff members with diverging opinions, but one point that we agreed on was this: Salvation does not work with new readers. It relies a real lot on previous stories, previous plot, pre-existing characterisation, and general TF lore that may not be enjoyed fully by newer fans of the comics.
But! But for long-term, heavily invested readers - on the other hand - that same reliance of all of that material (Chaos, Syndromica, Monstrosity, Redemption, even TAAO and RID) means that the one-shot does not fit in its own name, and still delivers an incredible accomplishment for a team of characters that is often overlooked but widely appreciated in the fandom.
.
½
out of
Credit(s): IDW
---
This article was last modified on Wednesday, June 14th, 2017 3:37am CDT
Got Transformers News? Let us know here!
Most Popular Transformers News
Most Recent Transformers News
News Categories:
Toy News
,
Movie Related News
,
Cartoon News
,
Comic Book News
,
Site News
,
Rumors
,
Event News
,
Digital Media News
,
Collectables
,
Game News
,
Sponsor News
,
Site Articles
,
Store News
,
Company News
,
People News
,
Press Releases
,
Sightings
,
Reviews
,
Unlicensed Products News
,
Auctions
,
Transtopia
,
Interviews
,
Knock Offs
,
Collector's Club News
,
Editorials
,
Heavy Metal War
,
Podcast
,
Contests
,
Book News
,
Top Lists
Re: Review of IDW Transformers: Salvation One-Shot (1889317)
Posted by
Randomhero
on June 14th, 2017 @ 6:21am CDT
I had kind of a hard time following some of this story so I don't know what to think. I'll have to give it another read tonight after work
Re: Review of IDW Transformers: Salvation One-Shot (1889324)
Posted by
Kurona
on June 14th, 2017 @ 7:02am CDT
I'll say what I said in the staff emails: I liked most of the pieces of the story, just not how it was put together. Great bricks, terrible cement. Very good posters, awful blu-tak. My analogies are getting worse and worse so I'll just leave it at Bludgeon looking FRIGGIN' AWESOME
Re: Review of IDW Transformers: Salvation One-Shot (1889341)
Posted by
ScottyP
on June 14th, 2017 @ 8:36am CDT
I positively adored this story, this book, this arc (long as it took to happen), and the setup it leaves for future stories. Congratulations
new Protoforms
, your adopted parents are the dumber of the Dinobots, the new smart lady Dinobot, and
Sandstorm
.
Re: Review of IDW Transformers: Salvation One-Shot (1889392)
Posted by
RNSrobot
on June 14th, 2017 @ 12:53pm CDT
I enjoyed it. Ramondelli's art suited the story and was actually among the best I've seen from him. His Trypticon is awesome. Excellent stuff with Starscream, too, very in keeping with how Scott has portrayed him in TAAO. Some fun twists and turns.

I'd like John Barber to stop using a million name tags and somebody's inner monologue now, please.
Re: Review of IDW Transformers: Salvation One-Shot (1890290)
Posted by
Coptur
on June 18th, 2017 @ 2:44pm CDT