Hasbro to Showcase Its Iconic Pop Culture Brands at Comic-Con International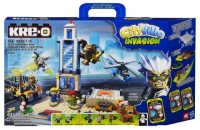 Monday, July 15th, 2013 1:33pm CDT
Categories:
Toy News
,
Event News
,
Press Releases
,
Company News
Posted by:
El Duque
Views:
61,795
Topic Options: View Discussion · Sign in or Join to reply
July 15, 2013

Hasbro to Showcase Its Iconic Pop Culture Brands at Comic-Con International

Premier Branded Play Company to Debut its New TELEPODS Play Experience, KRE-O CITYVILLE INVASION line and Celebrate TRANSFORMERS, MY LITTLE PONY and More with Fans in San Diego

PAWTUCKET, R.I.--(BUSINESS WIRE)-- Hasbro, Inc. (NASDAQ: HAS) returns to Comic-Con International in San Diego to showcase it's globally renowned and influential pop-culture brands including TRANSFORMERS, MY LITTLE PONY, KRE-O and G.I. JOE as well as licensed toy lines for ANGRY BIRDS STAR WARS, MARVEL, STAR WARS, and STAR TREK. From toys and games, to major motion pictures, video games, comics and television programs, few exhibitors at Comic-Con International come close to the world-class portfolio of Hasbro brands that continue to be re-imagined and entertain kids and fans around the world. Hasbro will celebrate the many ways it brings popular brands and characters to life with a robust lineup of panels, autograph sessions, special edition toys, giveaways and more, at this year's convention — all created with Hasbro's most passionate and dedicated fans in mind.

Hasbro introduces the KRE-O CITYVILLE INVASION line of building sets featuring SONIC MOTION technology launching in 2013. The new line of building sets, including the KRE-O CITYVILLE INVASION SKYSCRAPER MAYHEM set will be on display for the first time at Comic-Con International in San Diego, CA from July 17-21, 2013 in the Hasbro booth. (Photo: Business Wire)

Comic-Con International will also be the first place fans and families will be able to experience the TELEPODS platform from Hasbro, a fully-integrated play experience for the mobile generation that "teleports" physical characters into digital gaming and app experiences. The TELEPODS line will first be released this fall based on and fully integrated into the highly anticipated new app ANGRY BIRDS™ STAR WARS® II, from Rovio Entertainment and Lucasfilm, also announced today. The TELEPODS line uses new technology to allow kids to play in two ways: in the physical space and through integration into top-tier apps.

"Hasbro continues to offer fans many ways to experience its brands including award winning TV series from Hasbro Studios, comic books, digital gaming and of course innovative and collectible toys and action figures based on some of the most iconic characters ever imagined," said John Frascotti, Chief Marketing Officer, Hasbro, Inc. "Being home to many iconic pop culture properties, Hasbro looks forward to Comic-Con International in San Diego every year to celebrate these brands like TRANSFORMERS and MY LITTLE PONY with our most passionate fans and to launch revolutionary new play experiences like TELEPODS."

The following features highlights of activities across Hasbro brands and licensed product lines to be showcased in the Hasbro booth (#3329) and around the convention.

TRANSFORMERS

Comic-Con attendees can be among the first to 'Unleash the Ultimate Transformers' as they get an early look at the revolutionary new CONSTRUCT-BOTS line of customizable TRANSFORMERS action figures in the Hasbro booth. Comic-Con also kicks off the TRANSFORMERS brand's 30th Anniversary celebration and fans won't want to miss all of the brand's activity on 'TRANSFORMERS Day,' Thursday, July 18. Events include the TRANSFORMERS 30th Anniversary panel at 12:00p.m. where fans can get a first look at some of the THRILLING 30 line of special edition action figures including the reveal of the winning figure of the first ever TRANSFORMERS Fan Built Bot Poll.

Thursday at Comic-Con will also mark a historic day for the TRANSFORMERS brand and one of its most iconic characters. For the first time ever on TRANSFORMERS PRIME, the beloved AUTOBOT, BUMBLEBEE, will speak! Fans who want to be among the first to hear his voice will have the opportunity at the TRANSFORMERS PRIME BEAST HUNTERS panel, presented by Hasbro Studios and the Hub Network, at 11:00a.m. in Room 25ABC where an exclusive sneak peek clip will be screened. The special, full-length episode featuring BUMBLEBEE's first words will air on the Hub Network Friday, July 26 at 7:30p.m. ET and feature an epic, game-changing moment that only the TRANSFORMERS brand can deliver. The Hasbro team will also provide a sneak peek of PREDACONS RISING the movie epilogue to TRANSFORMERS PRIME BEAST HUNTERS that will air on the Hub Network and be available on DVD later this year.

Fans will also want to line up at the Hasbro booth at 1:30p.m. on Thursday to receive a special edition TRANSFORMERS: THE RIDE-3D poster, presented by Universal Studios celebrating the recent thrill ride openings at their Hollywood and Orlando parks while supplies last.

MY LITTLE PONY

The MY LITTLE PONY brand, a massive pop-culture phenomenon from Hasbro, has an expanded presence at Comic-Con in 2013 with a hit animated series, a new feature-length film, and an extensive line of licensed goods. Featuring a unique sense of humor, memorable characters and endearing stories about the power of friendship, the MY LITTLE PONY FRIENDSHIP IS MAGIC animated series has amassed a fan following as varied as the ponies of PONYVILLE.

Comic-Con attendees will be invited to join special guests from Hasbro Studios and The Hub Network's "My Little Pony Friendship is Magic" as they share behind the scenes details and a sneak peek into Season 4 on Saturday, July 20 at 10a.m. MY LITTLE PONY fans will also have the chance to get autographs from the "My Little Pony Friendship is Magic" talent following the panel at 11:30 a.m. in the Hasbro Booth. Tickets are required for the session and will be distributed beginning at 9:00 a.m. on Saturday in the Hasbro booth while supplies last.

To celebrate the launch of MY LITTLE PONY EQUESTRIA GIRLS, fans can stop by the Hasbro Booth at 1:00 p.m. on Saturday, July 20 to receive a cutie mark and a MY LITTLE PONY hair extension while supplies last. The first 475 fans in line will also receive a ticket to a special "My Little Pony Equestria Girls" screening at Reading Cinemas in the Gaslamp district at 3:30p.m. on Saturday.

KRE-O

Hasbro's KRE-O brand of building sets returns to Comic-Con with more new expressions than ever before for brick fans. Visitors will be among the first to see the new KRE-O CITYVILLE INVASION building set line featuring the evil DR. MAYHEM who has created a supernatural squad including zombies, vampires, ghosts and more to aid him in world domination. Each KRE-O CITYVILLE INVASION set tells a part of the story and includes both "hero" and "villain" KREON figures for kids to play out the narrative as their imagination sees fit. With the KRE-O CITYVILLE INVASION line, KRE-O has changed the face of brick-based play with the introduction of innovative SONIC MOTION TECHNOLOGY. Building sets equipped with SONIC MOTION TECHNOLOGY emit sound waves which trigger specific movements in special KRE-O bricks, creating a live action scene within the building set. Brick fans will be wowed as the unique cities they create shuffle, swim, crash or roar to life. Families can also download the KRE-O CITYVILLE INVASION APP from Zynga and Hasbro launching prior to Comic-Con.

New KRE-O STAR TREK, KRE-O TRANSFORMERS, and KRE-O G.I. JOE building sets will also be on display in the Hasbro booth featuring the largest presentation of KRE-O building sets and popular KREON figures ever seen at Comic-Con. Fans won't want to miss these new reveals including the KRE-O STAR TREK U.S.S. VENGEANCE building set from the hit movie, STAR TREK INTO DARKNESS from Paramount Pictures, directed by J.J. Abrams. Hasbro will also be distributing several KRE-O giveaways at designated times throughout the show while supplies last.

NERF

Zombies beware. This fall, Hasbro offers NERF fans the ultimate in zombie protection and preparedness with the introduction of the NERF ZOMBIE STRIKE line. Inspired by the latest pop culture trends within graphic novels, film, and television, the collection allows members of NERF Nation to reenact favorite high-adrenaline zombie scenes, plan for epic battles against the undead, and hone the skills necessary to ensure the survival of the human race. Visitors to the Hasbro Comic-Con booth will be the first to see the new ZOMBIE STRIKE line in person and check out the new items launching exclusively at Target this fall, as well as the extended line widely available in 2014. To help Comic-Con attendees prepare for a zombie outbreak, Hasbro will be giving away packs of NERF ZOMBIE STRIKE DARTS and TARGET coupons at its booth at various times throughout the show.

G.I. JOE

Hasbro and Paramount Home Media Distribution will welcome stars and filmmakers from the blockbuster G.I. JOE: RETALIATION movie to the Hasbro booth to celebrate the upcoming July 30 release of the Blu-ray, Blu-ray 3D and DVD. Fans will have the chance to get an autograph from the film's director, Jon M. Chu on Thursday, July 18 at 4:00p.m. and actor Ray Park, who plays the iconic SNAKE EYES ninja on Friday, July 19 at 3:30p.m. Tickets are required for the sessions and will be distributed beginning at 9:00a.m. on the morning of the events in the Hasbro booth while supplies last. Fans can also visit the Hasbro booth throughout Comic-Con to get an up close look at the entire G.I. JOE: RETALIATION line including new items available this fall.

MARVEL

Fans of IRON MAN will want to check out the Hasbro booth for a comprehensive look at the MARVEL'S IRON MAN 3 ASSEMBLERS Action Figure Assortment, including new figures never before seen in the line. Each figure features an Interchangeable Armor System, allowing one figure to create more than 25 armor combinations! New figures in the MARVEL IRON MAN LEGENDS 6-Inch figure line will also be on display in the booth.

Fans of the MARVEL UNIVERSE, MARVEL LEGENDS and other MARVEL action figure lines will want to check out the Hasbro booth for a comprehensive look at the extensive line-up of 2013 toys as well as new, upcoming figures to be revealed for the first time following the Hasbro MARVEL panel taking place on Saturday, July 20 from 4:00-5:00p.m.

STAR WARS

The Force is strong with Hasbro at Comic-Con! In addition to getting a first look at the new ANGRY BIRDS STAR WARS TELEPODS line, Hasbro will showcase its highly anticipated STAR WARS THE BLACK SERIES figures before they land on store shelves this fall. With THE BLACK SERIES, Hasbro introduces a 6-inch scale of the greatest characters from the STAR WARS universe featuring incredibly accurate design and a high level of articulation. Fans can join members of the Hasbro brand and design teams Friday, July 19 at 1:00p.m. at the Hasbro STAR WARS panel to see reveals of upcoming figures in the series and learn more about the ANGRY BIRDS STAR WARS TELEPODS line. To see a preview of the TELEPODS play experience, fans can view a video at the following link:

https://youtu.be/6DKNKI27GdA

.

Comic-Con attendees will also want to check out the wildly popular special edition toys and collectibles developed specifically for the convention on sale at the HasbroToyShop.com booth (#3312) while supplies last.

All giveaways and events are subject to change.

About Hasbro, Inc.

Hasbro, Inc. (NASDAQ: HAS) is a branded play company dedicated to fulfilling the fundamental need for play for children and families through the creative expression of the Company's world class brand portfolio, including TRANSFORMERS, MONOPOLY, PLAY-DOH, MY LITTLE PONY, MAGIC: THE GATHERING, NERF and LITTLEST PET SHOP. From toys and games, to television programming, motion pictures, digital gaming and a comprehensive licensing program, Hasbro strives to delight its global customers with innovative play and entertainment experiences, in a variety of forms and formats, anytime and anywhere. The Company's Hasbro Studios develops and produces television programming for more than 170 markets around the world, and for the U.S. on Hub Network, part of a multi-platform joint venture between Hasbro and Discovery Communications (NASDAQ: DISCA, DISCB, DISCK). Through the company's deep commitment to corporate social responsibility, including philanthropy, Hasbro is helping to build a safe and sustainable world for future generations and to positively impact the lives of millions of children and families every year. It has been recognized for its efforts by being named one of the "World's Most Ethical Companies" and is ranked as one of Corporate Responsibility Magazine's "100 Best Corporate Citizens." Learn more at

http://www.hasbro.com

.

About Marvel Entertainment:

Marvel Entertainment, LLC, a wholly owned subsidiary of The Walt Disney Company, is one of the worlds most prominent character-based entertainment companies, built on a proven library of over 8,000 characters featured in a variety of media over seventy years. Marvel utilizes its character franchises in entertainment, licensing and publishing. For more information visit marvel.com.

About Lucasfilm Ltd.

Lucasfilm Ltd., a wholly owned subsidiary of The Walt Disney Company, is a global leader in film, television and digital entertainment production. In addition to its motion-picture and television production operations, Lucasfilm's global activities include Industrial Light & Magic and Skywalker Sound, serving the digital needs of the entertainment industry for visual effects and audio post-production; LucasArts, a leading developer and publisher of interactive entertainment software worldwide; Lucasfilm Animation, which produces cutting-edge digital entertainment; and Lucas Licensing which manages the global merchandising activities for Lucasfilm's entertainment properties including the legendary STAR WARS and INDIANA JONES franchises. Lucasfilm Ltd. is headquartered in northern California. Lucasfilm, the Lucasfilm logo, STAR WARS and related properties are trademarks and/or copyrights, in the United States and other countries, of Lucasfilm Ltd. and/or its affiliates. TM & © 2013 Lucasfilm Ltd. All rights reserved. All other trademarks and trade names are properties of their respective owners.

HAS-PR
Credit(s): Hasbro
---
Got Transformers News? Let us know here!
Most Popular Transformers News
Most Recent Transformers News
News Categories:
Toy News
,
Movie Related News
,
Cartoon News
,
Comic Book News
,
Site News
,
Rumors
,
Event News
,
Digital Media News
,
Collectables
,
Sponsor News
,
Game News
,
Site Articles
,
Store News
,
People News
,
Reviews
,
Company News
,
Sightings
,
Press Releases
,
Unlicensed Products News
,
Auctions
,
Transtopia
,
Interviews
,
Knock Offs
,
Editorials
,
Collector's Club News
,
Podcast
,
Heavy Metal War
,
Contests
,
Book News
,
Top Lists
Re: Hasbro to Showcase Its Iconic Pop Culture Brands at Comic-Con International (1503387)
Posted by
God Magnus
on July 15th, 2013 @ 1:40pm CDT
I've seen the CityVille Kre-O sets and Kreon 2-packs at TRU already.