Blaster Joins Kabam's Transformers: Forged to Fight Mobile Game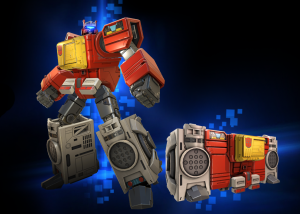 Thursday, April 12th, 2018 2:51AM CDT
Categories:
Game News
,
Digital Media News
Posted by:
Va'al
Views:
7,162
Topic Options: View Discussion · Sign in or Join to reply
Via Kabam's official
page
for their mobile game Transformers: Forged to Fight, we have a new udpate for a new playable character in the game, this time from the Autobot ranks of old: Blaster! The full Bot Intel Report has been mirrored below, and we have a short trailer and image embedded too - check it all out.
Add Blaster to your ultimate squad April 12th at 10AM PDT!
About Blaster:

Faction: Autobot

Class: Tech

Only one Autobot brings the noise and drops crazy beats – Blaster! Some of his tunes may hurt your audio receptors, but you can count on him to save the day with his superior sound system.
Stats and Abilities:

2-Star:

Health: 1679
Attack: 156
Max Rating: 551

3-Star:

Health: 4124
Attack: 328
Max Rating: 1314

4-Star:

Health: 10718
Attack: 851
Max Rating: 3539

Basic Abilities: Amplify, Interference, Shielding

Amplify

Each time Blaster uses a Special Attack he gains an Amp Charge up to a maximum of 10 charges.
Sonic Attacks used in Blaster's Basic Ranged and Special Attacks deal 5~6% more damage for each Amp Charge on Blaster.

Basic Ranged Attacks

70~80% chance to inflict Interference, lowering Ranged Damage by 10~20% and decreasing Projectile Speed for 10 seconds.

Heavy Attack

100% chance to inflict Shock, dealing 30% of Attack over 5 seconds.
Shocks are 20% stronger for each Amp Charge on Blaster.

Block

Activates a Shield, reducing incoming Damage by 6~15% while holding Block and for 0.2 seconds once released.
Blaster's Shield lasts 50% longer for each Amp Charge on him.

Signature Ability – Absorption Shield

Blaster's Shielding system can be upgraded to absorb incoming energy attacks and repair damage. A similar upgrade was requested by his fellow Autobots for their audio receptors as an answer to his taste in music.

While Shielded

Blaster's Shield allows him to shrug off the impact of Basic Energy Ranged Attacks and reduces a further 20% of incoming Energy Damage. Additionally Energy Attacks that hit Blaster while his Shielding is up have a 40% chance to instantly Repair Blaster for 7~17% of the opponent's Attack Rating, if the attack is a Special Attack he repairs double that amount instead.

Special Attacks:

Special 1 – Amped

Turn up the volume, start the beats.

Blaster gains up to 2 additional Amp Charge(s).
60% chance to grant a Power Gain Buff, generating 30% of Max Power over 10 seconds.

Special 2 – Steeljaw

Blasters speakers won't be the only thing roaring.

100% chance to inflict Interference, lowering Ranged Damage by 15~30% and decreasing projectile speed for 20 seconds.
7% Chance for each Amp Charge on Blaster to Stun the opponent for 3 seconds.

Special 3 – Boom Boxers

The hits just keep on coming.

100% chance to inflict an Attack Debuff reducing the Opponent's Attack Rating by 10% for 20 seconds. Blaster then inflicts an additional Attack Debuff for each Amp Charge on him.

Synergy Bonuses:

Mutual – Allies – Ultra Magnus, Arcee

+2~8% Armor.

Mutual – Enemies – Soundwave

+2~8% Attack.

Outgoing – Shield Amp – Soundwave, Mirage, Rhinox

1.5~10% Damage Reduction while Shielded.

Outgoing – Brain Drain – Shockwave

Shockwave generates 1~3 Energy Charges at the start of the fight and every 25 seconds.

Incoming – Brain Gain – Shockwave

25% Increase to Attack against Demolition Bots. Shockwave only gets this benefit if all bots on his team have this synergy.

Strong Match-ups:

Galvatron – Galvatron greatly relies on his Ranged Damage, something Blaster is an expert at reducing.
Soundwave – Blaster is able to Repair himself with his own Reflected Projectiles. Let the Rivalry Begin.

Weak Match-ups:

Bumblebee GS – The little gold speedster will break through Blaster's Shielding, inflicting Shock damage on him everytime he blocks.
Bludgeon – This tanky warrior does not use energy projectiles and will not allow Blaster to Repair when struck by his projectiles.

Recommended Modules for Blaster:

Laser Guidance Module

This module will greatly increase Blaster's Ranged Damage and Speed, a perfect fit for a bot that can do the inverse to his opponent.

Repair Module

The Repair Module will add to the constant Repairs he gets with his Signature Ability unlocked.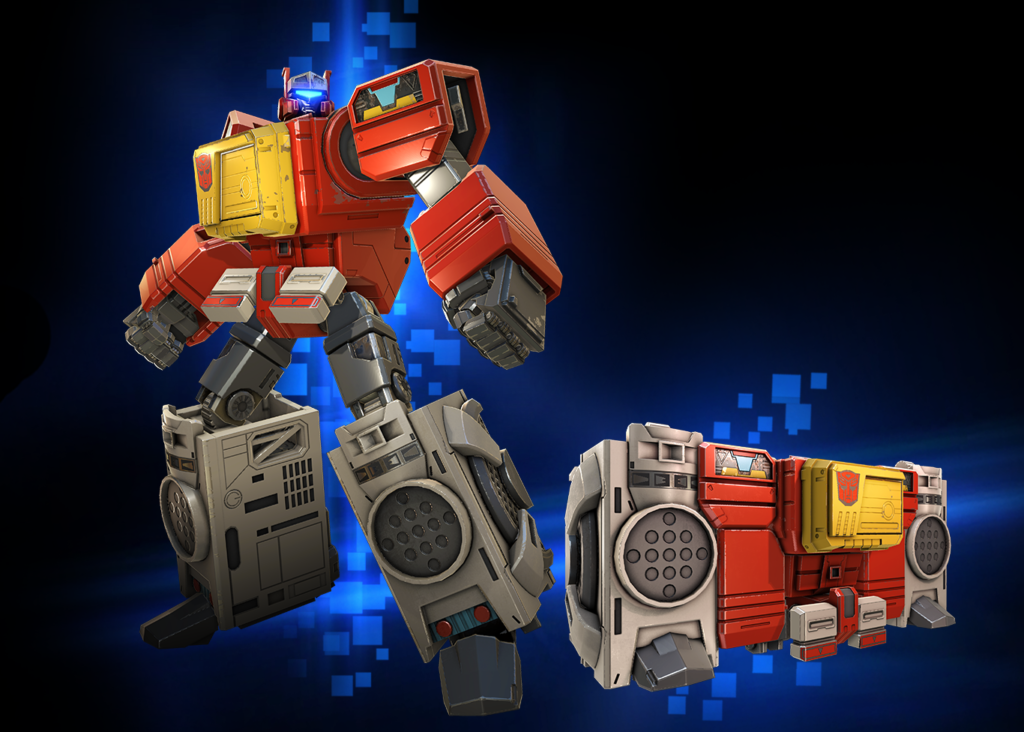 Credit(s): Forged to Fight
Most Popular Transformers News
Most Recent Transformers News
News Categories:
Toy News
,
Movie Related News
,
Comic Book News
,
Cartoon News
,
Site News
,
Rumors
,
Event News
,
Digital Media News
,
Collectables
,
Game News
,
Sponsor News
,
Store News
,
Company News
,
Site Articles
,
People News
,
Press Releases
,
Sightings
,
Reviews
,
Unlicensed Products News
,
Auctions
,
Transtopia
,
Interviews
,
Knock Offs
,
Editorials
,
Collector's Club News
,
Heavy Metal War
,
Podcast
,
Contests
,
Book News
,
Top Lists
Re: Blaster Joins Kabam's Transformers: Forged to Fight Mobile Game (1952409)
Posted by
Jack Hallows
on April 12th, 2018 @ 1:57pm CDT
man, Blaster looks dope. i'll probably be forced to download it if/when they add Impactor and the Wreckers.
Re: Blaster Joins Kabam's Transformers: Forged to Fight Mobile Game (1952641)
Posted by
Galactic Prime
on April 13th, 2018 @ 3:13pm CDT
They nerfed the crap out of the away mission and crystal rewards
Re: Blaster Joins Kabam's Transformers: Forged to Fight Mobile Game (1953232)
Posted by
BeastWarsFTW
on April 15th, 2018 @ 8:20pm CDT
Away missions got way better. You can earn tier 3 class spark pieces now. The other day I got an epic mission for 2000 tier 2 alpha pieces. I like farming for the arena crystals now instead of the chips also.