Double Review: IDW Optimus Prime / Transformers First Strike #HasbroFirstStrike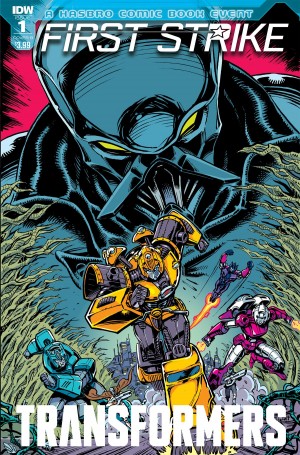 Tuesday, November 14th, 2017 11:01pm CST
Categories:
Comic Book News
,
Reviews
,
Site Articles
Posted by:
Va'al
Views:
23,571
Topic Options: View Discussion · Sign in or Join to reply
aka Revolutionaries: First Strike
(Spoiler free-ish)
Synopses
With Cybertron under siege by Baron Ironblood's forces, Optimus Prime and Arcee defend their homeland! Caught in the middle is the human/Transformer team known as the Revolutionaries—and one of them has a secret that puts everyone at risk!
and
When a bounty hunter drags one of their own into the wilds of Cybertron, the Revolutionaries join forces with Arcee and pursue! But in the midst of war, can humans and Cybertronians put aside their differences, or has the invasion of Cybertron doomed any chance at peace?
Story
This review is not late, this is just ..strategy, in keeping with IDW's approach to releases. That's my story and I'm sticking to it. Also, this is the first fully double review for two comics that form a single story that I've done in a while, and for good reason: Optimus Prime and Transformers, the one-shots that mark the Cybertronian tie-ins to the First Strike event, are better seen as a coherent story (with some downsides), and is essentially the coda to the end of Revolutionaries.
There are really two macro-story-threads running through the books, in the shadow (or light) of the events taking place on Cybertron during Ironblood/Colton's attack, and they both coalesce in the character of Centurion/Mike Power - perhaps one of the best 'retcons' we've seen in the TFverse at the hands of John Continuity Barber - and his sibling from another spark if you will, GB Blackrock/Sovereign.
If on one side they allow for a better exploration of the idea of hybrids, something that keeps coming up in this IDWverse of recent, and the identity of Centurion (complete with some time-hopping and merged memories), and the setting up of Kreiger's real identity and/or motives, on the other it lets down on the specific plot at hand that holds up the story proper.
There are more thoughts on these two issues in the
latest episode
of the Twincast Podcast, but one more point I wanted to make refers to the developing interest between Arcee and one young Ian Noble (definitely not the boyfriend of Doctor X) - which not only does not feel forced, it segues nicely from later developments of Arcee's character in both OP ongoing series and Sins of the Wreckers, of all things.
Art
Working on the first part are Transformers veterans Guido Guidi and John Wycough, and I have to unfortunately admit, that the inks of the latter on the pencils of the former do not complement the visuals well, at all - as I had also noted in a previous issue on the same lines. Which is a shame, as there is some nice panelwork, and Thomas Teyowisonte Deer's colours are very well placed in providing a continuity with the Revolutionaries aesthetic.
Taken by itself, Priscilla Tramontano and Joana Lafuente's art for the second issue is better overall, and it does fit the way in which the script sets up the characters, but there are inconsistencies throughout the book and the two styles (Guidi and Tramontano) don't really pair up well for the story as a whole. Still, the colours are nicely in sync, even taken side by side.
The lettering continuity is no issue at all, as not only it's the same letterer on both, but we're talking once more about Tom B. Long, and I've spent many a word praising his work on the IDW books. I do not need to add much, just enjoy it, will you? All the cover variants can be seen, with credit, in our Comics Database
here
and
here
, plus you can enjoy the one by Guido Guidi as thumbnail for this review, too.
Thoughts
Spoilerish ahead
These two books, and their story were inevitably hindered again by the issues in IDW's release and scheduling, meaning that the two books would've prepared more for the ending of First Strike (Kreiger in particular, a big name in both Revolutionaries and Centurion's personal story here), set a parallel stage, and been made less redundant (OP in particular) if they had come out when they were supposed to rather than when they did. I cannot ignore that, I'm afraid; though it doesn't reflect on the creative teams, it does impact the enjoyment of the story.
When I started this, I pointed out that the tie-in is essentially a Revolutionaries story - and I stand by that, with the disclaimer that they are probably the best executed actually tying-in of all the books of this ilk, and not just the final issues of the previous series, or the prologues to the next one (looking at all of you, GI Joe, MASK, Rom, Micronauts). It uses the characters well, and setting the action as parallel to the main First Strike story allows to fill in some blanks left by that story, too, along with having some truly excellent interactions that fit well every single character in the book, Arcee above all.
.
½
out of
Credit(s): IDW
---
Got Transformers News? Let us know here!
Most Popular Transformers News
Most Recent Transformers News
News Categories:
Toy News
,
Movie Related News
,
Cartoon News
,
Comic Book News
,
Site News
,
Rumors
,
Event News
,
Digital Media News
,
Collectables
,
Sponsor News
,
Game News
,
Site Articles
,
Store News
,
Company News
,
People News
,
Press Releases
,
Reviews
,
Sightings
,
Unlicensed Products News
,
Auctions
,
Transtopia
,
Interviews
,
Knock Offs
,
Collector's Club News
,
Editorials
,
Heavy Metal War
,
Podcast
,
Contests
,
Book News
,
Top Lists
Re: Double Review: IDW Optimus Prime / Transformers First Strike #HasbroFirstStrike (1936198)
Posted by
Va'al
on February 6th, 2018 @ 2:08am CST
It's been a while since we last heard anything about the Hasbro Universe crossover from IDW Publishing, First Strike, but this week brings us at last the collected trade paperbacks for its two main components: First Strike proper (now with added Transformers and GI Joe brand logos adorning the title) and First Strike Champions!
The former, whose preview you can check out below, collects the six regular issues plus introductory issue #0, and is theoretically out this Wednesday. Written by Mairghread Scott and David A. Rodriguez and with art by Max Dunbar and Ander Zarate, it brings together the different franchises of GI Joe, Transformers, MASK, Micronauts, and ROM the Spaceknight by pitting them against each other. Again.
A Hasbro Comic Book Event of epic proportions! The TRANSFORMERS are under attack from COBRA, G.I. JOE's greatest enemy! As Earth joins the intergalactic community, a massive explosion threatens the peace! A new COBRA—led by the worst villains to ever tangle with G.I. Joe, M.A.S.K.:Mobile Armored Strike Kommand, and the Transformers—is invading Cybertron, and only Scarlett, Optimus Prime, the Joes, and the Autobots can save two worlds! It's a race to the finish as good fights evil! Will our heroes win, or will Cobra DESTROY ALL TRANSFORMERS?!?
Re: Double Review: IDW Optimus Prime / Transformers First Strike #HasbroFirstStrike (1936199)
Posted by
Va'al
on February 6th, 2018 @ 2:12am CST
The other collected trade paperback out this week from IDW Publishing, is the corollary to the main First Strike crossover event, with the multiple tie-in stories from the franchises involved in the Hasbro Universe, under the title of First Strike Champions!
Check out the preview below, showing the opening of Micronauts - and the later encounter with Rom, Dire Wraiths and Solstar Order - as the rest of the book includes GI Joe and MASK, and Optimus Prime and Transformers/Revolutionaries (including Action Man) by different teams of artists and writers! Join the discussion in the Energon Pub, of course, and let us know if you'll pick up these books after all.
Your favorite characters—Rom, the Autobots, Micronauts, G.I. Joe, and more—get to shine in standalone stories setting up the ultimate Hasbro comic book event! First, with Cybertron under siege from Baron Ironblood, it's up to Optimus Prime and Arcee to defend their homeland, and the Revolutionaries team is caught in the middle! Then, back on Earth, Rom finds himself teaming up with the world's smallest heroes, the Micronauts! Can they prevent catastrophe, or is it already too late? And, with the team divided, G.I. Joe must confront dangers both in space and Earthside. Looks like they'll need some help from M.A.S.K.:Mobile Armored Strike Kommand!
Re: Double Review: IDW Optimus Prime / Transformers First Strike #HasbroFirstStrike (1936294)
Posted by
ScottyP
on February 6th, 2018 @ 2:35pm CST
I bet First Strike will read pretty darn well as a trade. Too bad the content with the last gasp crumbles of foreshadowing for the abrupt ending is in an entirely different TPB.
Re: Double Review: IDW Optimus Prime / Transformers First Strike #HasbroFirstStrike (1936295)
Posted by
Va'al
on February 6th, 2018 @ 2:44pm CST
ScottyP wrote:I bet First Strike will read pretty darn well as a trade. Too bad the content with the last gasp crumbles of foreshadowing for the abrupt ending is in an entirely different TPB.
Yeah, to anyone reading these, Champions then First Strike proper is probably the best way to approach the story.