Dreadwing Soars In To The Official Transformers Trading Card Game And App Launch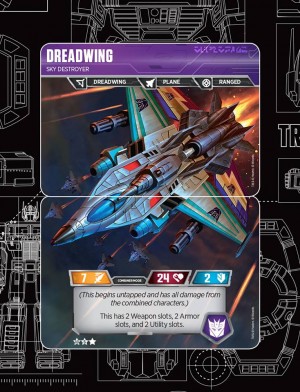 Wednesday, February 13th, 2019 4:52PM CST
Categories:
Game News
,
Collectables
Posted by:
ZeroWolf
Views:
7,268
Topic Options: View Discussion · Sign in or Join to reply
Thanks to fellow Seibertron user and contributor,
#Sideways#
, we've now learned that Blackwing and Dreadwind are set to make an appearance in the Wave 2: Rise of the Combiners expansion of Wizards of the Coast's Official Transformers Trading Card Game! The reveal was shared over at the
Official Transformers Trading Card Game Facebook page
.
#Sideways#
also gives us his detailed thoughts on the cards and their combined form!
___________________
Back in the mystical past of 2007, I had the Transformers movie game for the PS2 and in that game there were a lot of memorable characters and enemies from them. I still remember the cool Shockwave bossfight that they had, but one of the most memorable enemies that they had was Dreadwing, who would fly around, jump into the sky and use flamethrowers to deal a ton of damage to you if you got too close. They were a bit easy to kill because they kinda just stood completely still and you could just walk away and just shoot them, but they looked awesome.
From that point, I payed attention to the name Dreadwing, so when I got up this morning and saw that the last Combiner for this set has been revealed and that it was none other than Dreadwing, I couldn't help but to pay attention. But first, let's talk about everything that makes up his plane glory: His composite parts.
Blackwing hits hard and gets hit harder, if that wasn't obvious from his
zero defense
in robot mode. He still swings pretty hard in both modes, despite him being a vanilla 8-star Plane. Blackwing doesn't really have too many things to really go over except for his robot mode ability, which takes the place of the Enigma for these pseudo-Combiners.
You see, at the end of your turn, if both Dreadwind and Blackwing are in robot mode, you can scrap three cards from your hand and combine them into Blackwing. This effect is expensive, but extremely fast considering you can pull off a Combination on the second turn of the game. This is a powerful effect, and I wager it will always be Blackwing who will be using this effect.
There really isn't much else to talk about for this guy -- he just swings really hard and then turns into Dreadwing.
Dreadwind is a very depressed individual, and his stats definitely reflect that. Having such a low attack stat in robot mode and relying upon Pierce 2 to deal any damage whatsoever, Dreadwind is almost as dismal as he is.
Almost.
You see, there is a silver lining about this guy: His defense. When you attack with him in his Plane mode -- which you definitely would and I'll tell you why in a moment -- you shove a solid three defense in your opponent's face and tell them to deal with it. Three defense is honestly huge, especially in a primarily defensive Plane deck where you're likely to take even less damage than the average. It is here where his Pierce actually shines instead of being extremely underwhelming like most Pierce is.
You see, if you're playing a balanced or blue Plane build, you're going to be sitting there with a low attack trying to chew through your opponents' defense stats. Certain decks like Double Primes can make good use of their already monstrous attack stats to still beat-stick their way through defense stats, but when you have such low attack like Dreadwind here, you're gonna need that Pierce to do anything whatsoever.
But what is this leading into? What exactly does Dreadwing do?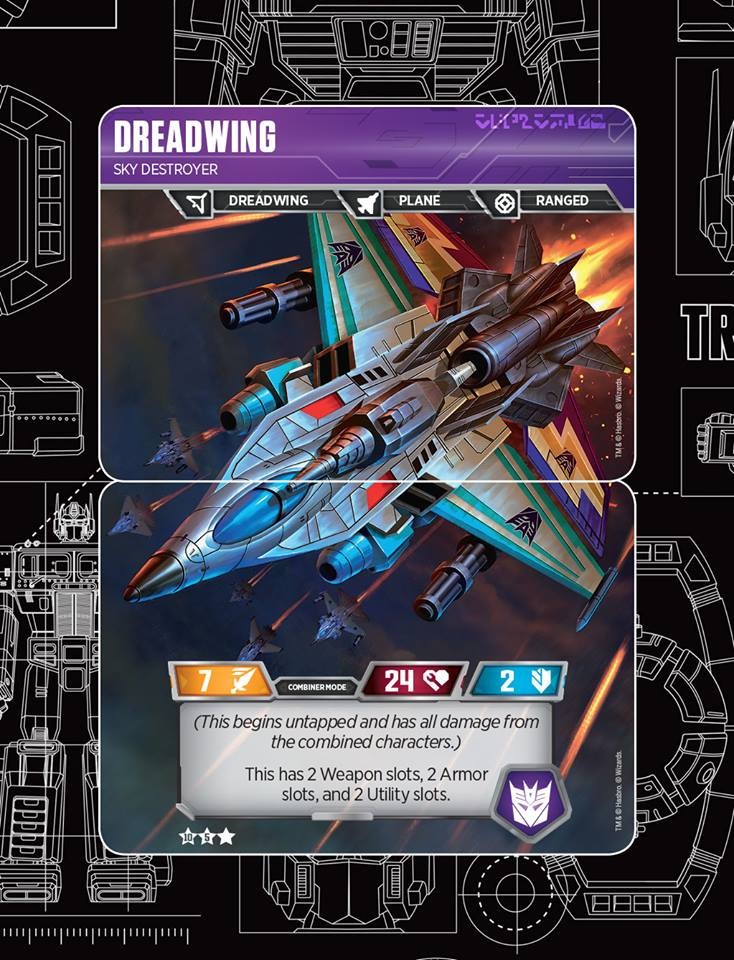 [center]
Oh, oh big ol' jet airliner / Don't carry me too far away
Oh, oh big ol' jet airliner / 'Cause it's here that I've got to stay
Dreadwing is very good and you should like him too. Okay, guys, that's it, the end of the article, thanks for tuning in!
But in all seriousness, what makes Dreadwing good? Well, he's essentially a combo of Dreadwind and Blackwing, and that shows through in every ounce of his kit. On one hand, you have 24 HP and 7 Attack -- a combination of the composite parts' stats -- and he has two of every Upgrade slot. This makes it to where he can swing incredibly hard with two weapons, tank an inordinate amount of damage with multiple Armor slots, provide draw with Data Bank, keep the heat off teammates with Bravery or even use multiple Aerial Recon in his Utility Slots.
Dreadwing has a massive amount of utility and staying power on the field, even more when you consider that he is a Plane, which means that he can use Slipstream's damage moving effect as well as Bombing Run to keep him in tip-top shape. The fact that he has the incredibly strong ability to have multiple Armor cards combined with all of that healing make him last forever. The best part is that his "healing" doesn't even count as "healing". Since it's technically "damage moving", not even Torox can keep him from doing as he pleases.
Dreadwing isn't just a pretty name -- he's a freaking monster on the battlefield, and through the use of Bravery and the stacking of Armor, whoever you pair him with can attack with impunity as well.
So how do you get him into play efficiently and without either of his parts getting KO'd in the process? Well, that's easy. Blackwing has zero defense, so thus he must attack last lest you want your opponent to obliterate him. But, that doesn't mean you have to transform him second, now does it? You see, Dreadwind has three defense and Pierce in his vehicle mode, which allows him to deal chip damage while sitting pretty with his three defense. Your opponent won't be able to do much to him, especially if you happened to get an Armor on him (for instance, if you went second).
Then, the next turn, you simply transform Dreadwind and swing with the already Transformed Blackwing and by the end of the second turn of the game, you have Dreadwing on the field with little if any damage on him. This also makes it incredibly easy to get value out of him as you can attack with him the turn after, essentially gaining not just a "free attack" but essentially a "free turn" since you will be more or less untapping one of your characters through combination. This makes his offensive power incredibly apparent after you focus the character both the composite parts have been attacking.
I realize you'd be essentially making yourself "tall" by only having two characters on the field, but I wager it's worth it given your monstrous HP, powerful offensive potential and incredible defensive capabilities.
All in all, Dreadwing is a character that is both consistent and powerful -- and a common at that! What more could you want? Well, what more could you want other than needing Slipstream as a partner, that is. Those convention exclusives! Always playing hard to get!
What do you think of Dreadwing? Too powerful to handle or "too big for his britches"? Do you want me to cover him on
my YouTube channel
? Let me know in the comments below -- I always read them! Until next time, thanks for reading! See you then!
__________
Thats not all though! Also revealed on the Official Transformers Trading Card Game Facebook page is the launch of a companion App you can download on your smart phones or tablets! This news was shared with us by fellow Seibertron user,
jon3.0
.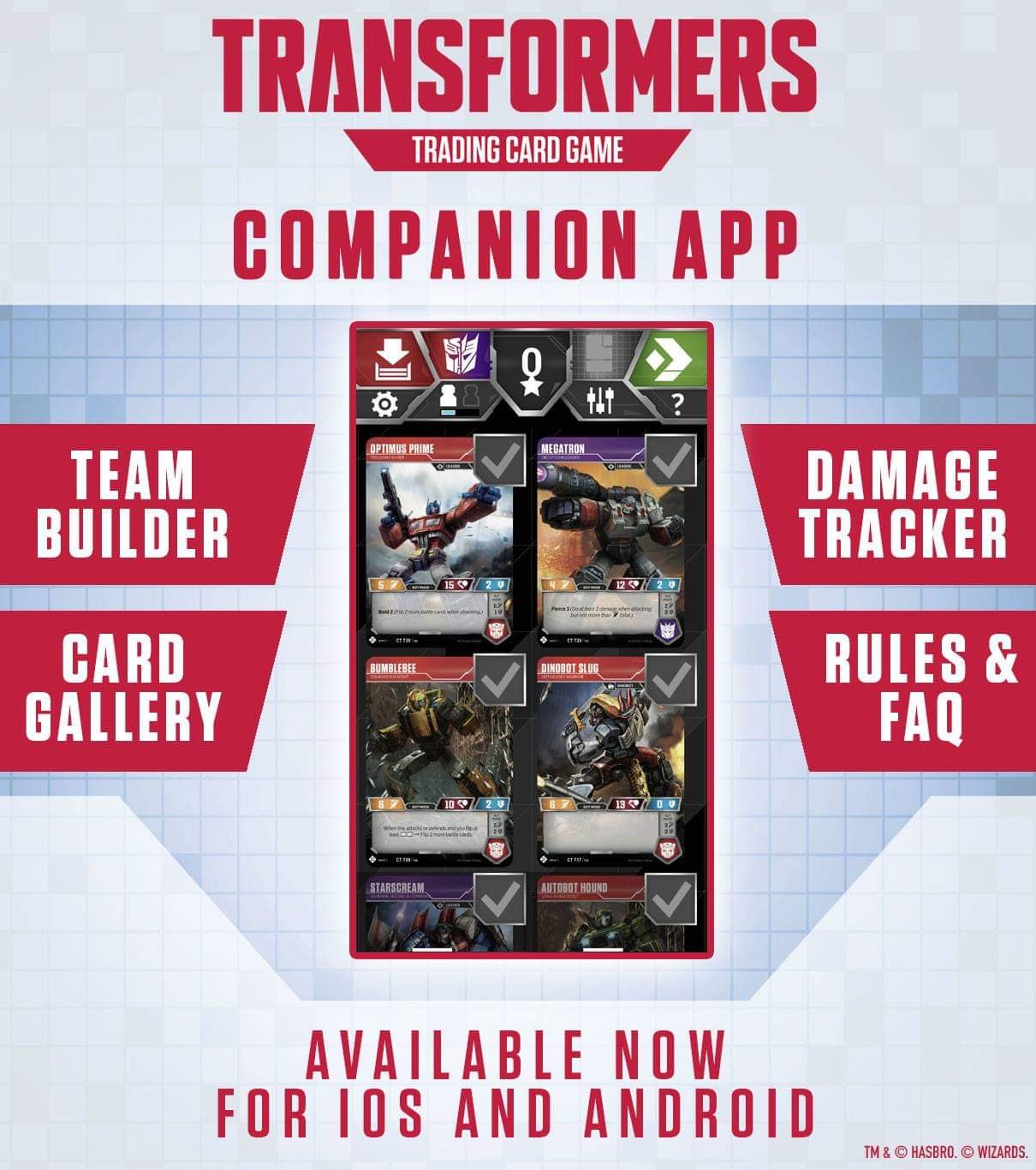 Download now from your devices app store!
What do you think of this surprise reveal? Will you be using the app? Let us know in the Energon Pub and stay tuned to Seibertron for all the latest news and reviews!
Credit(s): #Sideways# and jon3. 0 from Seibertron, Official Transformers Trading Card Game Facebook page
Most Popular Transformers News
Most Recent Transformers News
News Categories:
Toy News
,
Movie Related News
,
Comic Book News
,
Cartoon News
,
Site News
,
Rumors
,
Event News
,
Digital Media News
,
Collectables
,
Game News
,
Sponsor News
,
Store News
,
Company News
,
Site Articles
,
People News
,
Press Releases
,
Sightings
,
Reviews
,
Unlicensed Products News
,
Auctions
,
Transtopia
,
Interviews
,
Knock Offs
,
Editorials
,
Collector's Club News
,
Heavy Metal War
,
Podcast
,
Contests
,
Book News
,
Top Lists
Re: Dreadwing Soars In To The Official Transformers Trading Card Game And App Launch (2010135)
Posted by
Bumblevivisector
on February 13th, 2019 @ 6:25pm CST
No, No, NO! I don't care what the Steve Miller band thought they were singing, the line is "Big ol' Jed had a lighter"! He had it until the FCC took it away from him! Well, funky sh!t still goes down in MY city! Kicks are for trids!

As for the cards, this was a really nice surprise! Quick 2-bot combiners are a welcome variation for this expansion. Too bad we're a ways off from having cassettes, as I can't think of too many other pairs unless they use Battleslash and Roadtrap, Crash Combiners...or the Multiforce! Now they would be the freakin' bomb in this game!

And just the other day, I was wondering how this game would handle the _______master characters, and our first 'Con powermasters give us the eloquent answer: just ignore that gimmick for now! No, seriously, since western fiction depicts most of those characters as having just been plain ol' TFs prior to entering binary bondage between '86 and '09, treating them as such for now and saving their organic upgrades for later waves makes perfect sense.

Will this game last long enough to see a Masterforce expansion repaint these cards into Buster and Hydra? Let's make it happen! I just need to actually learn how to play, and...
Re: Dreadwing Soars In To The Official Transformers Trading Card Game And App Launch (2010165)
Posted by
Rainmaker
on February 13th, 2019 @ 11:17pm CST
Dreadwind and Blackwing are only 16 stars in total, so you still have 9 stars to use to support the already mightly powerful Dreadwing!
Re: Dreadwing Soars In To The Official Transformers Trading Card Game And App Launch (2010173)
Posted by
steve2275
on February 14th, 2019 @ 4:46am CST
pretty cool
Re: Dreadwing Soars In To The Official Transformers Trading Card Game And App Launch (2010371)
Posted by
Emerje
on February 15th, 2019 @ 1:07am CST
Loot Crate
has been advertising a mystery Transformers item in their February crate for a little while now, and thanks to the official
Transformers TCG
Twitter account we now know what that item is. The "Transformation" themed crate will contain an exclusive Titan-sized Omega Supreme - Autobot Defense Base card. This is going to be a massive card, the same size as Metroplex featuring bot mode on one side and base with tank on the other. The crate containing the card appears to only be available in North America, but fear not, they do say the card will be available "via alternative avenues in EU and APAC regions."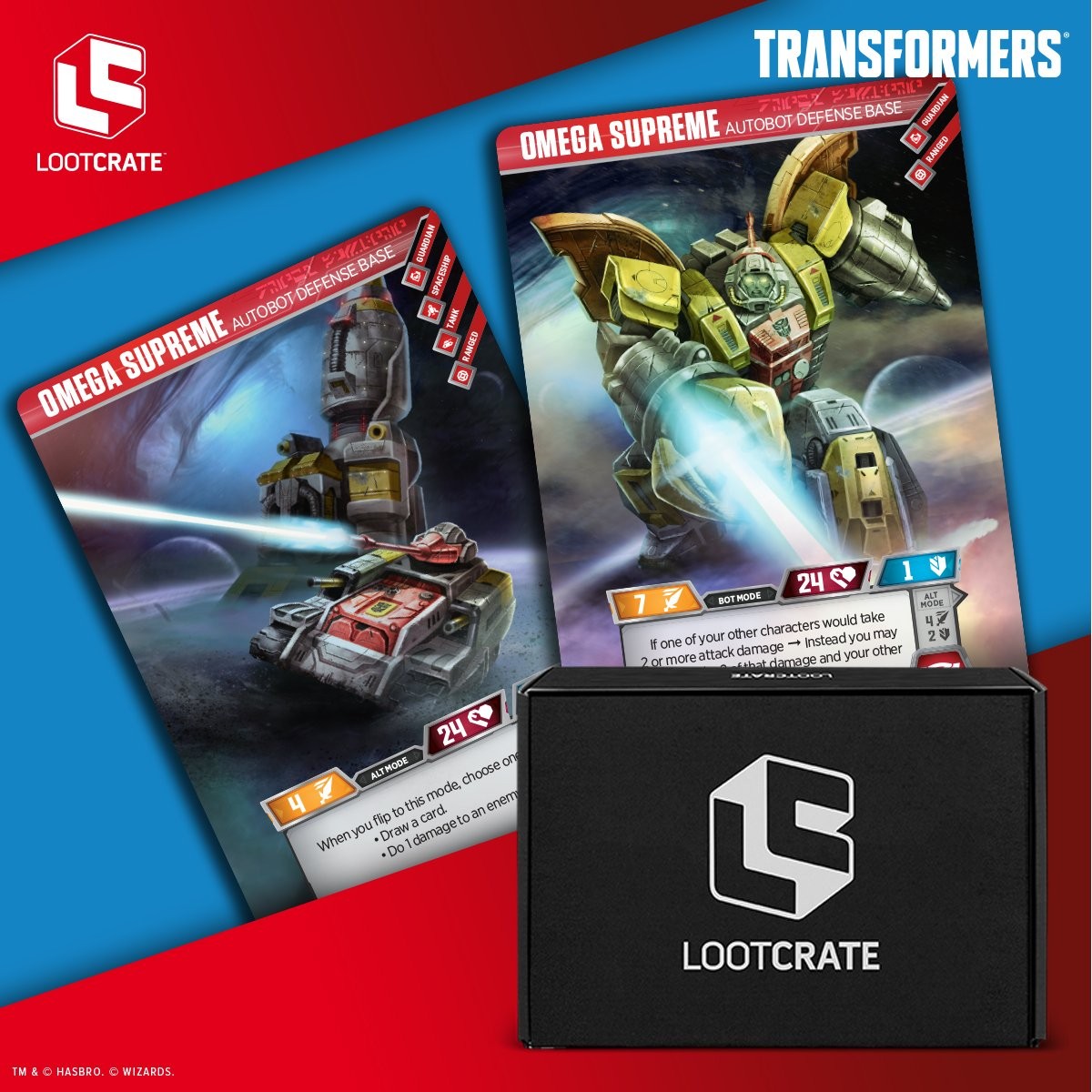 The full tweets can be found below:
Get a double-sided, Titan-sized Transformers Trading Card Game card featuring OMEGA SUPREME - AUTOBOT DEFENSE BASE in this month's 'TRANSFORMATION' themed Loot Crate! Sign up by 2/19 at 9pm Pacific:

https://loot.cr/tfwotc
OMEGA SUPREME - AUTOBOT DEFENSE BASE will be available via alternative avenues in EU and APAC regions. Please consult your preferred card game retailer for availability and more information. Stay tuned for more information!
The crate will also contain items from Marvel, the Alita: Battle Angel movie, Adventure Time, and Naruto Shippuden. This standard crate runs $19.99, but be sure to keep an eye out for working discount codes to get the best deal possible!
How do you feel about the Loot Crate exclusive? Sound off in the Energon Pub forums below!
Re: Dreadwing Soars In To The Official Transformers Trading Card Game And App Launch (2010410)
Posted by
Rodimus Knight
on February 15th, 2019 @ 7:44am CST
Well I'm a sucker and will sign up for the cards. I have Metroplex already, might as well get Omega.
Re: Dreadwing Soars In To The Official Transformers Trading Card Game And App Launch (2010480)
Posted by
What's Crackin'?
on February 15th, 2019 @ 9:43am CST
I love the TCG but I hate Loot Crate. Hard pass.
Re: Dreadwing Soars In To The Official Transformers Trading Card Game And App Launch (2010589)
Posted by
Rodimus Knight
on February 15th, 2019 @ 12:39pm CST
What's Crackin'? wrote:I love the TCG but I hate Loot Crate. Hard pass.
As soon as those cards are in my hand, I'm cancelling.