Editorial Vision, Shakespearean Power Plays, and Giant Robots with John Barber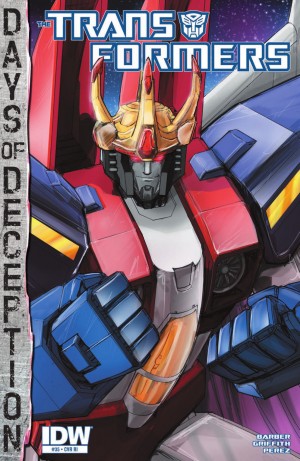 Wednesday, November 12th, 2014 1:22pm CST
Categories:
Comic Book News
,
People News
,
Interviews
Posted by:
Va'al
Views:
63,309
Topic Options: View Discussion · Sign in or Join to reply
Wanting more this week in terms of Transformers fiction? Why not take a read at this lengthy interview with John Barber on
WeeklyComicBookReview
, editor and writer at IDW on at least, oh, all of the current series featuring robots, including those yet to come. Some snippets below, full piece
here
! [Note: Thumbnail is RI cover for Transformers #35, by Andrew Griffith. Fitting, non?]
Already well respected for his nearly Quixotic attempts to bring sanity to the Transformers movie continuity, John Barber's tenure over IDW's mainline Transformers comics has been viewed as something of a renaissance period for the brand.

Besides writing a tense sci-fi political thriller in the form of Transformers: Robots in Disguise, Barber has also served as the editor of the award-winning Transformers: More Than Meets The Eye as well as the Transformers: Windblade mini-series. Since then he's added even more to his plate by writing Angry Birds Transformers and co-writing the latest Transformers vs. G.I. Joe series.

As the man behind one of my favorite shared universes in comics, I've been eager to meet Mr. Barber for some time. Little did I know how deep we'd get into the current Transformers line-up.

Mr. Barber was incredibly gracious with his time and considerable knowledge so please enjoy and, if so inclined, check out the newly renamed The Transformers #35, on sale today!

[...]

N: One thing that I was definitely curious about is that one of the weird figures for IDW in Transformers has been Galvatron, in that you couldn't fall back on a G1 interpretation.

B: Yeah.

N: But so he was kind of Nova Prime's Starscream for a while and then he kind of had this very 'glorious leader against D-Void' period. What made you settle on 'Galvatron the Barbarian' for your take?

B: I was kind of intrigued by the story that Simon [Furman] had set up of these characters being of a different age, y'know? These people that were there, that took off on the original Ark? I just kind of latched onto this idea of, 'what was society like before they had the Golden Age?' For me, it went back to doing the Robots in Disguise Annual and I had this idea of like Game of Thrones with Transformers, of this idea of these different tribes. And I played with that actually a bit in the movie universe stuff, but it was different in the main line stuff.

And Galvatron was one of those characters, kind of like Soundwave, where even within the IDW universe different writers had radically different takes on where he was. So, thinking about how you can sort of unify those, what kind of person would do all that stuff? And I came to the idea of 'what if Galvatron's kind of Conan' and you had this guy who's kind of really a rough guy, really a barbarian, but who becomes king?

"Galvatron was one of those characters where different writers had radically different takes. So, thinking about how you can sort of unify those, what kind of person would do all that stuff?"

I mean the story of Conan isn't just Conan the Barbarian. There's all these eras of Conan as he goes on; he eventually is King Conan. And the idea that Galvatron kind of went through all that, so he's been different places in his life, appealed to me. And, in [issue #34] we'll get kind of a larger grasp of how those early days with him and Nova functioned. We'll be seeing some stuff, that I think may be surprising to some people, that we sort of hinted at. There're definitely some hints that have been going on, but some of the ancient Cybertronian lore and history is gonna come up.

But, in short, it's kind of the idea of this guy who, in his own mind, he's noble, but it isn't the usual nobility you get from a villain because he's really, really brutal and he's- he's- like he's genuinely not a nice guy, y'know, where, Soundwave, to me, he's the good guy Decepticon.

N: Yeah.

B: Like he's the guy that genuinely believes in the Decepticon cause and everything they had to do that was bad was a compromise that he had to make to a greater end goal, where Galvatron isn't like that. He's less compromising, but much more brutal and, like, the underlying…like-

N: He doesn't feel like a guy who's like thinking very much into the future.

B: Yeah. Like he does in his way. So, there are moments where you're going to see him kind of doing stuff toward a larger goal, but it's a very distinct, direct barbarian way of doing it. He's not doing the Machiavellian playing guys off of each other the way Starscream does. Even when he does like straight up lie, his duplicity is a little more honest.

[...]

Just taking a step aside from Robots in Disguise for a second, I was just curious. You are not only a writer, but you're an editor for IDW.

B: Yes.

N: As someone with that very unique experience, what do you think that -whether it be professionals, aspiring, anywhere in the process – what do you think that writers need to know about editors and editors need to know about writers? You have seen both sides.

B: That's a good question. Ideally, everybody's out to make a good comic. And there are good fits with writers and editors, y'know?

It's funny because I have friends on both sides of the table. So, every once in a while you'll sort of hear somebody, a friend of mine, complaining about, y'know, that editor didn't work out. Then there'll be people who are having a great relationship with that editor. So it's like any other relationship in life. There are fits and there are non-fits.

When you're putting a creative team together for a comic, it's sort of like putting a band together, y'know? Like everybody has to get along. You have to know what parts everybody's playing and what everybody's doing. On the Transformers books we're really lucky, everybody gets along really well, I think, between James, me, Mairghread, Chris Metzen, Flint Dille, plus like Alex Milne, Andrew, Livio, Sarah, everybody; we all interact really well.
Credit(s): WCBR
---
Got Transformers News? Let us know here!
Most Popular Transformers News
Most Recent Transformers News
News Categories:
Toy News
,
Movie Related News
,
Cartoon News
,
Comic Book News
,
Site News
,
Rumors
,
Event News
,
Digital Media News
,
Collectables
,
Game News
,
Sponsor News
,
Site Articles
,
Store News
,
Company News
,
People News
,
Press Releases
,
Sightings
,
Reviews
,
Unlicensed Products News
,
Auctions
,
Transtopia
,
Interviews
,
Knock Offs
,
Collector's Club News
,
Editorials
,
Heavy Metal War
,
Podcast
,
Contests
,
Book News
,
Top Lists