IDW Announces New TRANSFORMERS Digital Miniseries!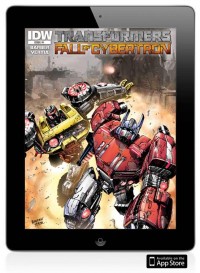 Wednesday, August 15th, 2012 3:43pm CDT
Categories:
Comic Book News
,
Press Releases
Posted by:
El Duque
Views:
51,912
Topic Options: View Discussion · Sign in or Join to reply
FOR IMMEDIATE RELEASE

IDW Announces New TRANSFORMERS
Digital Miniseries!

DINOBOTS enter the TRANSFORMERS PRIME world for the first time ever!

San Diego, CA (August 15, 2012) – IDW Publishing, Hasbro, Activision, and High Moon Studios are thrilled to welcome the launch of the new digital comic series: TRANSFORMERS: FALL OF CYBERTRON! Announced at Comic-Con International San Diego last month, and beginning today, this new series will offer fans an exclusive look at the story that precedes the explosive new game.

In the days leading up to the events of Activision and High Moon Studios' TRANSFORMERS: FALL OF CYBERTRON video game, we see the origin of the fearsome DINOBOTS as they encounter a secret DECEPTICON plot and take on a slew of enemies including SHOCKWAVE and the INSECTICONS!

"It's a lot of fun to have a chance to play in the sandbox of the Fall of Cybertron game. I'm lucky enough to get to write one of our Transformers ongoing comics, and edit the rest, but doing these stories in this setting... well, it's a real blast!" said writer JOHN BARBER.

BARBER continued "I sat down with Dave Cravens, the head writer of the game at High Moon Studios, and we plotted out the whole comic one afternoon. It was great to get to work that closely with somebody so intimately involved in the game, so we could really make sure this comic actually fits in with the story the game is telling--and plays into the larger TRANSFORMERS mythology. Plus, anybody who knows me knows I love me some Dinobots, so it was a thrill to get to write them!"

Don't miss TRANSFORMERS: FALL OF CYBERTRON, a prequel to the much-anticipated videogame, written by Barber (Transformers: Robots in Disguise) with art by Dheeraj Verma (Escape of the Living Dead)! Issues #2-5 will also include exclusive preview pages from TRANSFORMERS: THE ART OF THE FALL OF CYBERTRON, coming soon from IDW!

The series will run for six digital-only installments on a bi-weekly schedule, and will be available all digital platforms including Apple iOS, Android, and online.

TRANSFORMERS: FALL OF CYBERTRON ($0.99, 8 pages; full color) will be available in August in IDW's Apple iPad™, iPhone® and iPod touch®, apps – Transformers Comics and IDW Comics, and on the Web at read.idwpublishing.com. The series will also be featured in the Comics by comiXology platform for iOS, Android, Web and Kindle Fire, and Comics + by iVerse.

TRANSFORMERS PRIME – RAGE OF THE DINOBOTS #1 ($3.99, 32 pages; full color) will be available in November 2012.

Visit IDWPublishing.com to sign up for updates and learn more about the company and its top-selling books.

About IDW Publishing

IDW is an award-winning publisher of comic books, graphic novels and trade paperbacks, based in San Diego, California. Renowned for its diverse catalog of licensed and independent titles, IDW publishes some of the most successful and popular titles in the industry, including: Hasbro's The TRANSFORMERS and G.I. JOE, Paramount's Star Trek; HBO's True Blood; the BBC's DOCTOR WHO; Nickelodeon's Teenage Mutant Ninja Turtles; Toho's Godzilla; Wizards of the Coasts Magic: The Gathering and Dungeons & Dragons; and the Eisner-Award winning Locke & Key series, created by best-selling author Joe Hill and artist Gabriel Rodriguez. IDW is also home to the Library of American Comics imprint, which publishes classic comic reprints, and Yoe! Books, a partnership with Yoe! Studio.

IDW's critically- and fan-acclaimed series are continually moving into new mediums. Currently, Jerry Bruckheimer Films and Disney are creating a feature film based on World War Robot, while Michael Bay's Platinum Dunes and Sony are bringing Zombies vs. Robots to film.

About Hasbro

Hasbro, Inc. (NASDAQ: HAS) is a branded play company providing children and families around the world with a wide-range of immersive entertainment offerings based on the Company's world class brand portfolio. From toys and games, to television programming, motion pictures, digital gaming and a comprehensive licensing program, Hasbro strives to delight its global customers with well-known and beloved brands such as TRANSFORMERS, LITTLEST PET SHOP, NERF, PLAYSKOOL, MY LITTLE PONY, G.I. JOE, MAGIC: THE GATHERING and MONOPOLY. The Company's Hasbro Studios develops and produces television programming for markets around the world. The Hub TV Network is part of a multi-platform joint venture between Hasbro and Discovery Communications (NASDAQ: DISCA, DISCB, DISCK), in the U.S. Through the company's deep commitment to corporate social responsibility, including philanthropy, Hasbro is helping to build a safe and sustainable world for future generations and to positively impact the lives of millions of children and families every year. It has been recognized for its efforts by being named one of the "World's Most Ethical Companies." Learn more at

http://www.hasbro.com

. © 2012 Hasbro, Inc. All Rights Reserved.

###
Credit(s): IDW Publishing
---
Got Transformers News? Let us know here!
Most Popular Transformers News
Most Recent Transformers News
News Categories:
Toy News
,
Movie Related News
,
Cartoon News
,
Comic Book News
,
Site News
,
Rumors
,
Event News
,
Digital Media News
,
Collectables
,
Sponsor News
,
Game News
,
Site Articles
,
Store News
,
Company News
,
People News
,
Press Releases
,
Reviews
,
Sightings
,
Unlicensed Products News
,
Auctions
,
Transtopia
,
Interviews
,
Knock Offs
,
Collector's Club News
,
Editorials
,
Heavy Metal War
,
Podcast
,
Contests
,
Book News
,
Top Lists
Re: IDW Announces New TRANSFORMERS Digital Miniseries! (1410246)
Posted by
El Duque
on August 15th, 2012 @ 5:57pm CDT
The
official Transformers facebook page
has posted a Q&A session with writer John Barber regarding IDW's new
Transformers: Fall of Cyberton
digital comic, which launched today. Click
here
to download your copy for .99 cents. The Q&A is mirrored below for those who may be without facebook access.
Q: You're already editing the Transformers line of comics for IDW as well as writing the Robots in Disguise series. What made you want to be the writer on this comic?

JOHN BARBER: Well, what really happened is when we started to work on the Art of the Fall of Cybertron book, this idea of doing tie-in comics came up. The digital world seems like the best place to do a comic like this—we'd had a tremendous success with the Transformers: Autocracy digital comic (still on sale, because it's digital and it stays on sale!). And we thought, the audience of Transformers fans that love the games and might want to try a comic… well, the digital world seemed a natural fit. You don't have to go anywhere, you just see the link and buy the comic on your computer, or your phone, or your tablet. And maybe these new people, who might not have checked out a comic before, will see something they like, and maybe they'll want to check out some other comics, too.

So we decided we were going to do it, and because I was interacting with the guys at High Moon Studios already, and I knew about the Fall of Cybertron story, and people seem to be enjoying the Robots in Disguise comic… it seemed like bringing somebody else in would just create a position where I was acting like a middleman. So I came back and talked to my editor, Carlos Guzman, and to Chris Ryall, the editor in chief of IDW, and we figured it might be the best route to go, to have me write it and Carlos edit it.

Q: This comic is dealing how the Dinobots came to be in the game. Was it hard to ignore previous incarnations of them while writing them as brand new characters in this comic?

JOHN BARBER: I didn't really want to ignore previous versions. This is all part of the mainline Prime continuity, so everybody's trying to take the best parts of all of Transformers history and use what works. The Dinobots in the G-1 cartoons were always different from the G-1 comics, and this iteration pulls a little from each version—and elsewhere—and injects a lot of new stuff, without making them feel not like Dinobots, if that makes any sense. The essence remains the same. But, yeah—I'm mindful that these aren't the exact same guys as are in the Robots in Disguise comic.

Q: Having tied up the continuity from the Transformers movie comics and novels, did you face any similar kind of challenge here?

JOHN BARBER: This is more of a straight-ahead action story, with some nods to stuff that happens in the novels. But, honestly, pretty small nods. This is really focused on the Fall of Cybertron game.

Q: The game obviously ties in with the continuity of the Fall of Cybertron game. How closely did you work with High Moon Studios to get everything right?

JOHN BARBER: I sat down with Dave Cravens for an afternoon—he's the head writer on the game. We sat down and talked story and talked about what the comic could be, and we basically broke the story there. Then I'd email the outlines and scripts to him, and of course to the Transformers team at Hasbro. So we all did our best to get it right.

Q: From the characters you've written so far, who has been the most fun and who have you found to be more of a challenge?

JOHN BARBER: Well, I'd never written Grimlock before, and this version of him especially—this story is set before the Dinobots become the Dinobots, and Grimlock is a smart 'bot. He's a tactical genius, not a monosyllabic dude like in the cartoon. He's more like Simon Furman's take on him, in a way. But he's still really aggressive, and he still takes big risks, and he's still got the arrogance of Grimlock. So getting that together, and making it work on the page (er, screen)… well, hopefully it comes through.

Q: We have a new artist to Transformers working on the book in Dheeraj Verma. How did you come to choose him for the project?

JOHN BARBER: Dheeraj had sent in some samples—he's done a ton of comics work in India and elsewhere, but I hadn't seen it before. So, even though he's already an established artist of comics (and, coincidentally, of video game design!), he was effectively just sending the samples in, cold. And he had some movie-universe Transformers stuff, and a couple cool shots of Iron Man and War Machine, and I thought he'd bring something cool and dynamic to the series. He's great at exciting storytelling, and he can do metal guys? That's always an impressive combination.

Q: What kind of events and characters (other than the Dinobots) can we expect to see through the mini-series?

JOHN BARBER: The series is very focused on the Dinobots, especially Grimlock. But we'll see Shockwave, Starscream, Optimus Prime, a little Jazz, Perceptor, lots and lots of Insecticons… and tons of action.

Q: Have you had an opportunity to play the game or see any of the footage from it? And what were your initial impressions of it?

JOHN BARBER: Oh, yeah—getting to see early footage was one of the most exciting things about this whole thing. The game looks amazing. If you liked War for Cybertron, well, here's something bigger and more amazing… It's just stunning, what High Moon and Activision are doing.

Q: Do you ever get to rest? Or sleep!?

JOHN BARBER: Only if you stop asking me questions!!! Seriously—thanks a lot. Hope you guys all like the comic!
Re: IDW Announces New TRANSFORMERS Digital Miniseries! (1410310)
Posted by
Hypershock
on August 15th, 2012 @ 11:36pm CDT
How often is this being released?
Re: IDW Announces New TRANSFORMERS Digital Miniseries! (1410311)
Posted by
Sabrblade
on August 15th, 2012 @ 11:38pm CDT
Really nice artwork in that banner.
I hope both the FOC prequel and RotD come to TPB form.
Re: IDW Announces New TRANSFORMERS Digital Miniseries! (1410400)
Posted by
kirbenvost
on August 16th, 2012 @ 10:22am CDT
I was going to say I'd buy it if they released it in Trade form, but if it's just a prequel to the game, no thanks. Since I probably won't get around to buying the game I'd rather they had a continuing comic based on the WFC/FoC storylines. But then again, this has nothing to do with the main IDW Universe, so maybe not.