IDW Transformers: More than Meets the Eye #27 (DC 10) Review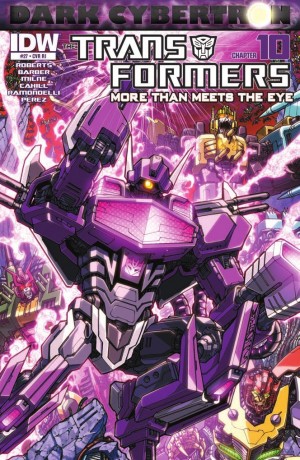 Wednesday, March 12th, 2014 2:34am CDT
Categories:
Comic Book News
,
Reviews
,
Site Articles
Posted by:
Va'al
Views:
37,422
Topic Options: View Discussion · Sign in or Join to reply
Plaaaaaanssss
(Spoiler free-ish)
Synopsis
TOGETHER AT LAST! The crew of the Lost Light and the survivors of CYERTRON get a brief moment of calm as they take stock of who's survived DARK CYBERTRON this far. But things get worse—the final fate of the DEAD UNIVERSE reveals a nightmarish link to the greatest threat the universe has ever faced!

It rhymes!
Story
Are we ready for this? I think not. We have all the casts merging, clashing, bashing and - just hanging. Because why not. Everything in Dark Cybertron seems to have been leading up to this particular issue, or at least this issue as a means of resolution for the major plot points. Does it deliver is the question here, really. Well, read on.

..go on, tell us MOAR
We get some excellent dialogue and laundry hanging with, in no particular order, Megatron, Arcee, Prowl, Windblade, Chromedome, Prowl, Ultra Magnus, Ratchet, Brainstorm and Prowl. In fact, there are a lot of questions that are starting to get a glimpse of a potential answer. And Prowl gets into a lot of discussions, with a lot of other characters, about everything he's done since the Death of Optimus Prime.

Except the Greenicons, they like him
What felt a bit odd was the pacing of all that is going on against the backdrop, between some very laid-back moments - excellent for characters to show their natures - and some more tense ones - see above. But a lot of the scenes are taking place during one, long speech by Shockwave, given to Galvatron. It's exposition. But it's long-needed, long-wanted exposition. And most importantly, it's answers.

Feels as much here, too
Do we get all the answers? No. But we do get
some
answers, and an exceptionally good set-up for the next big two issues coming up. We look more into Megatron, Arcee, Chromedome, Windblade, Prowl, *especially* Prowl and Shockwave. What didn't work amazingly, for me at least, was the discordant pacing. A lot of things are happening at the same time, and the time is very diluted between the things happening.
Art
While there is still a double art team, with Livio still smoking up the Dead Universe happenings, Alex Milne makes his return on part of the issue - and things are looking very, very good. Brendan Cahill also does an exceptional job on the his pages of the issue (especially with the panelwork!), and Brian Shearer's inks top it all off magnificently, paving the way for the colour magic.

Yes, this page again. Because.
We saw Josh Perez' work in the making with the
double page spread
the other day, but the rest of the issue is just as beautiful. Ramondelli also gives a really nice touch to the colouring hues in his sections of the book, with a lighter palette as we approach the end of the darkness.. or do we?

Do I need to say anything else?
Tom B. Long is back on letters, and even though the work in this one is subtle, it works witha everything else that is going on. Special mentions go to the three absolutely stunning covers, A by Casey Coller and Joana Lafuente, B by Phil Jimenez and Romulo Fajardo Jr, and the incentive Milne and Perez - in the thumbnail!
Thoughts
Spoilerish ahead
So, the question was: does it deliver? Yes. Yes it does. Action, lack thereof, plot, developments, characters, dialogue and most especially artistic endeavours all conflate into one giant, ominous, cyclopic purple instance - and yet the actual storm has yet to really hit. I'm not sure the next chapter will leave us intact, at this point.

Oh shush
Want to find out what Shockwave's actually been up to? Want to see what Megatron thinks of himself and Cybertron? Hear what the Dead Universe bots are going on about? Actually get some answers? Read this issue. It's only-just-not perfect, but you will read this issue. Go on. We'll be here. Waiting.
.
½
out of
Credit(s): IDW Publishing, Va'al
---
Got Transformers News? Let us know here!
Most Popular Transformers News
Most Recent Transformers News
News Categories:
Toy News
,
Movie Related News
,
Cartoon News
,
Comic Book News
,
Site News
,
Rumors
,
Event News
,
Digital Media News
,
Collectables
,
Sponsor News
,
Game News
,
Site Articles
,
Store News
,
Company News
,
People News
,
Press Releases
,
Reviews
,
Sightings
,
Unlicensed Products News
,
Auctions
,
Transtopia
,
Interviews
,
Knock Offs
,
Collector's Club News
,
Editorials
,
Heavy Metal War
,
Podcast
,
Contests
,
Book News
,
Top Lists
Re: IDW Transformers: More than Meets the Eye #27 (DC 10) Review (1557116)
Posted by
Henry921
on March 12th, 2014 @ 4:23pm CDT
Good review, Va'al. Finally we learn what it's all building to.
Lots to say about this issue, but not much I can say without being a bit spoiler...y.
Most of it concerns Megatron.
He seems like a completely different character than he was back in RID #13-16. I like his lucid explanation about losing the war, but it doesn't really gel with his previous characterization...
And Shockwave's plan. Ambitious.
Also,
seventy billion
? Guess war doesn't reduce the
Ammonites'
numbers that much.
Re: IDW Transformers: More than Meets the Eye #27 (DC 10) Review (1557119)
Posted by
Va'al
on March 12th, 2014 @ 4:29pm CDT
Thanks!
Yeah, I see what you're pointing at. I wonder if
dying several times, being staticly incarcerated for a long time, used as a portal and ripped apart
may influence their characterisation. A little.
Re: IDW Transformers: More than Meets the Eye #27 (DC 10) Review (1557121)
Posted by
Henry921
on March 12th, 2014 @ 4:33pm CDT
Va'al wrote:Thanks!

Yeah, I see what you're pointing at. I wonder if

dying several times, being staticly incarcerated for a long time, used as a portal and ripped apart

may influence their characterisation. A little.
Yeah, I guess
unimaginable pain and suffering
could change one's perspective, but I kinda figured Megs had gone through that already. Didn't
Chaos Theory
already spell out how much both Megatron and Optimus had suffered through millions of years of war?
Maybe space bridges are more painful than destroying transformation cogs.
Re: IDW Transformers: More than Meets the Eye #27 (DC 10) Review (1557488)
Posted by
DaRonin
on March 14th, 2014 @ 3:21am CDT
Im calling it now.
the spark-ache that brainstorm was talking about in the bar, the reason for his grumpiness, he's got a crush on one of the new fembots.
Also, as for next weeks advertised death...
It can really only be Rodimus or Ultra Magnus since we know from solicitations that Bee and Prowl feature in future RID stories. Im not sure what way it will go. I want to lean towards Ultra Magnus, hes been really well developed and it would be a shock if he was the one to go out, but then again Rodimus has been such a screw up from the start, it would be like a mercy killing to take him out.
That said, I liked this issue a lot. Mostly for Prowl finally getting something of a comeuppance. It was a fun breather issue with some really good character bits, and some totally sweet humor. Like swerve meeting his idol, and Hot Rods reaction to kups opinion on wheelies rhyming.
Re: IDW Transformers: More than Meets the Eye #27 (DC 10) Review (1557650)
Posted by
Coptur
on March 14th, 2014 @ 6:59pm CDT
Randomhero wrote:

Coptur wrote:

Randomhero wrote:

Coptur wrote:Remember in the idw-verse following Mortilius' deathr this allowed Cybertronian sparks to burn for eternity as immortals. So are any of the 'dead' truly dead?

Natural death. Like elves from lord of the rings. They no longer have natural death

I hadn't thought of them like elves before but forgive for not remembering the source in idw but isn't there conversation between two characters where they discussed how hard it is to kill a cybertronians.

Not just in idw but the transformers have shown high resistance to death and have even bought back to life (Optimus Prime being one very high on the list) i know that some of the examples throught the TF history contradict each other but hey its fiction and i miss the battlechargers lol.

Can we truly believe Thrust was burned alive or did he just enter a deep status lock in a melted hulk

I know that line and it grinded my gears to read that because it's honestly not that hard. I think maybe Roberts meant suicide but once in a while his writing contradicts itself.

I wouldn't consider Cybercrosis a natural death. It's the transformers version of cancer and I don't think anyone would call cancer a natural death.

They need to unkill thrust and ramjet. I like to think thrust is locked up somewhere on Earth and ramjets spark is somewhere too in Decepticon possession. Look at Dirge! He was good and dead in All Hail Megatron. Quickest death that character has ever had but Barber brought him back and made that character great.

I honestly don't want anyone from Last Stand of the Wreckers coming back to life. Their deaths were a lot of the weight of that book and I don't think their extinguished bodies are lying around anywhere. They were probably ceremonially smelted or cremated Dinobot style.
Its a strange one but I don't think it was exclusive to suicide. It seems the rules change constantly Horri-Bull gets his head blown off and he dies but Waspinator gets blown up constantly but he lives very inconsistant
Re: IDW Transformers: More than Meets the Eye #27 (DC 10) Review (1557930)
Posted by
Sodan-1
on March 16th, 2014 @ 12:19pm CDT
Va'al wrote:

Sodan-1 wrote:Nice. I had no idea there were so many layers of colouring that went into comic panels.

Who's the guy in black armour with red highlights who looks like he's pulling Megatron's stretcher?

That would be Flatline, the Decepticon medic working on Cybertron. We saw them alongside Starscream, Tankor and others during the Dark Cybertron stuff.
Ah, right. Thought Trailbreaker had had an overhaul until I spotted him in the back on the right. Thanks.