IDW Transformers: More Than Meets the Eye #29 Review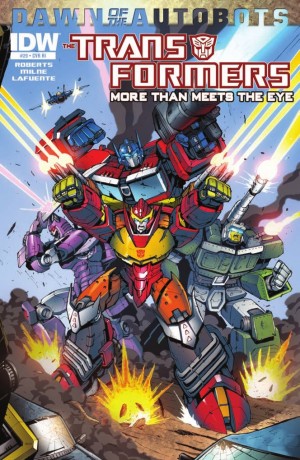 Wednesday, May 14th, 2014 3:53am CDT
Categories:
Comic Book News
,
Reviews
,
Site Articles
Posted by:
Va'al
Views:
38,036
Topic Options: View Discussion · Sign in or Join to reply
Expressive
(Spoiler free-ish)
Synopsis
STAND-OFF! While the crew of the Lost Light react to MEGATRON's arrival with characteristic maturity (calling him names behind his back and ignoring him when he speaks) one AUTOBOT is convinced that a more direct approach is needed. Guess what happens when a one-time tyrant is told he's not wanted? Yeah, exactly.

Does not bode well..
Story
Only a couple of weeks after the last comic, and in fact, the last MTMTE it was too, here we are again back on the Lost Light! Last we saw of space was the floating coffin with Autobot insignia just outside the ship, and it seems as thought captain Megatron decides to bring it on board pretty quickly. Meanwhile, Tailgate (completely absent for pretty much the entirety of Dark Cybertron) is reunited with Cyclonus, and everyone else on the ship.

Two recaps for the price of one
In another six month flashback, we return to Megatron's planet-wide trial, too. But the centre stage is taken by some behind the scenes Rodimus action (well, more or less) and the prosaic, verbose, eloquent, melodramatic, narcissistic duly appointed ruler of Cybertron itself: Starscream. Who gets even further excellent characterisation, along with the big M himself. He looooves to talk, but he does know what to say. Usually.

ME ME ME ME
But what is really impressive in this issue's writing, as has been for the series pre-Dark Cybertron too, is James Roberts' attention to detail. Or to disseminating details, references, clues, scraps of information about where the story might go, where it came from, with the coffin and Skids and Nautica, Riptide, Nightbeat and the rest of the crew. Add to that a number of little nudges towards other series, shows and lores. Seriously, it's riddled with them.

Trailcutter may or may not be lying
In terms of actual action, there is probably even less than last issue, but my oh my is there still a lot going on. Chromedome's mourning, Nightbeat's solving, Trailcutter's drinking/forcefielding, THE TRIAL. If anything, it can at times still feel a little cramped if you are trying to pay attention to all the details on the first read.
Art
We get Alex Milne on artwork, confirming and earning his post as the main artist for the series. And it really really works with the tone of the stories being told. And the expressions, especially with Rodimus' reactions during the trial. And Starscream's. But the best parts are some of the perspectives in the ship, around the ship, outside the ship (there's a double page spread that is breathtaking), and Cybertron again, with some excellent montage styled panelwork for the trial scenes.

Dat corridor
It's also the first issue with Joana Lafuente on full colours! And she delivers amazingly. There are some plays on light and shadows in the conversation between Nightbeat and Chromedome that really set the tone, and some excellent hues for Trailcutter's scenes and other snippets around the issue.

Exhibit.. ten?
Lettering is once more a brilliant Tom B. Long, who does some serious fonting and captioning of scenes, with some truly excellent touches to the already stellar visual components. And the covers are brilliant, too: Milne and Priscilla Tramontano stand-off on A, a smug Nick Roche/Josh Burcham B, and a throwback Marcelo Matere and Tramontano incentive (thumbnail).
Thoughts
Spoilerish ahead
Some of my concerns from #28 return here, in terms of multiple storylines. But there is definitely more of a focus and a bringing together of events, causes and consequences. The ending is a ridiculous cliffhanger or three, there may be ghosts, and it all looks absolutely amazing, with some priceless expressions around characters. It feels less like it's building up, and more like a sustained tension of suspense.

Don't you give me that look
As I said above, in some parts it feels as though there is even more cramped into this issue than the previous one, but give it time. And if, on the other hand, it feels like something is missing, maybe it's just Roberts making it so. Read the issue more than once, take your time, and if it's still gone.. then it's definitely an intentional loss. Just ask Nightbeat.
.
½
out of
Credit(s): IDW Publishing, Va'al
---
Got Transformers News? Let us know here!
Most Popular Transformers News
Most Recent Transformers News
News Categories:
Toy News
,
Movie Related News
,
Cartoon News
,
Comic Book News
,
Site News
,
Rumors
,
Event News
,
Digital Media News
,
Collectables
,
Sponsor News
,
Game News
,
Site Articles
,
Store News
,
Company News
,
People News
,
Press Releases
,
Reviews
,
Sightings
,
Unlicensed Products News
,
Auctions
,
Transtopia
,
Interviews
,
Knock Offs
,
Collector's Club News
,
Editorials
,
Heavy Metal War
,
Podcast
,
Contests
,
Book News
,
Top Lists
Re: IDW Transformers: More Than Meets the Eye #29 Review (1574024)
Posted by
1984forever
on May 14th, 2014 @ 9:16pm CDT
The testimony Starscream gave was some his best dialogue ever in any continuity. I would love to see Roberts write the original 1984 characters in a traditional Autobots vs. Decepticons story set on Earth... instead of this crap. This "adult" version of Transformers where the Autobots mainly sit around drinking the Cybertronian equivalent of "Wild Irish Rose" and "Thunderbird".

What a waste
Re: IDW Transformers: More Than Meets the Eye #29 Review (1574031)
Posted by
Stormrider
on May 14th, 2014 @ 10:02pm CDT
I love the writing and art work. It is some of the best stuff I have read. There just seems to be the right flow of words that fit each character.