IDW Transformers: ReGeneration One #99 Review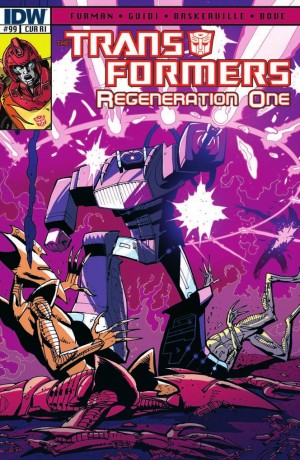 Wednesday, February 26th, 2014 1:43am CST
Categories:
Comic Book News
,
Reviews
,
Site Articles
Posted by:
Va'al
Views:
39,845
Topic Options: View Discussion · Sign in or Join to reply
Closing In
(Spoiler free-ish)
Synopsis
THE WAR TO END ALL WARS! Can the Autobots prevail against JHIAXUS' New Cybertronian Empire? The disastrous invasion ends in dramatic and shocking fashion with twists, shocks and surprises galore, and STARSCREAM right in the thick of things. Dark forces are stirring for the final chapter of the original TRANSFORMERS epic!

Meanwhile, at Hasbro HQ
Story
We are really really almost there this time, with only one issue left after this. And with everything converging and clashing into a massive multidimensional mayhem muddle, readers are left to unravel the threads by themselves. Stream crossing allowed, but not recommended. Let's try making some sense of it.

Example 1: Mayhem
For those keeping count, we have the Dark Matrix Creature, Starscream/Underbase, Jhiaxus, Galvatron and Primus (or is it?), in terms of main plotlines, with most characters involved with Jhiaxus in the Hub Network, Rodimus, Ultra Magnus and Wreckers included. In fact, Starscream and Shockwave might be involved, too.

Maaayyyybe
And if that aspect takes the main stage, it is also resolved way too quickly, with the secondary stories explored not as much in detail - though we do get to see a lot more of Spike, trapped in Zero and dealing with his own issues, and the Dinobots, still on Cybertron, still dealing with the Primordials, still not doing much, really.

Pffft. Was it inside him..?
While Simon Furman is clearly trying to make sure all ends meet, there is not enough space in these final issues to squeeze all the plots and characters and stories that have been, admittedly, slowly building up since #80.5. It's fun, it has action, but it falls short in terms of the longer run, unfortunately.
Art
If there is one thing I really don't have anything bad to say, though, it's the artwork. Guido Guidi does some amazing pencilwork, and Stephen Baskerville's inks feel once more like the perfect complement to the whole show. The Galvatron panel, shown in the B cover too, is exceptional, and some of the wider shots are truly spectacular.

Thinking out of the box?
It's all obviously enhanced, especially by adding an organic and sidereal sense where needed, respectively, appropriately, amazingly by John-Paul Bove's colours. We've come to see the astounding developments in the style, and the multifaceted skills this man has, and he does not leave us disappointed. Nossir.

..the colours, they're too good.. the artwork.. it's..
Add to that Chris Mowry's lettering, in an action packed issue such as this one, and you have one explosive combination. As far as covers go, Andrew Wildman and Jason Cardy bring a powerful Starscream to life on A, Guidi's Galvatron graces B, and Geoff Senior and Josh Burcham go all out for the RI version, attached to this review!
Thoughts
Spoilerish ahead
Was it bad? No. Was it enjoyable? Yes. Did it do a lot of things right? Absolutely. Did it feel rushed? Definitely. This has been a fear for a while, escalating the action and plotlines towards the end of the run, with a conclusive deadline set really not that far away at all. A shame, because these final arcs really came up again.

Oh and this guy's still pretty much dead
As I said though, it's a thoroughly enjoyable issue, with a lot of things done well, excellent artwork, colours and covers galore, including some amazing Shockwave, Galvatron and Starscream (ish) moments. Are we ready for next month's final-definite-forrealsies conclusion?
.
-
out of
Credit(s): IDW Publishing, Va'al
---
Got Transformers News? Let us know here!
Most Popular Transformers News
Most Recent Transformers News
News Categories:
Toy News
,
Movie Related News
,
Cartoon News
,
Comic Book News
,
Site News
,
Rumors
,
Event News
,
Digital Media News
,
Collectables
,
Sponsor News
,
Game News
,
Site Articles
,
Store News
,
Company News
,
People News
,
Press Releases
,
Reviews
,
Sightings
,
Unlicensed Products News
,
Auctions
,
Transtopia
,
Interviews
,
Knock Offs
,
Collector's Club News
,
Editorials
,
Heavy Metal War
,
Podcast
,
Contests
,
Book News
,
Top Lists
Re: IDW Transformers: ReGeneration One #99 Review (1553627)
Posted by
Rodimus Prime
on February 26th, 2014 @ 2:30am CST
As much as Furman himself admits to Grimlock being his favorite, he sure is mistreating the self-proclaimed "badass." Absolutely nothing to do in the last 10 issues. Lame.
I'm looking forward to this and the final issue, and I can't help feeling that it will kind of be like shooting a sick horse. I feel bad about that, because I was really looking forward to the entire series. Maybe it was overhyped and I believed it? Maybe I was trying to compare it to Furman's work on the original Marvel issues? In any case, I will pick this up today and hopefully the pieces will start falling into place.
Oh look. Optimus is almost dead. Again.
EDIT:
I just finished the issue, and I must say that
just like with the rest of the series, I am underwhelmed. Maybe it's just me, I put too much hope into it to be like it was back in the day. Nonetheless, I think Jhiaxus didn't get the death he deserved by any means. Felt like I was watching Megatron and Shockwave die in DoTM. Totally anticlimactic. I understand that the Wreckers were a big deal in the UK, but in the US version they never appeared, and there's no need for them here. Anything they have done the Dinobots could have done, and maybe that way they wouldn't have been misused so badly. And Shockwave experiencing "emotion" by saving Starscream even if it goes against all his logic circuits? Talk about flushing a character down the shitter.
The only saving grace this series has is if the ending is a 50-page all-out brawl with a

lot

of killing, including some

major

characters on both sides.
Re: IDW Transformers: ReGeneration One #99 Review (1556558)
Posted by
DaRonin
on March 10th, 2014 @ 6:39pm CDT
I feel like this is issue 79 all over again. One more issue to go, to close out multiple storylines. I just dont get how furman ended up here. He says he had this story arc planned from the beginning, but is not how it feels to me. seems like the fist ten issues were so much filler, with the important stuff being sandwhiched in. And now we are wrapping up big threads in a pedal to the metal pace.

I've enjoyed the past ten issues, much more than the first. But it still feels sloppy. Like something went horribly wrong behind the scenes. I know furman isn't the best writer out there, but he's better at planning than this.

Oh, and I should also add this series has not been kind to Optimus Prime at all. In fact i think he's hit some all time lows. I've never really liked Furmans style of writing Prime. But this series really took the idiocy and weakness in entirely new extremes.